Blueberry Lemon Muffins with Lemon Glaze (Gluten-Free)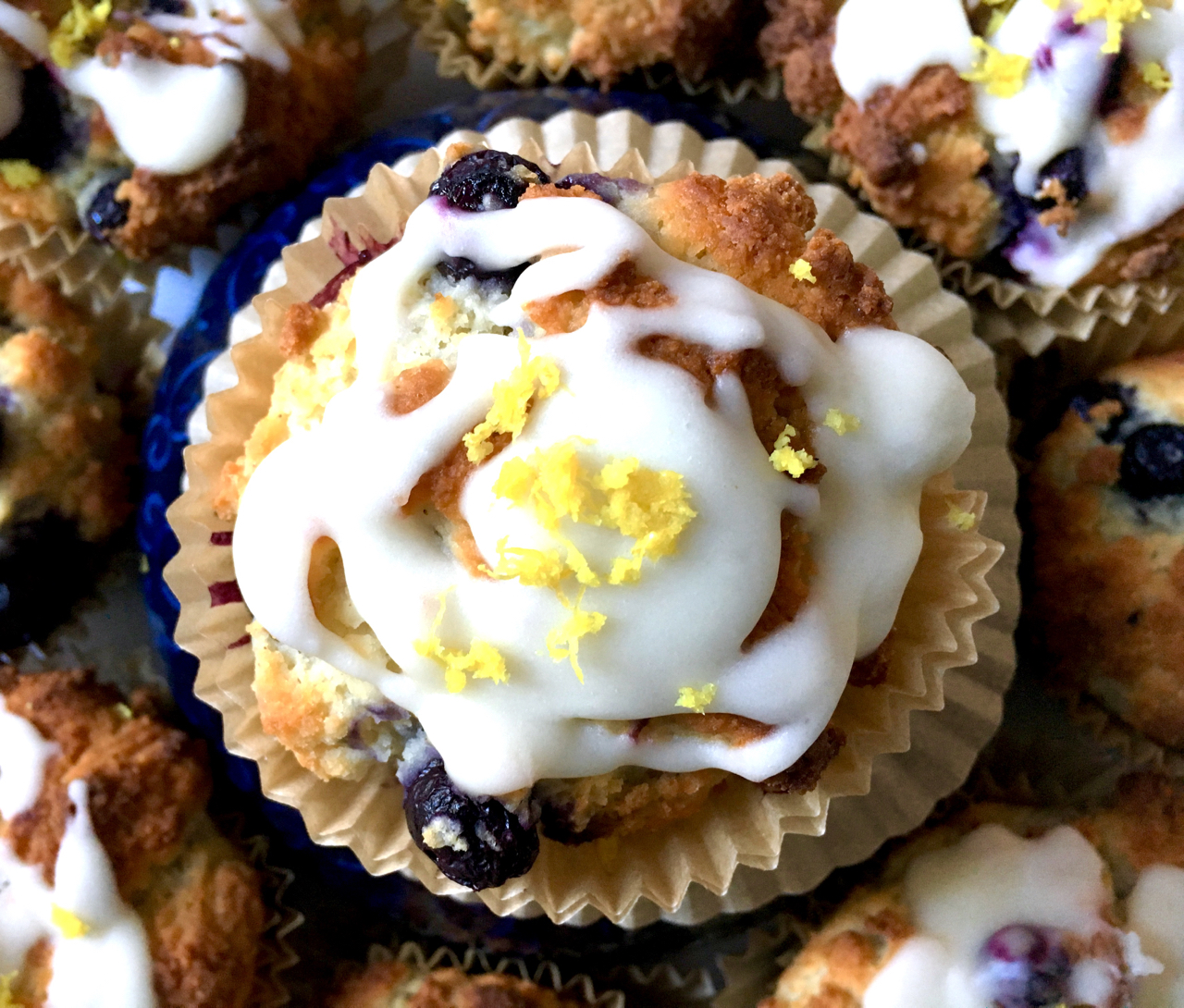 5 tablespoons unsalted butter, melted and cooled
½ cup Swerve sugar replacement (or regular refined sugar)
Finely grated zest from 1 lemon
¾ cup plain unsweetened yogurt or sour cream
1 large egg
1½ teaspoons baking powder
¼ teaspoon baking soda
¼ teaspoon salt
1½ cups gluten-free Bob's Red Mill 1-to-1-flour (or all-purpose flour)
1¼ cups blueberries, fresh or frozen
¼ cup almond milk (or regular milk)
For the Glaze
½ cup Swerve powdered sugar replacement (or regular powdered sugar)
Fresh lemon juice from 1 lemon
Preheat oven to 375°F.
Line muffin tins with paper liners. I like these unbleached liners.
Melt butter in microwave or on stove. Pour in large mixing bowl; set aside and let cool before proceeding with next step.
Add sugar, ½ of the lemon zest (reserve the rest for garnish), yogurt, and egg to the melted butter. Whisk until smooth.
Add baking powder, baking soda and salt; stir until combined.
Lightly fold in flour and blueberries.
Add almond milk and lightly combine. Batter will be very thick.
Spoon/scoop batter into muffins tins.
Bake for 25-30 minutes until tops are lightly browned and/or knife inserted in center of muffin comes out clean.
Remove muffins from oven and from muffin tin and let cool on rack for 10 minutes.
Make the glaze:
In a small bowl, incrementally add lemon juice to the powdered sugar and whisk until it reaches your desired consistency. I like my glaze thick, so I use less lemon juice. If you like yours thin and pourable, use more lemon juice.
When desired consistency is achieved, lightly drizzle glaze over the top of each muffin.
Top each muffin with a sprinkle of reserved lemon zest.