Roasted Cauliflower Soup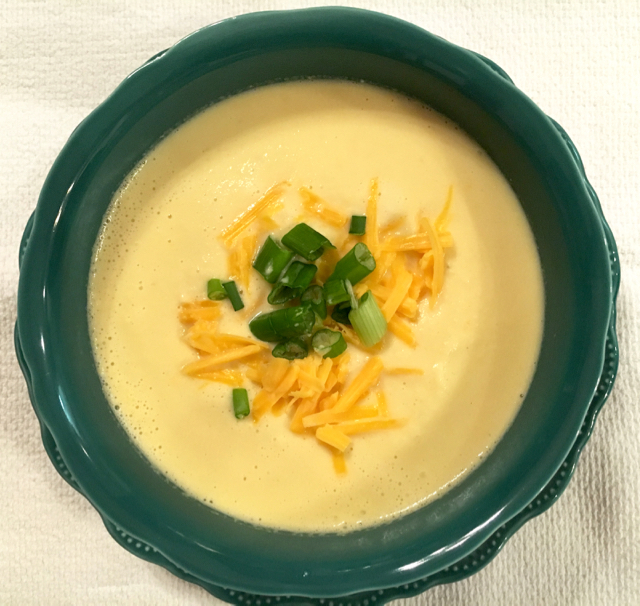 1 head cauliflower
1 small onion (sweet, white, yellow or green) OR onion powder
1-2 cloves garlic OR garlic powder
1 cup vegetable broth
½ cup half and half
1 cup grated cheddar cheese
Salt and pepper, to taste
Olive oil
Optional garnish: grated cheddar cheese and chopped green onions
Remove stem and leaves from cauliflower head. Wash cauliflower, chop into large chunks and spread on baking sheet. Drizzle with olive oil and season with salt and pepper. Roast in a 350 oven for 25 minutes.
While roasting cauliflower, chop onion and garlic and lightly saute. (Omit this step if using onion and garlic powder.)
Grate cheese and set aside.
Add the vegetable broth, half and half, onion and garlic to blender. Carefully add half of the roasted cauliflower to the blender and lightly puree.
Taste; add more seasoning and half and half or water if needed. Add remaining cauliflower chunks and blend again.
Pour soup into saucepan and simmer on stove.
Add in cheddar cheese, stirring to melt. Reserve a small amount of cheddar cheese for garnish, if desired.
When cheese has melted, pour into bowls, garnish with cheese and/or green onions and serve.