Gluten Free Almond Butter and Chocolate Chip Blondies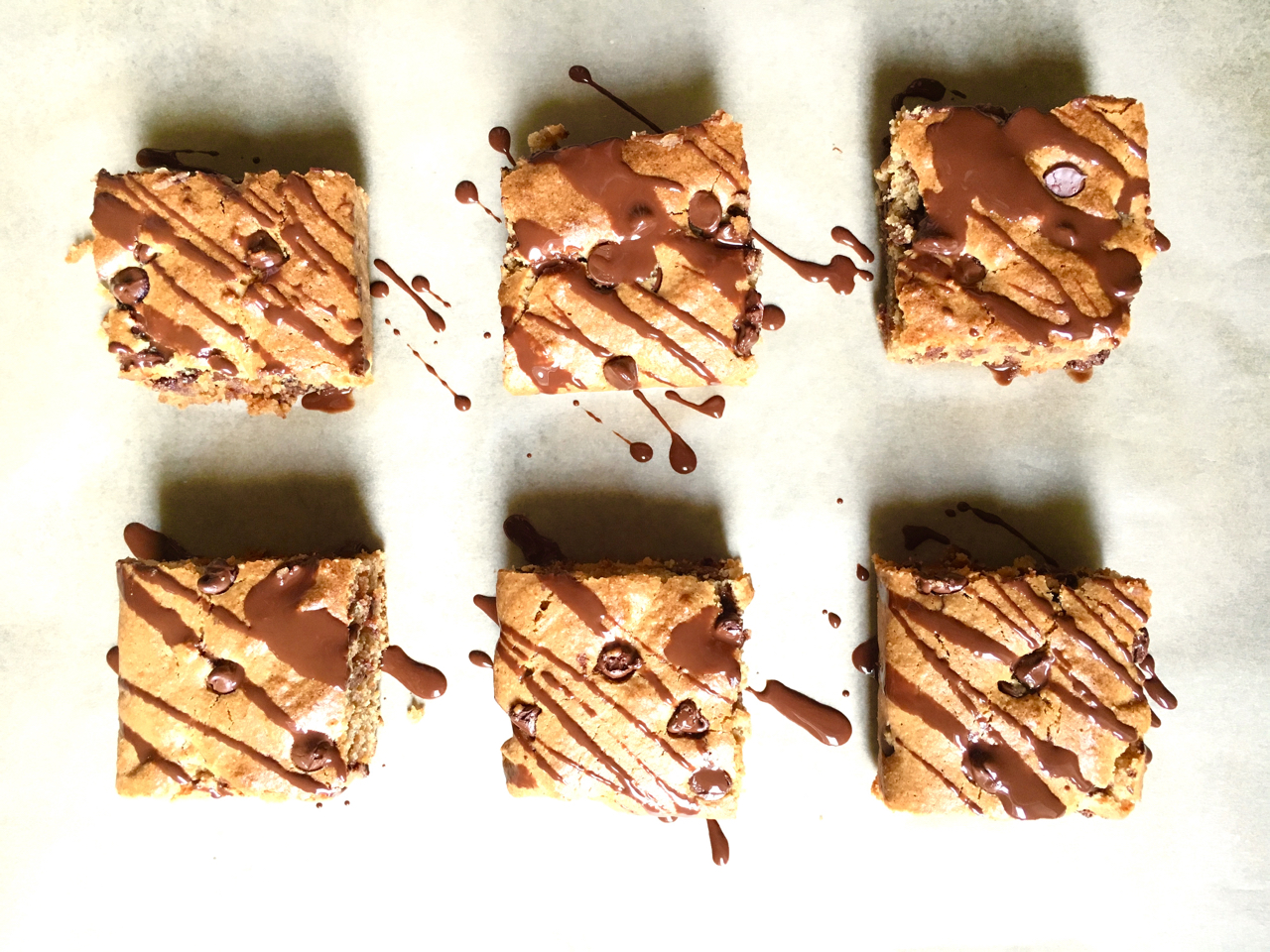 Blondies:
⅓ cup of coconut oil, softened
¾ cup of plain almond butter, smooth and unsalted
2 eggs (at room temperature)
¾ cup of maple syrup
2 cups of fine ground almond flour
1 teaspoon of baking powder
½ cup of bittersweet and/or semi-sweet chocolate chips (I like to mix them)
Chocolate Drizzle:
⅛ cup of chocolate chips
½ teaspoon of coconut oil
In a large mixing bowl, cream together the softened coconut oil and almond butter until smooth. Add in the maple syrup and eggs and stir to combine.
Add the almond flour and baking powder to the wet mixture and mix carefully until combined.
Fold in the chocolate chips. Reserve a few for the top.
Spread the mixture into an 8 x 8 baking dish lined with parchment paper.
Bake at 350° for approx. 25 minutes. The top should be golden brown. Do not over bake. Let cool for 30 minutes before attempting to remove and slice. The blondies will set a little more as they cool off.
Chocolate Drizzle:
In a microwave-safe bowl, melt/soften about ⅛ cup of chocolate chips with ½ teaspoon of coconut oil in the microwave for 30 seconds or so. Remove from the microwave and stir until completely melted.
With a spoon, lightly drizzle chocolate over each blondie and let set.
Blondies will keep, covered, in the refrigerator for up to 5 days.