Whipped Goat Cheese and Pistachio Stuffed Prosciutto Cups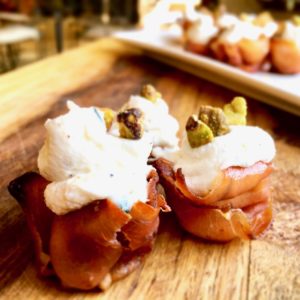 12 slices thinly sliced prosciutto

4 oz. goat cheese, softened
4 oz. ricotta cheese
3 T. heavy cream
2 T. fresh thyme, leaves only

1/3 c. pistachios, chopped
Preheat oven to 375 degrees. 

Cut prosciutto slices in half lengthwise to create 24 long, thin strips.
Grease or spray a 24-cup mini-muffin tin with olive oil. Take one thin strip of prosciutto and place is across an empty cup, with the middle of the strip over the mid-point of the cup.
Press the center of the prosciutto strip into the bottom of the cup. Carefully fold and wrap one end of the prosciutto around one interior side of the cup until it overlaps the prosciutto on the opposite side. Repeat with the opposite side of the prosciutto so that the exposed muffin cup is covered to form a "cup" or "basket."
Repeat this process with the remaining 23 muffin cups.
Place muffin tin in preheated oven and bake for 9-10 minutes. Keep an eye on them while they bake so they don't overcook. The edges of the prosciutto will start to brown when ready.
Remove pan from oven and cool for a couple minutes before transferring each cup to paper towels to remove excess grease. Flip each cup after several minutes. Once all excess oil has been removed, transfer prosciutto cups to a large plate.
In a small glass bowl, combine goat cheese, ricotta cheese, heavy cream, and thyme leaves. Stir or whisk until thoroughly combined.
Once prosciutto cups are cool to the touch, transfer cheese mixture to a plastic sandwich bag. Cut a small tip off one corner and pipe cheese mixture into each prosciutto cup. Top each cheese-filled cup with chopped pistachios. 

Transfer to a serving platter and serve immediately.