Sheet Pan Sweet Potato Hash With Eggs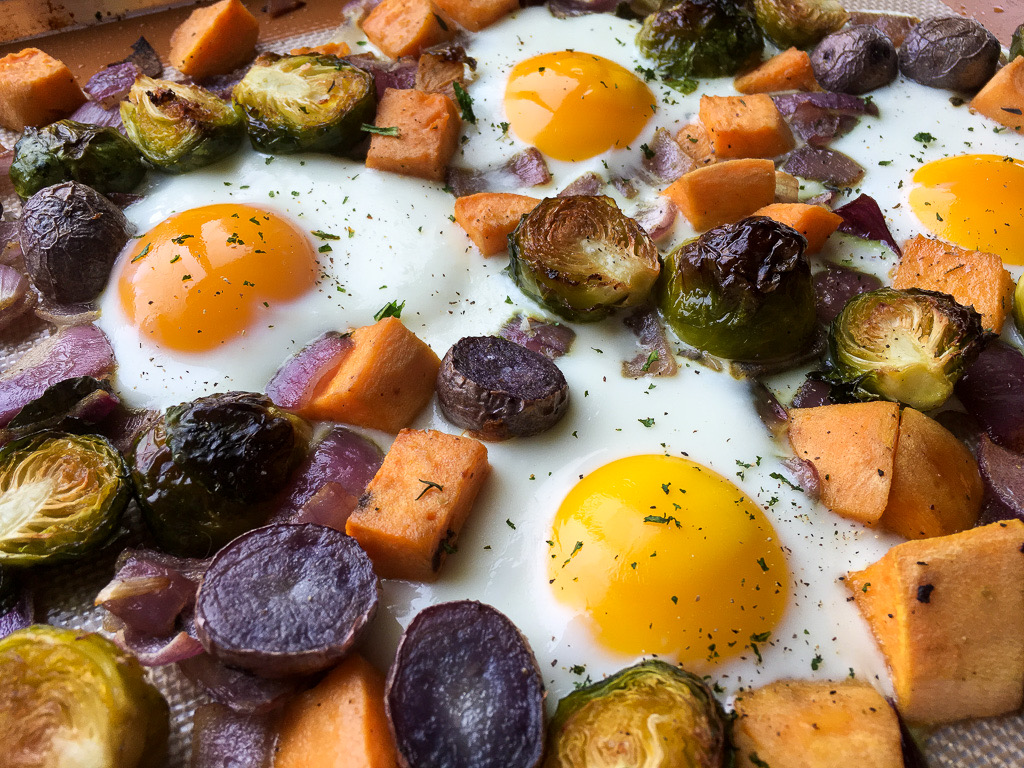 2 large sweet potatoes, peeled and cut into chunks
1 lb. small purple potatoes, cut in half
8 oz. Brussels sprouts, cut in half
1 large red onion, roughly chopped
3-4 cloves fresh garlic, minced
1 t. onion powder
3 T. extra virgin olive oil
6 large eggs
Sea salt and black pepper, to taste
Preheat oven to 425°F and line a large, rimmed baking sheet with parchment paper or a silicone baking mat. If using parchment paper, lightly spray with non-stick cooking spray. Set aside.
In a large mixing bowl, toss sweet potatoes, purple potatoes, Brussels sprouts, red onion, garlic, onion powder, and olive oil until vegetables are well coated. Season with salt and black pepper, to taste.

Spread the sweet potato mixture onto the prepared sheet pan in a single layer without overcrowding and roast in pre-heated oven for 8-10 minutes. Stir vegetables and continue roasting another 8-10 minutes, or until sweet potatoes are fork tender.
Remove sheet pan from oven and create 6 round, evenly spaced openings among the vegetables. Carefully pour an egg into each opening, keeping the yolk intact. Season with additional salt and pepper, if desired, and return pan to the oven.
Bake for 6-8 minutes, or until the egg whites are set and the yolks reach the desired level of doneness.
Remove sheet pan from oven and serve immediately. Enjoy!