Skillet Garlic Chicken With Sun-dried Tomatoes and Pecorino Cream Sauce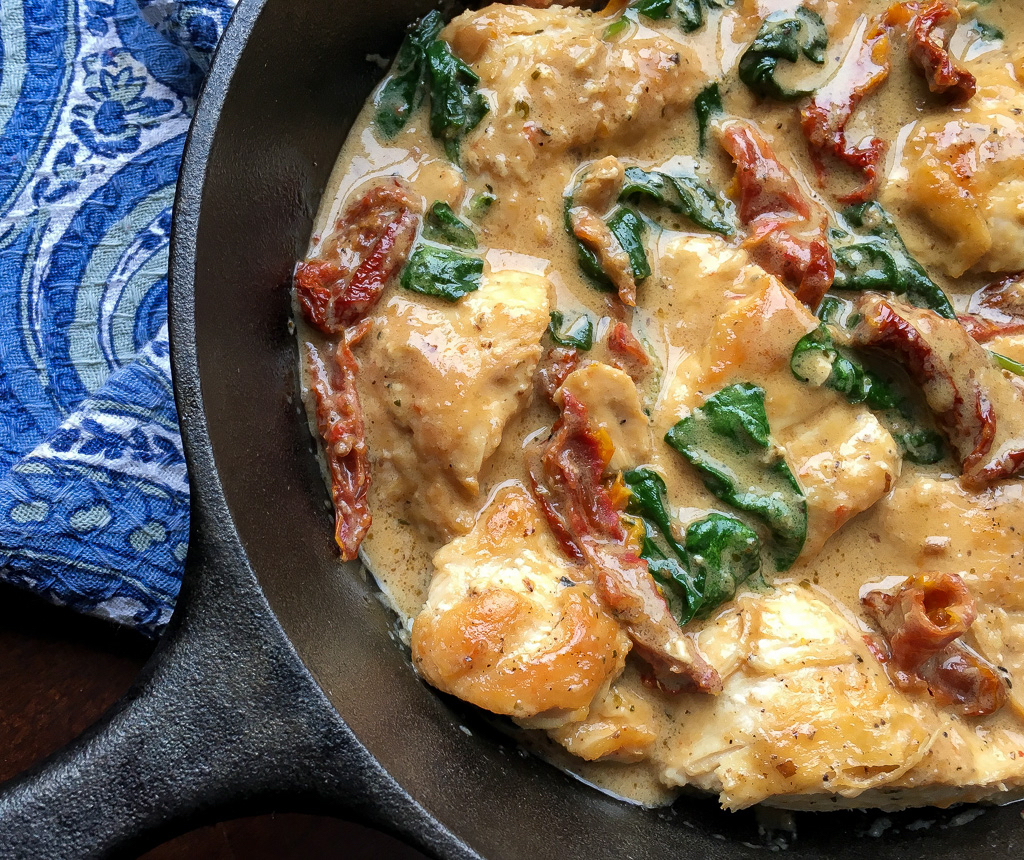 2 lbs. boneless, skinless chicken breasts

3 T. extra virgin olive oil

4-5 large cloves garlic, smashed

¾ c. half and half
1 c. chicken broth, preferably organic
2 t. dried oregano
⅓ c. Pecorino Romano cheese, freshly grated
⅓ c. Parmesan cheese, freshly grated
½ c. sun-dried tomatoes, chopped
1½ c. baby spinach
Sea salt and black pepper, to taste
Cut chicken into bite-sized pieces and set aside.
Heat olive oil and garlic in a large high-sided skillet over medium-high heat. Sauté garlic for several minutes until golden brown. Remove garlic with a slotted spatula and discard.
Add chicken to hot skillet and cook until golden brown on each side, approximately 3-4 minutes per side. Season with salt and black pepper, to taste. Remove chicken from skillet and set aside.
Add half & half and chicken broth and scrape up any brown bits from the bottom of the pan with a spatula.
Add oregano and grated cheese to skillet and whisk until cheese is completely melted, approximately 3-4 minutes.
Reduce heat to just below medium and add the sun-dried tomatoes and baby spinach. Simmer for 3-4 minutes, stirring occasionally, or until tomatoes are softened and the spinach wilts.
Add chicken and its juices back to skillet and simmer for another 3-5 minutes, or until chicken is heated through. Taste and adjust seasonings, as desired. Remove from heat and serve immediately.