Flourless Chocolate Cake With Ganache Glaze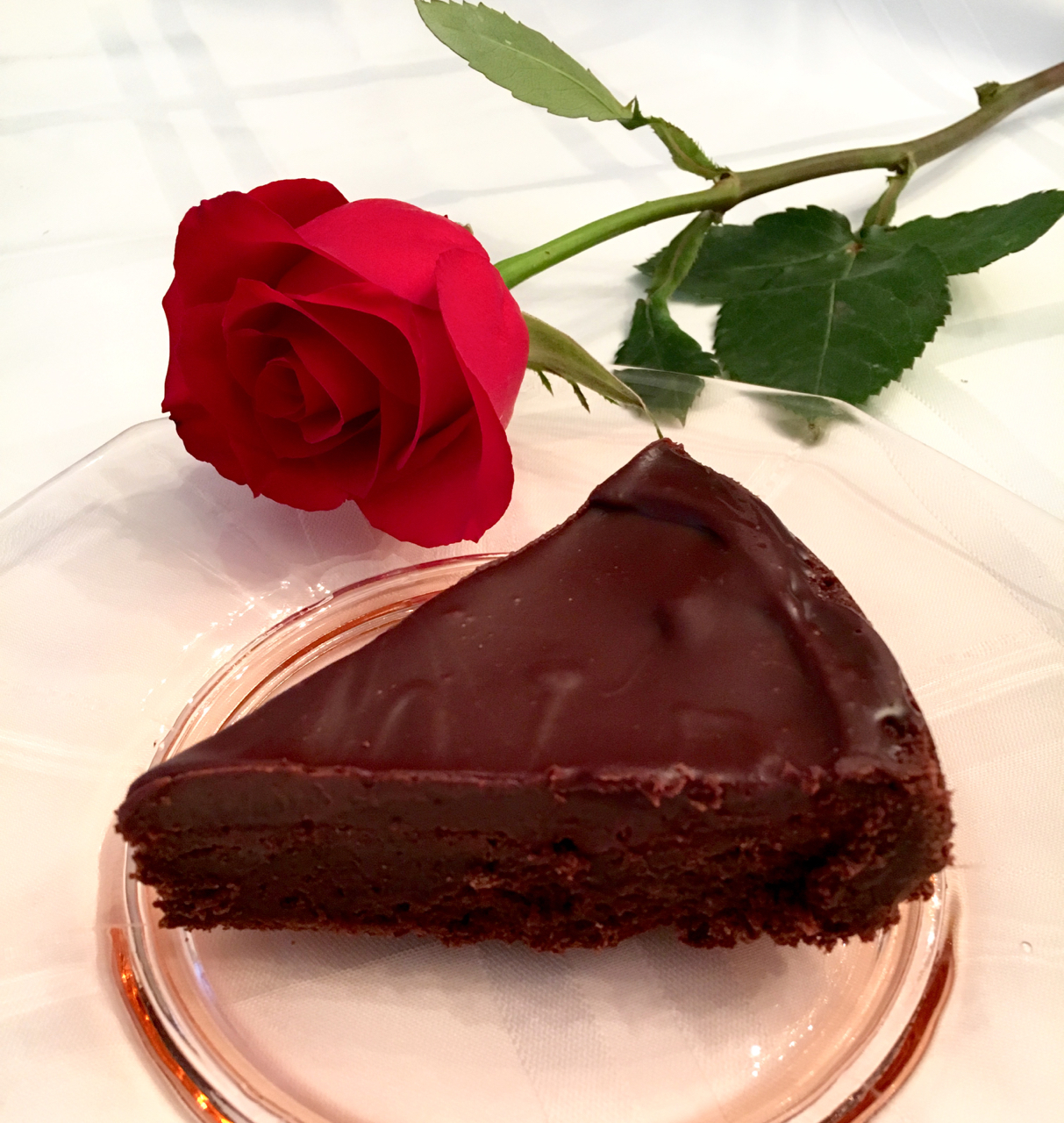 CAKE
1 cup semisweet chocolate chips
½ cup (8 tablespoons) unsalted organic butter
¾ cup organic sugar
1 tsp. vanilla extract
¼ tsp. salt
¼ tsp. ground cinnamon
2 tsp. espresso powder or instant coffee
3 large organic eggs
GANACHE GLAZE
1 cup semisweet chocolate chips
½ cup heavy cream
½ cup unsweetened cocoa powder
CAKE
Preheat oven to 375. Grease an 8" round cake pan with butter. Line bottom of cake pan with parchment paper cut to fit. Butter top of parchment paper. Set aside.
Add butter and chocolate ships to a medium-sized, microwave-safe mixing bowl. Microwave until butter and chips are soft. Stir until chips melt completely.
Stir in sugar, salt, vanilla extract, ground cinnamon and espresso/coffee powder.
Add in eggs, beat until smooth.
Add cocoa powder and mix to combine.
Pour batter into cake pan.
Bake for 25 minutes. Sides will begin to pull away from pan and top will have a crust like texture. Do not overbake.
Remove from oven and let cool for 5 minutes before inverting to remove.
Cool on cooling rack. Cake should be completely cool before glazing.
GANACHE GLAZE
Heat cream on stove over medium heat until just simmering. Immediately remove from heat and add in chocolate chips.
Cover pan completely to seal in heat and let sit undisturbed for 5 minutes.
Remove from heat and whisk mixture slowly to melt chips. Keep whisking until all chips are melted.
For a thick ganache, cover and let cool. You can refrigerate ganache until ready to glaze cake.
When ready to glaze cake, carefully pour or spoon ganache on top portion of cake.
Refrigerate cake at 4-6 hours (best overnight) to let ganache firm up.