Blackened Salmon Salad With Greek Yogurt Dill Dressing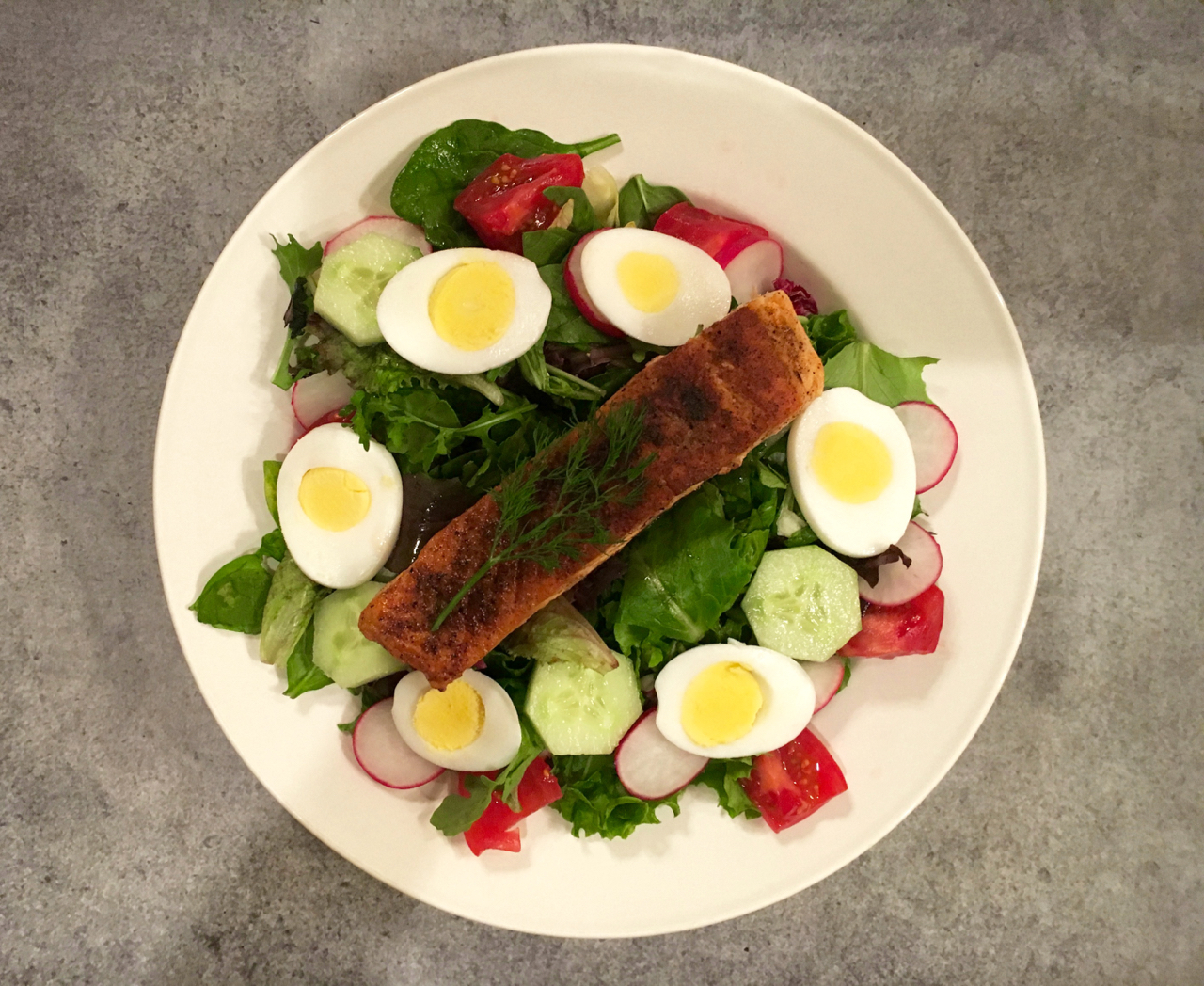 2 salmon fillets
Blackening seasoning
Olive oil
2 eggs, hard-boiled
Mixed greens, organic, rinsed and dried
Baby spinach, organic, rinsed and dried
3-5 radishes, sliced
2 large tomatoes, cut into large wedges
1 medium cucumber, peeled and cubed
1 cup organic Greek yogurt, plain
1 teaspoon garlic powder OR 1 clove garlic, minced
½ teaspoon onion powder
2 Tablespoon fresh dill, chopped (or about 4 sprigs fresh dill - no need to chop)
2 Tablespoons fresh lemon juice
½ teaspoon salt
The salad has 3 stages to it: the salad prep, searing the salmon, and making the dressing. Instructions are divided into stages.
Stage 1: Prepping greens and veggies
Prepping the greens and veggies takes the most time, so do it first. I include hard boiled eggs in this salad, so go ahead put your eggs on to boil while you process the greens. For the greens, I used a combo of organic mixed greens and baby spinach. Rinse them well and use a salad spinner to dry them. Divide greens among your salad bowls or plates.
Wash and prep your veggies: tomatoes, radishes, and cucumber. For the tomatoes, cut into wedges; for the radishes and cucumber, slice them as thin as possible. Divide veggies among the greens.
Check on the eggs. If they're ready, go ahead and cool and peel them. Slice them and divide among each salad.
Stage 2: Pan-sear the salmon
Prep the salmon for pan searing. The salmon will cook quickly with this method. Rinse and dry the salmon and season it liberally with a blackening seasoning.
In a well-oiled pan, heated to high, pan-sear the salmon, flesh side down, for a few minutes until a crust has formed. Reduce the heat to low and add a small amount of water to the pan and put a lid on it to finish cooking the salmon all the way through. Once cooked, remove from pan onto a plate to rest, skin side down.
Stage 3: Making the Greek Yogurt And Dill Dressing
The last step is to make the Greek yogurt and dill salad dressing. To a blender, add the yogurt, fresh dill, fresh lemon juice, a garlic clove (or garlic powder), onion powder, and salt. Blend to combine. Use immediately or refrigerate up to 3 days.
Completing the salad
Remove the skin from the salmon that's been resting on the plate. Carefully place a salmon fillet on top of each salad. Drizzle the salads with dressing and serve.