Gluten-Free Baked Strawberry Doughnuts With Strawberry Glaze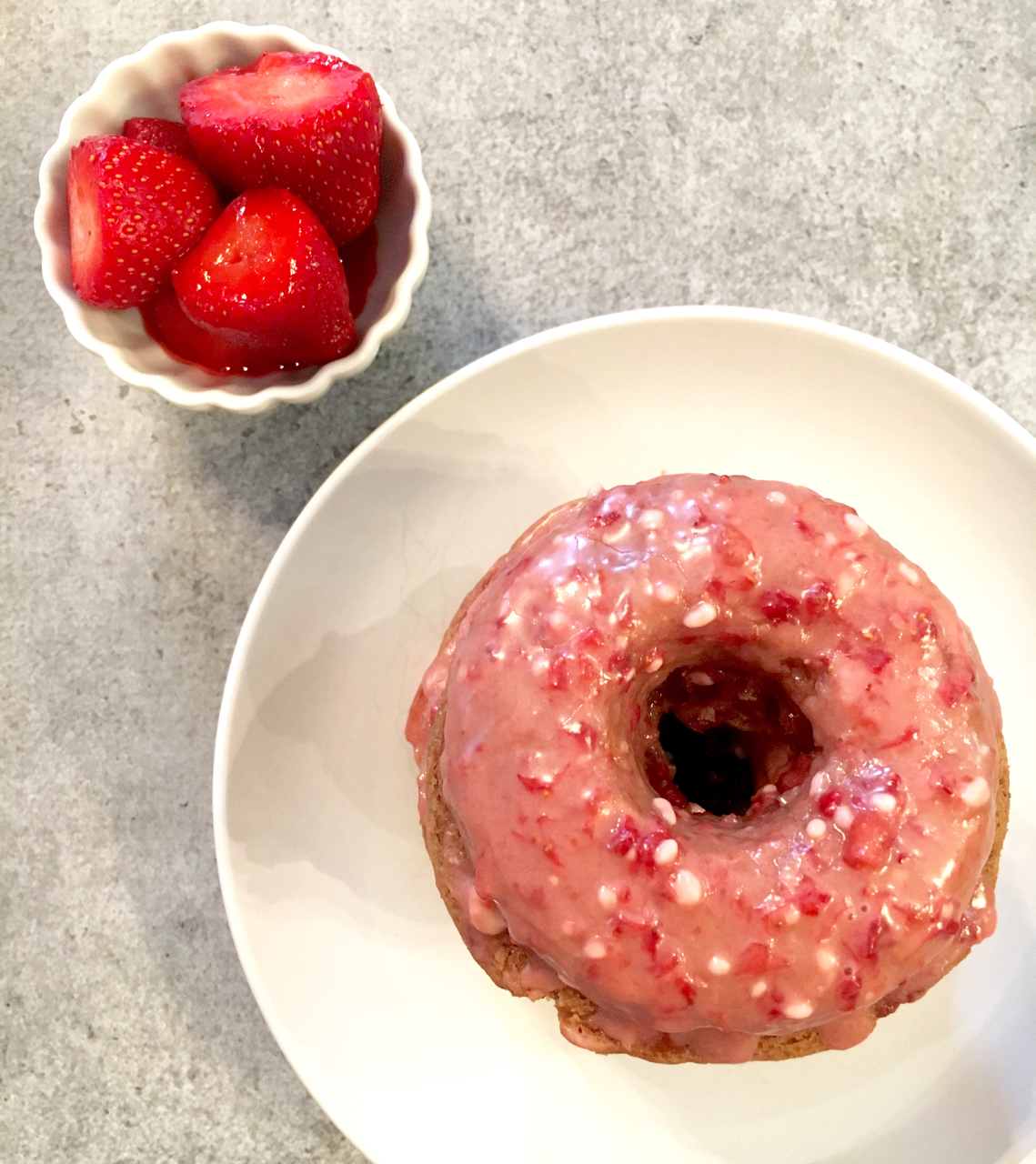 DOUGHNUTS
½ cup organic coconut sugar
1 teaspoon baking powder
¼ teaspoon salt
1 egg
½ cup buttermilk
(to make your own buttermilk, combine ½ cup half and half (or milk) and ½ teaspoon white or apple cider vinegar. Let it sit for about 10 minutes to form buttermilk.)
2 teaspoons vanilla extract
3 Tablespoons coconut oil, melted and cooled
¾ cup fresh strawberries, diced and sitting in their own juices
GLAZE:
¼ cup fresh strawberries, diced and sitting in their own juices
1½ cups confectioners sugar
1 teaspoon vanilla extract
¼ cup half and half
TO MAKE THE DOUGHNUT BATTER:
Preheat oven to 375°F and oil the doughnut pan with coconut oil. Set aside.
Melt the coconut oil and set aside to cool.
In a medium mixing bowl, add flour, coconut sugar, baking powder, and salt. Stir to combine.
In a separate mixing bowl, whisk together buttermilk, egg and vanilla extract. Pour in the cooled coconut oil and whisk to combine.
Pour the wet ingredients into the dry ingredients and mix well.
Add in the diced strawberries and stir to combine.
Spoon the batter into the doughnut pan. Do not overfill. You should be able to get 6 to 8 doughnuts out of this batter if you fill each doughnut circle only ½ way.
Bake at 375°F for 8-10 minutes or until golden brown. Inserted knife (or toothpick) and if clean when removed, the doughnuts are cooked through.
Remove from the oven and allow to cool for a few minutes before removing from pan.
Cool on wire rack for at least 15 minutes prior to handling and dipping in the glaze.
TO MAKE THE GLAZE:
Combine ¼ cup diced strawberries with 1 tablespoon sugar. Stir and mash with a fork, letting it sit at room temperature until strawberry juice is produced.
Add this mixture to the confectioners sugar and mix well. Add in half and half and mix. If glaze seems too thick or too thin, add more half and half or confectioners sugar.
Before glazing doughnuts, make sure to have wax or parchment paper under wire rack to catch any glaze drippings.
To glaze doughnuts, dip each doughnut into the glaze and quickly remove, allowing to dry on wire rack.
You may want to re-glaze each doughnut for a thicker coating. If so, just repeat dipping and drying.