Chicken, Black Bean and Corn Quesadillas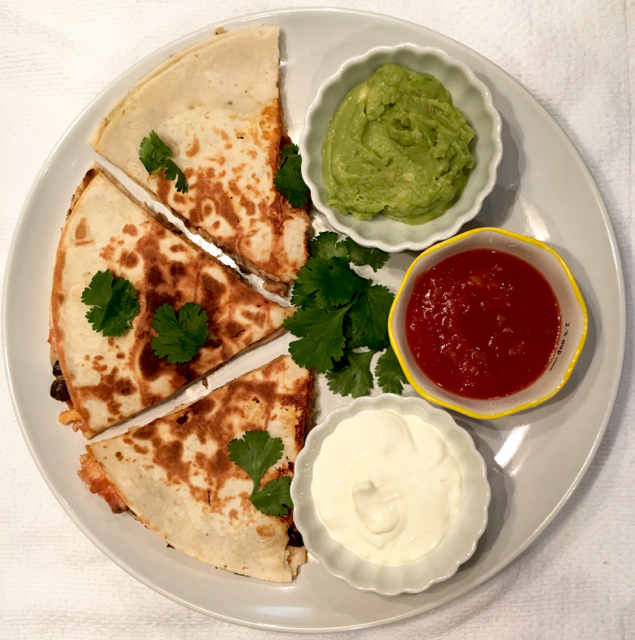 2 cooked chicken breasts, cut into bite-sized pieces
I cup shredded cheddar cheese
1 can black beans, drained and rinsed
½ can corn, or ½ pgk. frozen corn
1 small onion, diced (white, yellow, or red)
4 flour tortillas
Salt and chili powder, to taste.
2 Tablespoons olive oil
Garnishes
Salsa
Guacamole
Sour Cream
Cilantro
Season and cook your chicken breasts. Cut into bite-sized pieces and set aside.
Grate your cheddar cheese; set aside
Saute onion until translucent; add black beans and corn. Season with salt and chili powder. Once heated through, remove from heat and set aside.
Assembly:
(if using folder-over method, add ingredients to just half of the tortilla and fold over before heating in pan)
Place tortilla flat on plate and add thin layer of salsa over entire tortilla surface.
Next, add a thin layer of cheese.
Add a thin layer of chicken on top of cheese.
Add a layer of beans and corn mixture on top of chicken.
Add another thin layer of cheese on top of beans and corn.
Either fold-over, or add another tortilla on top of ingredients.
Set aside and assemble your next quesadilla.
Add one tablespoon of olive oil to frying pan over medium to medium-high heat. Once pan is heated, carefully add quesadilla to pan. Lightly fry until cheese begins to melt on bottom tortilla and then carefully flip quesadilla to continue frying on other side. When cheese is melted, remove from heat and let cool on plate before cutting into wedges.
Fry your second tortilla.
Cut and serve with quacamole, salsa, sour cream, and cilantro.