Cherry Chocolate Chip Blondie Bars (Gluten-Free)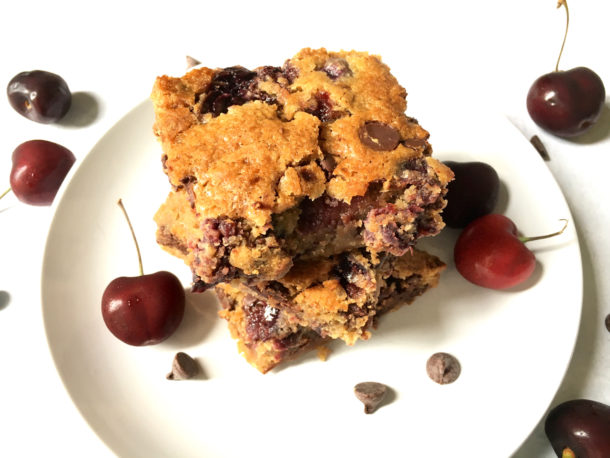 1 cup cherries, pitted and cut into large chunks
¾ cup semi-sweet chocolate chips
½ cup (1 stick) butter, melted (if using salted butter, omit adding salt later in recipe)
1 cup (packed) light brown sugar
1 large egg
2 teaspoons vanilla extract
1 teaspoon ground cinnamon
1 cup Bob's Red Mill gluten-free 1-to-1 baking flour
¼ teaspoon salt (add only if you used unsalted butter)
Preheat oven to 350F.
Line an 8x8 inch pan with parchment paper, and butter it well. Set aside.
Pit cherries and rough-chop into large chunks. Set aside
Use microwave to melt butter in medium-sized bowl.
Add in brown sugar and stir to combine.
Add egg and vanilla; stir to combine.
Add in flour, cinnamon, and salt; stir to combine. Avoid over-mixing, otherwise you'll get tough blondies.
Gently fold in cherries and chocolate chips.
Pour batter into pan and smooth out evenly.
Bake for 25-30 minutes or until edges begin to pull away from pan.
Remove from oven and let cool for at least an hour before slicing and serving.
Blondies will keep at room temperature for a few days (covered and sealed), and up to a week in the refrigerator (covered and sealed).