Gluten-Free Apple Pie Shortbread Bars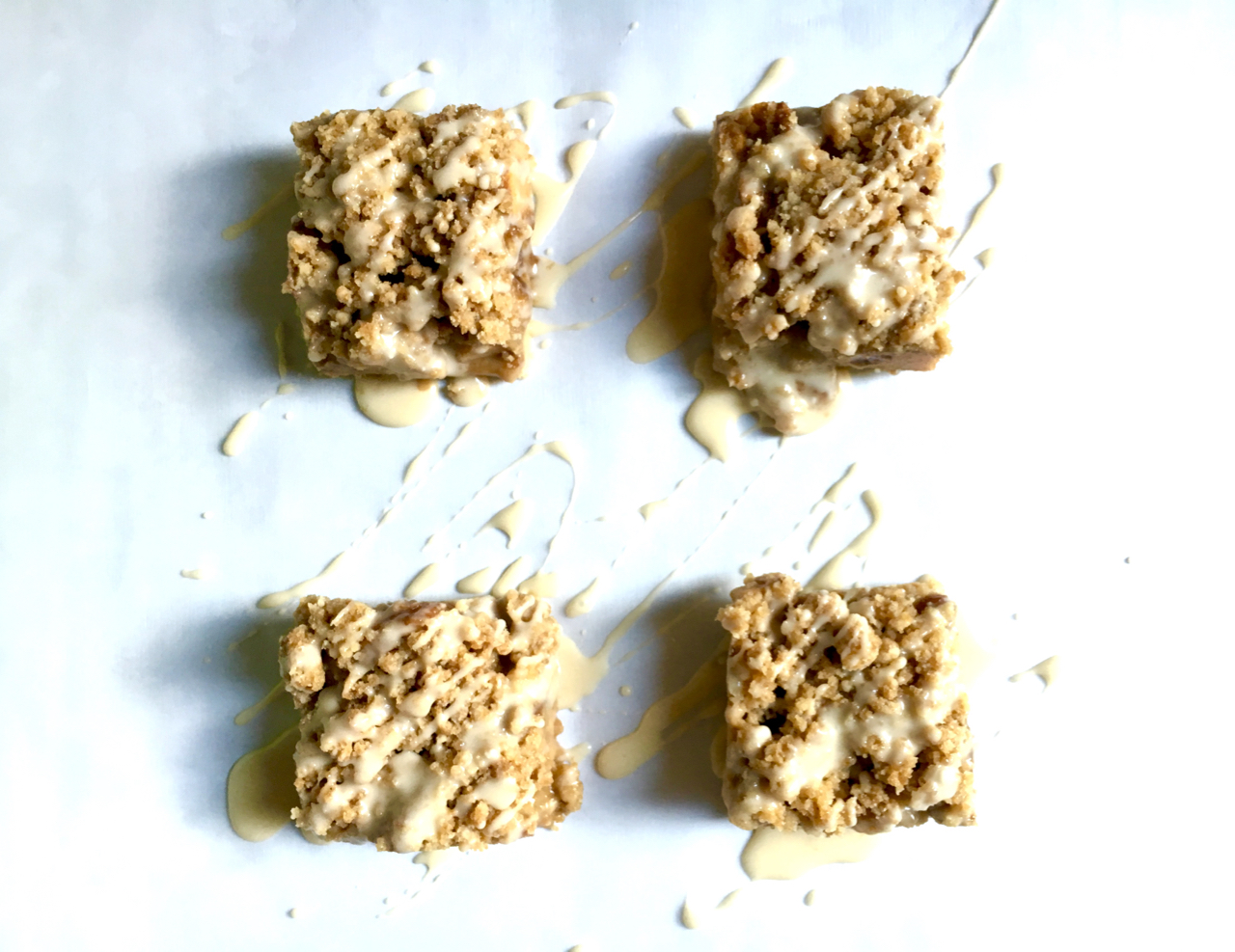 Shortbread
½ cup unsalted organic butter, room temperature
¼ cup organic sugar
1 teaspoon vanilla extract
¼ teaspoon pink Himalayan salt
1 cup all-purpose gluten-free flour
Apple Filling
3 organic apples, peeled and thinly sliced
2 Tablespoons all-purpose gluten-free flour
2 Tablespoons organic brown sugar
1 teaspoon ground cinnamon
1 teaspoon ground ginger
¼ teaspoon ground cloves
¼ teaspoon ground nutmeg
Topping
½ cup gluten-free flour
¾ cup organic brown sugar, packed
¼ cup organic butter, melted or at room temperature to cut in
Drizzle
1 cup powdered sugar
1 Tablespoon milk
½ teaspoon vanilla extract
Preheat oven to 300° F.
Line an 8 x 8 baking pan with parchment paper. Make sure and bring the parchment up the sides so it will be easy to lift out later when you're ready to cut the bars.
Shortbread Base
Using a stand mixer, place butter in bowl and mix on high for at least 5 minutes . Butter should be more white than yellow at this point; that's how you'll know it's creamed.
Add sugar, vanilla, and salt to the butter and combine.
Once combined, add in the gluten-free flour and mix well.
Press the mixture into the parchment lined pan and bake in the pre-heated oven for 15 minutes.
Apple Filling
In a large bowl, combine the apples, flour, sugar, cinnamon, ginger, cloves, and nutmeg. Make sure all the apples are well coated.
Crumb Topping
Mix the gluten-free flour and ¾ cup brown sugar. Cut in the butter with a fork until crumble-like consistency is achieved.
Remove the crust from the oven and turn the heat up to 350° F.
Sprinkle half of the crumb topping over the short bread and then layer the apples on top.
Finally, sprinkle the remainder of the crumb topping on top and place in the oven to bake for 45 minutes. Because oven temperatures vary, you may need to bake yours a little longer. You want to make sure the apples are tender. Test with a fork.
Remove from the oven and allow to cool fully (at least a few hours) before covering and placing in the refrigerator overnight to set.
Once it's set, remove from baking dish by lifting out the parchment paper and cutting into bars.
Drizzle
Sift powdered sugar into bowl. Add milk and vanilla and whisk until smooth.
Drizzle mixture over bars and let set before serving.