Dutch Oven Balsamic Chicken And Vegetables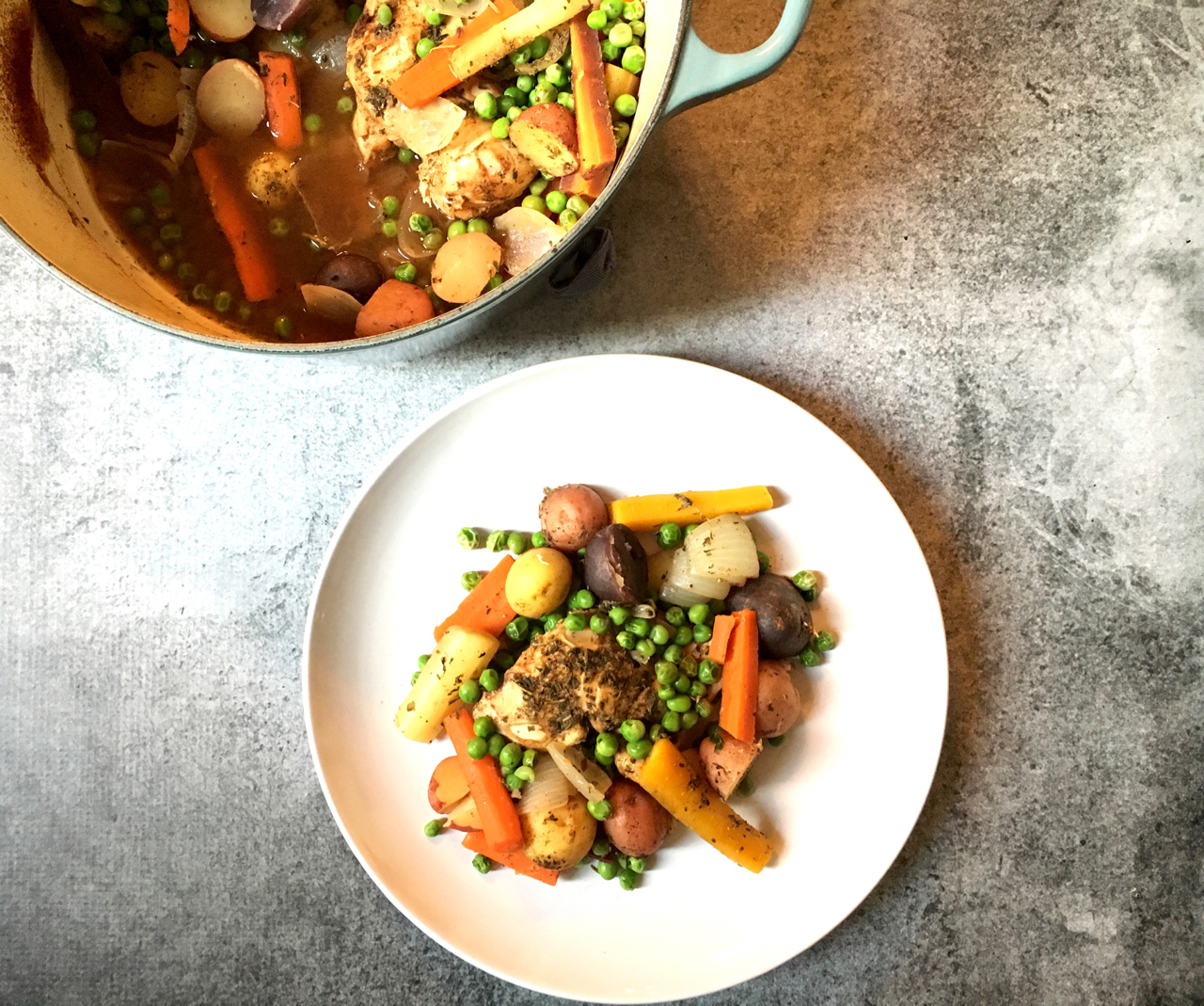 2-4 boneless chicken breasts (I use thin breasts, so if each piece is large and thick, consider butterflying the meat or slicing each breast horizontally to create two thiner pieces from each piece.)
1 bag (1.5 lbs) tri-colored potatoes
4-5 large carrots
1 large sweet onion,
2 cloves garlic
1½ cups frozen peas
1 cup white wine (or water)
⅓ cup balsamic vinegar
1 Tablespoon Italian Seasoning
Salt and Pepper, to taste
Equipment: Dutch Oven or large baking/casserole dish
Preheat oven to 350° F.
Lightly oil the bottom of your dutch oven with olive oil. Nestle 2-4 boneless chicken breasts in the bottom.
Wash and scrub potatoes. Cut in half and add to pot.
Wash carrots. Cut off ends. Peel if desired. Chop into large chunks and add to pot.
Peel and chop onion and garlic cloves into large chunks and add to pot.
Salt and pepper generously.
Add 1 cup water or white wine, and ⅓ cup balsamic vinegar to the pot.
Lastly, add Italian seasoning blend.
Put the lid on and bake for 50 minutes.
Carefully remove dutch oven and/or lid and add frozen peas to the pot. Also check liquid level and add more wine or water if needed.
**Continue baking for another 30-45 minutes, depending on how tender you want your vegetables.