Italian Almond Pear Cake (Gluten-Free)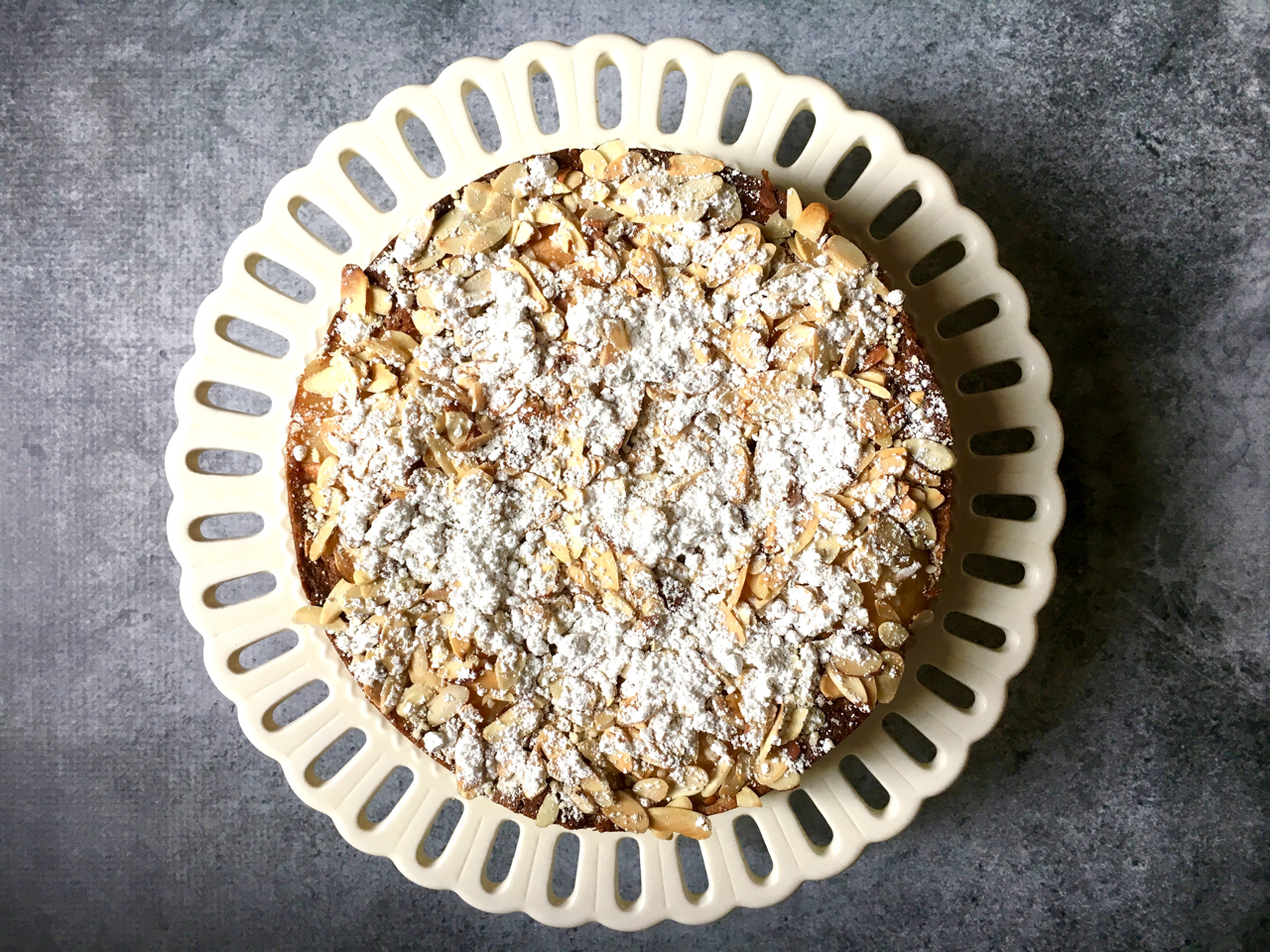 ½ cup plus 1 Tbsp. unsalted organic butter, at room temperature
½ cup plus 1 Tbsp. organic sugar
2 large organic eggs
⅓ cup plus 1 Tbsp. gluten-free flour (I used Bob's Red Mill Gluten-Free 1-to-1 Flour)
3½ oz (about ¾ cup) ground almonds
½ tsp. baking powder
½ tsp. vanilla extract
½ tsp. ground cinnamon
¼ tsp. ground ginger
3 small to medium ripe organic pears, peeled, cored and halved
1.7 oz sliced almonds (for top of cake)
Confectioner's sugar (sifted), for garnish
Pre-heat oven to 375° F.
Grease an 8-inch springform pan and line the bottom with a round of parchment paper. Set aside.
In the bowl of a stand mixer, beat the butter and sugar together until pale and fluffy.
Add eggs, one at a time, beating well after each addition. Fold in the gluten-free flour, ground almonds, baking powder, cinnamon and ginger. Batter will be thick.
Spoon the batter into the Springform pan and smooth out the top of the batter with the back of a spoon or knife.
Peel, core, and slice pears lengthwise.
Arrange the pear halves on top of the cake and bake in pre-heated 375° F. oven for 25 minutes. The cake will gently rise above the pears.
Remove from oven and top generously with sliced almonds.
Put the cake back in oven for another 7-10 minutes to toast the almonds a bit and to ensure that the cake is done. Check the cake during the last few minutes by inserting a knife into the center. When it comes out clean, it's done.
Remove from oven and let the cake cool a bit before removing it from the Springform pan.
Lightly dust the top with sifted confectioner's sugar and serve.