Gingerbread Loaf With Maple Glaze (Gluten-Free)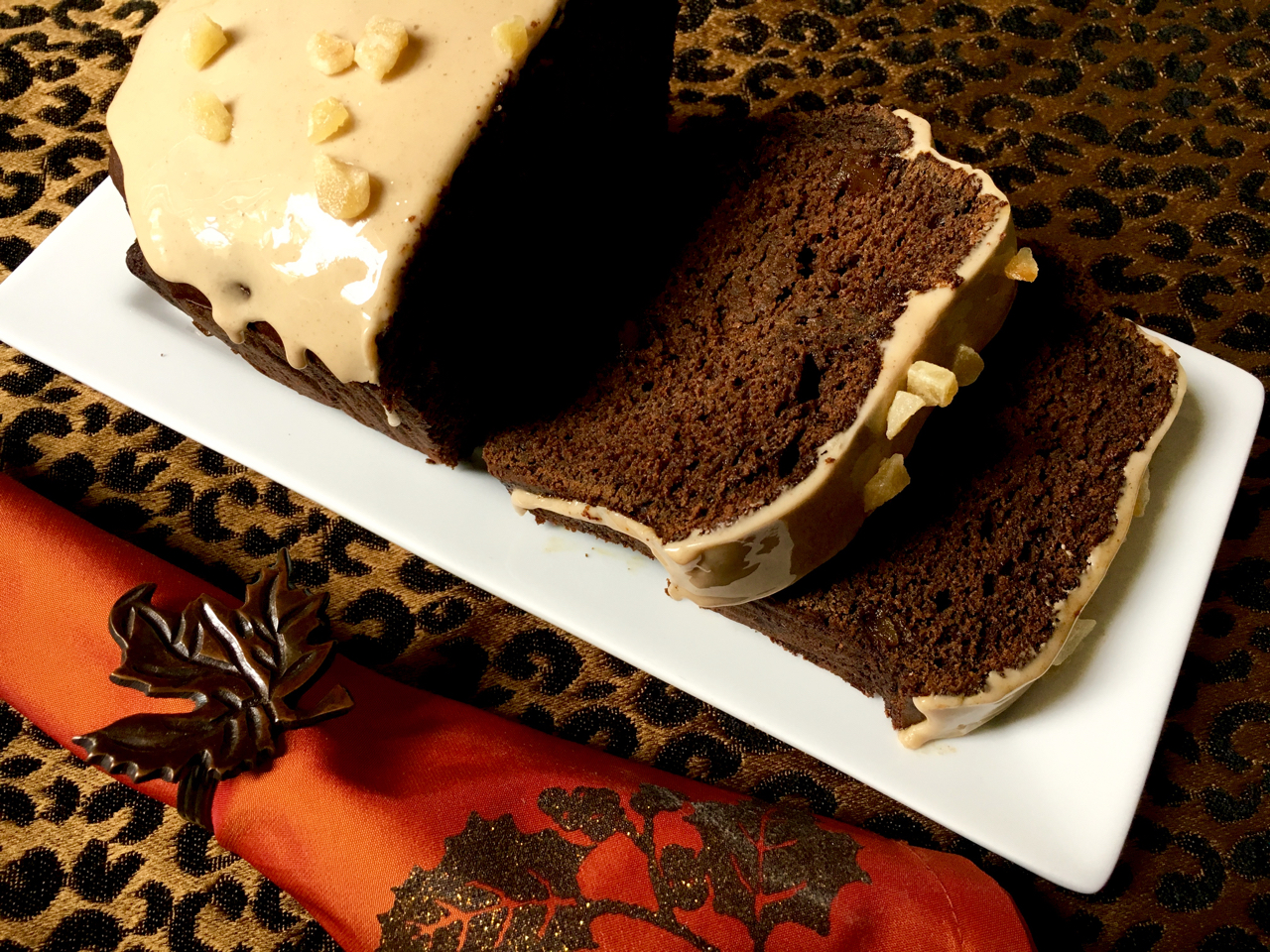 For the Gingerbread Loaf
2 cups gluten-free flour (Bob's Red Mill 1-to-1 Gluten-Free Flour)
1 teaspoon baking soda
½ teaspoon baking powder
1½ teaspoons ground ginger
¾ teaspoon ground nutmeg
½ teaspoon ground cinnamon
¼ teaspoon of salt
¼ cup organic coconut sugar
½ cup unsalted butter, softened
½ cup molasses
1 teaspoon vanilla extract
2 large eggs
1 cup buttermilk
¼ cup crystallized ginger bits
For the Maple Glaze
1 cup powdered sugar
¼ cup maple syrup
½ teaspoon pure vanilla extract
¼ teaspoon ground allspice
Garnish: crystallized ginger bits
Preheat oven to 350 degrees.
Line a 9 X 5 loaf pan with parchment paper and grease well. Set aside.
In a large bowl, stir together the gluten-free flour, baking soda, baking powder, ground ginger, nutmeg, cinnamon and salt. Set aside.
In the bowl of a stand mixer, cream together the butter and sugar until well blended.
Add in the molasses and vanilla. Mix well.
Add the eggs, one at a time, until well mixed.
Add half of the flour mixture and half of the buttermilk to the sugar mixture and blend well; add the remaining flour and buttermilk and blend well.
Stir in the crystallized ginger bits.
Pour and/or spoon the batter into prepared loaf pan and bake at 350 degrees for 55 minutes.
Remove from oven and cool in the pan for 10 minutes.
Remove from the pan and cool completely before glazing.
Glaze instructions:
Sift powdered sugar in to a large mixing bowl.
Whisk in maple syrup, vanilla extract and cinnamon.
Glaze will be thick. If you need to thin it out, add dollop of maple syrup and whisk.
Spoon/pour glaze slowly over top of cooled gingerbread loaf. Allow to drip down sides.
Garnish top of loaf with crystallized ginger bits.
Glaze can be set quickly by refrigerating glazed gingerbread loaf.
*Glaze recipe easily doubled if you desire more glaze.