These Blueberry Lemon Muffins with Lemon Glaze are easy to make and will be a family favorite! Gluten-Free option available.
Note: This post contains affiliate links for products on Amazon.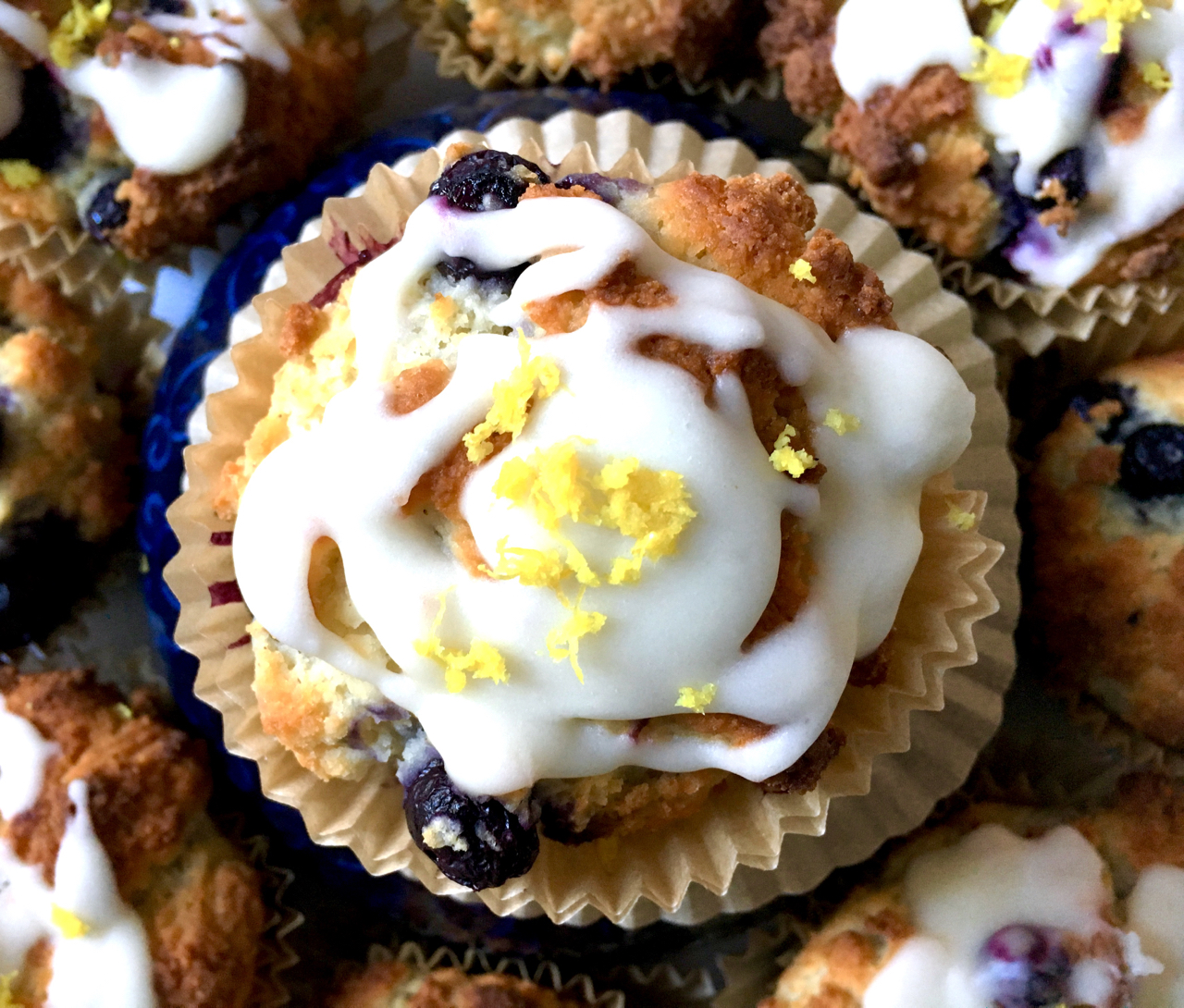 No need to haul out your stand mixer or hand mixer – you can combine these muffin ingredients by hand! Well, I suggest one large mixing bowl and a large spoon, just to keep things nice and tidy. 😉
I used gluten-free flour, (here's what I used) but you can swap it out for your favorite all-purpose flour if you don't need the gluten-free option. My recipe also calls for a non-refined sugar alternative (here's what I used) but no adjustment of the recipe is needed if you want to use your favorite refined sugar instead. I also used a non-refined confectioners sugar alternative for the glaze.
And finally, fresh blueberries are always preferable, but if you don't have them on hand, or they're not in season, frozen blueberries will work just fine. In fact, that's what I used here.
This recipe will make 9-12 muffins, depending on how full you fill each muffin cup. I got 10 out of this batch because I filled the cups almost completely full. I like to use unbleached muffin liners (like these) so that clean up is easy.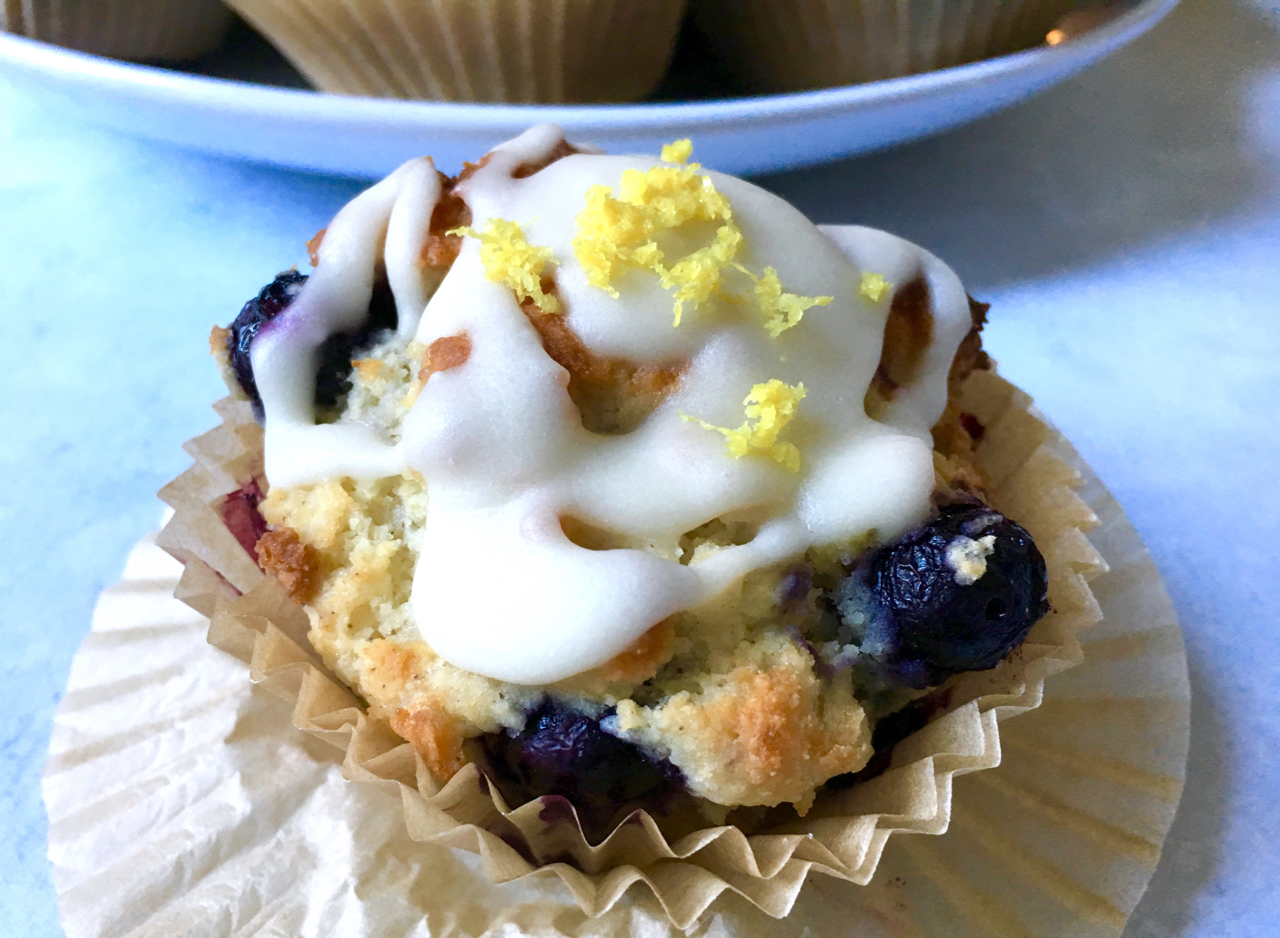 So, no excuses – go forth and make these yummy blueberry lemon muffins now. Don't forget the tangy lemon glaze, which is quite possibly, my favorite part.  These are truly scrumptious (name that movie!) when consumed warm. I mean, just look at those warm berries nestled in the lemony muffin below. Ah…
If you have leftovers the next day, just pop a muffin in the microwave to re-heat for 10-20 seconds or so. You can even split one open and warm it in your toaster oven with a pat of butter on each section. Enjoy!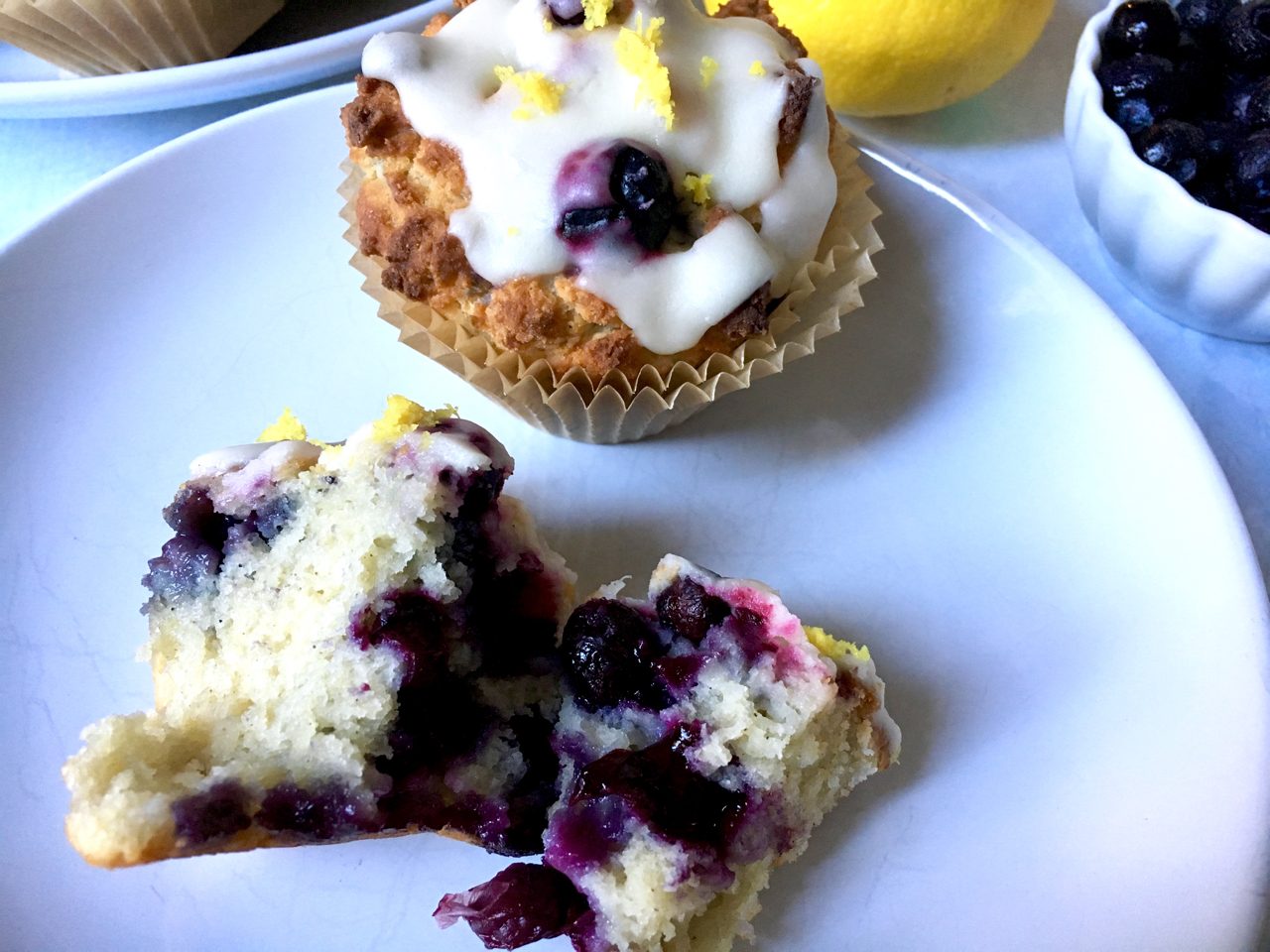 Note: This post contains affiliate links for products on Amazon.
Swerve Granular Sugar Replacement Sweetener
Swerve Confectioners Sugar Replacement Sweetener
Bob's Red Mill 1-to-1 Gluten-Free Flour
Blueberry Lemon Muffins with Lemon Glaze (Gluten-Free)
Blueberry Lemon Muffins with Lemon Glaze (Gluten-Free)
Ingredients
5 tablespoons unsalted butter, melted and cooled
½ cup Swerve sugar replacement (or regular refined sugar)
Finely grated zest from 1 lemon
¾ cup plain unsweetened yogurt or sour cream
1 large egg
1½ teaspoons baking powder
¼ teaspoon baking soda
¼ teaspoon salt
1½ cups gluten-free Bob's Red Mill 1-to-1-flour (or all-purpose flour)
1¼ cups blueberries, fresh or frozen
¼ cup almond milk (or regular milk)
For the Glaze
½ cup Swerve powdered sugar replacement (or regular powdered sugar)
Fresh lemon juice from 1 lemon
Instructions
Preheat oven to 375°F.


Line muffin tins with paper liners. I like these unbleached liners.


Melt butter in microwave or on stove. Pour in large mixing bowl; set aside and let cool before proceeding with next step.


Add sugar, ½ of the lemon zest (reserve the rest for garnish), yogurt, and egg to the melted butter. Whisk until smooth.


Add baking powder, baking soda and salt; stir until combined.


Lightly fold in flour and blueberries.


Add almond milk and lightly combine. Batter will be very thick.


Spoon/scoop batter into muffins tins.


Bake for 25-30 minutes until tops are lightly browned and/or knife inserted in center of muffin comes out clean.


Remove muffins from oven and from muffin tin and let cool on rack for 10 minutes.


Make the glaze:


In a small bowl, incrementally add lemon juice to the powdered sugar and whisk until it reaches your desired consistency. I like my glaze thick, so I use less lemon juice. If you like yours thin and pourable, use more lemon juice.


When desired consistency is achieved, lightly drizzle glaze over the top of each muffin.


Top each muffin with a sprinkle of reserved lemon zest.

DON'T FORGET TO PIN AND SHARE!