Sheet pan meals are a time saver and this Sheet Pan Sweet Potato Hash With Eggs recipe is no exception. This is a savory twist on the classic eggs and potatoes bake, perfect for breakfast or dinner.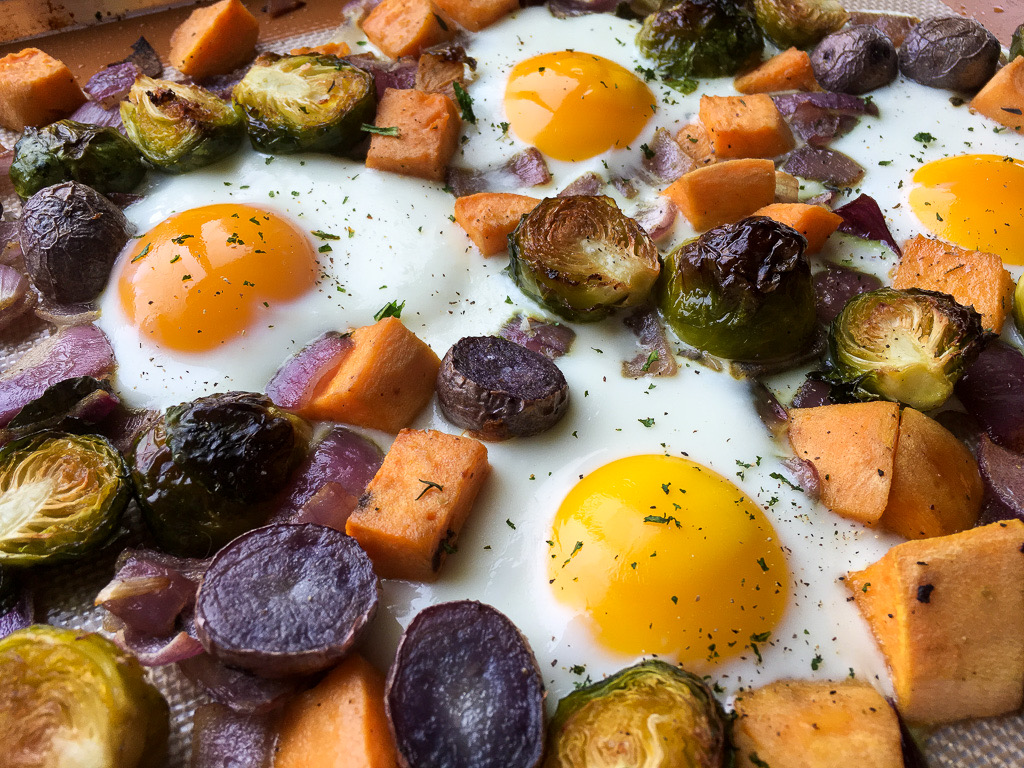 Note: This post contains Amazon affiliate links.

This Sheet Pan Sweet Potato Hash With Eggs delivers a gorgeous display of color thanks to the rich orange of the sweet potatoes, the purple and red of the potatoes and onions, and the vibrant green of the Brussels sprouts.
Nestled among the lightly seasoned veggies are the perfectly yolked eggs, all roasted on a sheet pan to bring out the savory flavor of each ingredient.
Consider using two half baking sheets or a larger three-quarter size sheet pans to allow enough room to spread the vegetables out in a single layer without overcrowding. This will allow them to roast evenly without steaming.
Sheet pans come in several sizes. The most common – the half sheet pan – measures 13" x 18," while the larger three-quarter sheet pan measures 15" x 21." The three-quarter size works well for this recipe because it allows extra room for the vegetables to be spread out in a single layer without overcrowding. I like this set of multi-sized sheet pans.
I also recommend using baking mats on the sheet pan instead of parchment paper for this recipe. Not only will everything roast more evenly and not burn, but it makes clean up a breeze ~ win-win!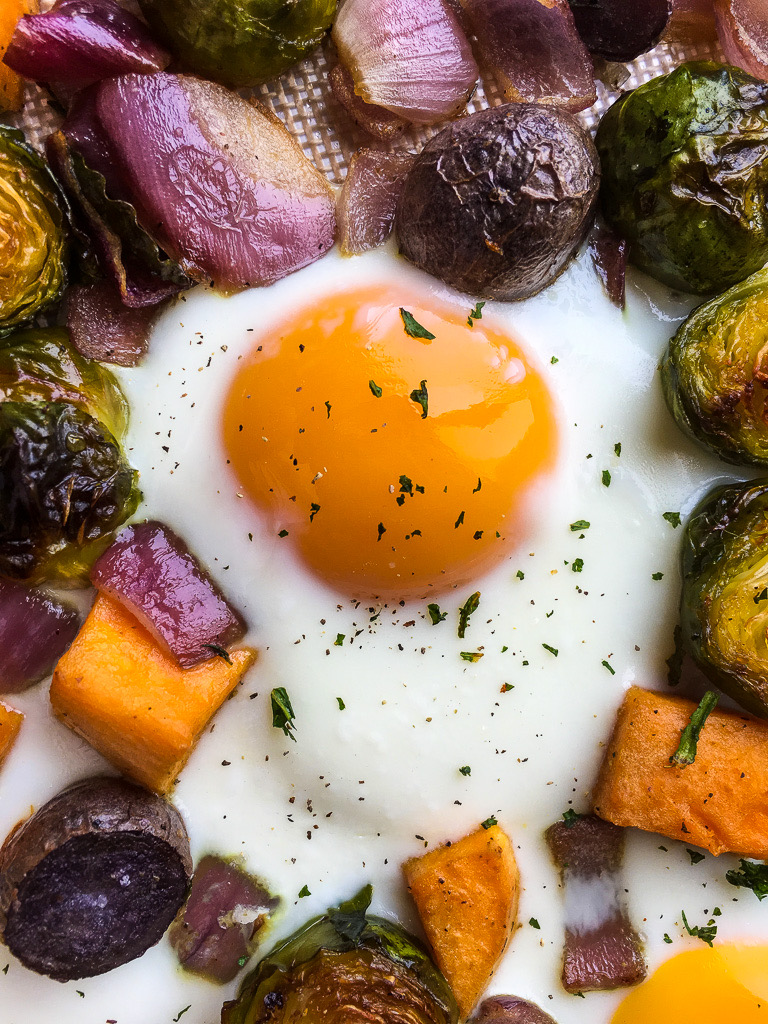 Perfect egg yolk tip: crack each egg into a small bowl to ensure that the yolk is firm and remains intact, then carefully transfer onto the sheet pan. Repeat this process, one egg at a time, until all eggs are on the pan.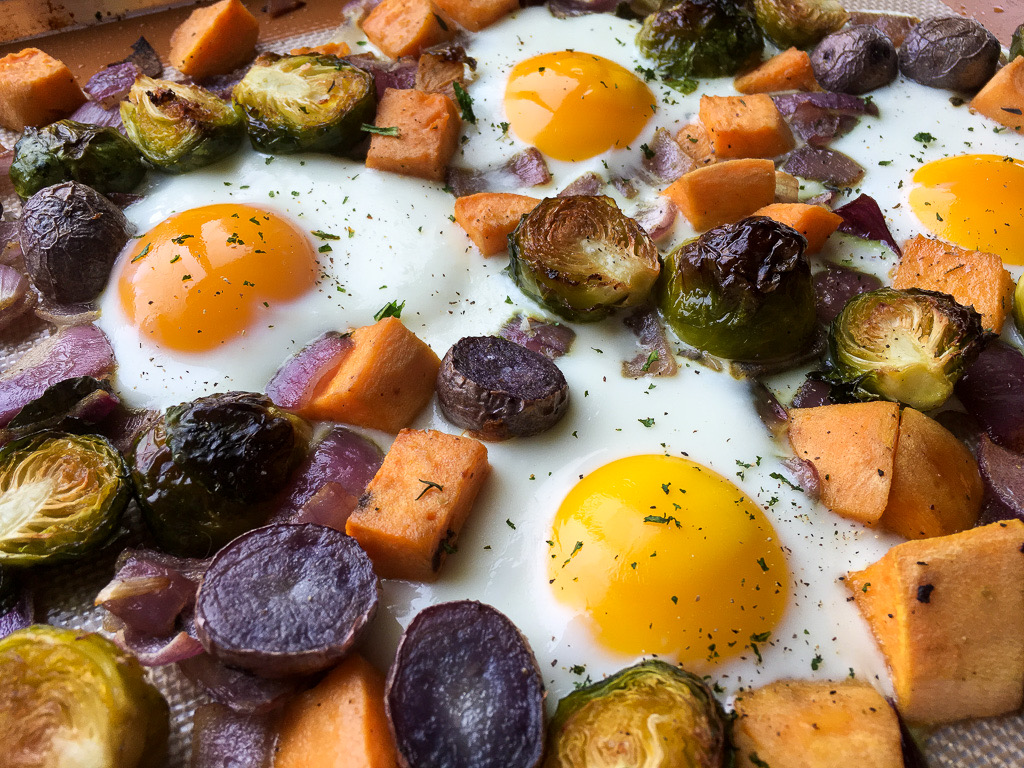 If you love sheet pan recipes, check out this amazing list of "hands-off" cookbooks ~ so many delicious choices!
YOU MANY ALSO LIKE:
Autumn Roasted Vegetables With Feta
Roasted Sweet Potato Wedges With Maple and Cinnamon
Roasted Brussels Sprouts With Balsamic and Parmesan 
Sheet Pan Sweet Potato Hash With Eggs
Sheet Pan Sweet Potato Hash With Eggs
Ingredients
2 large sweet potatoes, peeled and cut into chunks
1 lb. small purple potatoes, cut in half
8 oz. Brussels sprouts, cut in half
1 large red onion, roughly chopped
3-4 cloves fresh garlic, minced
1 t. onion powder
3 T. extra virgin olive oil
6 large eggs
Sea salt and black pepper, to taste
Instructions
Preheat oven to 425°F and line a large, rimmed baking sheet with parchment paper or a silicone baking mat. If using parchment paper, lightly spray with non-stick cooking spray. Set aside.


In a large mixing bowl, toss sweet potatoes, purple potatoes, Brussels sprouts, red onion, garlic, onion powder, and olive oil until vegetables are well coated. Season with salt and black pepper, to taste.



Spread the sweet potato mixture onto the prepared sheet pan in a single layer without overcrowding and roast in pre-heated oven for 8-10 minutes. Stir vegetables and continue roasting another 8-10 minutes, or until sweet potatoes are fork tender.


Remove sheet pan from oven and create 6 round, evenly spaced openings among the vegetables. Carefully pour an egg into each opening, keeping the yolk intact. Season with additional salt and pepper, if desired, and return pan to the oven.


Bake for 6-8 minutes, or until the egg whites are set and the yolks reach the desired level of doneness.


Remove sheet pan from oven and serve immediately. Enjoy!
DON'T FORGET TO PIN AND SHARE!