Cheesecake and pumpkin lovers rejoice! This simple Pumpkin Cheesecake With Gingersnap Crust will become your new favorite way to enjoy both.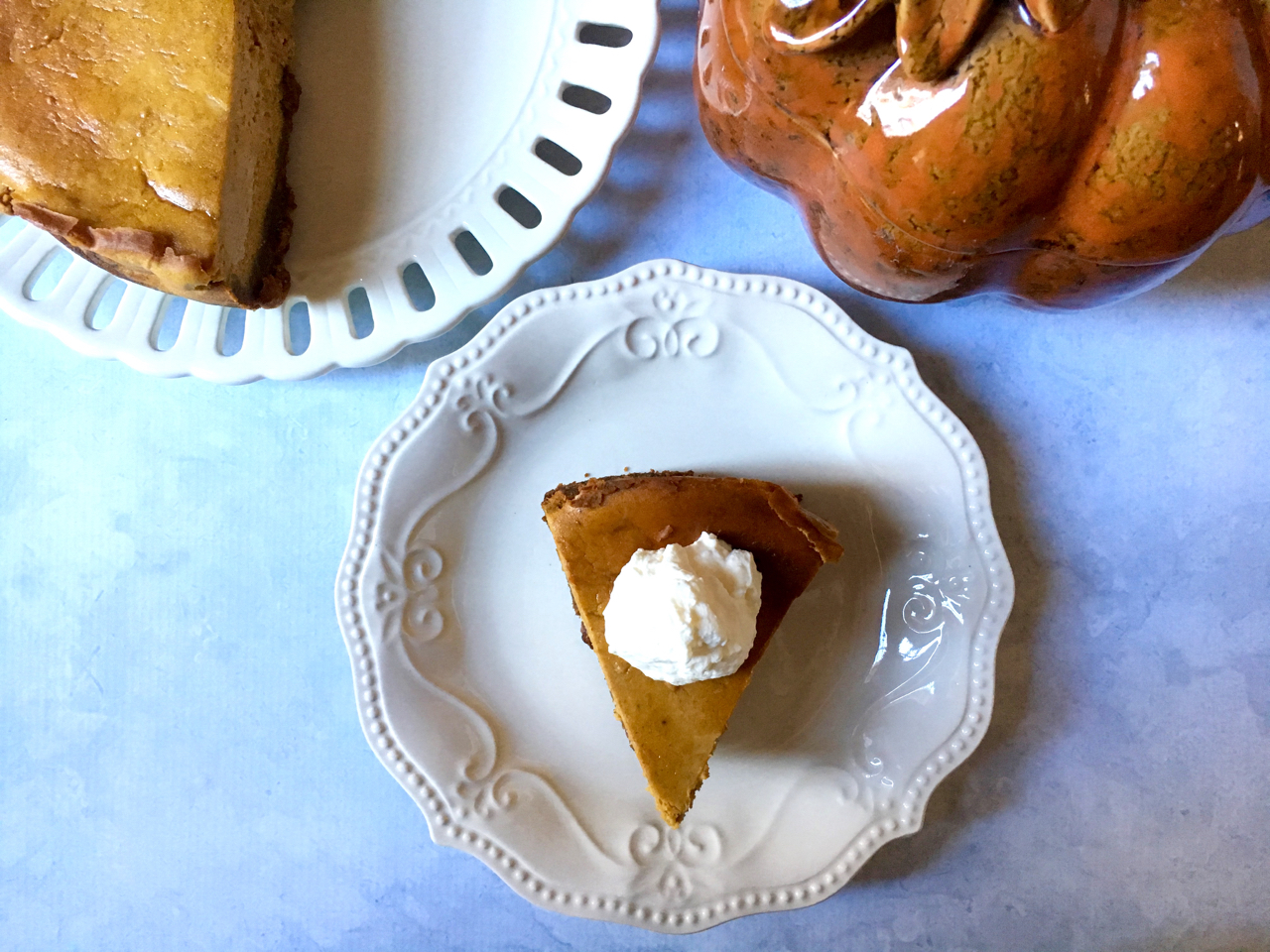 Note: This post contains Amazon affiliate links.
This Pumpkin Cheesecake With Gingersnap Crust recipe is so simple that even I couldn't mess it up! Listen, I love cheesecake, but I get intimidated with all the water bath instructions, so I just skipped that part with this recipe and it turned out amazing. No cracks on the top of the cheesecake. Your mileage may vary, but keep in mind that you can always add a dollop of freshly whipped cream to cover any imperfections. I'd add the dollop anyway; because freshly whipped cream.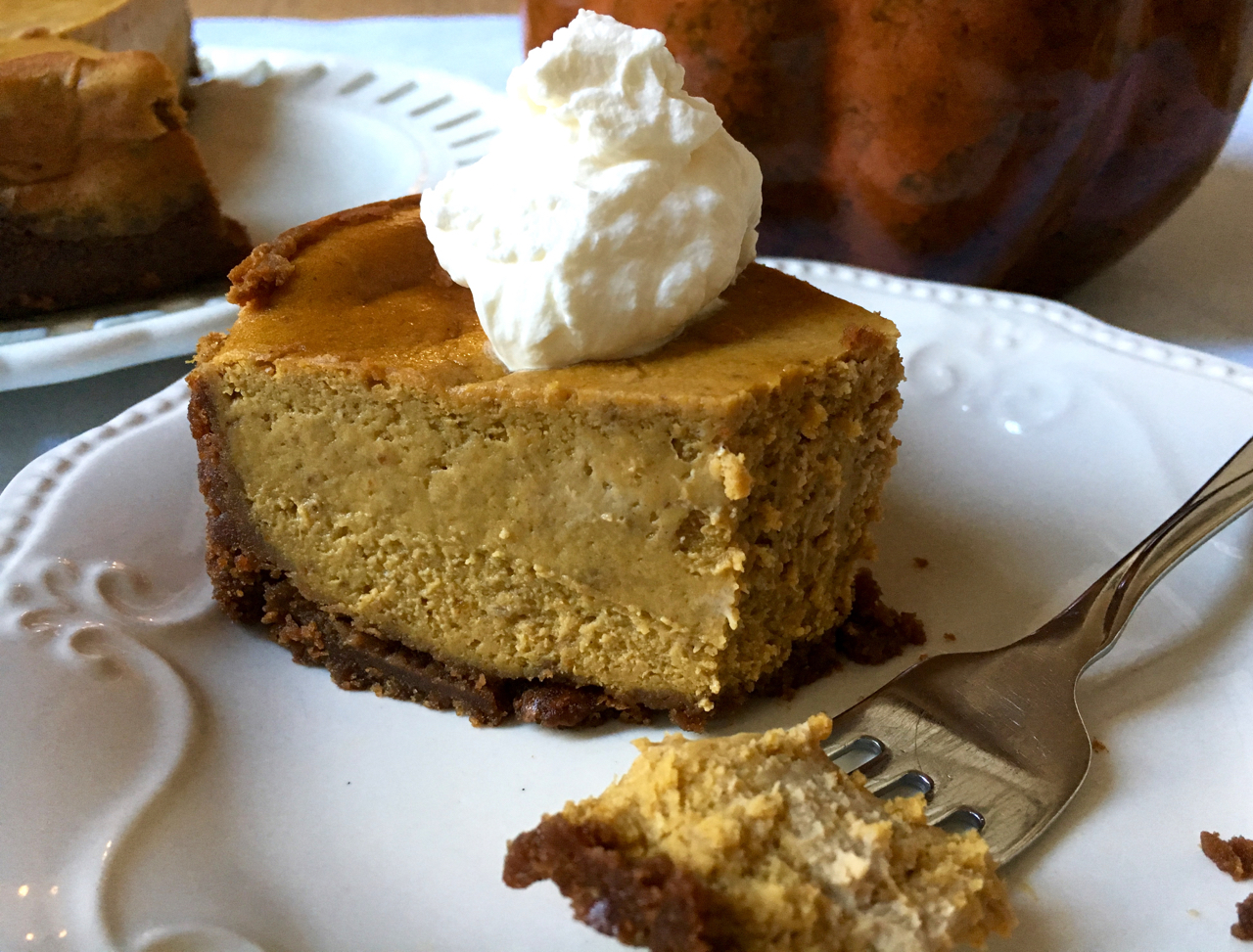 Here's how this cheesecake came together. I wanted to make it gluten-free, so I opted for Midel's Gluten-Free Gingersnaps for the crust. Just crush them up, stir in butter, press into pan, bake for 8 minutes and you have your crust. See: easy!
I used my Vitamix to crush the cookies because it makes a better crumb than trying to do it with a rolling pin and ziplock bag. If you have a high-speed blender or food processor, I highly recommend using it for this.
I used an 8-inch pan, but I'd recommend a 9-inch if you don't want the batter to come right to the top of the pan. Next time, I'll grab the right pan. Also, a spring-form pan is recommended, but if you're  not concerned with taking it out of the pan for aesthetic purposes, feel free to use a cake pan.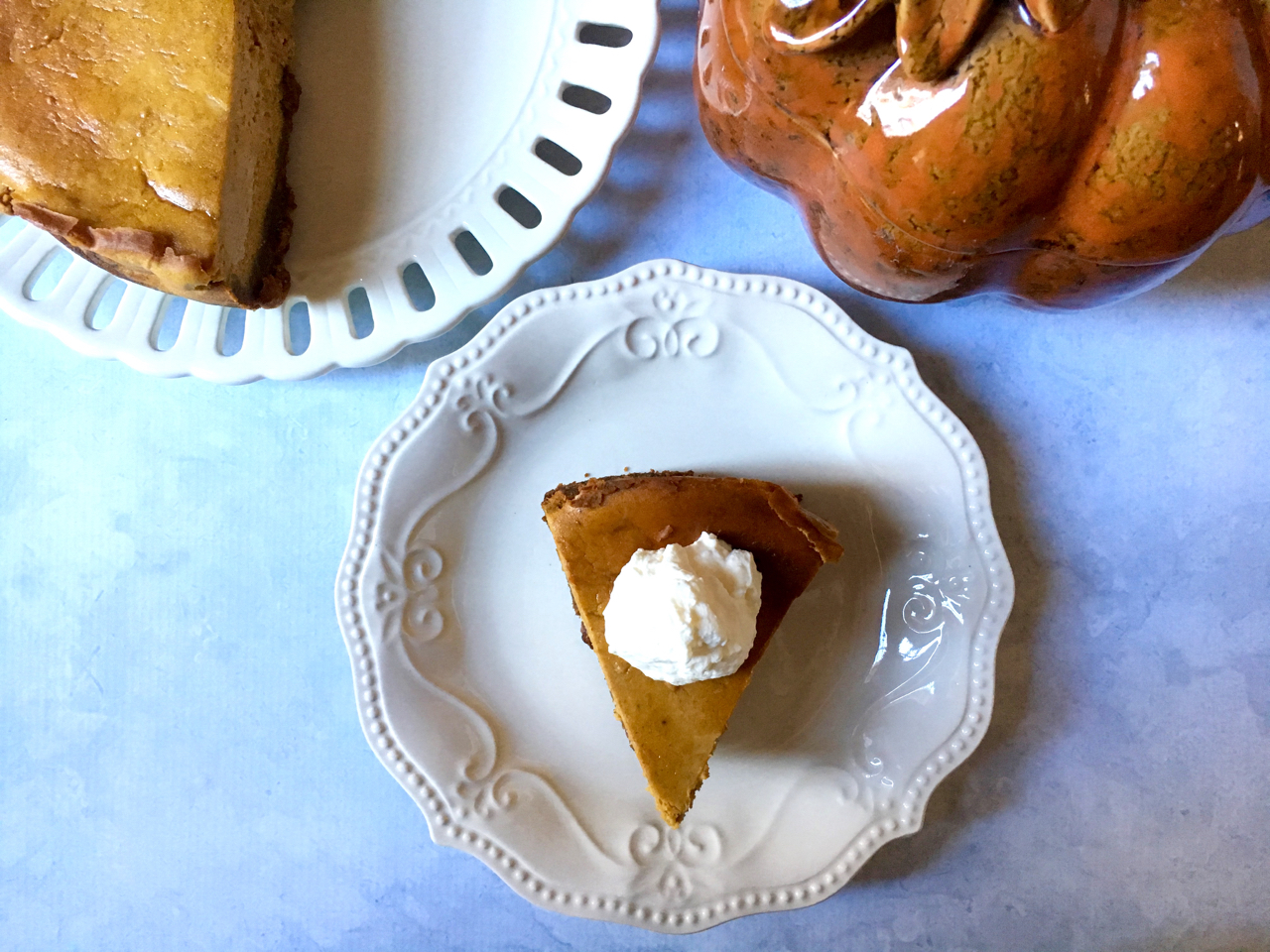 I used a minimal amount of organic coconut sugar and subbed in some maple syrup for sweetness, too. I used full-fat organic cream cheese because I think it tastes better. I also used organic pumpkin puree and as well as organic eggs. If I'm going to enjoy a dessert, I want it to at least have the tone of health associated with it!
Full instructions are below in the details. This is a winner; give it a try!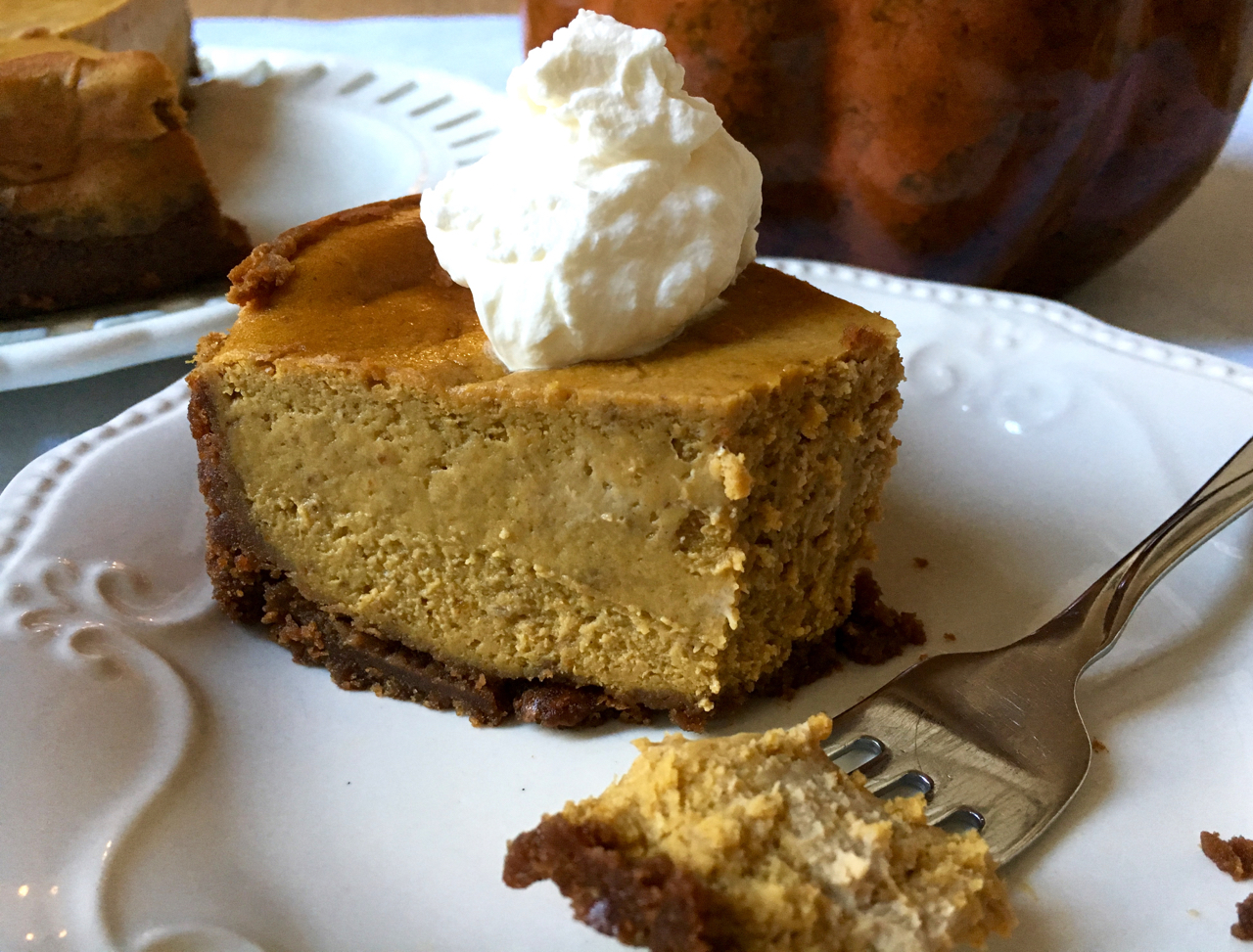 Pumpkin Cheesecake With Gingersnap Crust
Pumpkin Cheesecake With Gingersnap Crust
Ingredients
For the Crust
1½ cups crushed gingersnaps (I used Midel Gluten-Free Gingersnaps)
¼ cup melted butter
For the Cheesecake
2 8 oz. packages cream cheese, softened
½ cup organic coconut sugar
⅓ cup maple syrup
3 tbsp gluten-free flour (or all-purpose flour if not making this gluten-free)
1 15 oz. can pumpkin puree (not pumpkin pie filling)
3 eggs
1 tsp vanilla extract
2 tsp cinnamon
½ tsp nutmeg
½ tsp ginger
½ tsp cloves
Instructions
Preheat oven to 350.


In a mixing bowl, stir together crushed gingersnaps and melted butter. Press mixture into the bottom of a springform pan. Bake for 8 minutes. Remove from oven and set aside.


In the bowl of stand mixer (or with an electric mixer) beat together cream cheese, sugar, and flour until creamy.


Add in maple syrup and mix until incorporated.


Add pumpkin, eggs, vanilla extract and spices to mixture and beat until smooth.


Carefully pour pumpkin mixture over the top of the crust and smooth out the top with the back of a spoon.


Bake for 35-40 minutes or until center is set and knife inserted in the center comes out clean. If the top starts to brown and the center isn't set, cover with aluminum foil to prevent further browning.


Remove to wire rack to cool for at least 1 hour before removing from spring-form pan and placing in the refrigerator for 2 hours or until completely cooled.
DON'T FORGET TO SAVE AND PIN FOR LATER!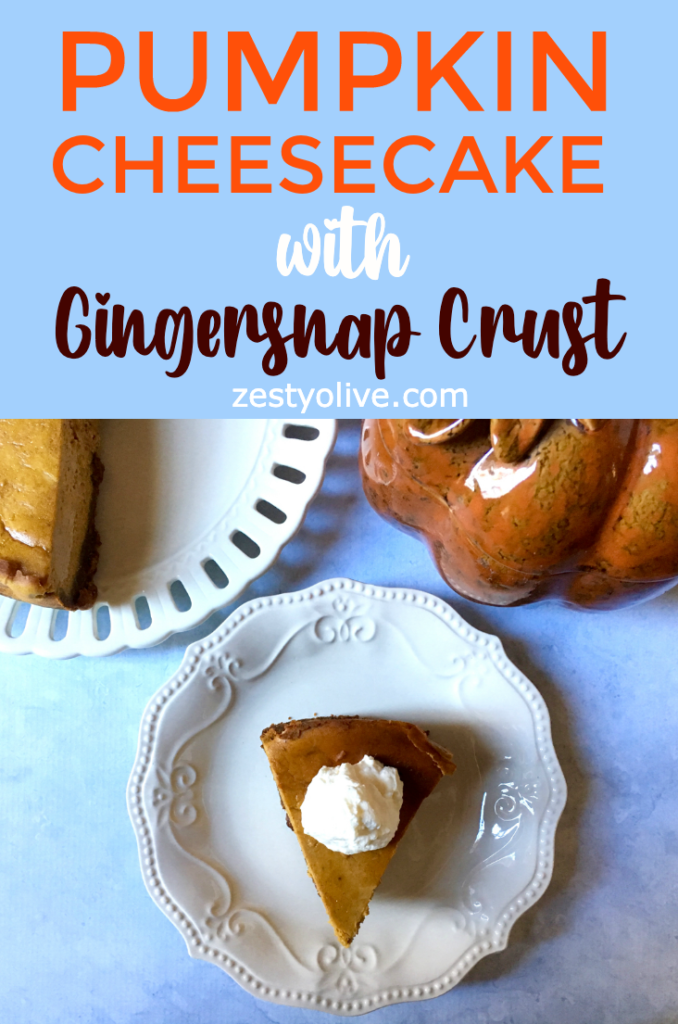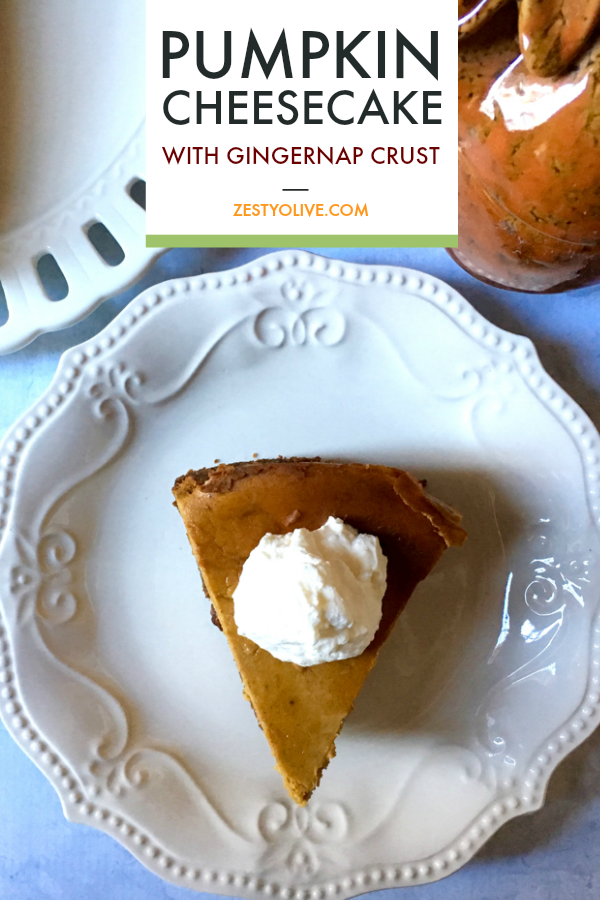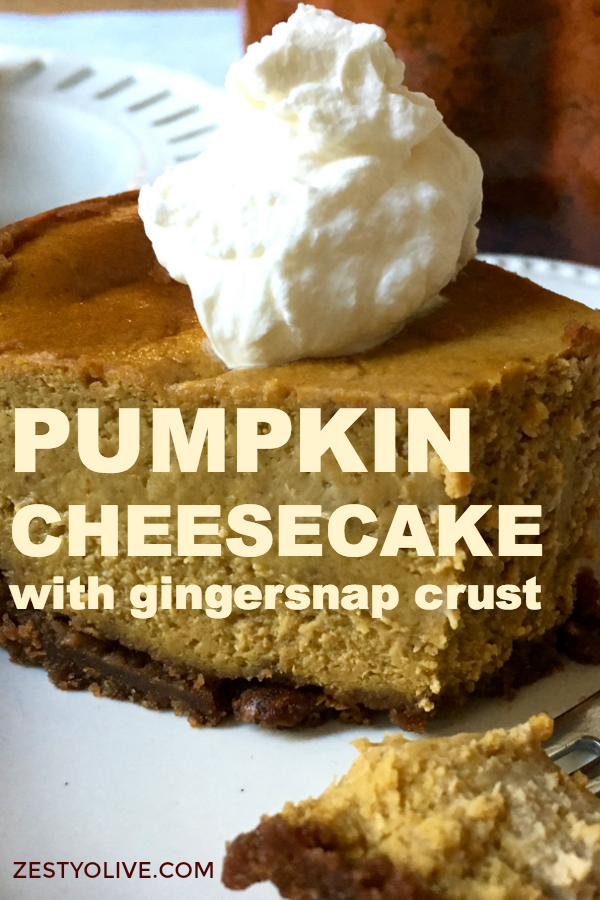 Save
Save
Save
Save
Save
Save
Save