Get in the holiday spirit this season with one of these 12 Festive Holiday Christmas Aprons.
You'll love these fashionable Christmas and holiday designs that you can coordinate with your wardrobe or let it make a festive statement of its own!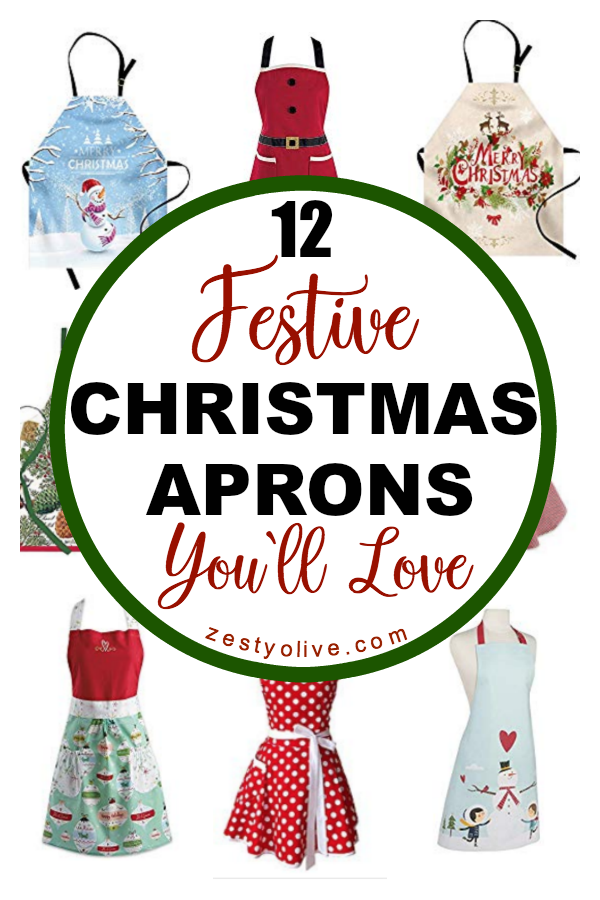 NOTE: This post contains Amazon affiliate links.
With one of these 12 festive holiday Christmas aprons you can go ahead and get messy in the kitchen while you roast the turkey or make cookies and bake pies. These adorable aprons have got you covered (literally) with designs, prints, and a little glam for the holidays. They also make great gifts!
Red Holiday Aprons
If you're looking bright red aprons to share your Christmas spirit, here's a selection ranging from fun to classic.
Here's a nod to the past with this darling sweetheart neck-line red retro kitchen apron with polka dots.
Here's a plaid apron that will work year round, but is still festive during the holidays!
This vintage cotton Christmas kitchen apron with front pocket and ruffled hem is just perfect for a day of baking holiday cookies!

You'll be mistaken for Mrs. Claus in this cute red cotton Christmas apron!
Green Holiday Aprons
Green is a traditional Christmas color that is used here to capture classic and whimsical designs on these aprons.
If you're a nature lover you'll want this cotton chef's apron with the gorgeous spruce and pine design print, perfect for fall and beyond.
This holiday cotton kitchen apron is perfect the chef that does it all: cooking, baking, and crafting. Cute holiday ornament print on the lower half of the apron.
This gingerbread man "Oh Snap!" apron is just precious! Would make a great gift!
Blue Holiday Aprons
These light blue aprons evoke a winter feel with their snowy scenes.
Who can resist this cute snowman on a snowy winter day apron?
I love the carefree and fun print on this light blue build a snowman apron.
Ivory And White Aprons
With a classic background of ivory or white, these aprons let the holiday greetings and scenes stand out.
You can't go wrong with this festive apron proclaiming "Merry Christmas!" printed on a neutral background, complete with tree branches, fir trees, poinsettia flowers, birds and deer.

For an elegant and understated holiday look in the kitchen, consider this collage Christmas text In gold apron.
Love this adorable Christmas apron with a gingerbread train and candy!
These festive Christmas aprons will help you make the holidays a little more fun and whimsical this year!
You may also like:
12 Must-Have Baking Tools And Essentials
Adorable Christmas Ornaments For Foodies
Festive Napkins and Napkin Rings For Your Holiday Table
DON'T FORGET TO PIN AND SHARE!