Whether you're new to baking or are an experienced baker, this list will make sure your kitchen is stocked with must-have baking tools and essentials to help you create delicious baked treats!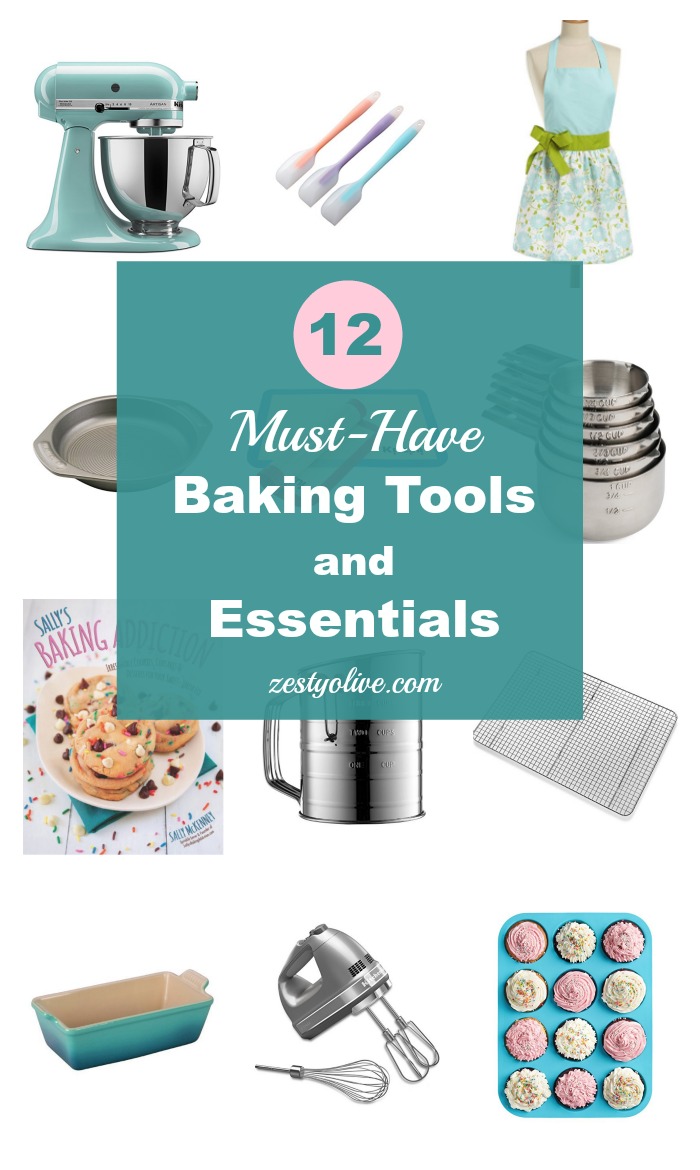 Note: This post contains Amazon affiliate links.
These 12 Must-Have Baking Tools And Essentials are among the most-coveted for any baker. Whether you're stocking your kitchen for the first time, registering for new baking items, or are upgrading your baking tools, this list is for you.
KitchenAid 7-Speed Digital Hand Mixer with Accessories – Invest in a good hand mixer and it will last you for years. This one come with accessories, which is handy when you don't want to use a large stand mixer to achieve the same effect.
Circulon Nonstick Bakeware 9-Inch Round Cake Pan – a true non-stick pan that just works. It's also a breeze to clean. Essential when you want gorgeous cakes to just fall out of the pan for that "naked" frosted look and perfect for smooth application of frosting.
Le Creuset Heritage Caribbean Stoneware Loaf Pan – I love my stoneware loaf pan! It's perfect for bread, cakes, meatloaf, even casseroles. It bakes evenly and it cleans like a dream!
Hudson Essentials Stainless Steel Measuring Cups Set – 6 Piece Stackable Set with Spout – I love that these have a spout! These are durable and will last a lifetime.
Silicone Baking Mat – Non Stick Cookie Sheets – These are lovely to bake with. Easy clean up and your cookies will thank you! PS: They're not just for cookies! Think roasted potatoes, veggies, fries, etc.
KitchenAid Artisan Series 5-Qt. Stand Mixer with Pouring Shield
 – a true investment tool that I can't live without! I hemmed and hawed over the expense of this, but man, it's a time saver in the kitchen. Blends, beats, and whips, hands-free, letting me do other prep work while it does its thing. Plus, it creams mashed potatoes like nobody's business. Bonus: it comes in range of colors that'll make you consider investing in more than one…colors so gorgeous that you'll contemplate holding a bake sale to raise funds for your next acquisition. Oh, wait…
Bellemain Cooling Rack – perfect for cookies, muffins, truffles, and doughnuts. Makes easy work of icing and drizzling your yummy creations. Dishwasher safe.
Cotton Women's Apron Dress – Let's face it: it can get messy in the kitchen when we're baking. I mean, that flour seems to have a mind of its own and it just gets everywhere, right?! And most of the time, it gets on me. I don't feel so bad about it if I'm wearing a cute apron that I can throw in the wash to remove the evidence of my messiness. Plus, I feel all June Cleaver in it (minus the high heels. ::ahem:: ).

Bellemain Stainless Steel 3 Cup Flour Sifter – and speaking of flour, feel free to sift away with this handy sifter. Makes your flour perform like it's supposed to. Tip: use it for confectioner's sugar, too, to get those pesky lumps out. A definite must-have!

Green Hours Premium Silicone Spatula Set – This eco-friendly spatula set is made of 100% BPA free food grade silicone and is heat resistant. Comes in 3 yummy colors. Non-stick. Perfect for scraping and mixing.

12 Cup, Non Stick, Premium Silicone Muffin Mold & Cupcake Pan – BPA-free, dishwasher and microwave-safe. Oh, and freezer-safe, too. How did we live without it?


Sally's Baking Addiction: Irresistible Cupcakes, Cookies, and Desserts for Your Sweet Tooth Fix – I love this cookbook! Now that you have your kitchen all decked out with the baking essentials, you're ready to make a yummy treat from Sally's cookbook. Her easy to follow instructions will have you creating the perfect treat in no time!

RECIPES YOU MAY LIKE:
Italian Almond Pear Cake
Cherry Chocolate Chip Blondie Bars
Flourless Chocolate Brownies
Pumpkin Cheesecake With Gingersnap Crust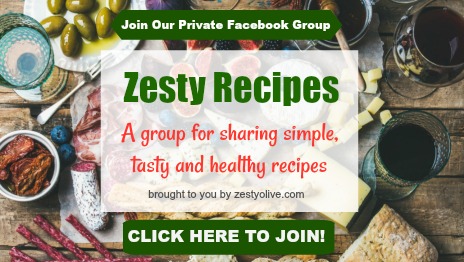 DON'T FORGET TO PIN AND SHARE!