Since bamboo is one of the most affordable and renewable substances in the green marketplace, it just makes sense to upgrade your kitchen tools with these healthier, green options. Here are 5 eco-friendly and affordable bamboo kitchen tools that you should be using right now.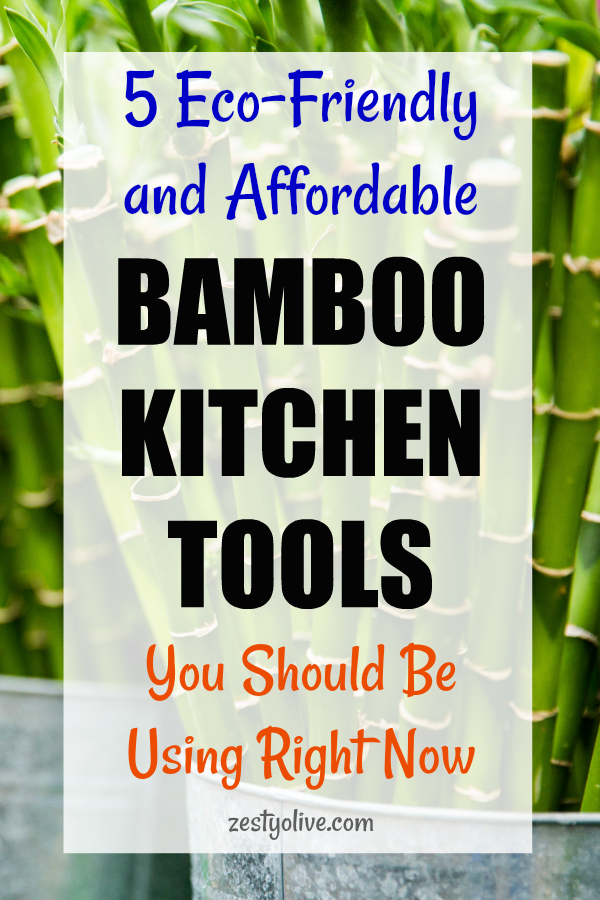 Note: This post contains Amazon Affiliate links.
Why bamboo? What's all the fuss? Before we get to the 5 eco-friendly and affordable bamboo kitchen tools that you should be using right now, here's a little information about bamboo that you'll want to know.
Environmentally Friendly
Bamboo is an environmentally friendly grass that can grow 3 feet in 24 hours. It is incredibly renewable and can be grown without the use of pesticides. Hooray! It's for this reason that it's considered eco-friendly and is becoming extremely popular for those who want to go green in their homes and kitchens.
Durability
Bamboo is known for its hard stems, yet products made from this amazing grass are incredibly light in weight. Bamboo kitchen gadgets and utensils are actually more durable than their wooden and plastic counterparts. Additionally, they are heat, stain and odor resistant.
Aesthetics
Bamboo products and utensils are smooth and non-porous. They are lightweight and easy to handle. They will not scratch your pans or damage your cookware.
Affordability
Bamboo is one of the most affordable eco-friendly substances in the green marketplace, making it an attractive choice to those on a tight or frugal budget. Its fresh look and excellent longevity make it one of the most popular acquisitions among eco-conscious individuals.
Here are 5 eco-friendly and affordable bamboo kitchen tools that you should be using right now:
Replace your old wooden, cracked set or your unhealthy plastic set with this 6 piece organic bamboo cooking & serving utensil set.  Comes with a handy caddy to store your new, fresh, beautiful bamboo utensils in.
This expandable drawer organizer is amazing! It's unique because most drawer organizers are not expandable; this one is. Made of 100% pure bamboo, you're getting a quality piece of organization for your drawers. PS: It's not just for the kitchen! (think bathroom and office, too!)
While this bamboo ring vegetable brush is amazingly functional, I also happen to think it's totally cute. But that's just me. Function first, right? And totally affordable. Check it out!
I love this bamboo dish drying rack! Mine sits on my counter by the sink and I use it every day. Totally handy and I love the way it looks. It's collapsible and lightweight for easy storage if you don't use it daily. This rack is an instant decor upgrade for yucky plastic dish racks or rusty metal ones. Do yourself and your dishes a favor and upgrade to this affordable green option.
Here's an extremely affordable set of 3 bamboo cutting boards. I love that you get three sizes. They can also double as serving boards for sandwiches and they make great cheese boards, too! Easy to use and easy to clean. Read more about their advantages here.
YOU MAY ALSO LIKE:
Eco Friendly Lunch Box Essentials For Adults
Gift Guide For The Smoothie Lover
Simple DIY Indoor Herb Garden Ideas
DON'T FORGET TO PIN AND SHARE!