Eco Friendly Lunch Box Essentials For Adults And Kids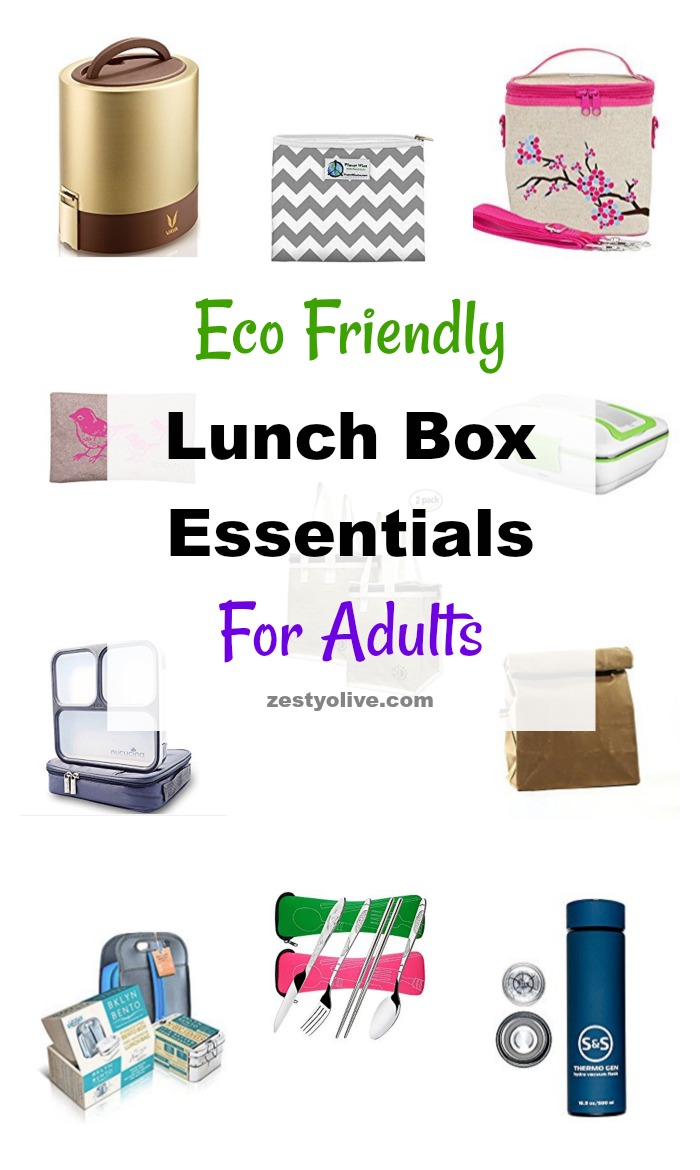 Note: This post contains Amazon affiliate links.
Whether you're going back to school, back to work, or just traveling, here's a list of eco friendly lunch boxes for adults (as well as kids). You'll be amazed at the designs and innovations available today and impressed that you can have a stylish, functional and non-toxic way to carry your lunch (or breakfast, or snack!).
Stainless Steel Bento Box Lunch Box Set With Black Neoprene Lunch Bag
Three-tier stainless steel Bento lunch box is dishwasher safe and free of BPA, PVC , BPS or Phthalates. Carrying bag included.
Vaya Tyffyn 1000 ml Insulated Lunch Box with Bag Mat
Advanced thermal insulation keeps your food warm or cold for up to 5 hours without heat or refrigeration. Leak-proof, non-toxic and eco-friendly. Comes in many other colors and designs. This would be perfect to carry veggies such as Baked Scalloped Potatoes or Bourbon Pecan Mashed Sweet Potatoes.
YOHOOLYO Electric Lunch Box Food Heater Portable with Removable Stainless Steel Container
Perfect for school or office, the removable stainless steel container lets you safely heat your food without the use of a microwave. Outer shell is made from environmentally friendly and nontoxic food grade material. Comes in other colors, as well. I bet some leftover Dutch Oven Balsamic Chicken and Veggies would be great to carry in this lunch box!
SoYoung Large Cooler Bag
Made from linen, it's insulated, leak-proof and machine washable, too. Can be worn as a cross bag, backpack, or carried  by hand. Comes in many other designs, as well. It is PVC, phthalate, lead, & BPA free.
Organic Bento lunch box.
Looking for an eco-friendly utilitarian lunch box? This one is made of rice husk without any chemical additives and is 100% biodegradable. It's even dishwasher and microwave safe. Comes with attached spork.
Stainless Steel Travel Mug / Thermos
Okay, this thermos can apparently do. it. all. Seriously. It's also a tea infuser (comes with tea-leaf strainer), it's also double-wall insulated for hot coffee, tea, or soup or for cold fruit. Comes in different colors and sizes, too. I bet this Cherry Vanilla Protein Smoothie would go great in this thermos!
2 Pack Rustproof Stainless Steel Tableware Dinnerware with Carrying Case
Re-use your cutlery and save waste! This gorgeous stainless steel set comes with its own carrying case (other color choices available) for easy storage and packing.
Earthwise Insulated Lunch Bag Jute Tote (2-pack) 
With its zipper-top closure, this eco-friendly bag will keep your food warm or cold. It folds easily for storage in your car, kitchen, or at work.
Nucucina Slim Bento Lunch Box Set
This leak-proof, air-tight and BPA-free slim design fits perfectly in your briefcase, tote or backpack. Comes with cutlery, too! You could pack it with some refreshing fruit like this Melon Ball Salad or some Loaded Baked Potato Salad.

Lunch Bag – Tan Waxed Canvas
Just want to brown bag it and forget the electronics and multi-layers of bento-like containers? Then check out this waxed canvas re-usable bag. Très chic. 😉
Planet Wise Zipper Sandwich Bag
Reusable, made in the USA, and PVC, BPA, latex, pthalate and lead free.
Ice Pack for Lunch Boxes
Completely non-toxic and sweat-proof! Comes in other designs if pink birds aren't your thing.
Don't forget to pin and share!