This Loaded Baked Potato Salad is simple but outrageously delicious! It's perfect as a side dish for cookouts, BBQs, and any time you need a savory 'tater salad.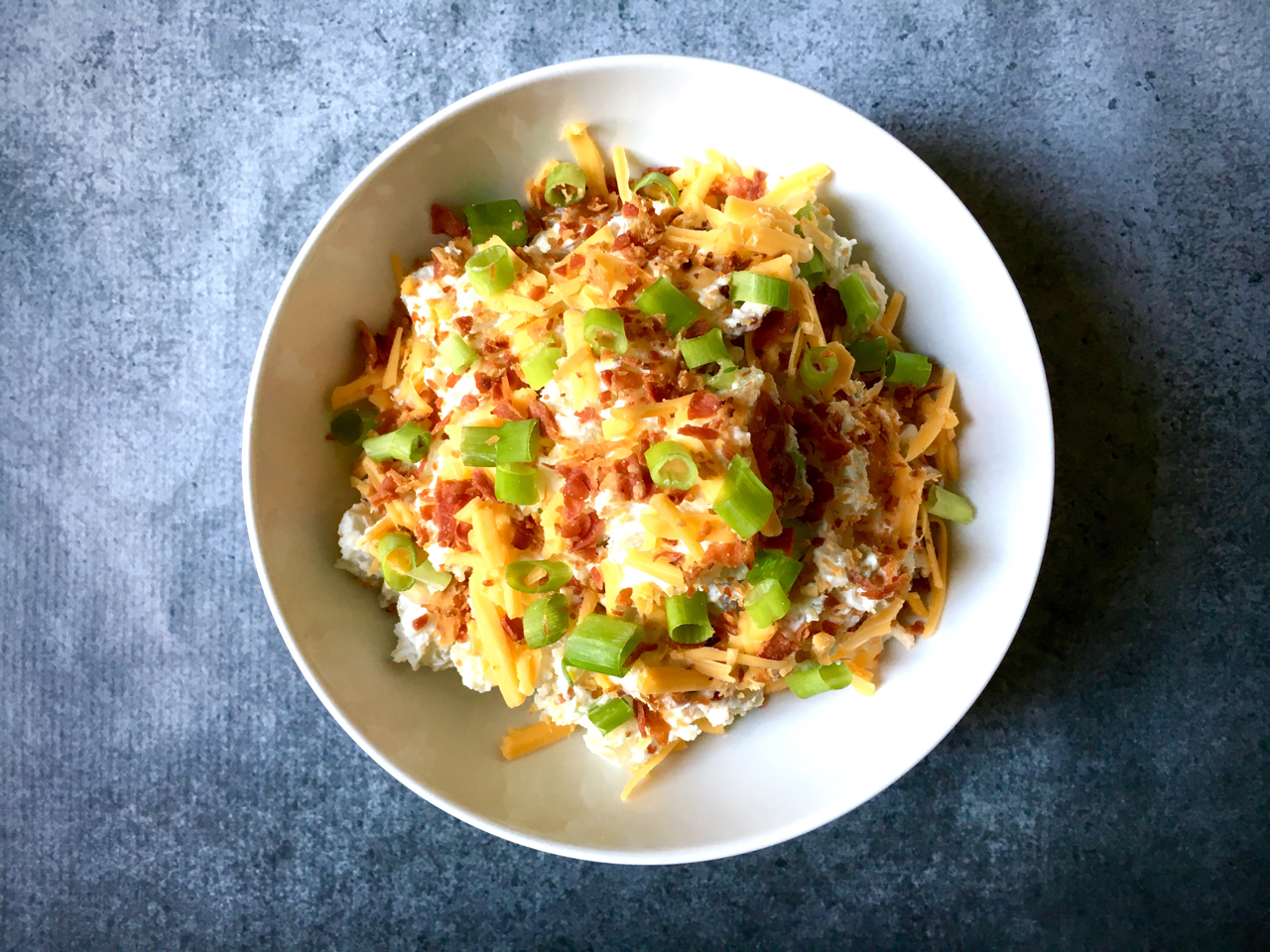 Note: This post contains Amazon affiliate links.
If you're wanting a loaded baked potato, but don't want to wait forever for it to bake, consider making its easier and faster cousin, the loaded baked potato salad. Seriously, this is just as delicious and satisfying as the baked potato, plus it tastes great as a cold salad, or if you prefer, make it and consume it immediately while it's still warm. Amazing either way.
My favorite, however, is eating it the next day. There's something about a day in the refrigerator that deepens the flavors and makes it even more addictive and yummy.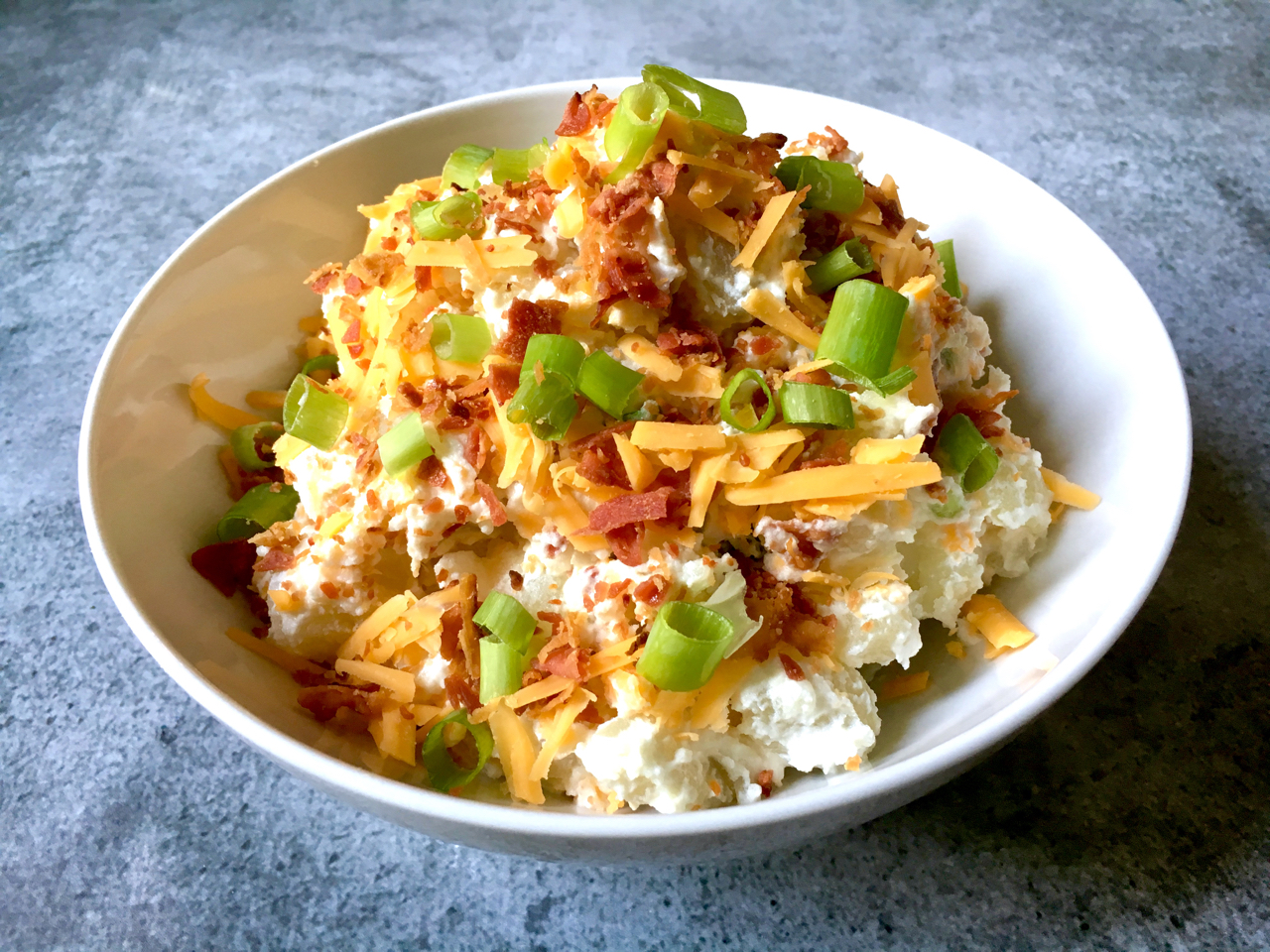 So here's how I put this easy 'tater salad together. (Full recipe down below)
First, fry, drain, cool and crumble your bacon.
Second, grate the cheese. I use a sharp cheddar and I grate it myself.
Third, chop your green onion.
Set all that aside while you boil the potatoes. You can use just about any kind of potato here – Yukon gold, red, russet…whatever you have on hand. For this batch, I had some russet baking potatoes one hand so I peeled them and cut them into medium sized chunks and boiled them until just this side of tender. Do not over boil because then the potatoes hold too much water and turn to mush when you go to assemble the salad. Drain your potatoes well and *let them cool for a bit before moving forward with the recipe.
*If you're serving your potato salad warm, then skip the cooling step.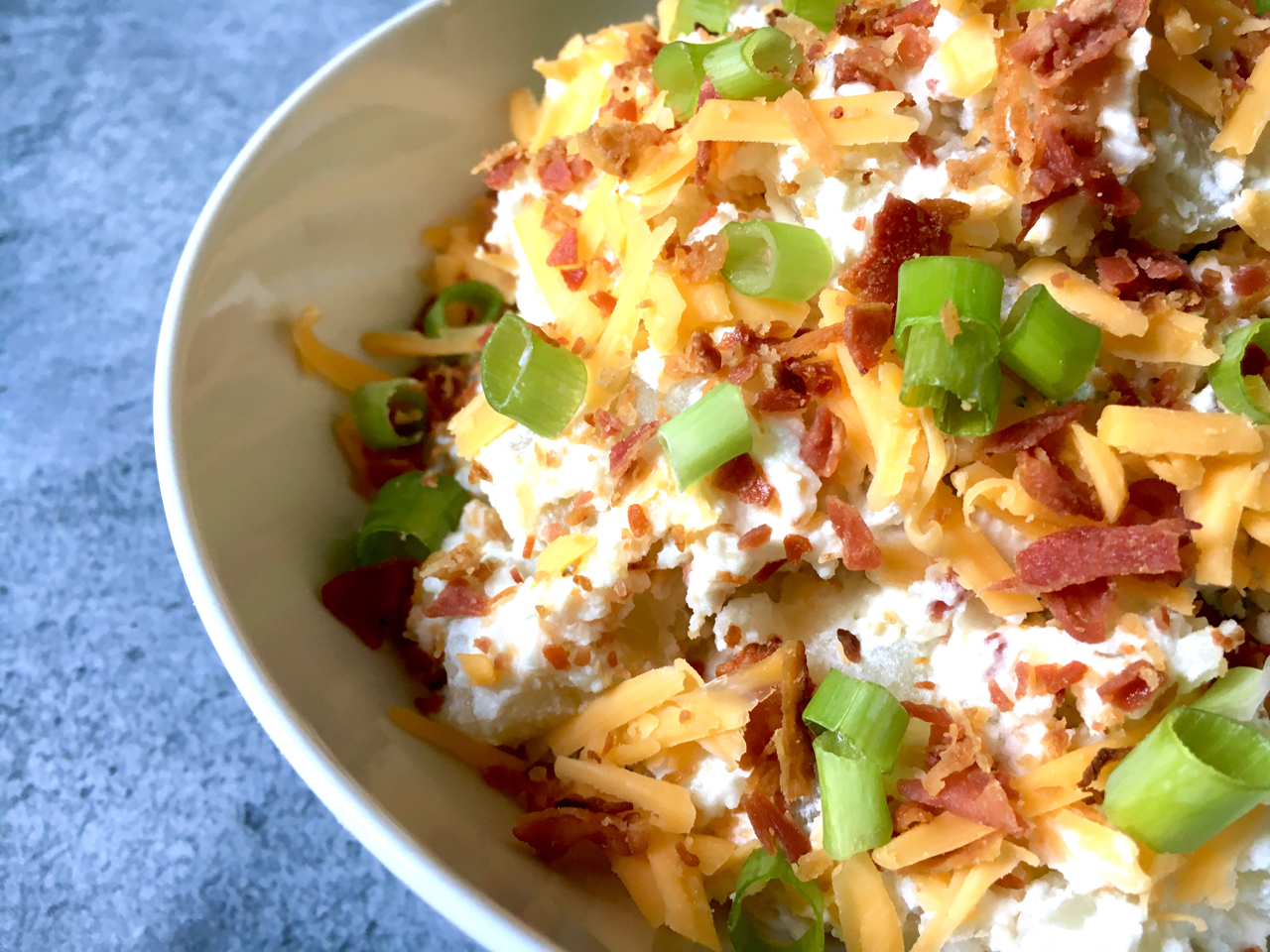 Place the potatoes in a large mixing bowl.
Add salt and/or seasoning salt, sour cream and yogurt. Using a large spoon, very lightly mix.
Add 3/4 of the cheese, bacon and green onions and lightly toss to combine. (Reserve the rest for garnish on top)
Transfer to serving bowl and garnish the top with the remaining cheese, bacon and green onion.
Serve and enjoy! If you have leftovers, refrigerate and enjoy again the next day.
Full recipe below.
Potato lover? Make sure you check out my other potato recipes: Baked Scalloped Potatoes, Roasted Garlic Mashed Potatoes
Note: This post contains Amazon affiliate links.
Don't forget to pin and save for later!