The easiest Watermelon Slushie recipe you'll ever find is right here.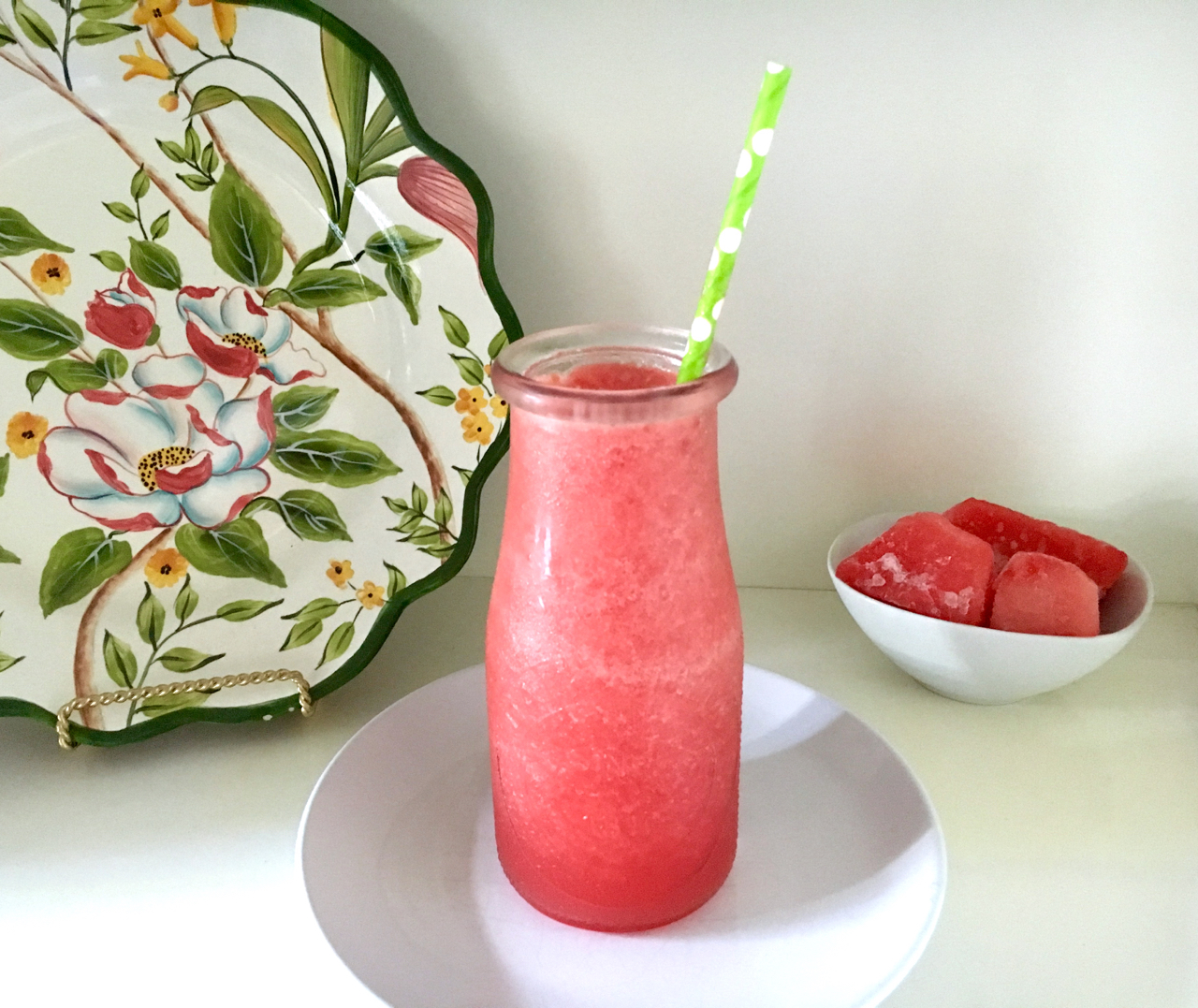 Note: This post contains links to Amazon affiliate products.
This recipe is easy because it contains just 3 ingredients; and only two if you're watching your sugar intake. So here's the deal: watermelon is already sweet, especially if you've chosen a really ripe, perfectly yummy and juicy one. But let's be honest: not all watermelons are created (grown) equally and what's even more mystifying, is not knowing until you get it home and crack it open if it's a really "good" one, you know?
I've even consulted experts (okay, the internet 😉 ) on how to choose a ripe one. They say things like check for heaviness, as that's an indicator of ripeness. Also check the end of the melon for a golden yellow blotch, which also indicates its ripeness. And finally, thump the watermelon and listen for a deep, hollow sound. Okay, so clearly I need a stethoscope for my melon selection activities. Still, I feel the selection process is a bit of luck, since all those indicators can be there and you still can end up with a so-so watermelon. However, the good thing is that summertime brings an abundance of watermelons and you can't go anywhere in the south without bumping into a roadside stand or grocery story practically giving them away.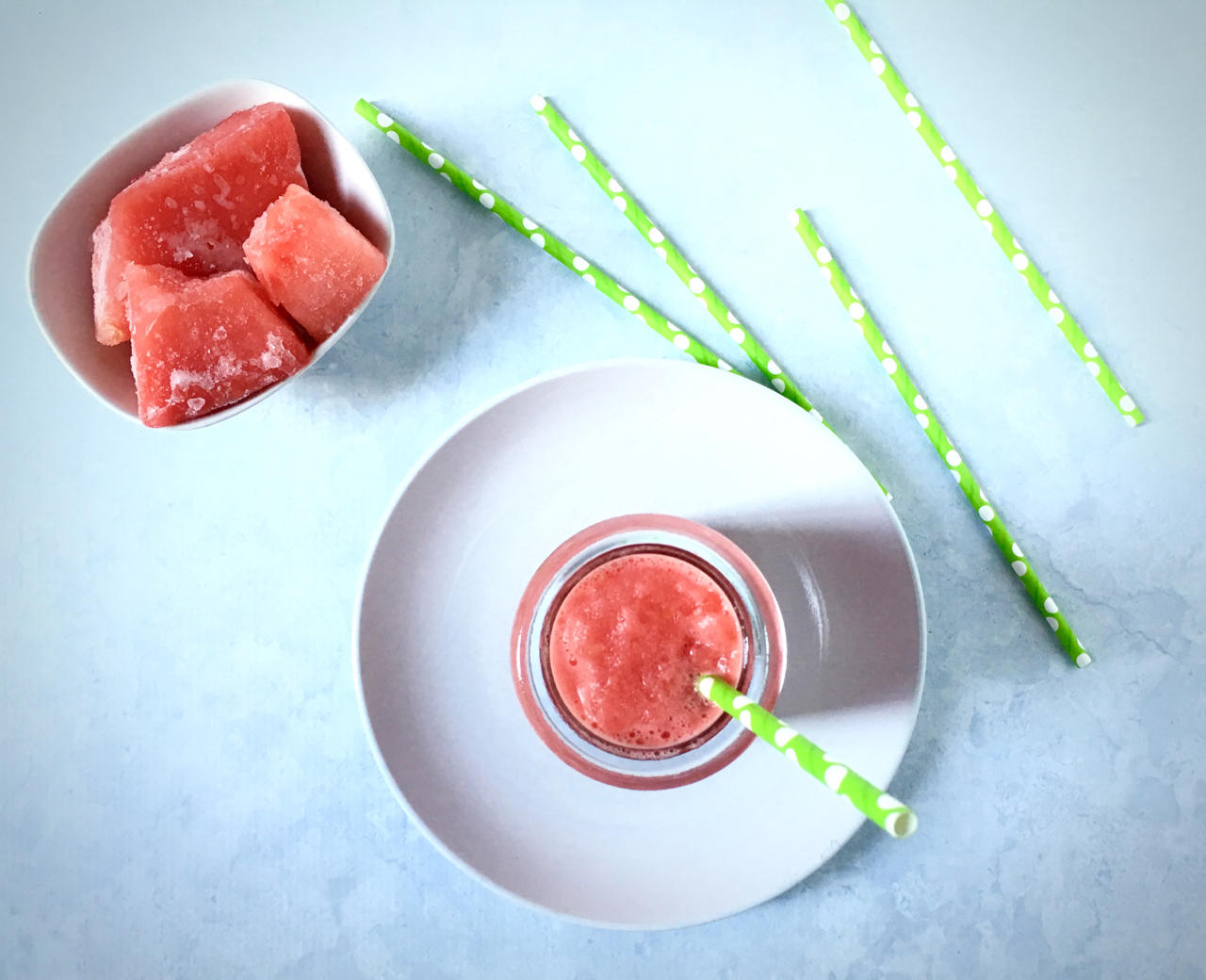 So stock up, buy more than one if you can, because you can totally freeze those watermelon cubes for future use! And you should, because you'll probably be making this watermelon slushie all summer just to cool off. Or, you might want to save half a watermelon and make this yummy melon ball salad.
The 3 ingredients are frozen watermelon cubes, lemonade or limeade – both work equally well, and optionally, sugar or a sugar substitute such as Swerve, If your melon is super sweet already and if your lemonade/limeade is pre-sweetened, you might want to skip the additional sweetener all together.
TIP: I keep an abundance of frozen fruits in my freezer for smoothies and slushies. For fresh fruits that are in season and that I want to freeze, I use these silicone reusable ziplock bags. Money-saver and eco-friendly!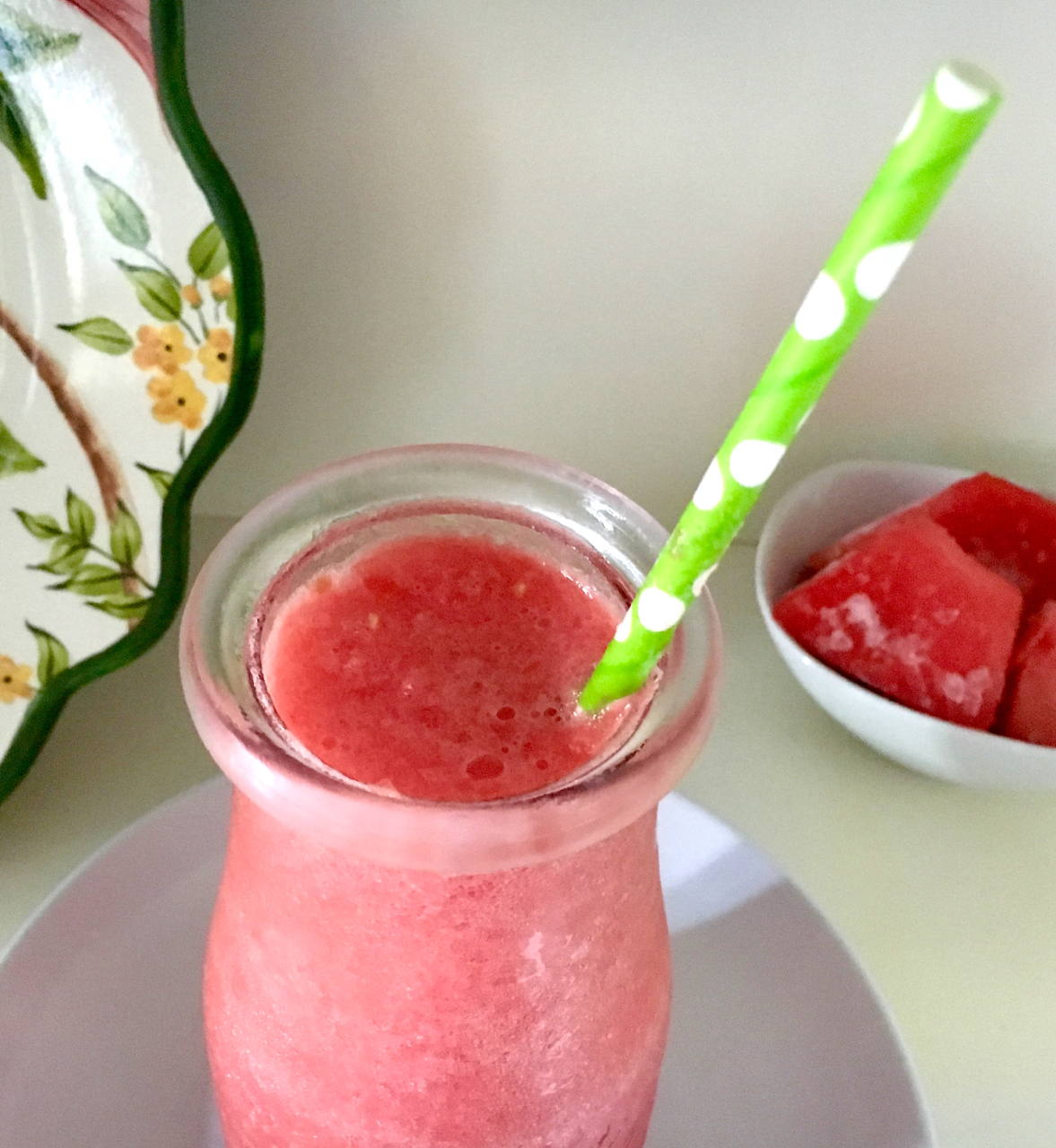 And finally, you'll need a high-powered blender (this is what I use) to zoom it all up into a refreshing, summer, slurpy slushie. Enjoy!
YOU MAY ALSO LIKE:
Gift Guide for the Smoothie Lover
Cherry Vanilla Protein Smoothie
Banana Almond Protein Smoothie
Watermelon Slushie Recipe
Watermelon Slushie Recipe
Ingredients
4 cups cubed watermelon, frozen
¾ cup lemonade or limeade
sugar or sugar substitute, to taste (optional)
Instructions
Using a high-powered blender, blend together watermelon and lemonade. Taste; add sweetener if desired and blend again. Serve with a straw.
Don't forget to pin for later and share!