Here's an easy recipe for zesty Roasted Garlic Mashed Potatoes. Roasted garlic adds that delicious zing to the potatoes. You'll have this family favorite side dish ready in no time!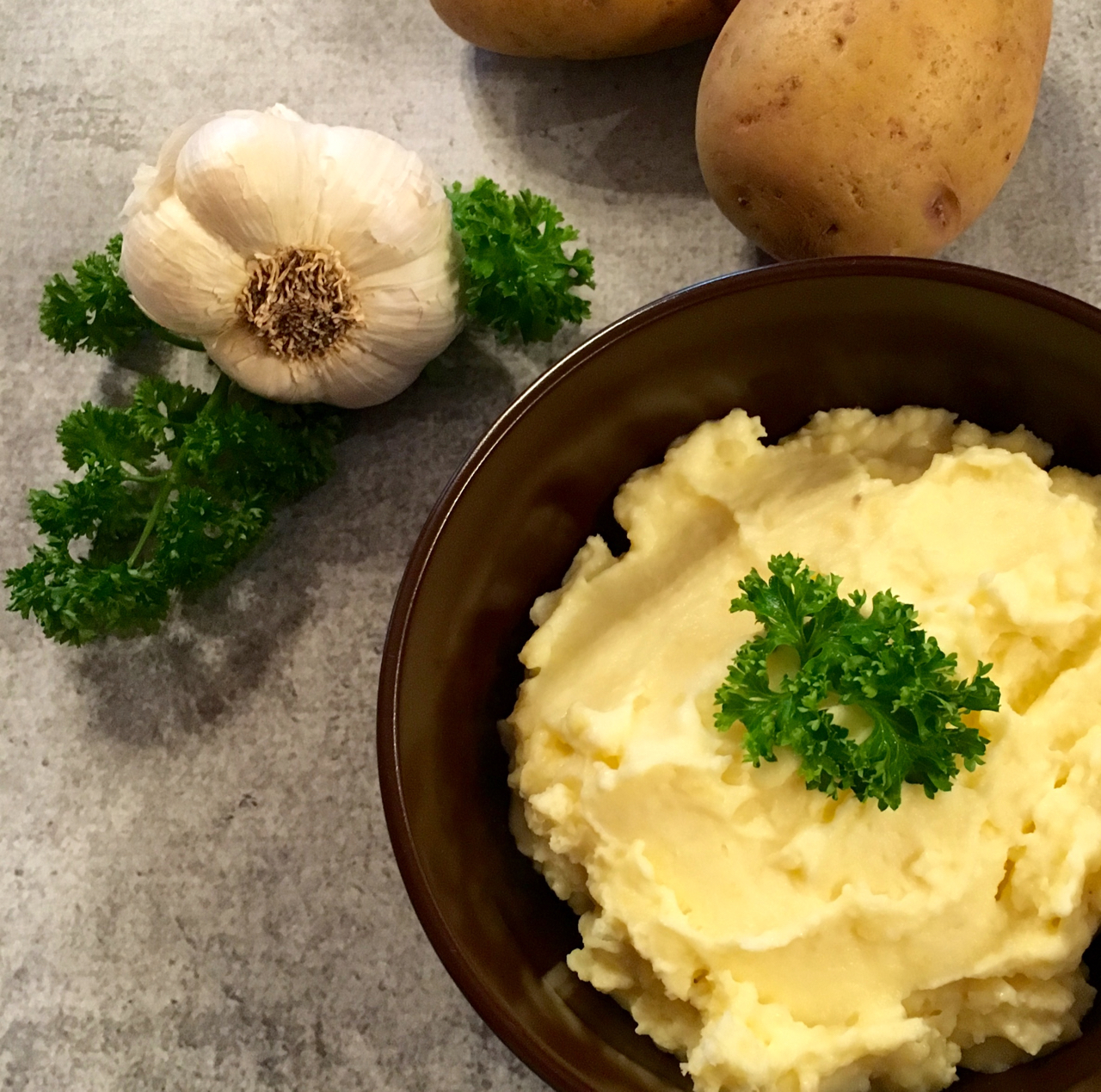 Note: this post contains affiliate links for Amazon products.
I grew up loving mashed potatoes, and when I was old enough to help in the kitchen it was my job to beat to the potatoes into creamy smoothness with an electric mixer. Lumpy potatoes were forbidden which turned this into a time consuming task. Well, no more!
Call me rebellious, but I take satisfaction in making my potatoes the rustic way – without a mixer of any kind and with some lumps to lend authenticity to their rustic-ness. And, of course, there's the garlic. Roasted, mellow garlic. This is a grown-up inclusion which can be customized depending on how much of a garlic lover you are.
First, you'll want to make sure that you have some roasted garlic on hand. You'll need the cloves from one medium-sized head of garlic. Here's my post on how to roast garlic. Roast the garlic, remove the cloves, and set aside.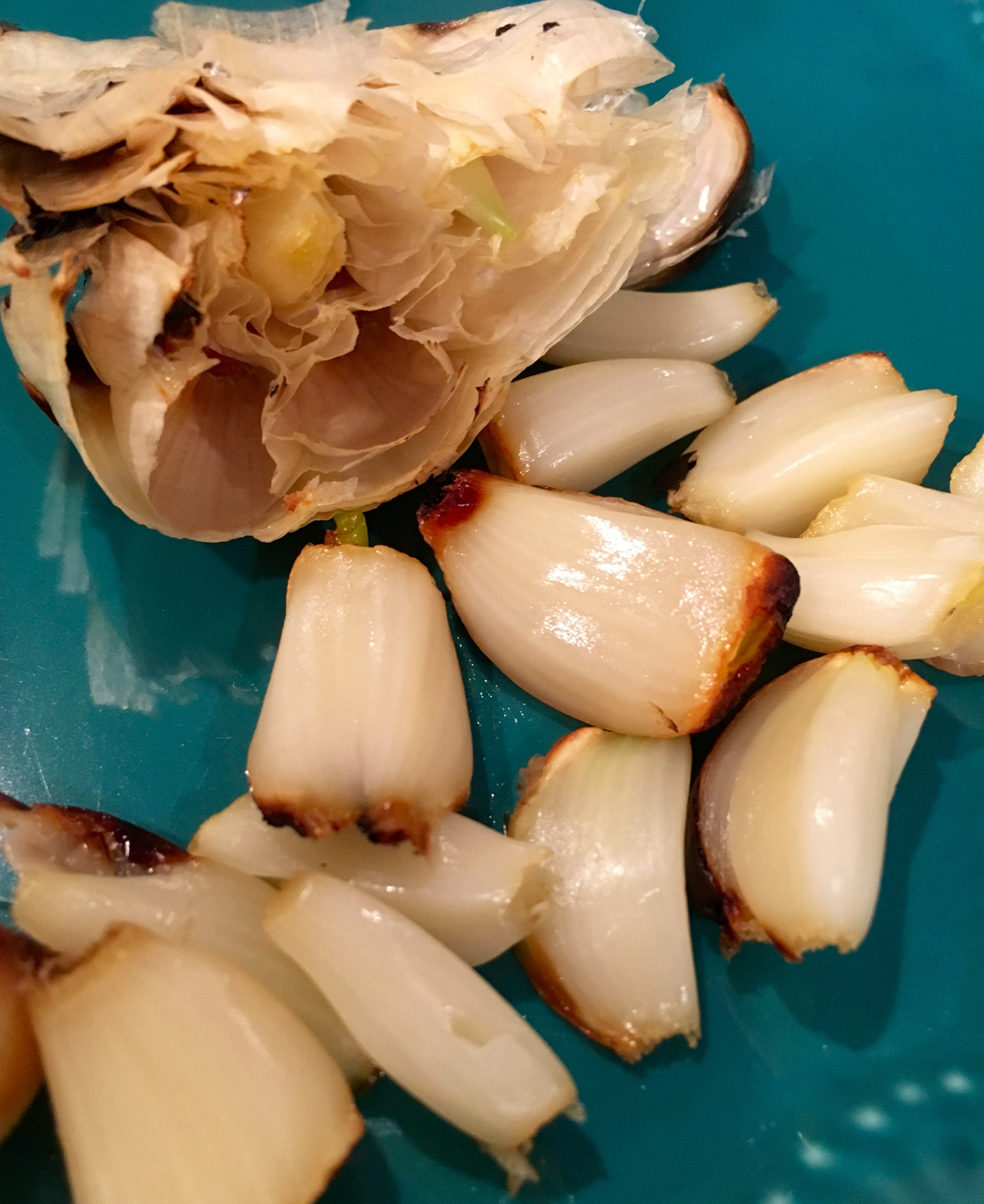 Next, peel and dice the potatoes. I used organic yellow potatoes here, but russet would work fine, too. Boil the potatoes until fork tender. Drain and return to pan.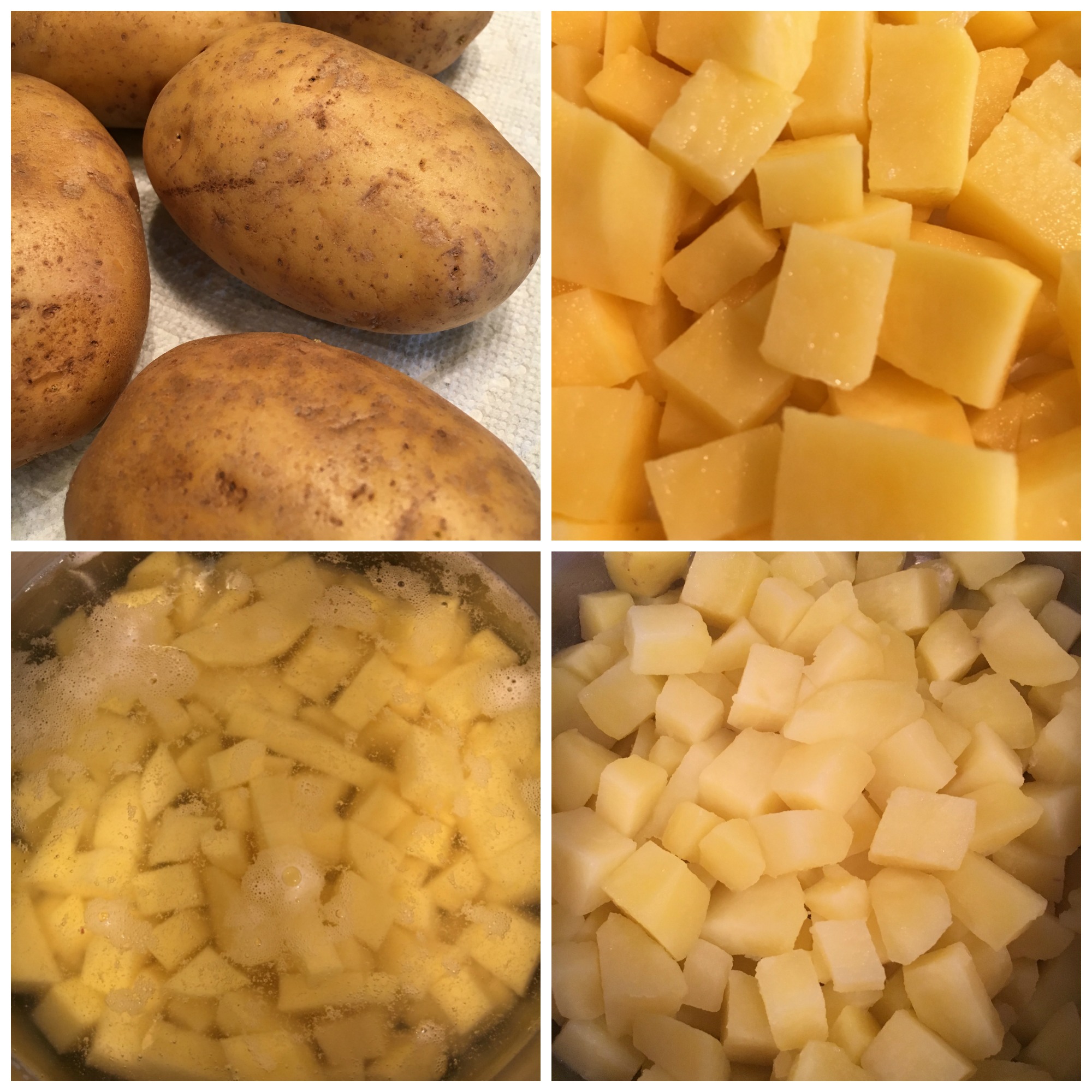 I like to add butter to the hot potatoes and let it begin melting just a a little before I begin mashing them. I use a stainless steel potato masher, like this one. Once the butter starts to melt, I begin mashing. When I've gotten the big chunks mashed, I add the sour cream, half-and-half, salt, and mash some more. Make sure to taste and salt as needed. You may also need to add a little more half-and-half if your potatoes are too dry.
Set the potatoes back on the burner on low/warm and continue.
Add the roasted garlic cloves to the potatoes. You can rough chop them before adding them in, but here, the cloves were soft enough that they mashed right in. Mash (or stir) them in. Taste and see if you would like more garlic flavor before adding the remainder to the potatoes. If you can handle the flavor, add the rest in and give them a stir. Again, you may need to add more liquid/milk.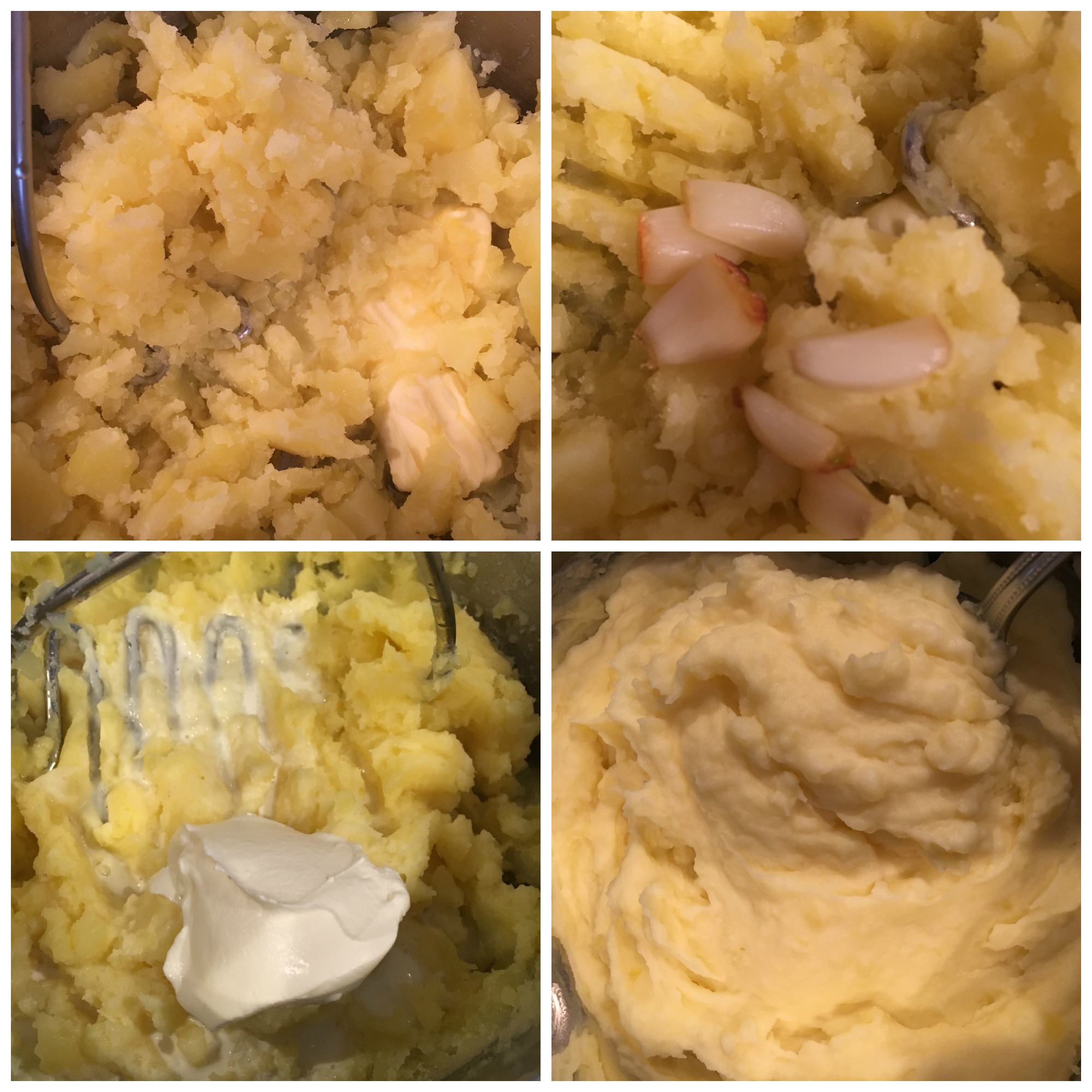 Once your potatoes are at the flavor and consistency that you desire, serve them up and enjoy!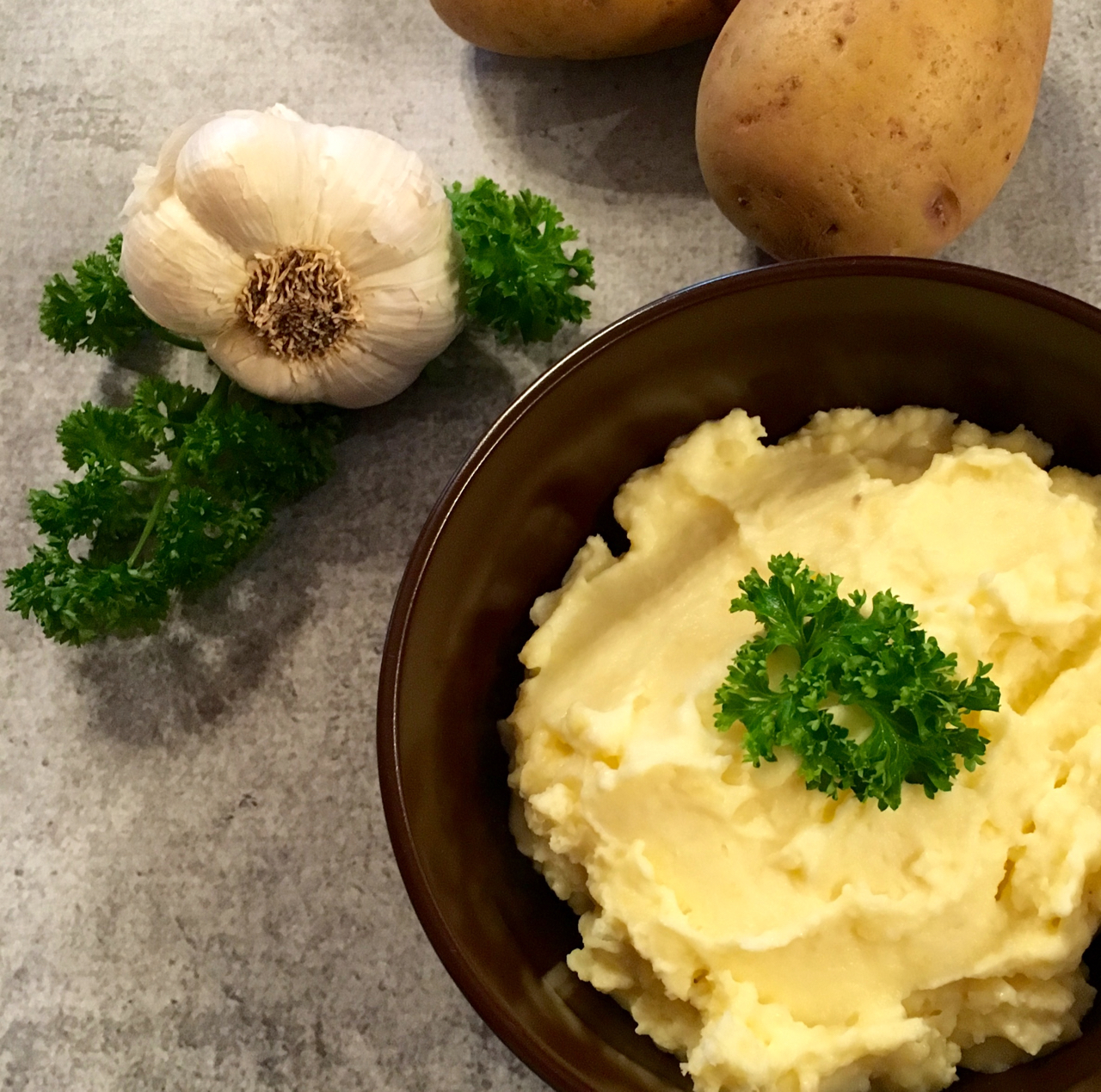 YOU MAY ALSO LIKE:
How To Roast Garlic
Loaded Baked Potato Salad
Baked Scalloped Potatoes With Cheese

DON'T FORGET TO PIN AND SHARE!