Don't want to stand over a hot griddle flipping and waiting for your pancakes? Try my simple oven bake method and give these healthy Gluten Free Yogurt Cake Pan Pancakes a try today. This is possibly the easiest way to make pancakes!
Note: This post contains Amazon affiliate links.
Have you ever wanted pancakes but were too lazy to spend the time pouring drippy batter over a hot griddle? Add to that, the time-consuming flipping of just two or three pancakes at a time to build up enough of a stack to feed more than one person? Me, too.  So I wondered what would happen if I mixed the pancake batter and then poured it into a cake pan and baked it. Would I get one big pancake that actually tasted like a pancake with a pancake-like texture? The answer is yes! May I present: Gluten Free Yogurt Cake Pan Pancakes.
I wanted gluten-free pancakes with some organic yogurt mixed in for a fluffier texture. Here's how I did it:
My go-to gluten-free pancake mix is Pamela's. (also available in a much smaller bag!) To that  I added two organic eggs, almond milk, organic plain yogurt, a little melted coconut oil, and a dash of cinnamon and a dash of salt. Specific measurements are in the recipe at the bottom of the post.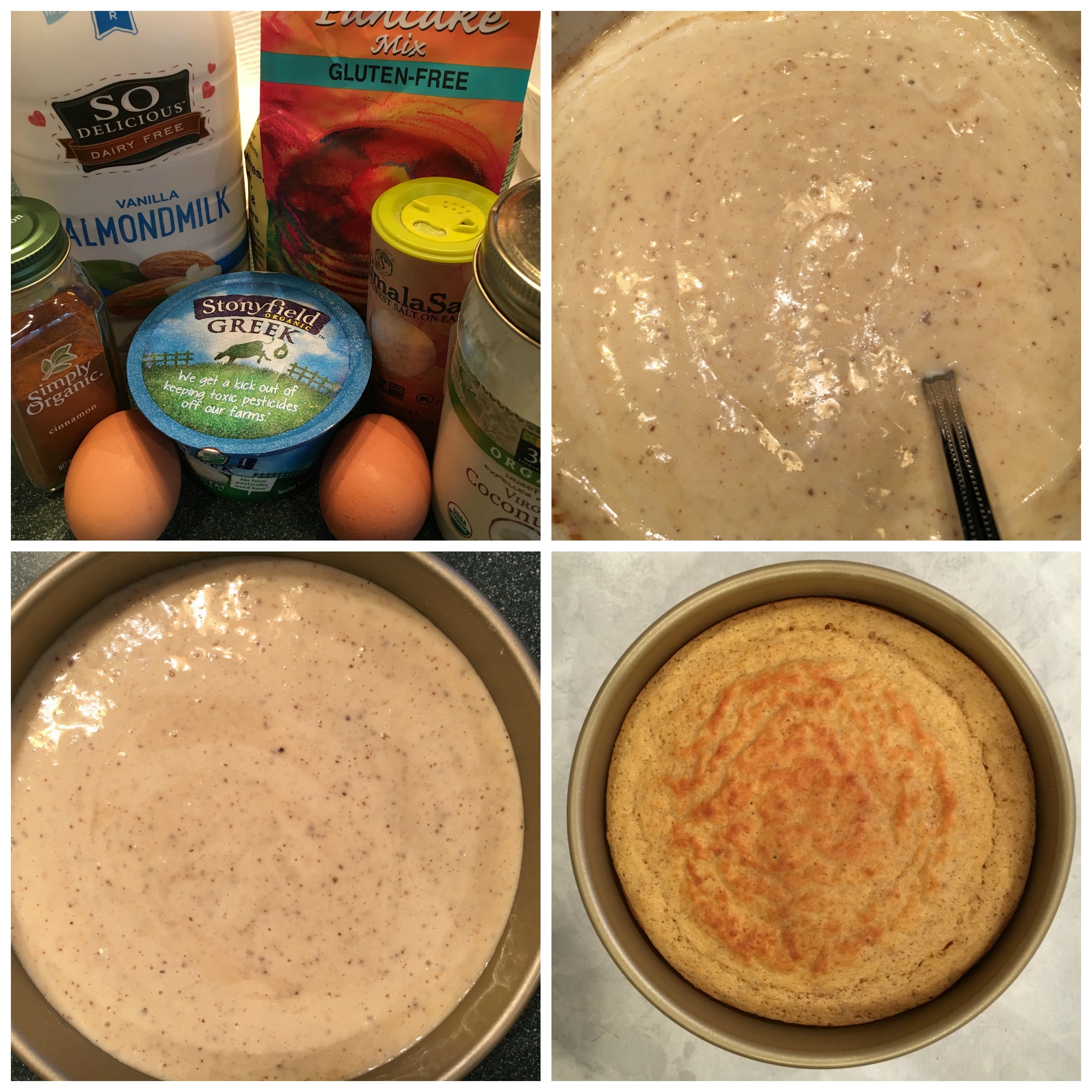 I just mixed the ingredients in a bowl and then poured the batter in an 8″ cake pan greased with coconut oil. I baked it for 30-35 minutes at 350°. I let it cool for 5 minutes before removing from the cake pan.
Once removed, I cut it into wedges, stacked a few, buttered them and garnished with strawberries and blueberries.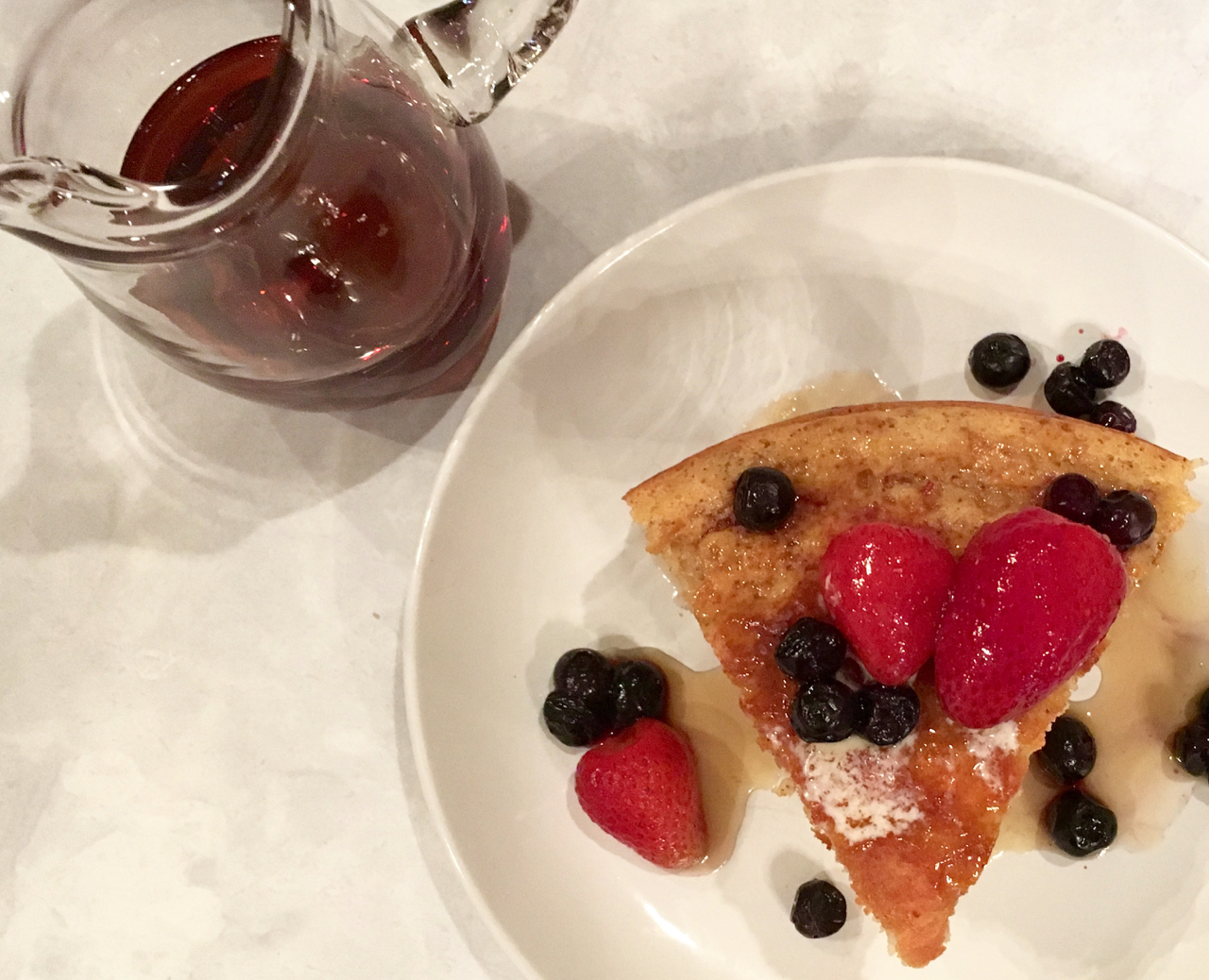 And of course, poured some warm organic maple syrup over the whole thing.
Cake pan pancakes are a wonderful alternative to the griddle cakes method. Give it a try and let me know how you like it!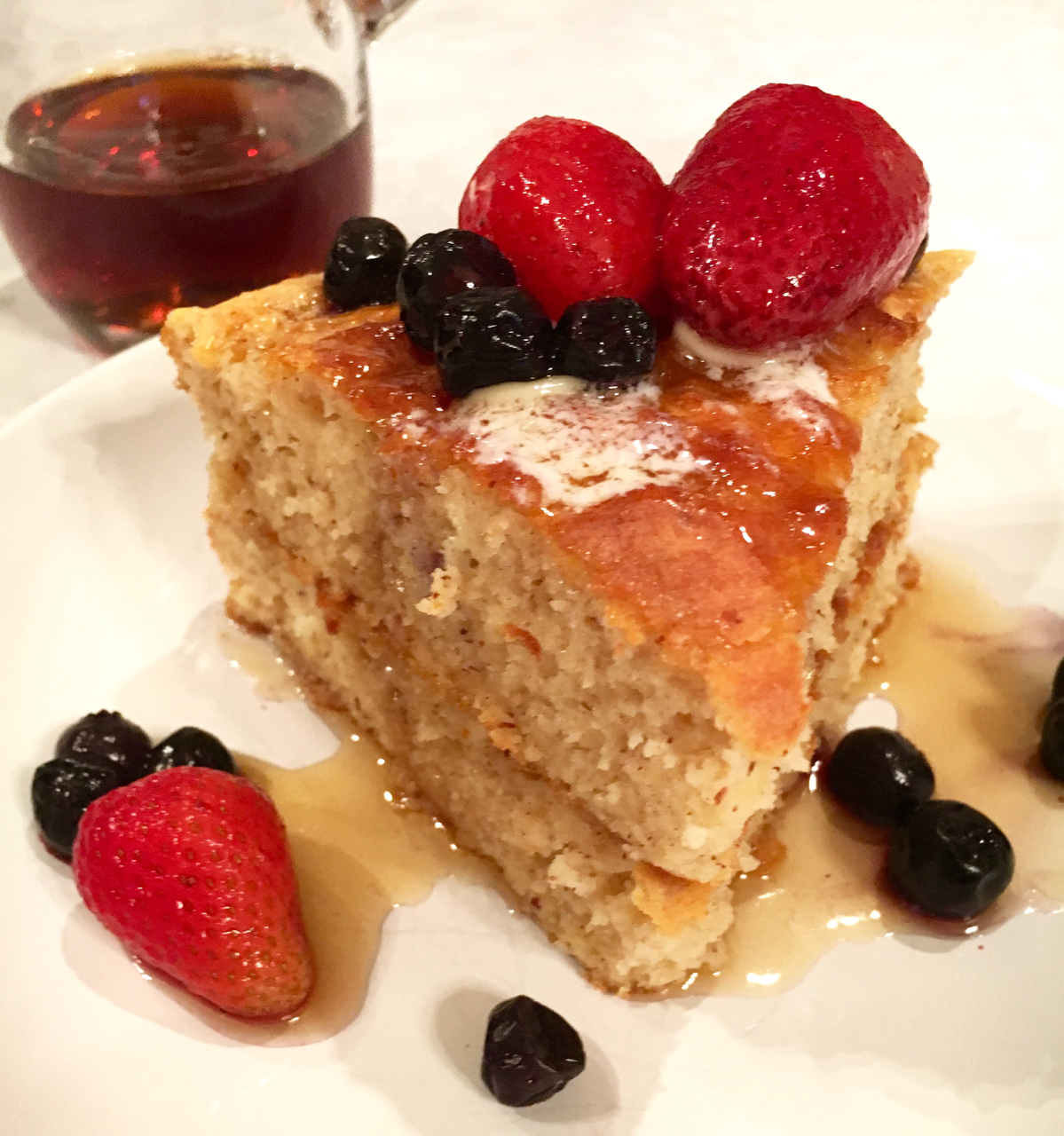 YOU MAY ALSO LIKE:
Gluten-Free Cranberry Orange Blender Muffins
Flourless Chocolate Brownies
Gluten-Free Almond Butter and Chocolate Chip Blondies

Gluten Free Yogurt Cake Pan Pancakes
Gluten Free Yogurt Cake Pan Pancakes
Ingredients
2 organic eggs
¾ cup almond milk
1 small container plain Greek yogurt (5.3 oz)
2 Tablespoons coconut oil, melted
Ground cinnamon
Salt
Instructions
Grease a cake pan (8" or 9") with coconut oil. Set aside.


BATTER INSTRUCTIONS:
In a microwave-safe small bowl, melt 2 tablespoons of coconut oil. Set aside.


In a large mixing bowl, break and lightly scramble 2 eggs. To the eggs, add pancake mix and almond milk. Stir to combine.


Add in Greek yogurt, and a dash of salt and a few dashes of ground cinnamon. Stir to combine.


Pour in melted coconut oil and stir to combine.


Pour batter into greased cake pan. Bake at 350° for 30-35 minutes. Pancake should be golden on top with sides just pulling away from pan. Test center with a knife. If using an 8" cake pan, you may need a little longer in the oven to achieve a cooked center.


When done, remove from oven and let cool for 5 minutes before removing from cake pan.


Cut and serve in stacked wedges. Garnish with butter, maple syrup and fruit.
DON'T FORGET TO PIN AND SHARE!