These Bourbon Pecan Mashed Sweet Potatoes are sure to be a favorite for your fall holidays and beyond.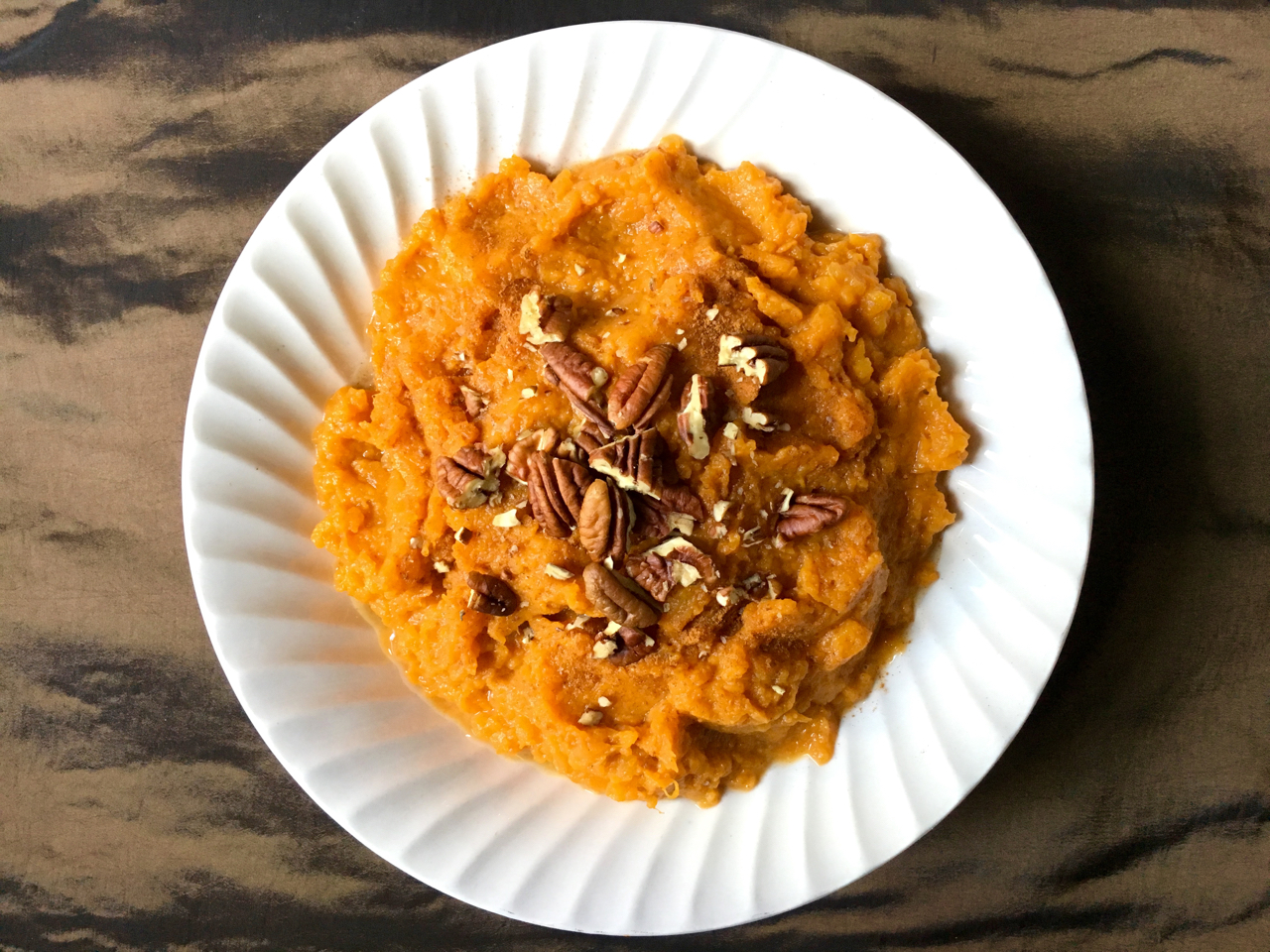 Note: This post contains Amazon affiliate links.
Here's a healthier version of the classic sweet potato casserole of yesteryear. Remember the gooey marshmallows on top and the overly sugary taste? I could never figure out why it was on the table as a side item at Thanksgiving when it clearly belonged on the dessert table! As a kid, I loved that casserole.
But now? No way! So unhealthy and full of sugar. But I still love sweet potatoes, so here's a healthy alternative to last century's sugary potato casserole offering.
Bonus: this recipe can and should be customized to your tastes. I seriously considered writing the recipe as "a pinch of this, a dash of that…" since it really does need to be created according to your tastes. I made the effort and actually wrote down particular portions and amounts, but please note these are guidelines.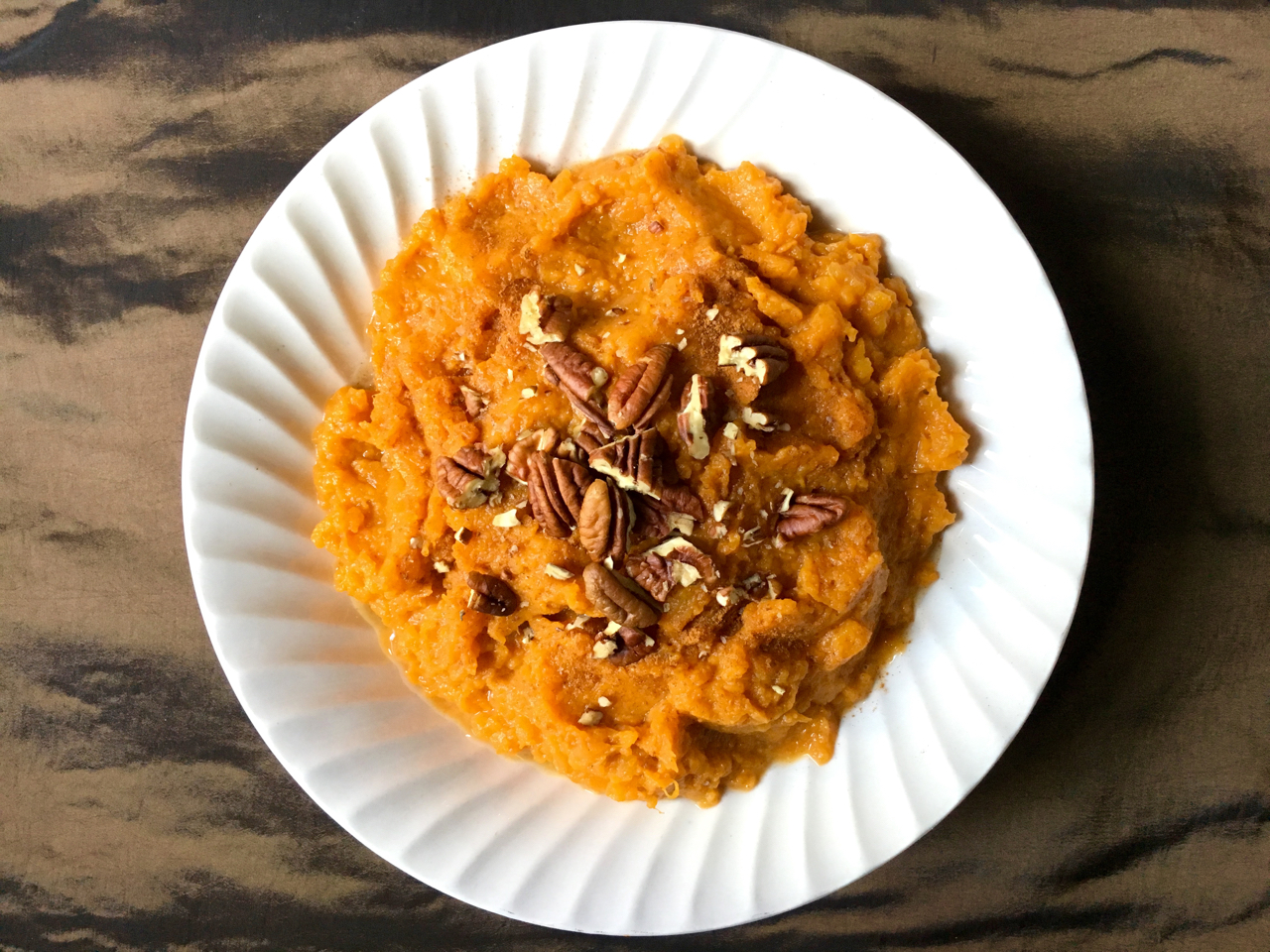 So here's how you put it together; it's so simple. Peel, chop, and boil the sweet potatoes until just tender. Do not overcook; otherwise, the whole thing will be just too watery and won't hold together well. Drain the potatoes, return to pot and start adding the ingredients as you mash. (Full instructions included in the recipe details down below.)
And here's the crucial part – you must taste as you go. For example, you might like a more pronounced bourbon flavor; just add a little more. You might think it doesn't need the addition of maple syrup; so don't add it. You might want a little more cinnamon to shine through; add a dash more…you get the idea.
A word on the pecans: I like a smattering of pecans in my sweet potatoes, but someone else in the house wants a smattering of sweet potatoes with his pecans. ::ahem:: So my answer is to garnish heavily on top with the nuts, and he can dig in from there, while I go for the 'taters underneath.
And of course, you can always leave them out altogether. Your choice, your 'taters. Enjoy!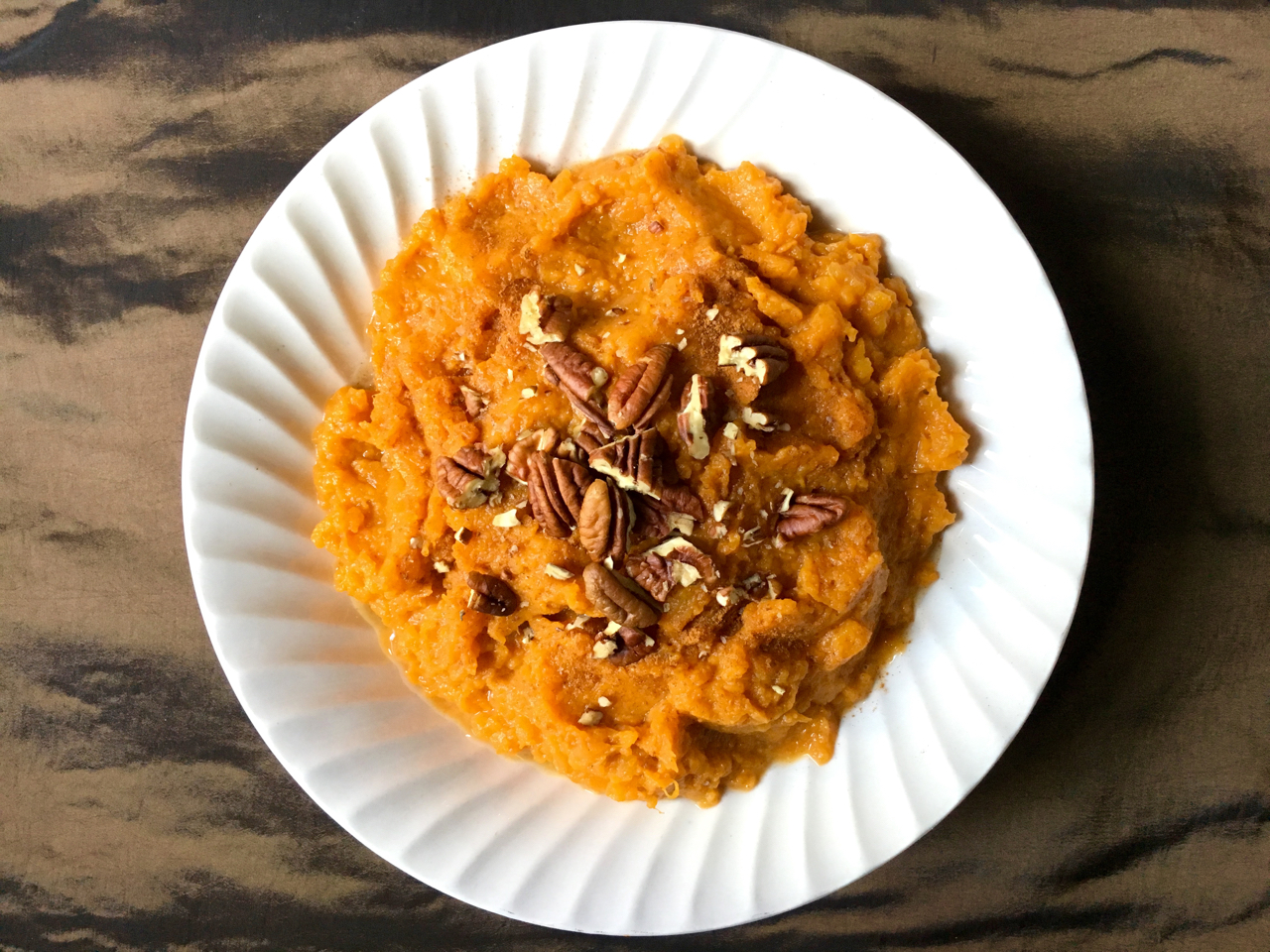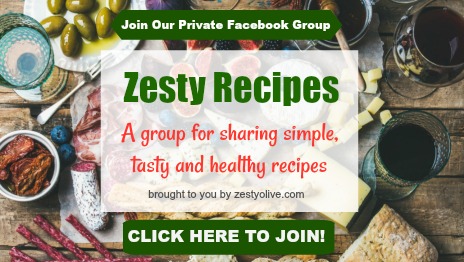 You may also like:
Roasted Sweet Potato Wedges with Maple and Cinnamon
Baked Scalloped Potatoes with Cheese
Roasted Garlic Mashed Potatoes
Loaded Baked Potato Salad
Bourbon Pecan Mashed Sweet Potatoes
Bourbon Pecan Mashed Sweet Potatoes
Ingredients
3 medium organic sweet potatoes, peeled and cut into chunks
2-3 Tablespoons butter, more or less to taste
2 Tablespoons organic maple syrup, more or less to taste
2 -3 Tablespoons of bourbon whisky, more or less to taste
1 teaspoons vanilla extract
¼ tsp ground cinnamon
⅛ tsp ground ginger
⅛ tsp ground cloves
Pinch of salt
½ cup chopped pecans
Instructions
Place the sweet potato chunks in a large pot, cover with water and bring to a boil.


Cook until tender, about 15 minutes. Do not over cook.


Drain the cooked sweet potatoes and return them to the pot on the stove.


Turn off the burner heat.


Add the butter to the pot and let it melt just a bit before beginning to mash with a potato masher.


Add salt, vanilla and bourbon and continue mashing, tasting as you go.


Add maple syrup, cinnamon, ginger and clover and mix.


Pecans: either add into the potatoes, reserving a little for garnish, or just add the entire chopped pecans as a topping/garnish.


Serve immediately while hot.
DON'T FORGET TO PIN AND SHARE!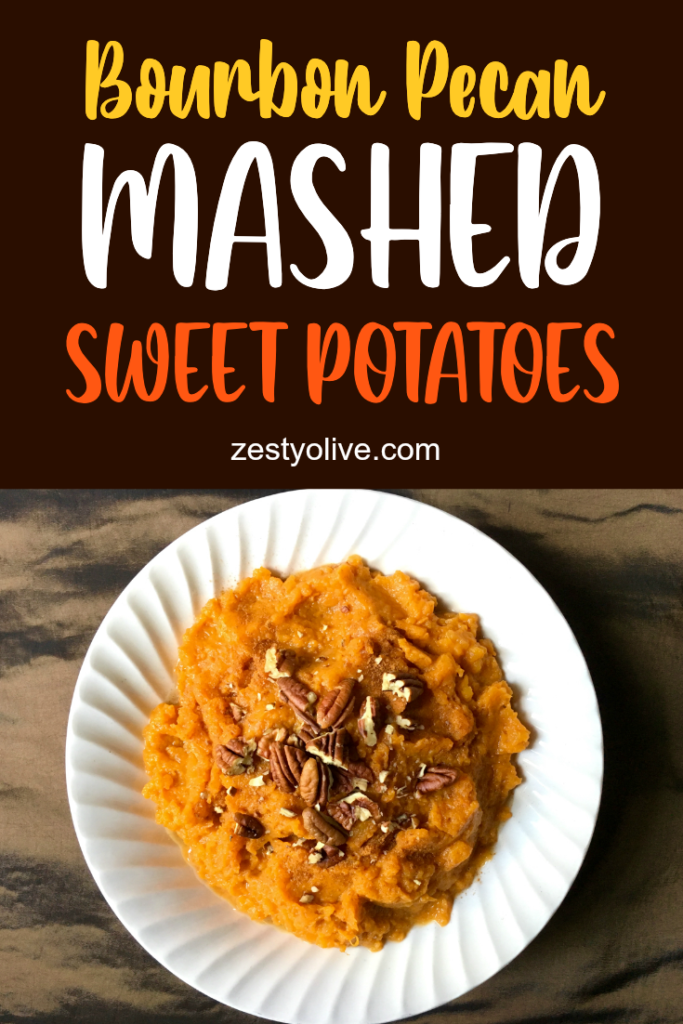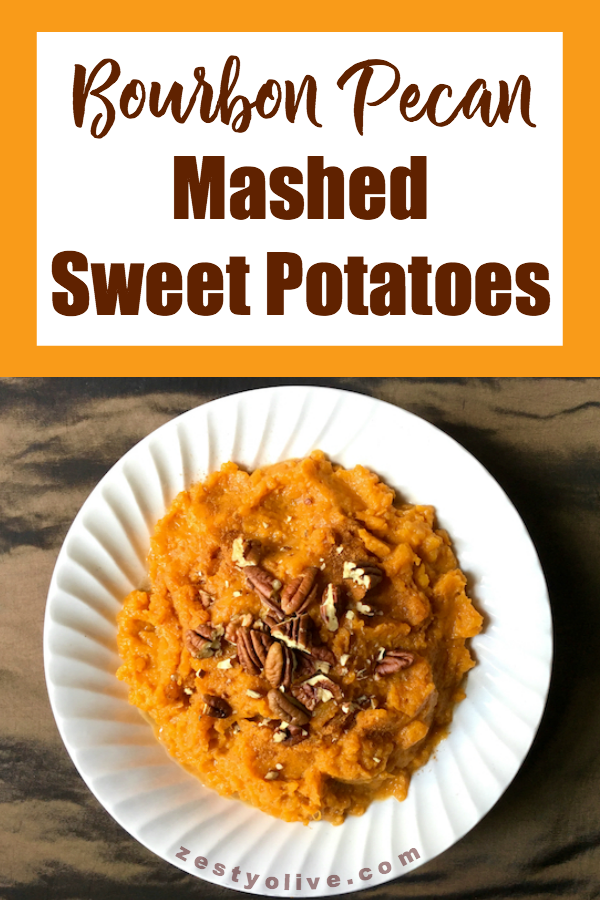 Save
Save
Save
Save
Save