This easy and healthy organic homemade salsa recipe uses all fresh ingredients and comes together in just 20 minutes. Amp up the heat factor by adding more jalapeño. Keeps well in the refrigerator, so make a double batch for later!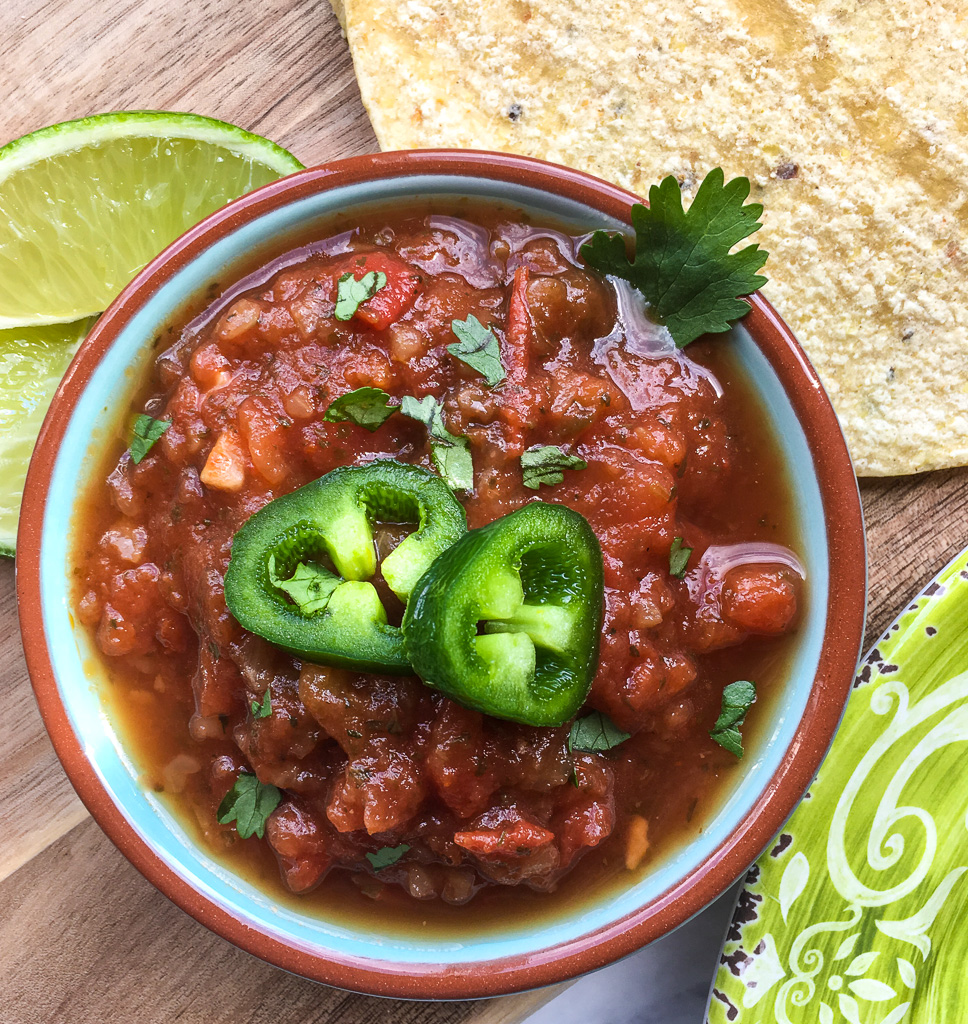 This post contains Amazon affiliate links.
This easy homemade organic salsa is a must for all your Mexican or Tex-Mex dishes, but we like to keep it around to snack on with our favorite tortilla chips. I've also been known to use it as a salad dressing. (ahem). What? It's just that good.
What I love about it is that it's all natural and fresh. I like to buy organic tomatoes, peppers, onions, limes and cilantro for this recipe, that way I know I'm really making a super healthy salsa. Your local farmer's market is a great place to find fresh tomatoes and peppers if you don't grow them yourself, or have a neighbor who likes to share their bounty with you. 🙂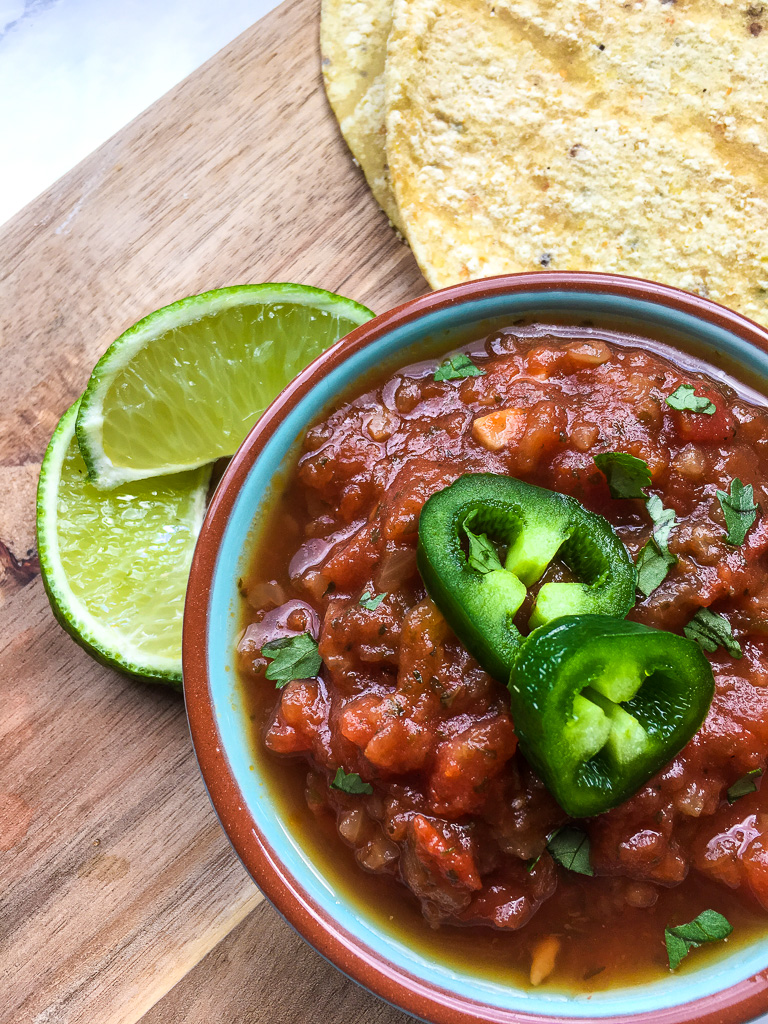 The salsa ingredients spend a little time in the sauté pan (I use my cast-iron skillet) to really bring out the flavor as well as help them blend a bit more. To chunk it up a little further, after the ingredients have cooled, I use an immersion blender like this one to make it less chunky. You could also throw it in a blender, but I like the immersion blender for two reasons: 1) less cleanup (hooray!) and 2) I have more control over how thin or chunky I want the salsa to be.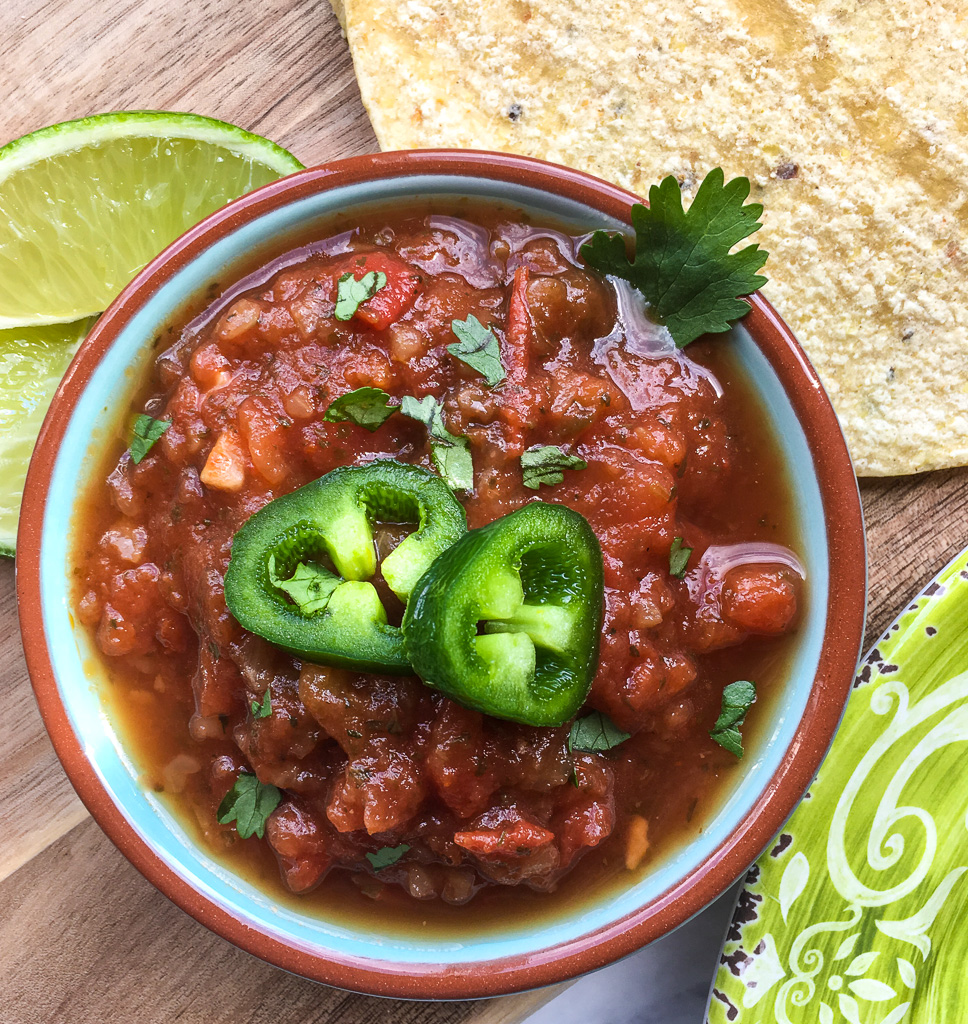 Serve it up in a pretty bowl and enjoy!
YOU MAY ALSO LIKE:
Creamy Cilantro Avocado Jalapeño Sauce
Skillet Chicken Fajitas
17 Tasty Mexican Recipes for Cinco de Mayo

DON'T FORGET TO PIN AND SHARE!