This quick and easy one-pan chicken fiesta skillet can be on the table in just 30 minutes. It's a healthy and satisfying meal, perfect for busy weeknights. You can easily pair it with yummy sides like rice and refried beans, or even a fresh salad.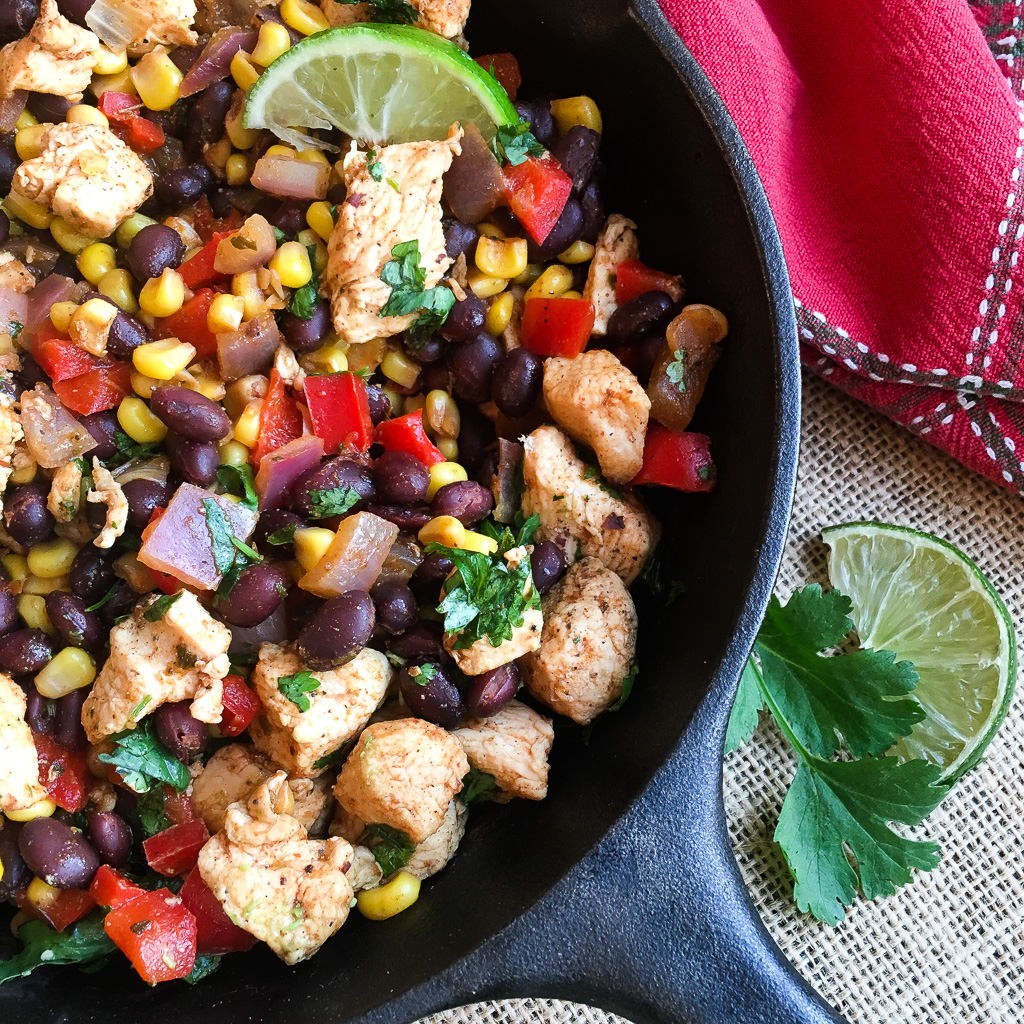 This post contains Amazon affiliate links.

What I love about this chicken fiesta skillet meal is that it's so easy to put together. It's quick because you're making it all in just one pan. Whether you use a cast-iron skillet like this one, or a stainless steel skillet, this dish comes together with minimal work.
Here's how it goes down.
First, prep your veggies and herbs. Slice and dice the onion and peppers and set aside. Chop the cilantro and set aside.
Second, prep your chicken. Slice it into bite-sized chunks and set aside.
Third, prep your canned and/or frozen veggies. Rinse and drain the black beans. Do the same for the corn if you're using canned corn instead of frozen.
Fourth, have all your spices at the ready.
Fifth, fire up the skillet and get ready to roll!
From here, it's as simple as adding the onions and peppers to skillet and letting them soften a bit before adding the chicken and spices. Let the chicken brown a bit and then throw in the beans and corn. Cook a bit, taste, re-season if necessary and you're practically done!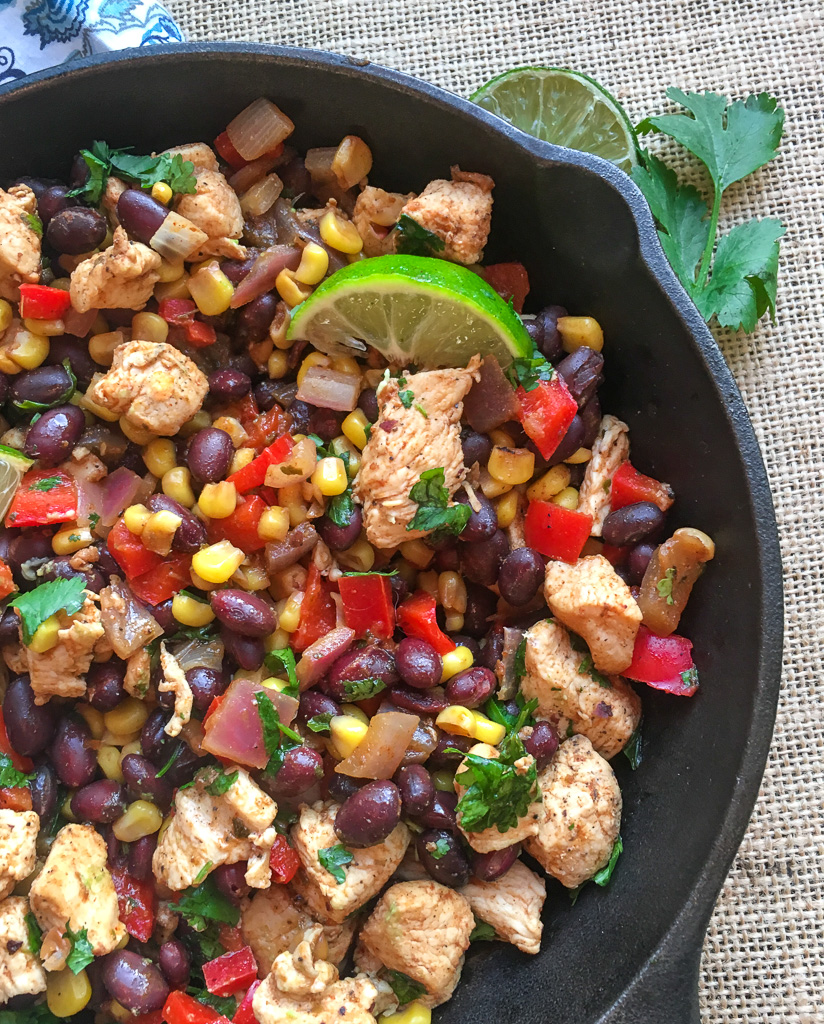 Between the stages of cooking and browning, you might want to grate some cheese, prepare an avocado, slice a lime or two, if you want to serve those with the fiesta skillet. You might want to serve this over a brown rice, so factor that in if it's something that your family likes.
Don't wait for Cinco de Mayo to make this – throw it together tonight and be sure to keep it in your quick and easy rotation of tasty dinners to make!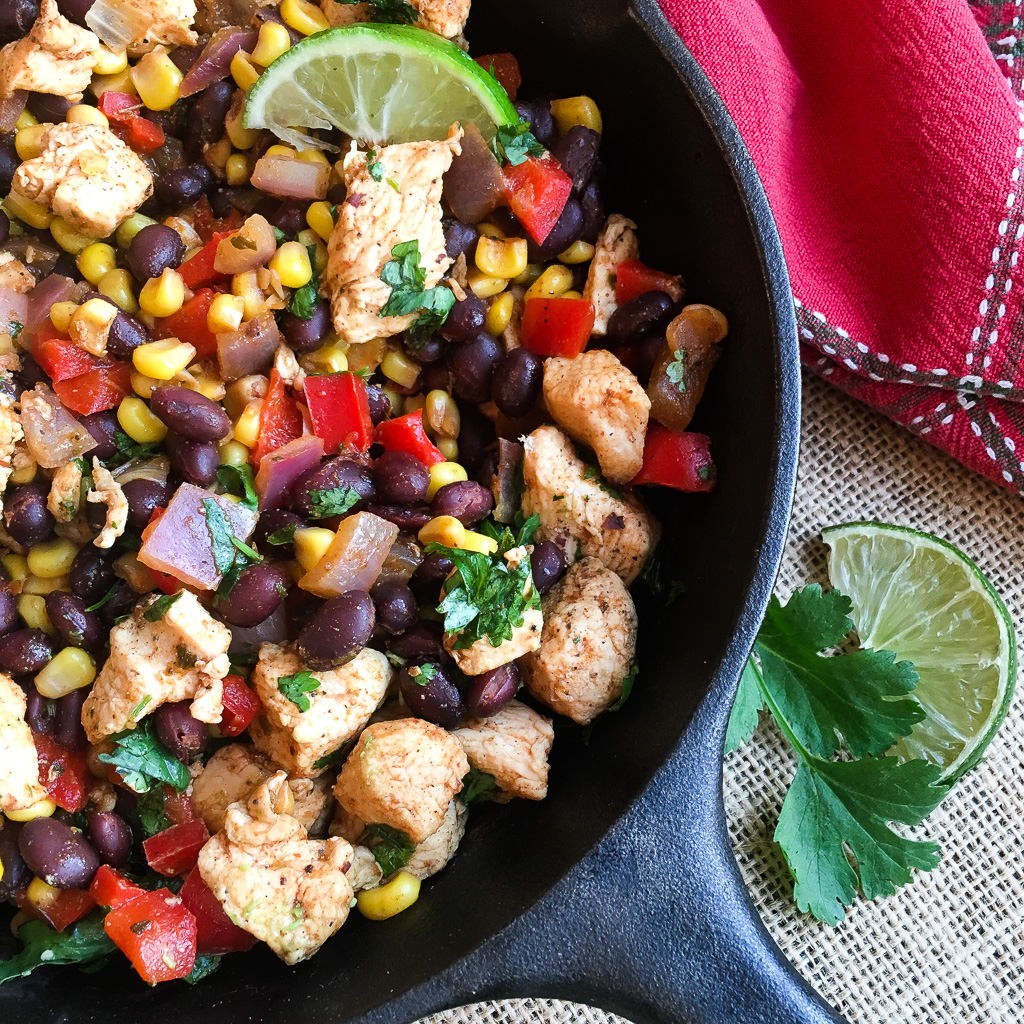 YOU MAY ALSO LIKE:
Skillet Chicken Fajitas
Skillet Garlic Chicken
Black Beans and Rice Mexican Lasagna
DON'T FORGET TO PIN AND SAVE!