Bring a taste of Tuscany home with this simple, quick and delicious recipe for Skillet Garlic Chicken with Sun-dried Tomatoes and Pecorino Cream Sauce.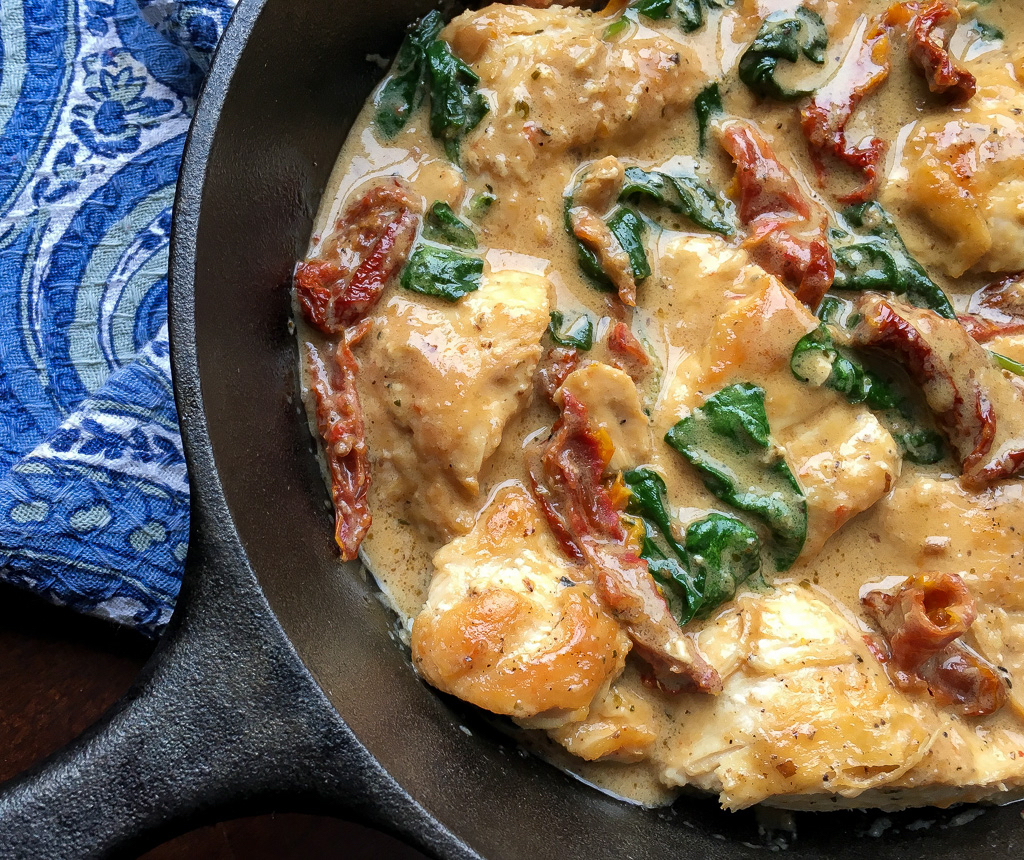 Note: This post contains Amazon affiliate links.
Looking for a quick chicken meal to make on those busy days? This tasty Skillet Garlic Chicken with Sun-dried Tomatoes and Pecorino Cream Sauce can be ready in just 30 minutes!
I used a cast-iron skillet for this meal,(I love this one with a lid!) but you can also use a stainless steel skillet if you prefer. Just make sure it's a large enough with high enough sides to hold all the ingredients without spilling over.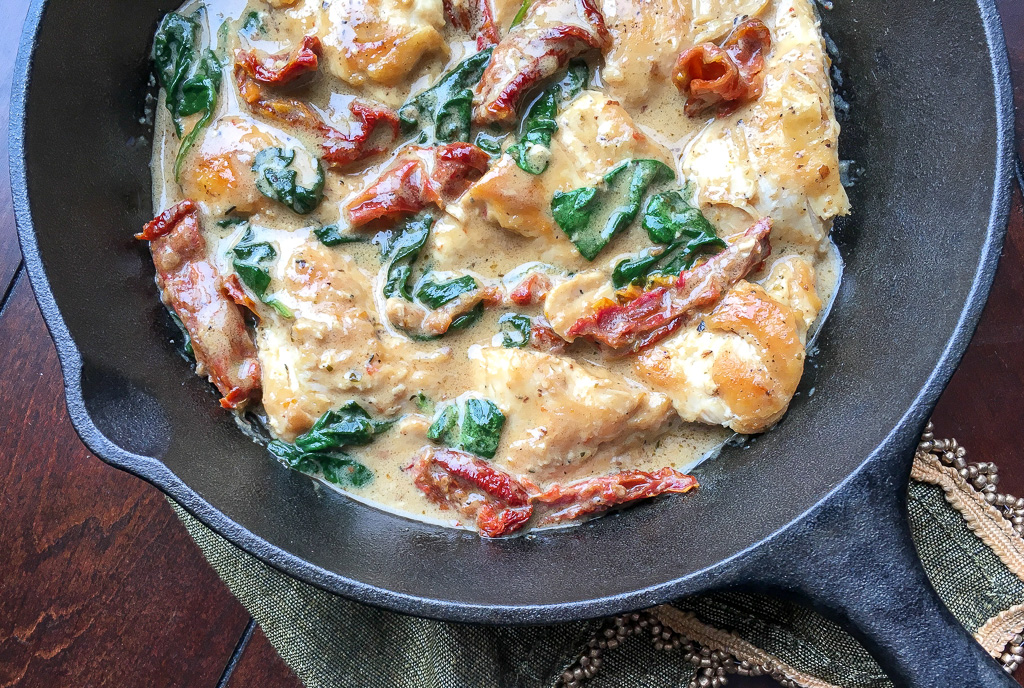 Prepare your chicken by cutting the chicken breasts into large bite-sized pieces. Set aside.
Heat olive oil and garlic in the skillet and sauté until medium brown. Remove garlic with a slotted spatula and discard. You now have lovely garlic-infused olive oil left in the skillet. Add the chicken to the skillet, season with a little salt and pepper, and cook until browned on all sides. Remove chicken from the skillet and set aside.
To the skillet add half & half and chicken broth; stir carefully to incorporate all the yummy browned bits left in the bottom of the skillet.
About the cheeses: Pecorino Romano is a well known and distinctive Tuscan cheese made from 100% sheep's milk. Although used interchangeably in recipes with the more mild Parmesan, it's not the most ideal swap due to Pecorino's stronger flavor.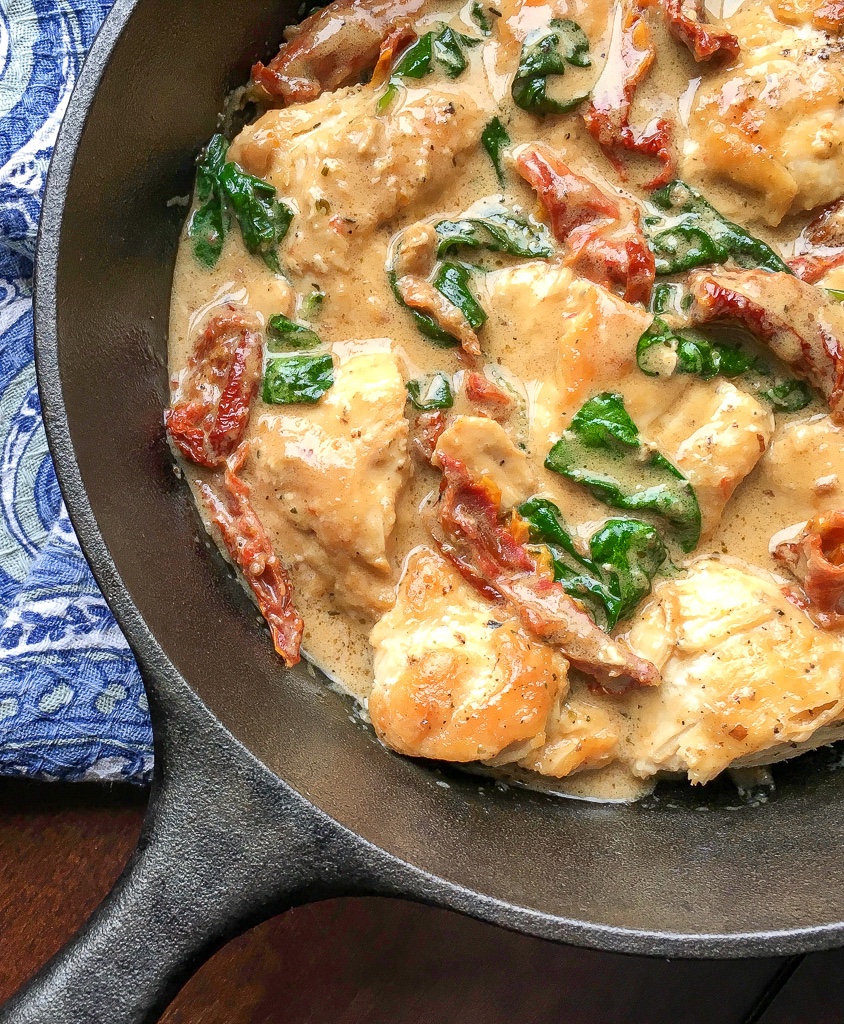 In this recipe, I've balanced an equal amount of Parmesan with the stronger flavor of Pecorino Romano to create a delicious balance of the two. Feel free to play with the ratio to get the flavor that suits you.
Add oregano and grated cheese to the skillet and whisk until cheese is completely melted. (I use this cheese grater.)
Reduce heat and add sun-dried tomatoes and spinach. Simmer until tomatoes soften and spinach wilts. Add the chicken back in to warm it up; let it simmer for just a bit, then serve up this glorious Tuscan dish and enjoy!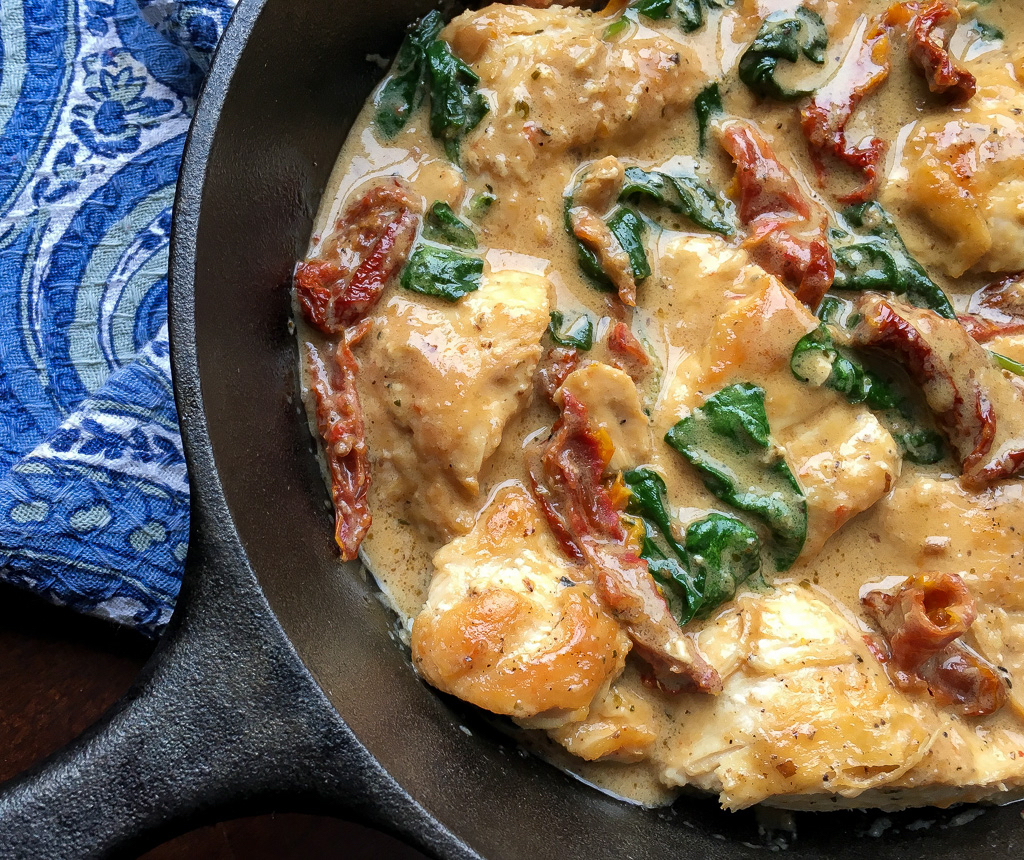 YOU MAY ALSO LIKE:
Skillet Chicken Fajitas
Dutch Oven Balsamic Chicken And Vegetables
Chicken And Broccoli Alfredo
DON'T FORGET TO PIN AND SHARE!