Note: This post contains affiliate links.
Get Paid To Shop With The Ibotta App. What? Don't you just cringe at titles like that? Me, too. But I wouldn't have used it if it weren't true. No joke, the Ibotta app will actually deposit money in to your Paypal or Venmo account with minimal effort on your part. Um, hello?! Sign me up!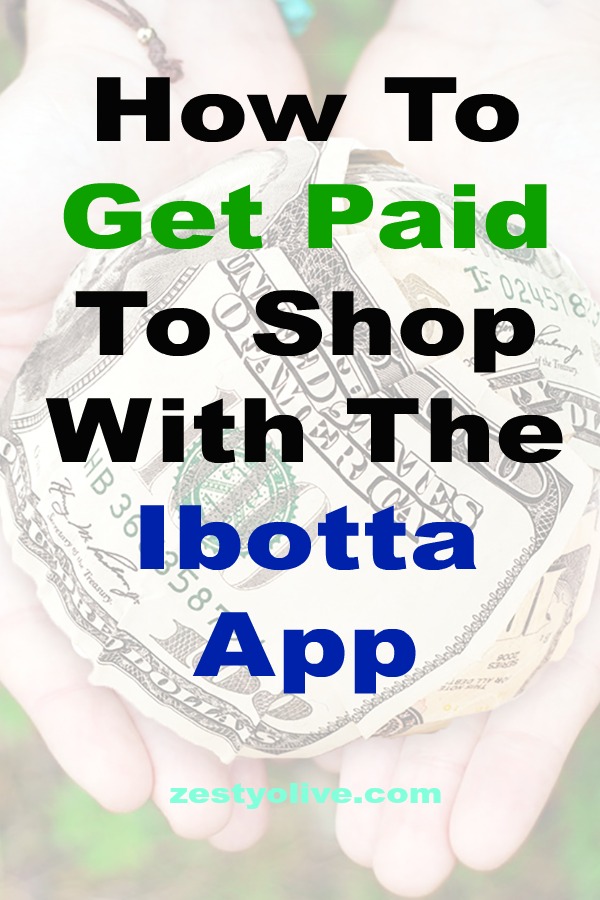 Ibotta is available for iOS and Android devices.
Here's some backstory: I've never been one to go grocery shopping with a fistful of coupons that I laboriously cut out of the Sunday newspaper circulars ( ← a  true back-in-the-day thing). Oh, sure, if there were a few items that I used on a consistent basis, I would messily rip them out of the circular and stuff them in my handbag for future use, only to forget that they were there once I had already checked out and left the store. Sigh. Totally not cut out for paper couponing. It's not that I'm opposed to saving money, it's just that cutting coupons seemed like too much work for my already frazzled schedule.
So. Here we are in the 21st century where we have mobile apps that do most of the work for us. After seeing the Ibotta app all over the place a few years ago, I reluctantly downloaded it on to my iPhone, thinking it would just sit there and be another couponing situation that I didn't use or forgot about until it was too late. Well, this was so not the case! The first time I used it and saw a few dollars ka-ching into my Ibotta account, I was hooked; possibly even addicted. I love, love, love this app. Seriously. I can actually redeem purchase coupons and get cash back after I've left the building. Seriously, at home. Hours later. Because that's just how I roll. #unorganized
However, I would highly suggest checking out the app for the store(s) you're about to go into before you cross the threshold to see if there are any specials that you want to take advantage of while you're shopping. I've learned to do this (!)  so I can save even more and watch my cash back amount grow. Hey, I'm teachable…by an app, no less. So don't think you'll never use this app, or that it's too complicated. And if you're way more organized than I am (I mean, seriously, you totally are) then download this app right now and see what you've been missing. I'd love it if you used this link to download it. It's an affiliate link and I'm totally psyched for you to try it and then share it with your friends, too! Did I mention that you can get cash rewards for sharing this awesome app? #love
I appreciate that I can get cash back for my adult beverage purchases: wine for me and beer for the hubs. #winwin Also, we use a lot of almond and coconut milk along with frozen fruit for our daily protein smoothies, so the Ibotta app saves us money on those items.
And can we talk paper goods? Everybody uses toilet paper (ahem) and we go through our fair share of tissues in the winter-time, so it's great to see those savings pop up in the app.
There are so many grocery items available, and they change weekly so that you're sure to find items that you use.
But Ibotta is not just limited to grocery stores. There are actually over 300 retailers that Ibotta works with, including online stores, clothing stores, restaurants, movie theaters, home improvement centers, pet stores, and pharmacies nationwide. Places like Amazon, Target, Best Buy, Whole Foods, Walmart, Publix and many more are included.
So how does it work? There are three ways you can redeem some bucks with Ibotta.
Save your receipts and use them to receive your cash backs (this is how I manage to wait until I get back home to do this…but better if you're not like me, and you can actually plan ahead!)
Link your store loyalty cards within the app. This is a no-brainer. So simple.
Mobile in-app purchases. If you shop from your device, you're golden. Easiest and fastest way to use the app.
I hope you'll give Ibotta a try. I think you'll love it. Now let's go earn some cash!
YOU MAY ALSO LIKE:
Skillet Chicken Fajitas
Gift Guide For The Smoothie Lover
Flourless Chocolate Brownies
DON'T FORGET TO PIN AND SHARE!