Functional kitchen accessories get a spring decor makeover with hues of yellow, blue, green and pink to brighten up the space. This list is proof that tableware, gadgets and appliances can usher in spring without compromising practicality.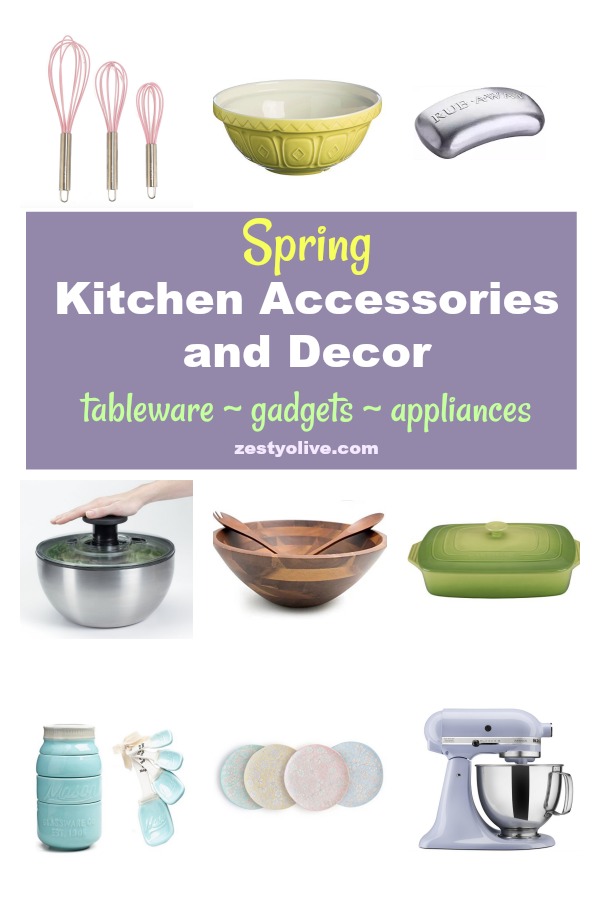 Note: This post contains Amazon affiliate links.
Bring a touch of spring to your kitchen accessories and decor with this practical list of tableware, gadgets and small appliances.
I start thinking about salads when heading into the spring season. A few years ago I upgraded my salad spinner to this large capacity stainless steel spinner. I love it! It's super roomy, works like a charm and the stainless steel bowl can be used separately, making it a multi-function item in my kitchen. If you make a lot of salads, consider this spinner.
Here's a gorgeous Acacia wood 3 piece salad bowl and server set. While your salad would display beautifully in this bowl, don't limit its use to just greens. It would make a perfect vessel for popcorn, bread, fruit, or even just a decorative display piece when not in use. Also makes a great gift!
These Mason jar measuring cups and spoons are adorable! The sky blue color signals that winter is over and spring is here. Perfect for measuring dry or liquid ingredients. The material is ceramic and they are dishwasher safe.
I love my pieces from Le Creuset and my casserole dish is no exception. The stoneware cooks evenly and cleanup is a breeze thanks to the nonstick glazed interiors. I love that this one comes with a lid – perfect for storing leftovers (like my Bacon Brussels Sprouts Au Gratin) in the fridge and reheating the next day. If this lovely palm green isn't your color, they have a wide range of other colors available from which to choose.
You can't talk about springtime without thinking of eggs and all those Easter egg hunts, right? What in the world do you do with all those leftover hardboiled eggs? Slice 'em and dice 'em! (And make some tasty egg salad, or zesty potato salad!) This particular egg slicer offers 3 different slicing styles. Did you know you can also use egg slicers to slice mushrooms and strawberries?
I love this bright yellow earthenware mixing bowl. It's chip-resistant and has a glossy finish. Comes in an assortment of sizes. Use it for mixing up yummy treats or as a serving bowl. (Serve up some Garlic Mashed Potatoes in it, or some Bourbon Pecan Mashed Sweet Potatoes. Yum!) Microwave and dishwasher safe. Made in Portugal.
How cute are these pink stainless steel and silicone whisks? Choose the right whisk for the job with this handy set of 3. If pink isn't your thing, they come in a variety of other colors, too.
If you handle a lot of fish, garlic or onions, you might consider this handy stainless steel bar to rub away the odors. Just rub it between your hands like a bar of soap and it will help remove stubborn food odors from your hands.
These beautiful pastel hand-painted salad plates just say springtime to me. These would look stunning on solid color pastel plates or on just a solid white plate. There's an entire line of dishes that compliment these plates, but I think they are lovely on their own, too.
This embroidered table runner has an elegant understated floral and cutwork design which is perfect for a springtime tablescape.
If you don't already have a stand mixer, consider this best seller in this lovely Lavender Cream color. Swoon! Lots of other colors to choose from if lavender isn't your thing. You will love having a stand mixer in your kitchen. From dough, to batters, to whipped mashed potatoes, you will use it all. the. time!
Do you have a favorite gadget, appliance or decor item in your kitchen that just says "Springtime!" to you? I'd love to know, so feel free to leave a comment below!
YOU MAY ALSO LIKE:
12 Must-Have Baking Tools and Essentials
10 Tasty Egg Salad Recipes
Gift Guide For The Smoothie Lover
Blackened Salmon Salad With Greek Yogurt Dill Dressing
DON'T FORGET TO PIN AND SHARE!