You can whip up this flourless chocolate cake with ganache glaze in one bowl ~ no need for a mixer! This cake is dense and rich – perfect for chocolate lovers. Bonus: it's easy!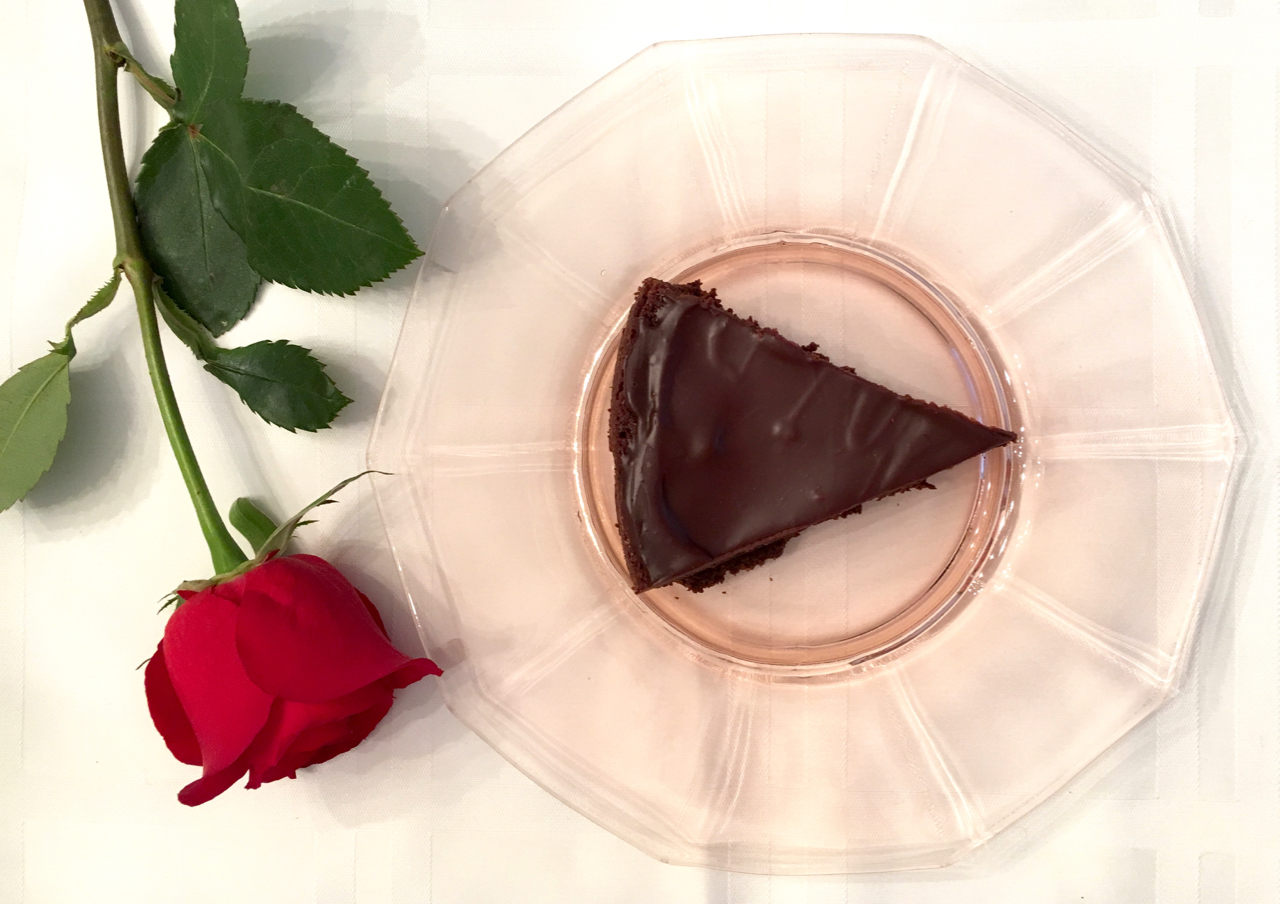 Note: This post contains Amazon affiliate links.
Here's what I used to put it together: bittersweet chocolate chips, organic butter, organic eggs, vanilla extract, organic sugar, sea salt, unsweetened cocoa powder, organic ground cinnamon, decaf instant coffee, organic cream (for the ganache).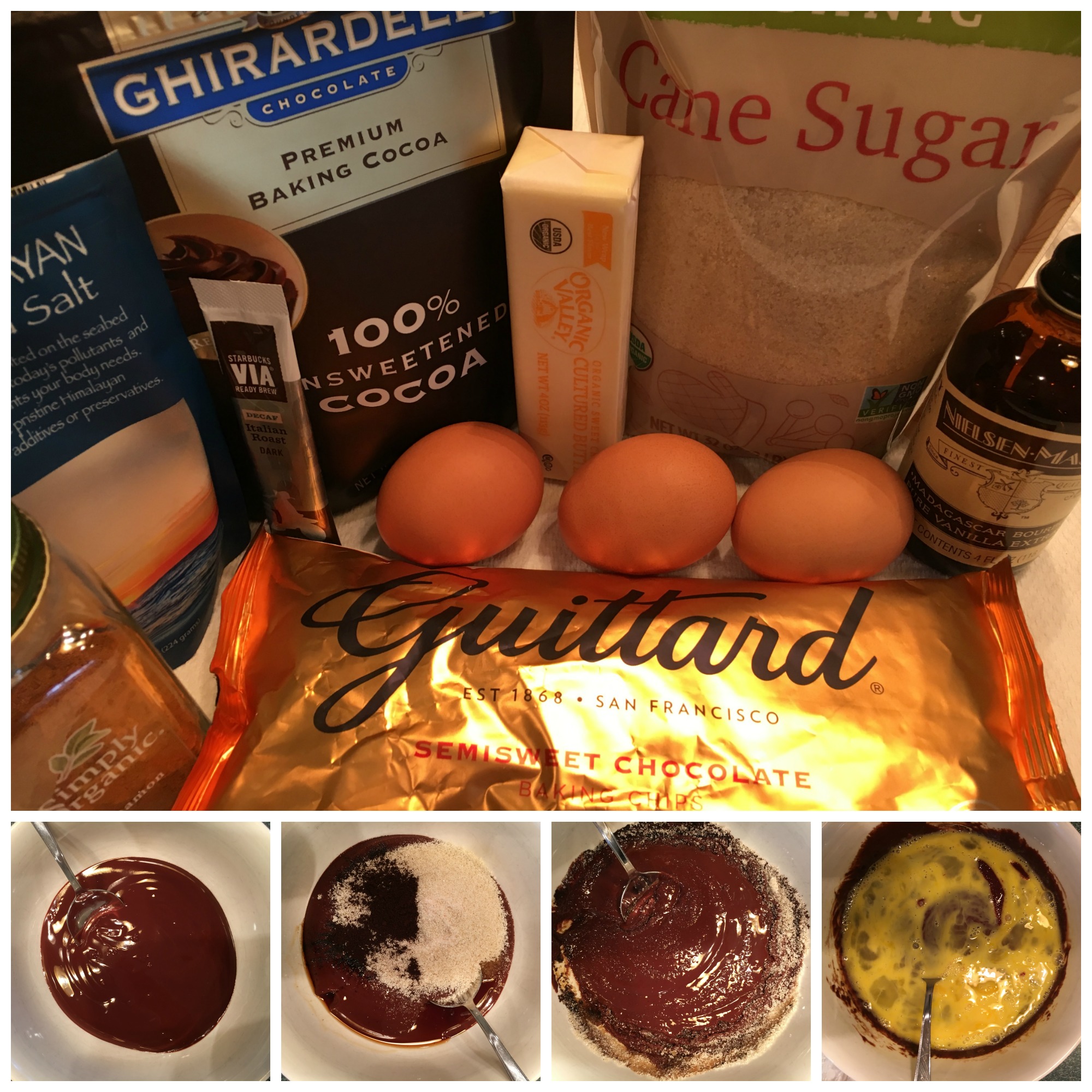 Mixing it is quick. Melt butter and chocolate chips first (I did this in the microwave, but you can use a double boiler if you prefer), then add in sugar, vanilla, salt, cinnamon, coffee powder and stir. Finally, add in eggs and cocoa powder and stir to combine. Pour it in a buttered 8″ cake pan and bake. Done! Well, almost…
Here's the 8″ cake pan that I use:

Once it comes out of the oven, invert it and let it cool completely before adding the ganache to the top. Once ganache is added, it needs to go in the refrigerator for about 4-6 hours, overnight if possible. This cake is actually better the next day because the ganache has had a chance to settle.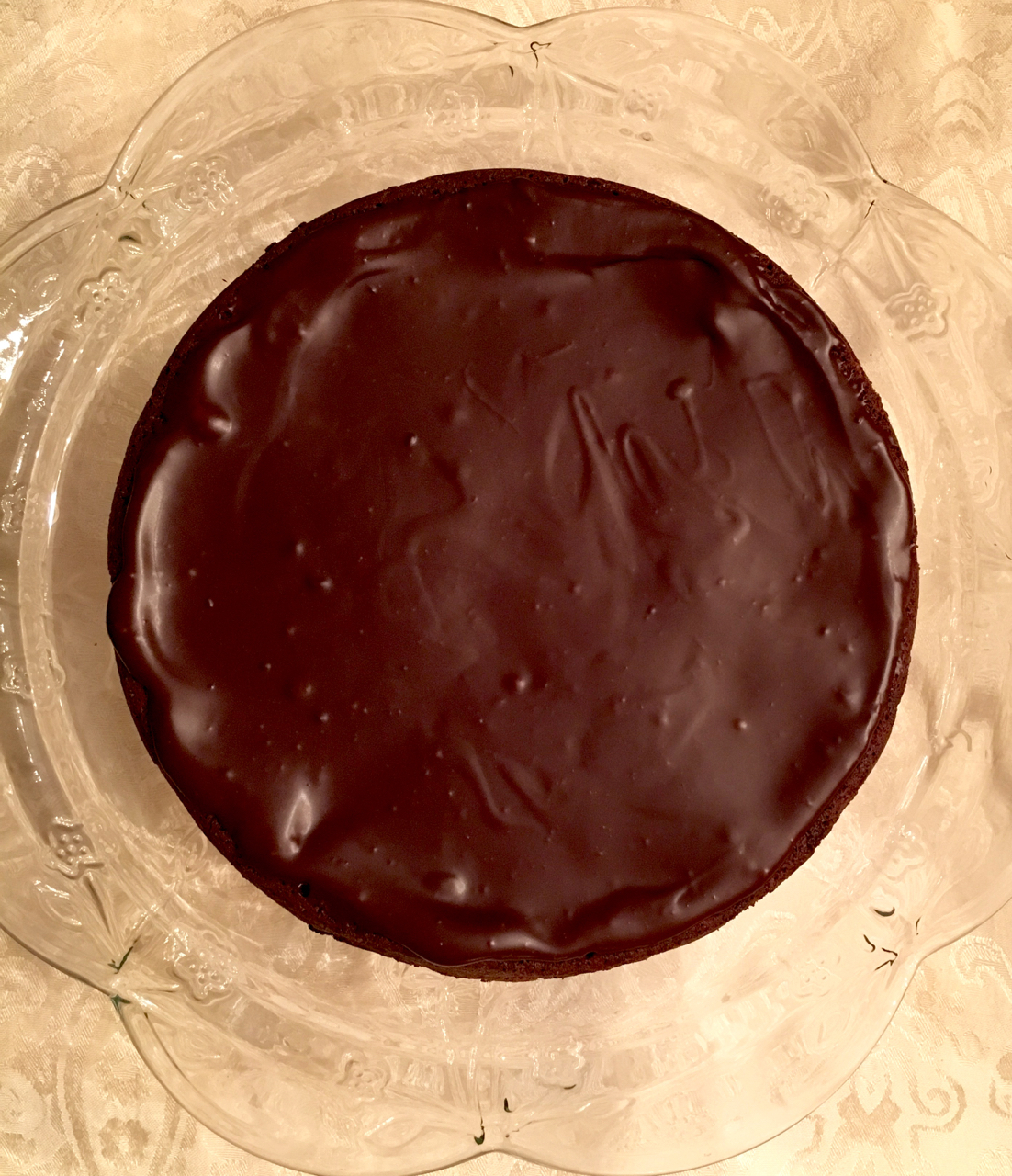 I like to glaze just the top of the cake. It is totally rich, so glazing the sides isn't really necessary. Plus, it's just a little less messy this way.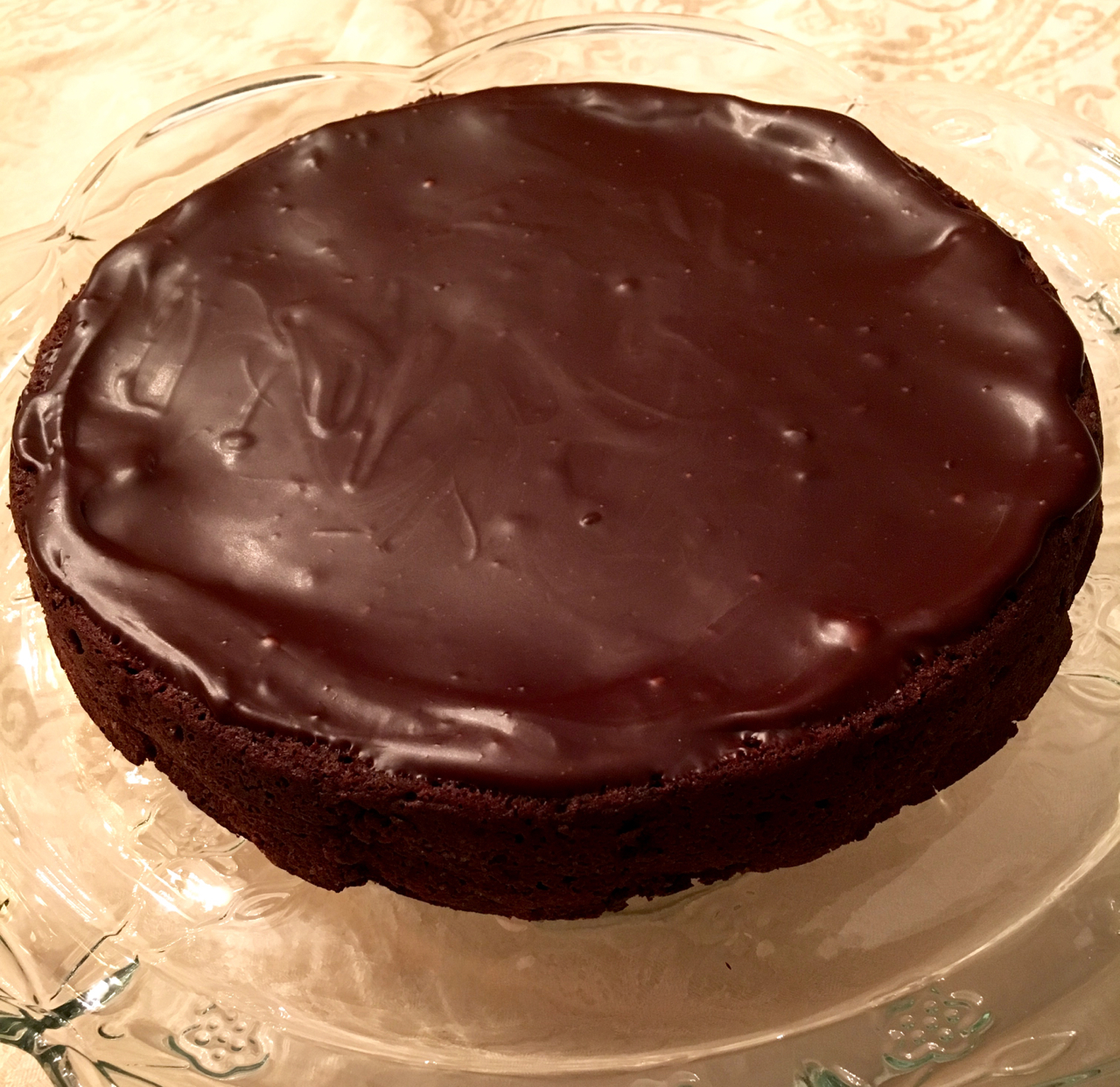 You can see how thick the ganache is here: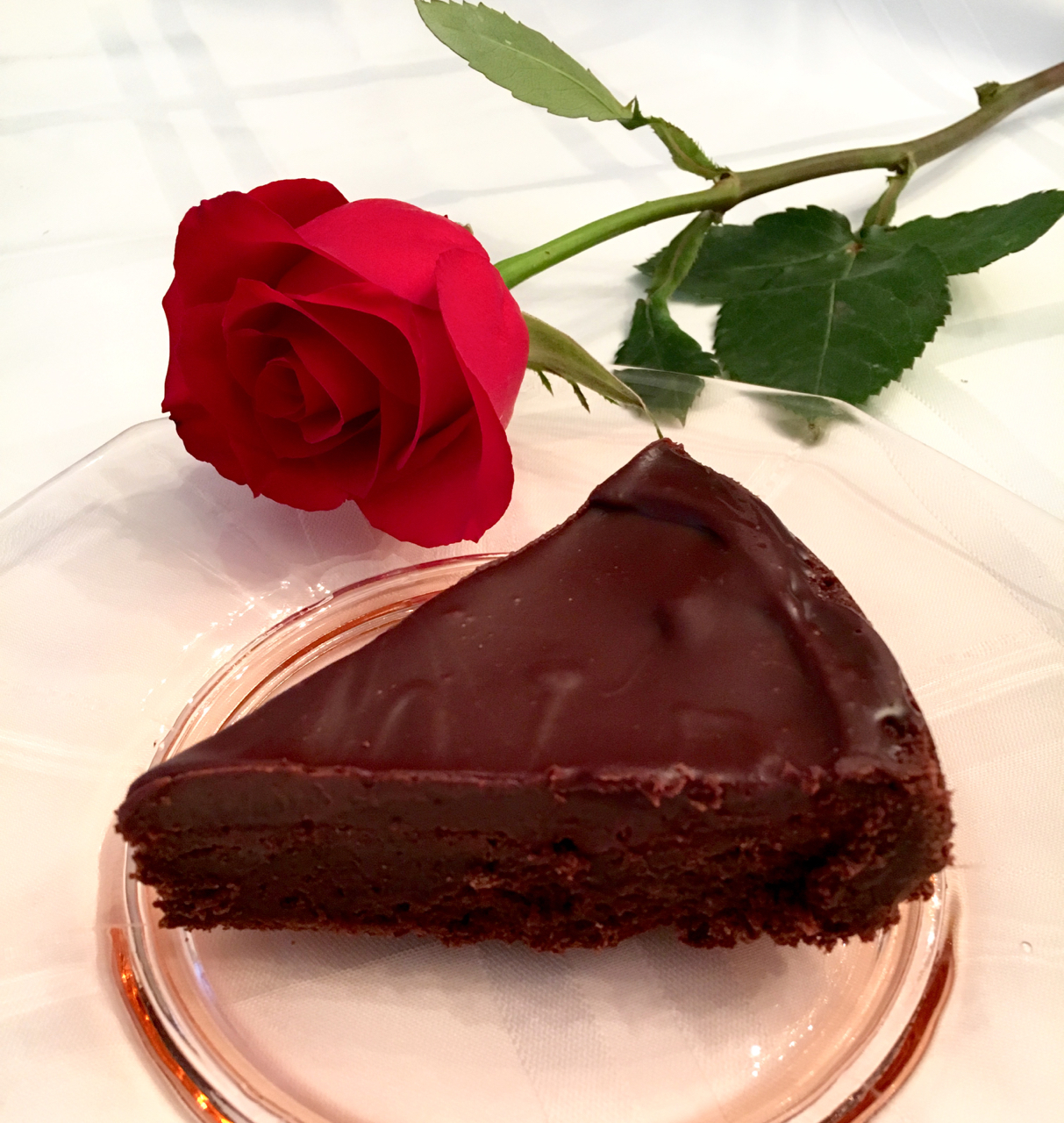 Another way to consume this amazing cake is to slice a small piece and warm it in the microwave just until the ganache starts to melt. I do this in about 20 second increments, checking to see if it's warm enough. Don't leave it in too long! Then I add a scoop or two of vanilla ice cream to the bowl. Heaven!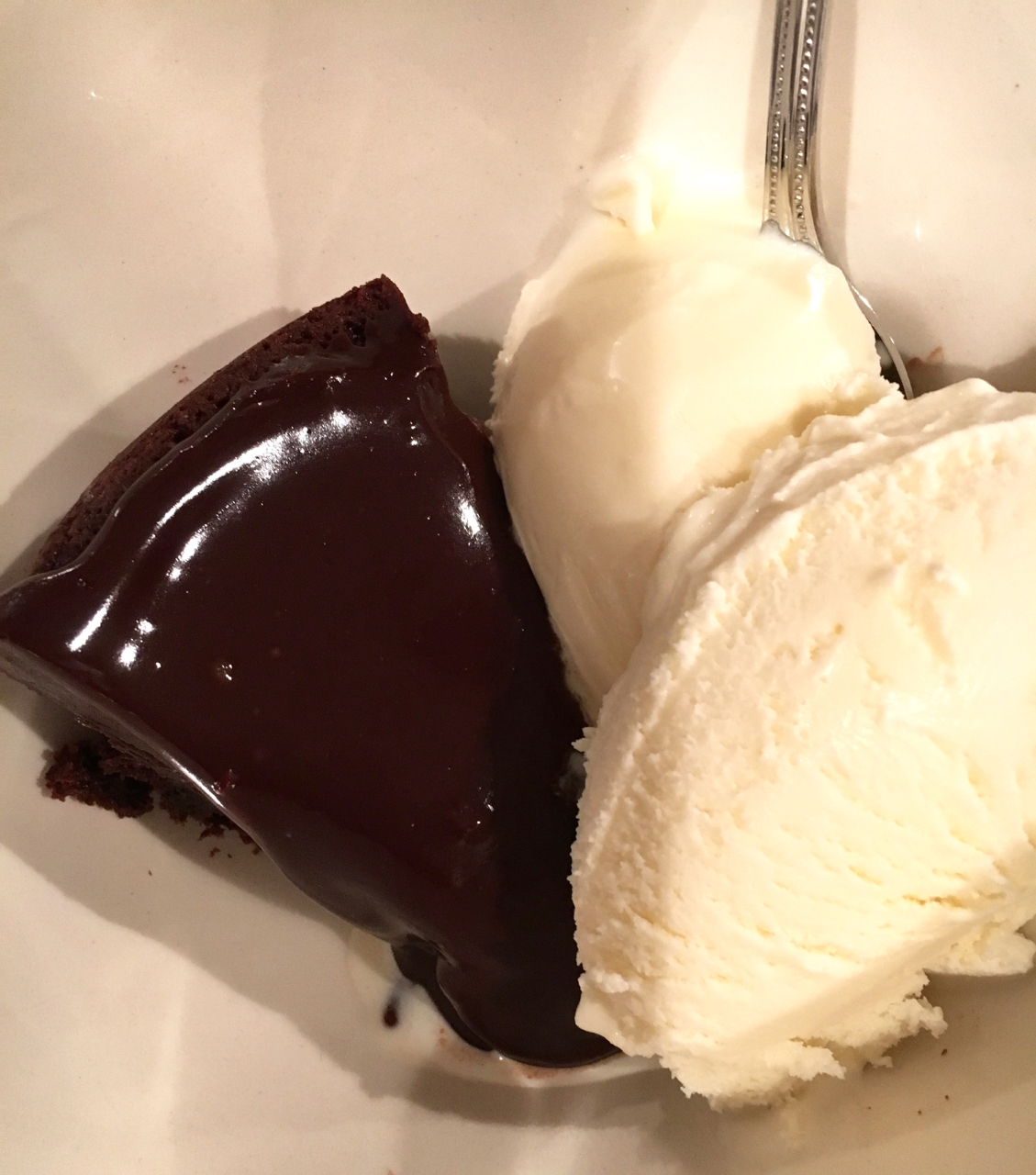 Decadent ~ any way you choose to consume it!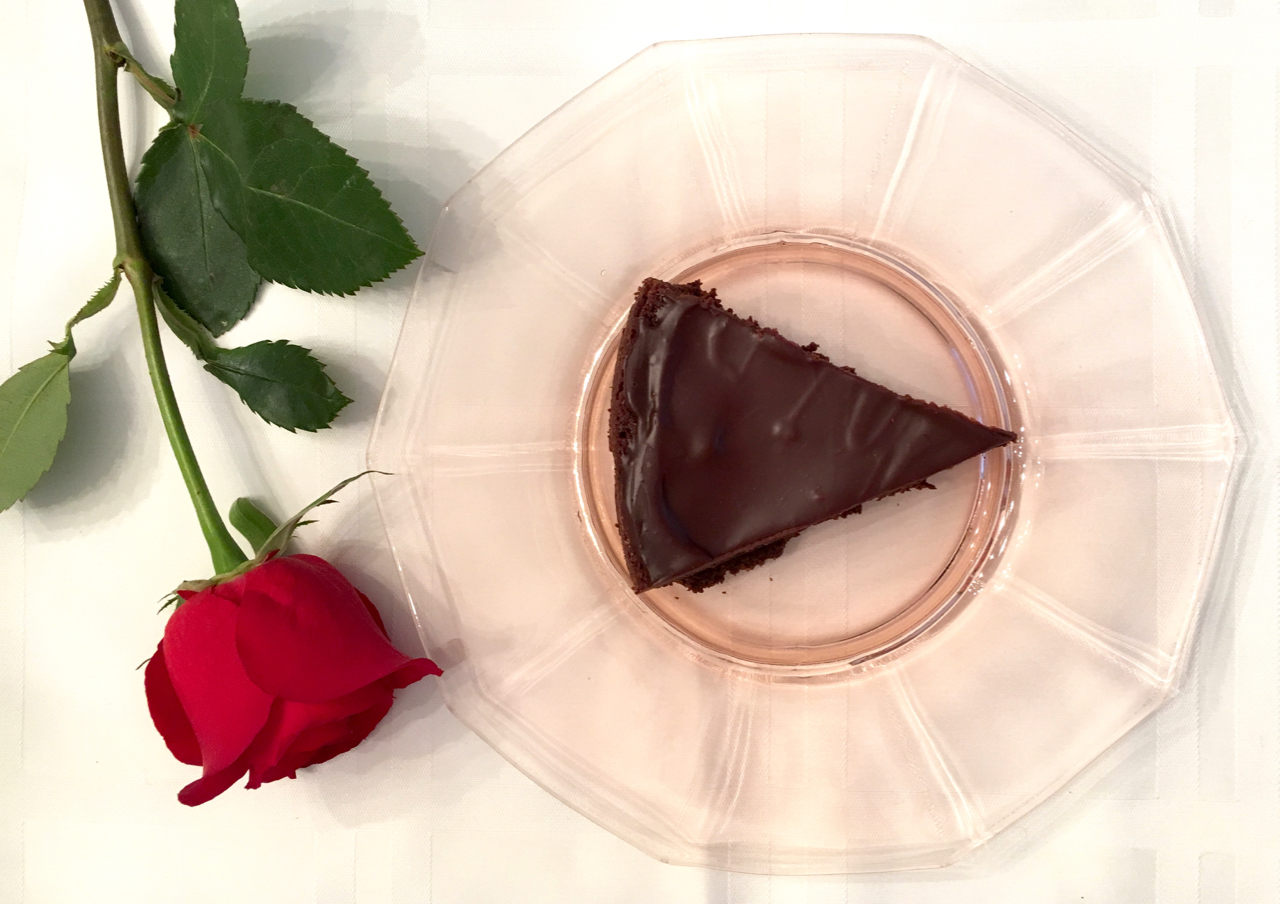 YOU MAY ALSO LIKE:
Flourless Chocolate Brownies
Gluten-Free Almond Butter and Chocolate Chip Blondies
One-bowl Gluten-Free Chocolate Chip Cookies

Flourless Chocolate Cake With Ganache Glaze
Flourless Chocolate Cake With Ganache Glaze
Ingredients
CAKE
1 cup semisweet chocolate chips
½ cup (8 tablespoons) unsalted organic butter
¾ cup organic sugar
1 tsp. vanilla extract
¼ tsp. salt
¼ tsp. ground cinnamon
2 tsp. espresso powder or instant coffee
3 large organic eggs
GANACHE GLAZE
1 cup semisweet chocolate chips
½ cup heavy cream
½ cup unsweetened cocoa powder
Instructions
CAKE
Preheat oven to 375. Grease an 8" round cake pan with butter. Line bottom of cake pan with parchment paper cut to fit. Butter top of parchment paper. Set aside.


Add butter and chocolate ships to a medium-sized, microwave-safe mixing bowl. Microwave until butter and chips are soft. Stir until chips melt completely.


Stir in sugar, salt, vanilla extract, ground cinnamon and espresso/coffee powder.


Add in eggs, beat until smooth.


Add cocoa powder and mix to combine.


Pour batter into cake pan.


Bake for 25 minutes. Sides will begin to pull away from pan and top will have a crust like texture. Do not overbake.


Remove from oven and let cool for 5 minutes before inverting to remove.


Cool on cooling rack. Cake should be completely cool before glazing.


GANACHE GLAZE
Heat cream on stove over medium heat until just simmering. Immediately remove from heat and add in chocolate chips.


Cover pan completely to seal in heat and let sit undisturbed for 5 minutes.


Remove from heat and whisk mixture slowly to melt chips. Keep whisking until all chips are melted.


For a thick ganache, cover and let cool. You can refrigerate ganache until ready to glaze cake.


When ready to glaze cake, carefully pour or spoon ganache on top portion of cake.


Refrigerate cake at 4-6 hours (best overnight) to let ganache firm up.
DON'T FORGET TO PIN AND SHARE!