This gluten-free Gingerbread Loaf With Maple Glaze is full of rich molasses and ginger and topped with a maple glaze for a touch of sweetness.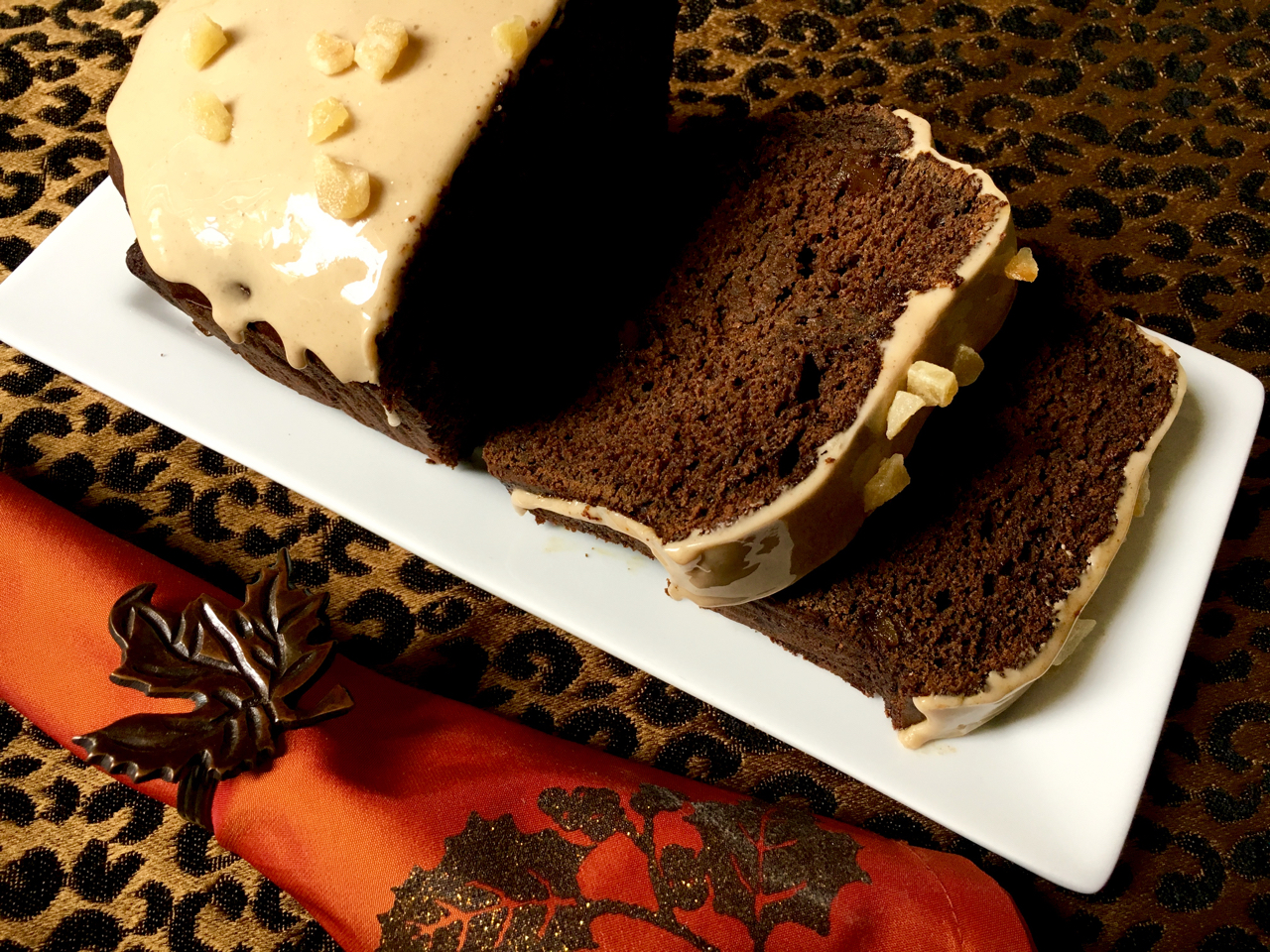 Note: This post contains Amazon affiliate links.
If you're looking for a delicious gluten-free gingerbread loaf without a ton of sugar obscuring the important flavors, then look no further. This is a moist, richly flavored gingerbread that gets its sweetness from a scant bit of coconut sugar in the loaf itself, but mostly from the maple-based glaze on the top.
I used a stand mixer to whip up the batter which uses a healthy amount of molasses. Right before I added the batter to the loaf pan, I stirred in a handful of crystallized ginger bits which add delightful little ginger bursts when you bite into one after the loaf has baked. I love my stoneware load pan – it bakes evenly and cleans up easily.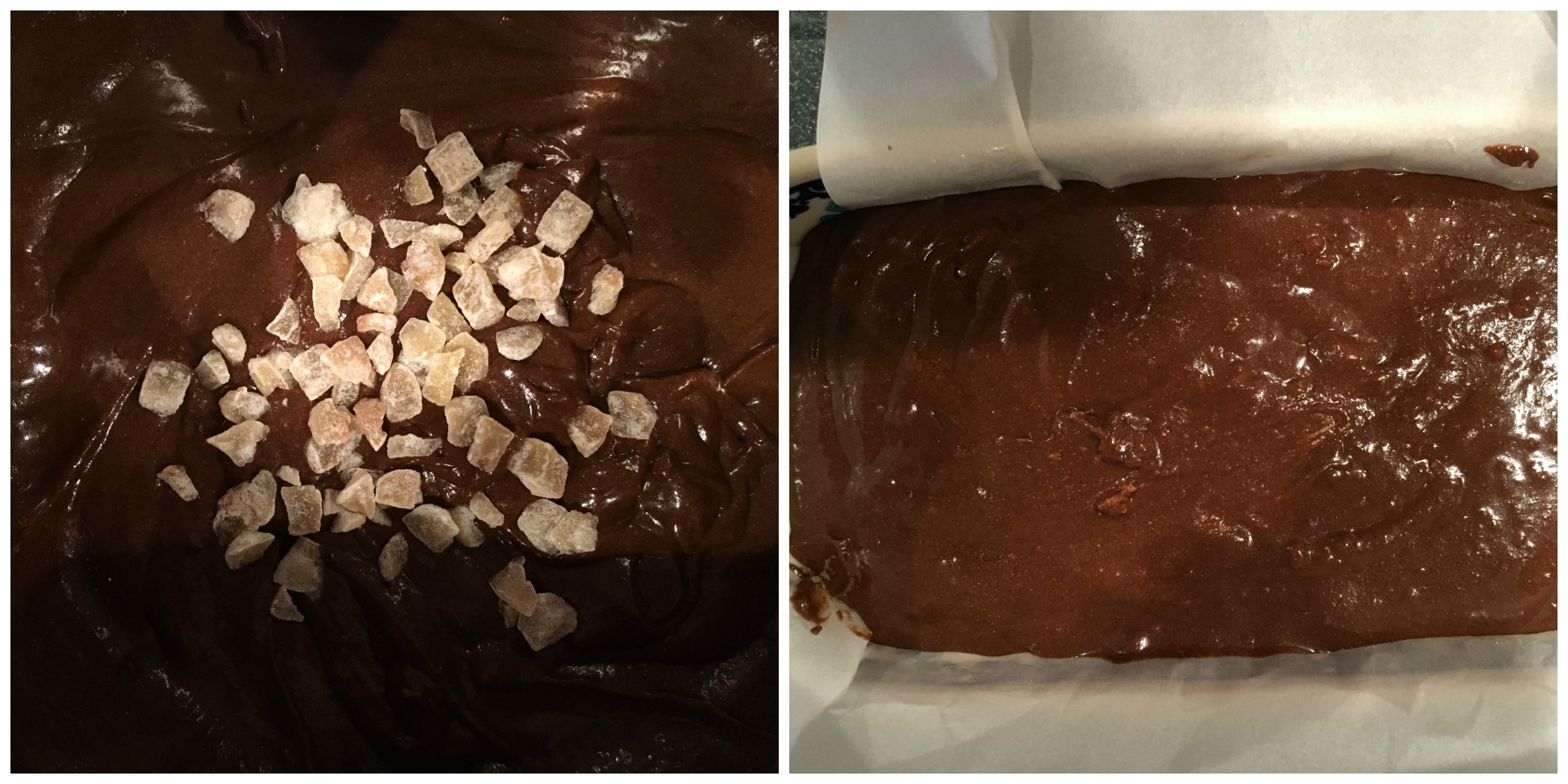 I opted for a maple glaze in place of my beloved cream cheese frosting because I didn't want an overly sweet gingerbread. The glaze adds just the right amount of sweetness, in my opinion. However, you could easily double the glaze portion and glaze it twice if you'd like a little more "frosting" as opposed to glaze. The glaze is thick as is, so it should be easy to double that section of the recipe if you desire more glaze. Garnish with a pretty sprinkle of crystallized ginger bits on the top.
Make sure you let the loaf cool completely before glazing, that way the glaze will set rather than drip completely off. I store mine in the refrigerator so it truly sets.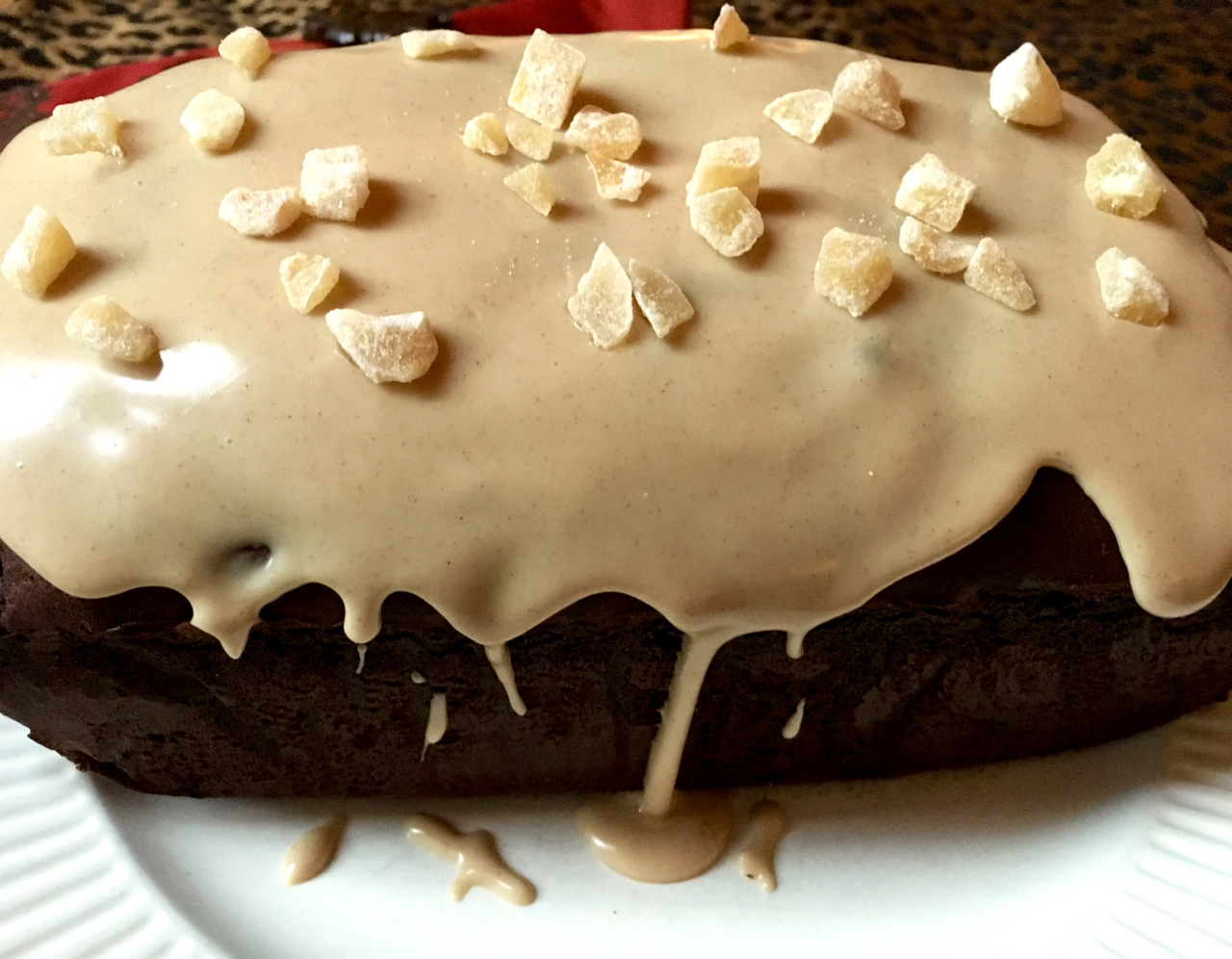 This gingerbread loaf is amazing if eaten while warm. Even though I store mine in the fridge, I'll just cut a slice and microwave it for 20 seconds or so until it's warm. Delicious!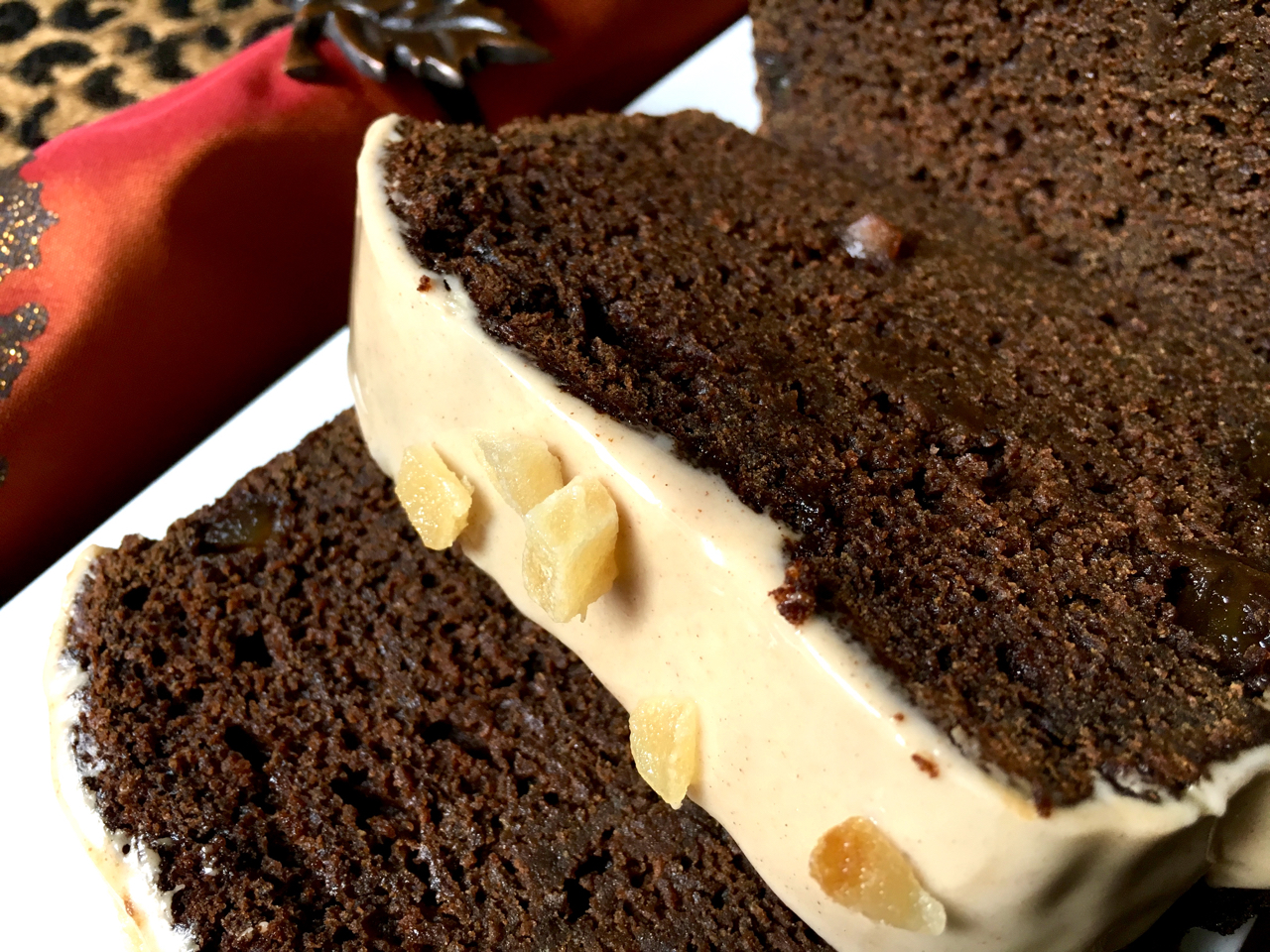 I used my favorite Bob's Red Mill 1-to-1 Gluten-Free Flour for this recipe, but feel free to use regular all-purpose flour if you don't need the gluten-free option.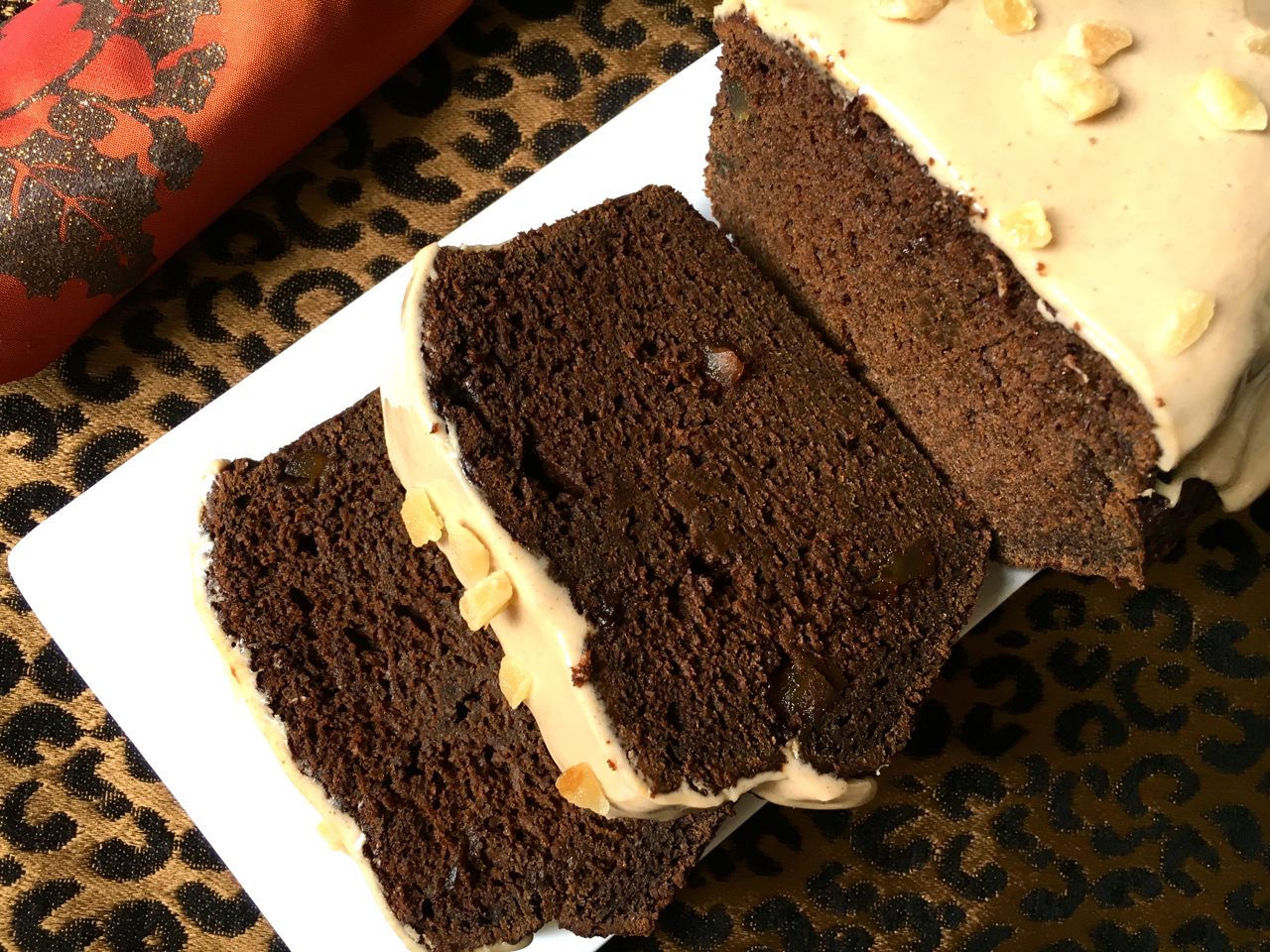 Enjoy!

Gingerbread Loaf With Maple Glaze (Gluten-Free)
Gingerbread Loaf With Maple Glaze (Gluten-Free)
Ingredients
For the Gingerbread Loaf
2 cups gluten-free flour (Bob's Red Mill 1-to-1 Gluten-Free Flour)
1 teaspoon baking soda
½ teaspoon baking powder
1½ teaspoons ground ginger
¾ teaspoon ground nutmeg
½ teaspoon ground cinnamon
¼ teaspoon of salt
¼ cup organic coconut sugar
½ cup unsalted butter, softened
½ cup molasses
1 teaspoon vanilla extract
2 large eggs
1 cup buttermilk
¼ cup crystallized ginger bits
For the Maple Glaze
1 cup powdered sugar
¼ cup maple syrup
½ teaspoon pure vanilla extract
¼ teaspoon ground allspice
Garnish: crystallized ginger bits
Instructions
Preheat oven to 350 degrees.


Line a 9 X 5 loaf pan with parchment paper and grease well. Set aside.


In a large bowl, stir together the gluten-free flour, baking soda, baking powder, ground ginger, nutmeg, cinnamon and salt. Set aside.


In the bowl of a stand mixer, cream together the butter and sugar until well blended.


Add in the molasses and vanilla. Mix well.


Add the eggs, one at a time, until well mixed.


Add half of the flour mixture and half of the buttermilk to the sugar mixture and blend well; add the remaining flour and buttermilk and blend well.


Stir in the crystallized ginger bits.


Pour and/or spoon the batter into prepared loaf pan and bake at 350 degrees for 55 minutes.


Remove from oven and cool in the pan for 10 minutes.


Remove from the pan and cool completely before glazing.




Glaze instructions:
Sift powdered sugar in to a large mixing bowl.


Whisk in maple syrup, vanilla extract and cinnamon.


Glaze will be thick. If you need to thin it out, add dollop of maple syrup and whisk.


Spoon/pour glaze slowly over top of cooled gingerbread loaf. Allow to drip down sides.


Garnish top of loaf with crystallized ginger bits.


Glaze can be set quickly by refrigerating glazed gingerbread loaf.


*Glaze recipe easily doubled if you desire more glaze.
DON'T FORGET TO PIN AND SHARE!


Save