Here's my Holiday Gift Guide for the Cook or Chef in your life. Any one of these gifts would be sure to please that special person.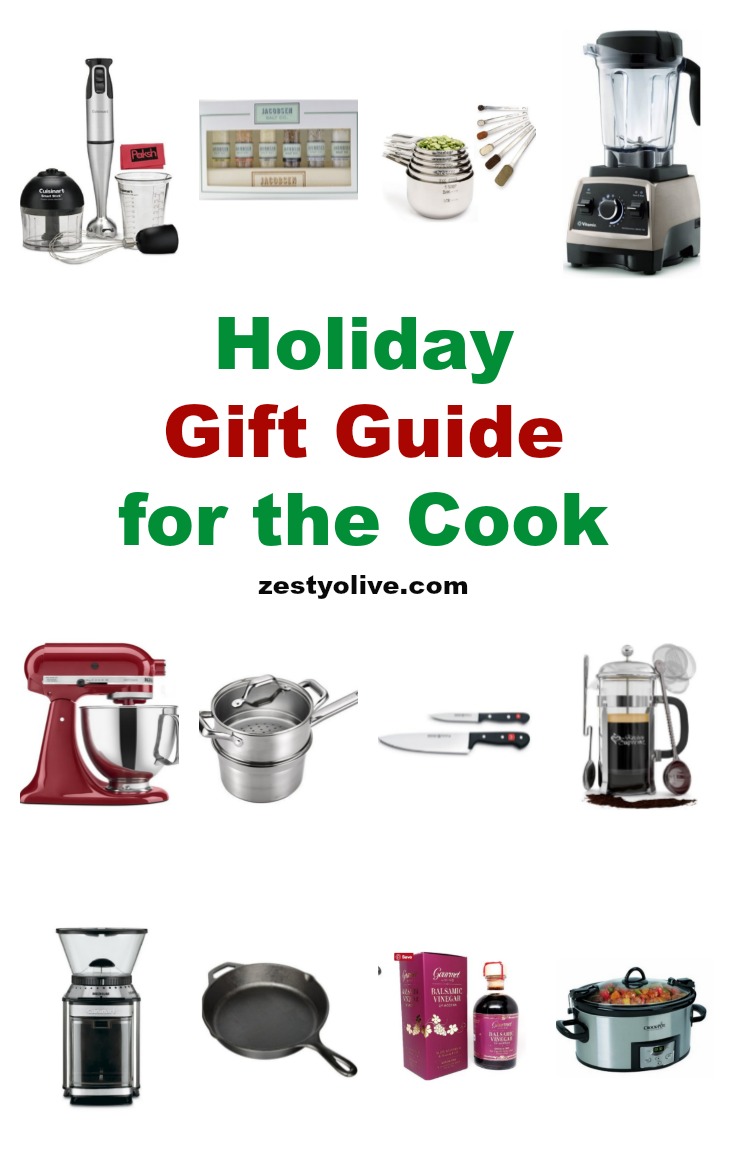 Choosing gifts for that special person who lives in the kitchen and loves to cook shouldn't be challenging, but yet, sometimes it is. I'm here to help! Here's my Holiday Gift Guide For The Cook; any one of these gifts will be sure to please the recipient. Yes, there are some big ticket items on the list (hey – it's the holidays!) but also a few well-chosen smaller, handy items as well.
Note: This post contains Amazon affiliate links.
All of these items can be found on Amazon and most are Amazon Prime items, so you should be able to order and receive them quickly if you're a Prime subscriber.
Photos are clickable, as are the text links below the graphic. Enjoy shopping!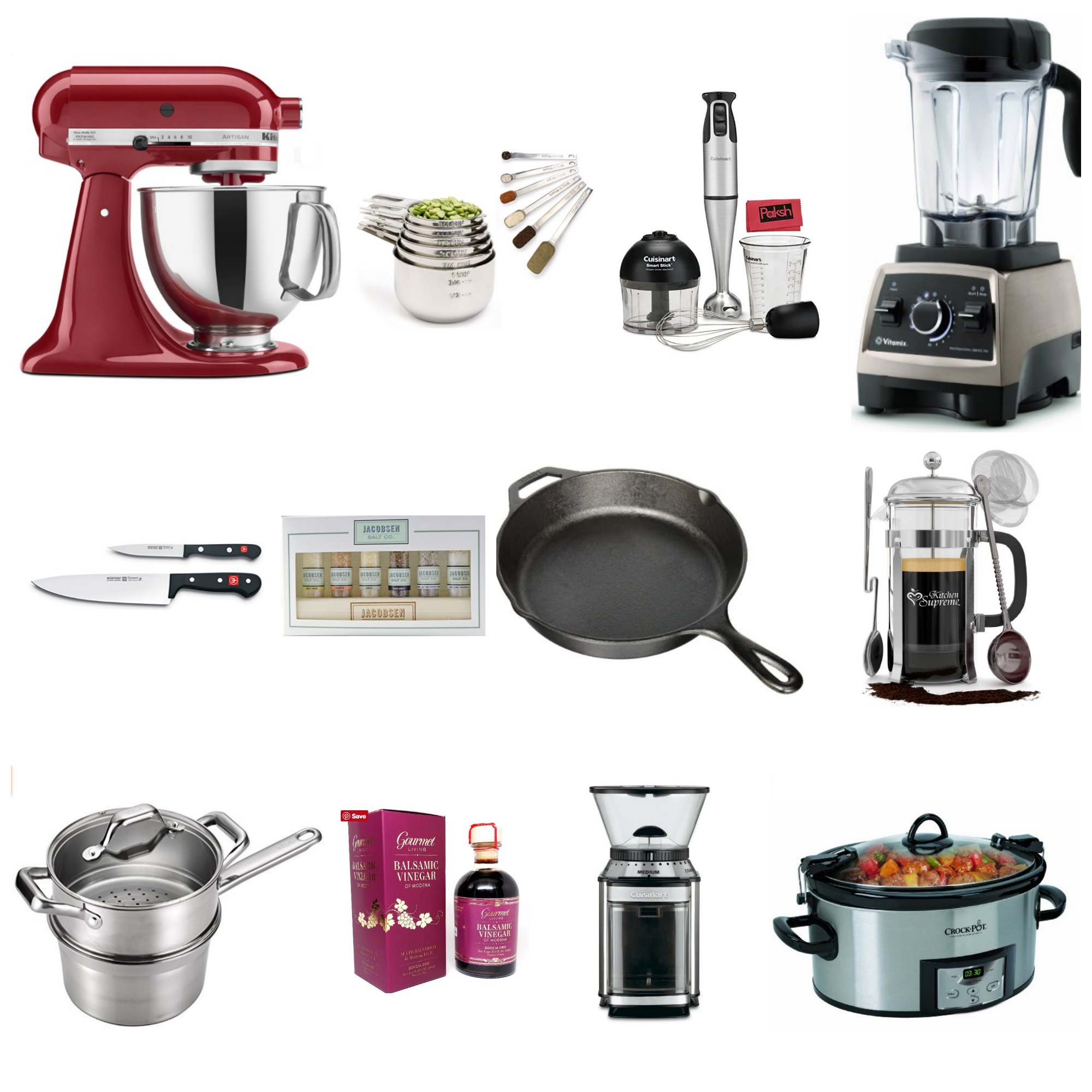 KitchenAid Stand Mixer  |  Stainless Steel Measuring Cups & Spoons Set  |  Immersion Blender  |  Vitamix Blender  |  Wustof Knife Set  |  Jacobsen Salt Set  |  Lodge Cast Iron Skillet  |  French Press Coffee & Tea Maker  |  Double Steamer Cookware  |  Gourmet Balsamic Vinegar of Modena  |  Cuisinart Supreme Grind Automatic Burr Mill  |  Crock-Pot Programmable Slow Cooker

My Top 3 Picks
Vitamix Blender – I use my Vitamix Blender twice a day, and sometimes more. We're a frozen smoothie family and this blender will do it's job on anything frozen: fruit, ice, you name it. It will work equally well making soups, such as broccoli or cauliflower. It will even pulverize almonds to give you almond meal. Is it worth the cost? Yes! This is an industry-standard powerhouse of an appliance that has a superior track record. Vitamix blenders are made in the USA.  Check it out.
Stainless Steel Oven Safe Double Steamer Cookware – I love my steamer set! I steam veggies all the time: spinach, green beans, Brussels sprouts, cauliflower…you name it, you can probably steam it. Recently, we've been enjoying using it to steam frozen tamales. I even use the top portion as a colander, and of course, the bottom section can be used as a regular pot when not needing to use it as a steamer. This set is made in the USA. You will use this cookware more than you think!
French Press Coffee & Tea Maker – Whether it's coffee or tea that you prefer, this item has you covered. The carafe is made of  double German glass which means it will never crack when you're using super hot water. If you love a steaming cup of coffee, this is for you! You can use it as a tea press if coffee isn't your thing. It also comes with several filters to help you get the perfect press depending on your coffee or tea grind. This product is made in Germany. Check it out.
You may also like:
15 Thoughtful Gift Ideas for Wine Lovers
Gift Guide for the Smoothie Lover
The Ultimate Le Creuset Gift Guide For All Budgets
Thoughtful Gift Guide for the Hostess
Save
Save
Save
Save
Save
Save