If there's a wine lover or connoisseur on your gift list, birthday list, holiday list, or just because, the following 15 thoughtful gift ideas for wine lovers will help you find a gift that they will appreciate and use.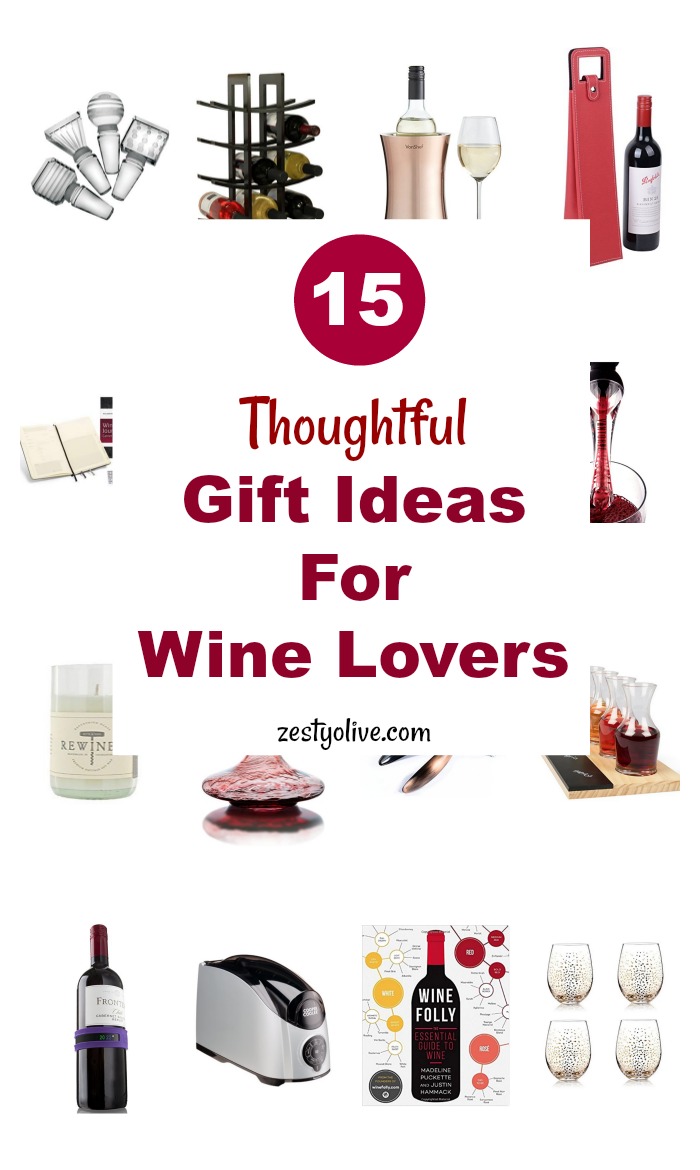 Note: This post contains Amazon affiliate links.
Wine Decanter – Elegant hand blown lead-free crystal glass makes a unique statement piece as well as being a functional decanter. Slanted top makes for drip-free pouring. Wine connoisseurs will appreciate this thoughtful gift!
Copper Stainless Steel Double Walled Wine Bottle Cooler Holder – stylish and elegant, this double-walled cooler keeps your wine chilled as you entertain. No need to keep going back and forth to the fridge when you need to refill your (or your guests) glasses. Also comes in stainless steel if copper isn't your thing.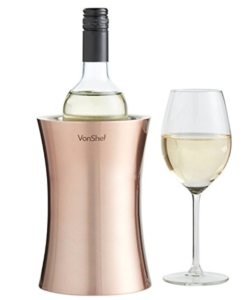 12-Bottle Dark Espresso Bamboo Wine Rack – I'm in love with this wine rack! Made of bamboo, it's a contemporary design that will look spectacular on your counter. Also comes in a lighter natural bamboo color if you prefer.
Stemless Wine Glasses with Classic Gold Dot – 4 piece set perfect for everyday use or to bring a festive touch to entertaining and parties.
Leather Single Bottle Wine Carrier Box – made of premium environmentally-friendly PU leather, this wine tote bag fits standard size wine bottles. Perfect to use when gifting a standard size bottle of wine without having to worry about using gift wrap. Totally re-usable; your recipient will love it. Comes in black and brown, too.
Rapid Beverage & Wine Chiller – For all those times you forgot to put the Chardonnay in to chill: d'oh! This amazing machine chills cans in 1 minute and wine bottles in 6 minutes! I need this! Comes in silver or white.
Rewined Blanc Candle Collection (Chenin Blanc) – This brand's wine-scented candles made a great gift. They come in a variety of scents such as chenin blanc, zinfandel, pinot noir. Yummy!
Wine Flight Decanter Set – 4 Glasses (6oz) with Paddle, Chalkboard and Chalk – This set is excellent for sampling small quantities of a variety of different wine. It's great for parties or as a gift. Makes an excellent addition for the wine lovers collection.

Gorgeous Marquis By Waterford Markham Wine Glasses – Set of 3 beautifully designed short stem wine glasses of premium crystal. Perfect for red or white. Everyone knows the Waterford name and will appreciate this sparkling set.
Moleskine Passion Journal For Wine – This beautiful Moleskine journal contains 6 theme-based sections for the wine lover to fill in – Sparkling, White, Rosé, Red, Fortified/Sweet, Spirits. Also contains tabbed sections to personalize and 10 blank pages in which to insert comments and notes. Adhesive labels included to further personalize thoughts on notes on wine. A truly thoughtful gift!
Best Rabbit Wine Opener Corkscrew With An Extra Corkscrew Worm/Spiral – In my opinion, this is the best wine opener that I've found. I've gone through a lot of them in my search for one that will work well with my small hands and carpal tunnel syndrome issues. I always come back to this "rabbit" opener. It's sturdy and can handle the job. Plus, you get an extra spiral and a foil cutter packaged in a lovely gift/storage box. Hmm… I may need to upgrade mine just for the color: luxury golden!
Wine and Champagne Bottle Snap Thermometer – true wine connoisseurs will always want to serve wine at the appropriate temperature, and what better way to gauge that temp than with a thermometer made just for wine bottles. Easily snaps on to display temperature on the front of the thermometer. Reference chart included for varietals of wines and champagnes.
Wine Folly: The Essential Guide to Wine – this book will delight the wine lover on your list! Hailed as "The best introductory book on wine to come along in years." by The Washington Post.
Mikasa Cheers Set of 4 Glass Bottle Stoppers – a beautiful, sparkly gift! Each stopper etched with a different design. Makes a great house-warming gift, too.
Premium Aerating Pourer and Decanter Spout – aeration and tidy pouring all in one! Aerates instantly as you pour, drip-free. Hooray! No more wine stains from messy, drippy pouring! Elegant design with effortless cleaning.
YOU MAY LIKE:
Grand Marnier Chocolate Truffles
Roasted Olives with Feta and Lemon
Holiday Gift Guide For The Cook
Must-Have Baking Tools and Essentials
DON'T FORGET TO PIN AND SHARE!