This savory Stuffed Butternut Squash with Apple, Sausage and Portobello is a must-have dish for your Thanksgiving and Christmas holiday table.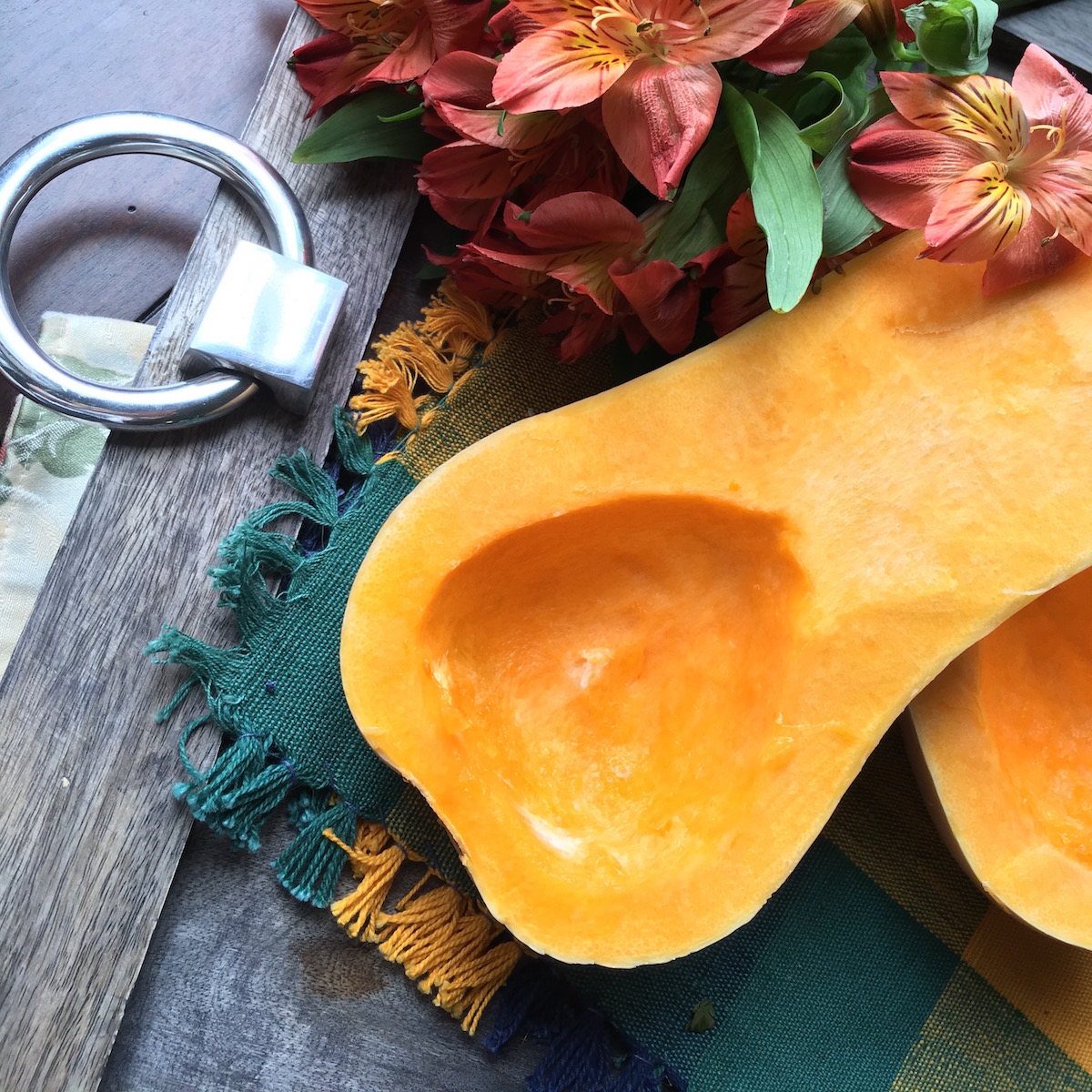 Note: This post contains Amazon affiliate links.
During fall in the US, butternut squash is a stable in most grocery stores.  This stuffed butternut squash with apple, sausage and portobello is a fun way to prepare it. Here, you use the crater that's left when you scoop out the seeds and "meat" as a vessel to stuff with a savory mix of spicy sausage and sage. The combination of sausage, meaty Portobello mushrooms, sweet apples and crunchy walnuts rounds out the flavor of this dish. You can use this as a hearty side dish or even a main meal.
The trick is to buy a large enough butternut that you have a deep enough vessel for all that delicious sausage and apple stuffing. Once you remove the seeds, just pop both sections of the butternut squash into the oven and bake until tender. Depending on the size of the squash, this could take about 45 minutes. While the squash is baking, prepare the sausage mixture and set aside. Once the squash is finished baking and the flesh is tender, just remove a bit more of the flesh to make a larger cavity for all that yummy meat mixture. Add the scooped flesh to the sausage mixture, stir to combine, and then fill the butternut sections with all that delicious goodness.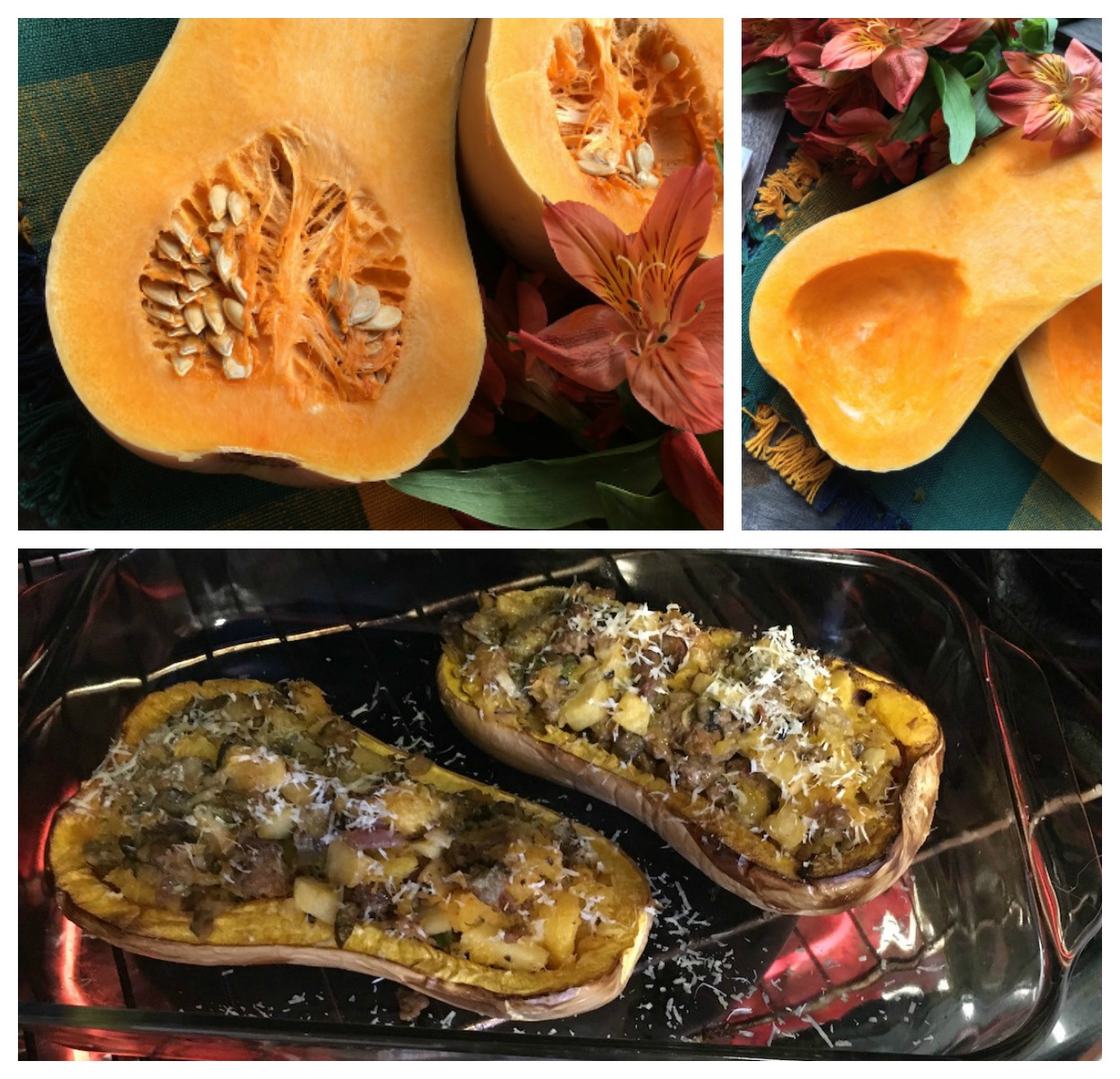 Top it with a little grated Parmesan cheese and pop it back in the oven to bake for another 25 minutes. Again, you can use this as a main meal or a side dish. It makes a lovely presentation, so choose a large enough dish and/or platter(s) on which to serve. Enjoy!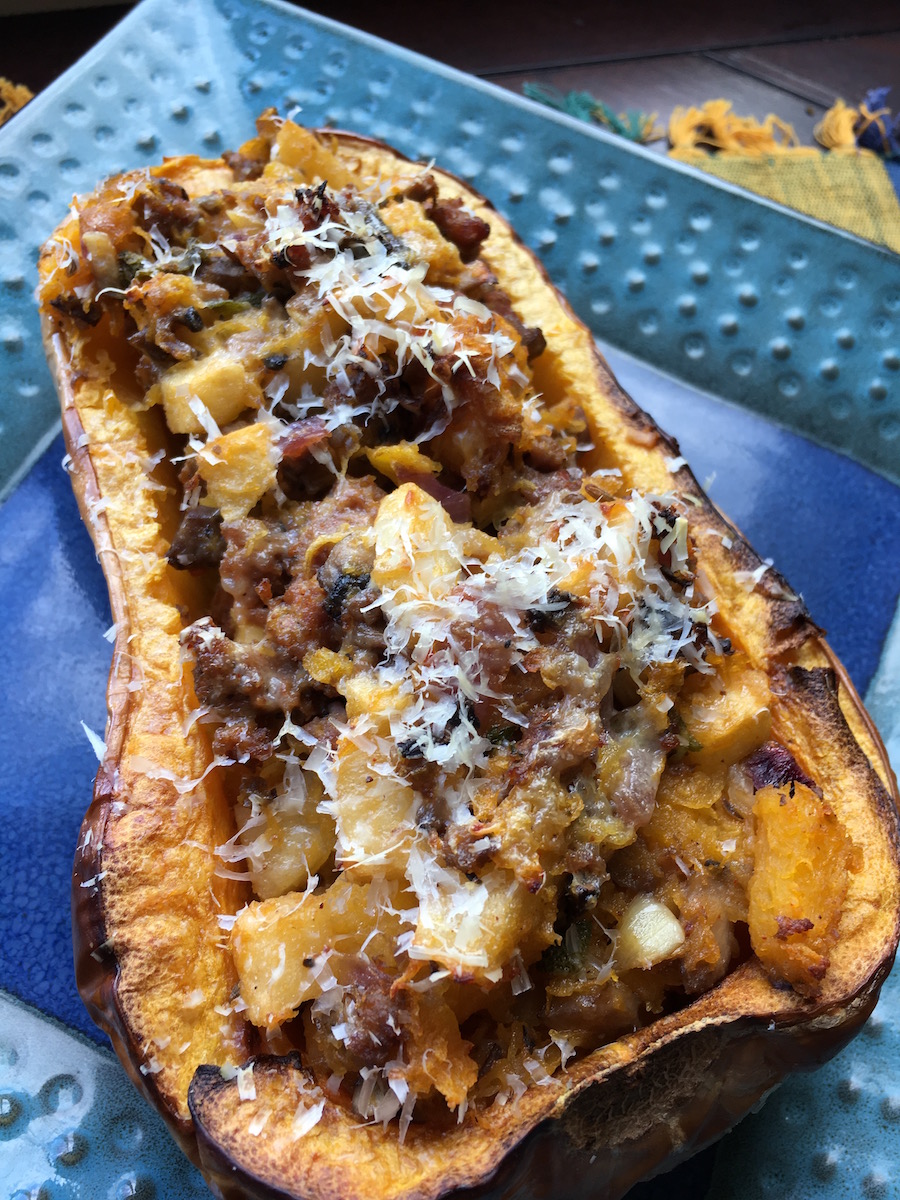 Other recipes you may like:
Autumn Roasted Vegetables With Feta
Bacon Brussels Sprouts Au Gratin
Bourbon Pecan Mashed Sweet Potatoes
Stuffed Butternut Squash with Apple, Sausage and Portobello
Stuffed Butternut Squash with Apple, Sausage and Portobello
Ingredients
2 butternut squash, cut in half, seeds and pulp removed
2 T. olive oil
1 lb. spicy Italian pork sausage
3-4 cloves fresh garlic, peeled and finely minced
½ red onion, chopped
1 ½ cup baby Portobello mushrooms, cleaned and sliced
2 T. fresh sage leaves, julienned
2 medium apples, peeled, cored, and chopped into small chunks
2 t. ground cinnamon
4 oz. chopped walnuts
3 T. cold butter, cut into small chunks
2 T. brown sugar (optional)
Parmesan cheese, freshly grated
Fresh parsley, chopped for garnish (optional) 
salt and pepper, to taste
Instructions
Preheat oven to 375 degrees.


Spray two 13 x 9" glass baking dishes with non-stick cooking spray. Place butternut squash halves in glass dishes, cut side up. Brush exposed edges lightly with olive oil.


Place both dishes in oven on middle rack at 375 degrees. Bake until soft enough to scoop out interior with a spoon, approximately 45 – 50 minutes. (Actual baking time will vary depending on individual oven temperature, size of squash and how ripe it is).


While the squash are baking, add sausage to a large skillet and cook over medium-high heat. While the sausage is cooking, break it into small pieces with a spatula or wooden spoon.


After sausage is mostly browned, add garlic, red onion and chopped mushrooms to the skillet and cook over medium heat for several minutes until the mushrooms are soft, stirring occasionally.


Add fresh sage, chopped apples, and cinnamon to pan. Continue cooking over medium heat for 2 to 3 minutes or until apples become soft, stirring occasionally.


Remove from heat and if necessary, drain excess liquid from skillet. Stir in chopped walnuts and season mixture with salt and pepper to taste.


When ready, remove squash from oven and allow to cool slightly. Reduce oven temperature to 350 degrees.


Remove squash one at a time from hot glass baking dish and place on a cutting board. With a sharp knife, trace a ½" inch border around the perimeter of each squash. Scoop out all of the squash inside the border and reserve the cooked flesh in a large bowl. Be careful not to puncture the exterior of the squash skin during this process.


When finished, return each empty squash shell to the baking dish.


Cut the cooked squash that you just scooped out into bite-sized chunks and add it to sausage mixture. Gently fold mixture together until all ingredients are thoroughly combined.


Spoon sausage mixture into empty squash cavities and top each with chunks of butter, brown sugar (if desired) and freshly grated Parmesan cheese.


Place in 350-degree oven and bake for 25-30 minutes or until filling is nicely browned. Remove from oven and top with additional Parmesan cheese and chopped fresh parsley, if desired. Serve immediately while hot.
DON'T FORGET TO PIN AND SAVE!