Do you decorate your kitchen and home for the fall season? If so, check out these Pumpkin Inspired Fall And Autumn Kitchen Decor Finds!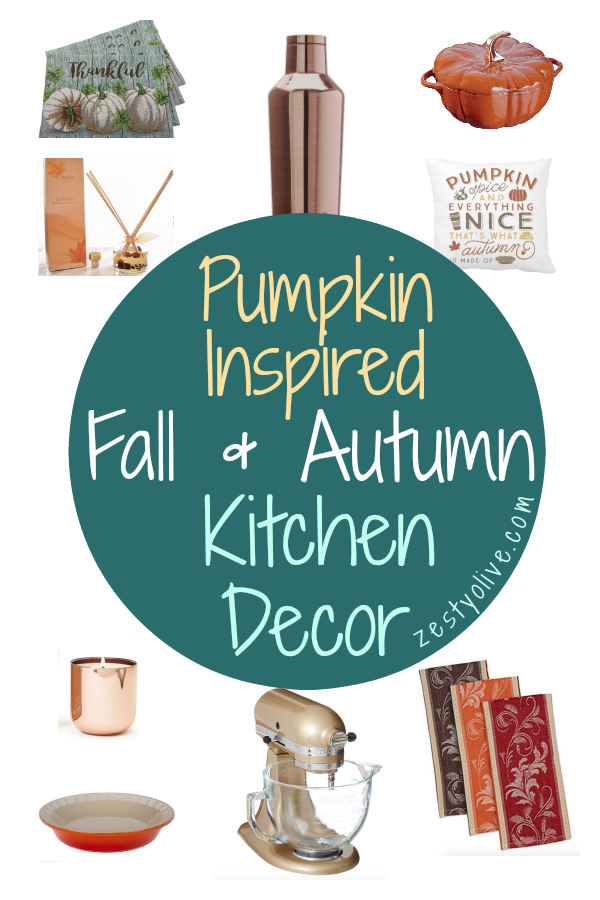 Note: This post contains affiliate links.
I love the fall scented candles and I'm coveting that Staub Cast-Iron Pumpkin Cocotte! These pumpkin inspired fall and autumn kitchen decor finds would also make great gifts!
With scents of pink grapefruit, sparkling champagne, raspberry, violet leaves, rose petals, grape leaf and more, this yummy candle will take you from autumn right into the New Year with it's celebratory champagne fragrance! Plus, it's gorgeous!
The scalloped edging on this pie dish adds a touch of whimsy when serving not just pies, but tarts and quiche. The stoneware provides steady and even heat giving you the perfect crust every time. The color is perfect for fall and comes in other yummy colors, too!
These white pumpkin tapestry placemats provide a more neutral tone for your table while still staying with the seasonal theme. Gorgeous!

Your pumpkin spiced latte will stay hot in this beautiful copper colored thermos (or water bottle) this fall. Shatterproof and stainless steel seals the deal!
This gorgeous cast-iron pumpkin-inspired vessel is perfect for all those soups, stews, and slow cooker meals you have planned for the fall and holidays. Made in France by Staub; known for their superior craftsmanship. A true statement piece with durability that you'll enjoy for years to come.
Here's an easy way to decorate – cover your throw pillows with this understated Pumpkin Spice And Everything Nice seasonal Thanksgiving pillow cover. 18 x 18 inches.
Get into the spirit of the season with these harvest wheat jacquard kitchen dish towels. Perfect for the fall and Thanksgiving season.
You'll love this pumpkin, vanilla and chai scented reed diffuser. Perfect for your kitchen! Comes in other amazing scents, too!
This gorgeous KitchenAid Artisan Design Series Stand Mixer adds radiance to any kitchen with a premium metallic finish and elegant 5-Quart glass mixing bowl. Features 10 speeds to help you mix, knead and whip ingredients together with ease. How amazing would this look sitting on your countertop?
You may also like:
12 Must Have Baking Tools and Essentials
Eco-Friendly Lunch Box Essentials For Adults
8 Easy Thanksgiving Side Recipes
DON'T FORGET TO PIN AND SHARE!