Classic holiday spices enhance and flavor this Healthy Gingerbread Protein Smoothie.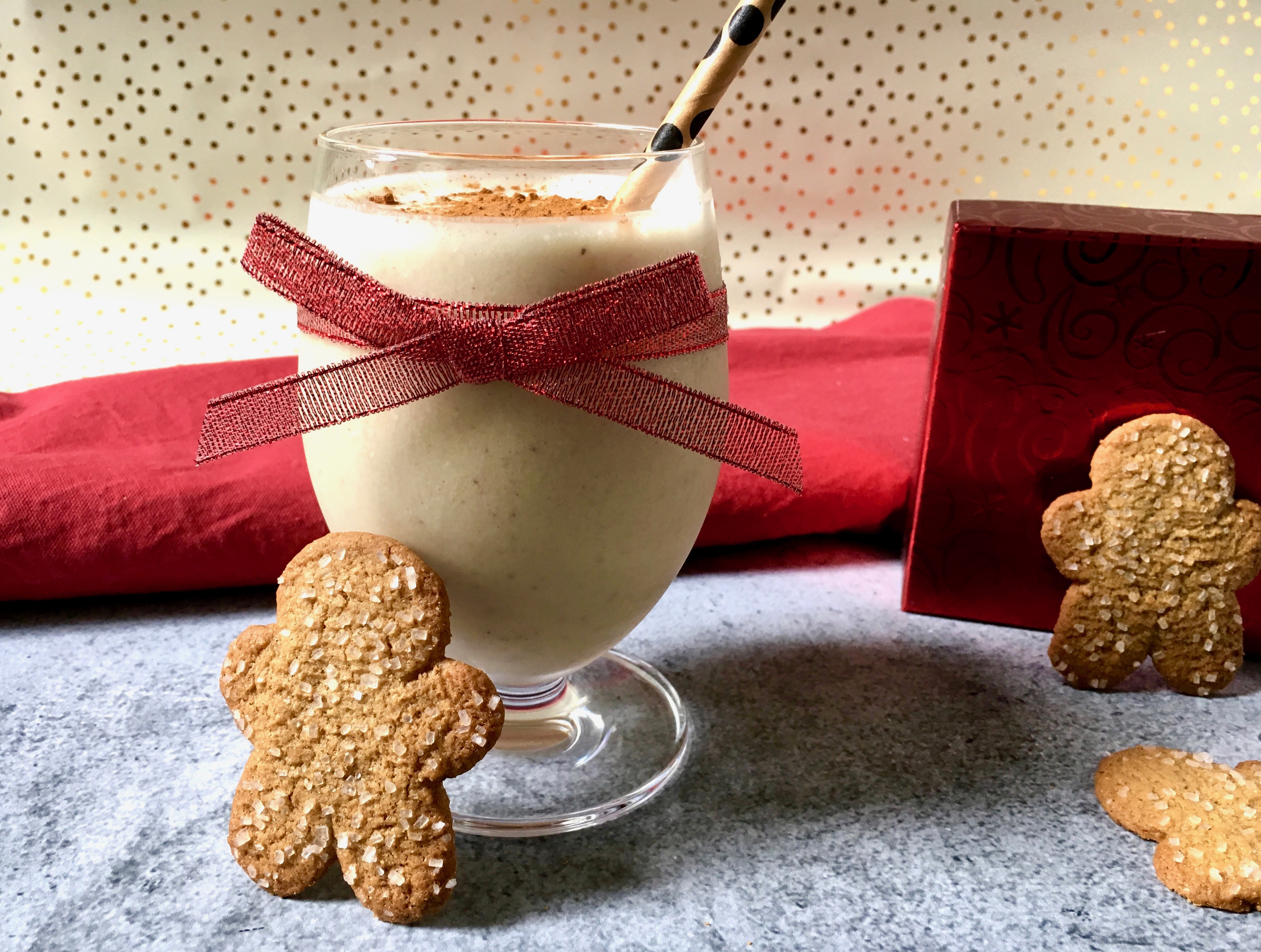 Note: This post contains affiliate links for Amazon.
Ah! The warm and spicy flavors of gingerbread are a holiday favorite.  Whether you like yours in cookie form, bread, or brownies and bars, give this healthy gingerbread smoothie a try this season. It's so easy to make.
I use unsweetened almond milk, although coconut milk (from a carton) will work, too. The secret ingredient that really kicks it over the top for that classic gingerbread flavor is molasses. You'll need just a little, so don't panic! Molasses is fairly strong in flavor, so a little goes a long way. I also like to use fresh ginger if I have it on hand, but ground ginger will do the trick, too. Ground cinnamon and cloves round out the spices that you'll need.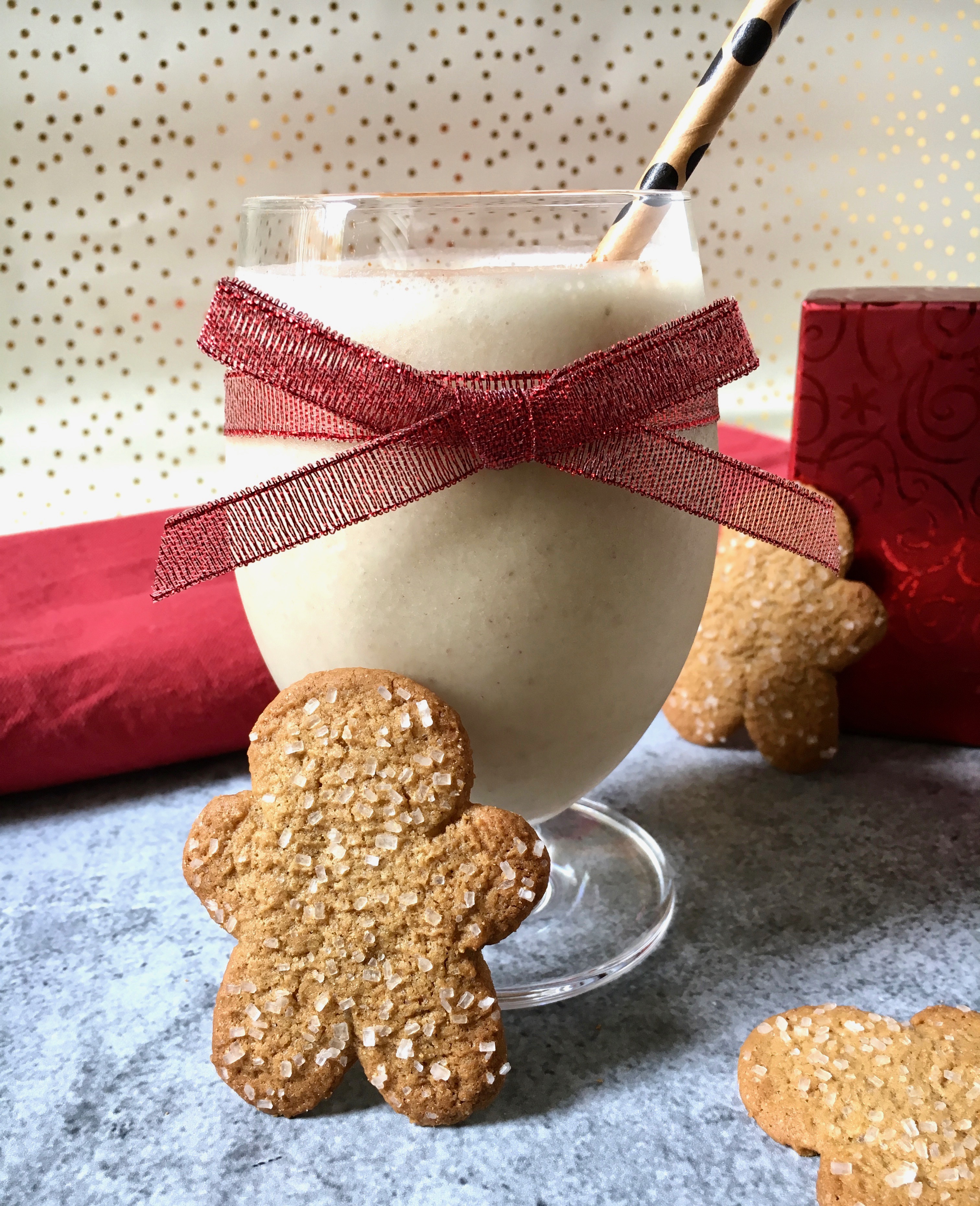 There's rarely a smoothie that I make that doesn't have frozen banana in it. I always have frozen bananas in my freezer. You just peel the bananas, break them into bite size chunks (makes it easier on the blender!) and throw them in a ziplock bag and put it in the freezer. I typically have two or three bags in my freezer at a time since I make several smoothies during the day.  You'll also need almond butter. This is another staple that usually ends up in my smoothies.
Since I make smoothies daily, I keep an abundance of frozen fruits in my freezer. For fresh fruits that are in season and that I want to freeze, or like bananas that I peel and break in half, I use these silicone reusable ziplock bags. Money-saver and eco-friendly!

I use my favorite high-powered blender to blend this smoothie in stages. A high-powered blender works best because those frozen fruits need to be pulverized, otherwise, it's not a "smoothie," it's a "chunky," and no one wants that!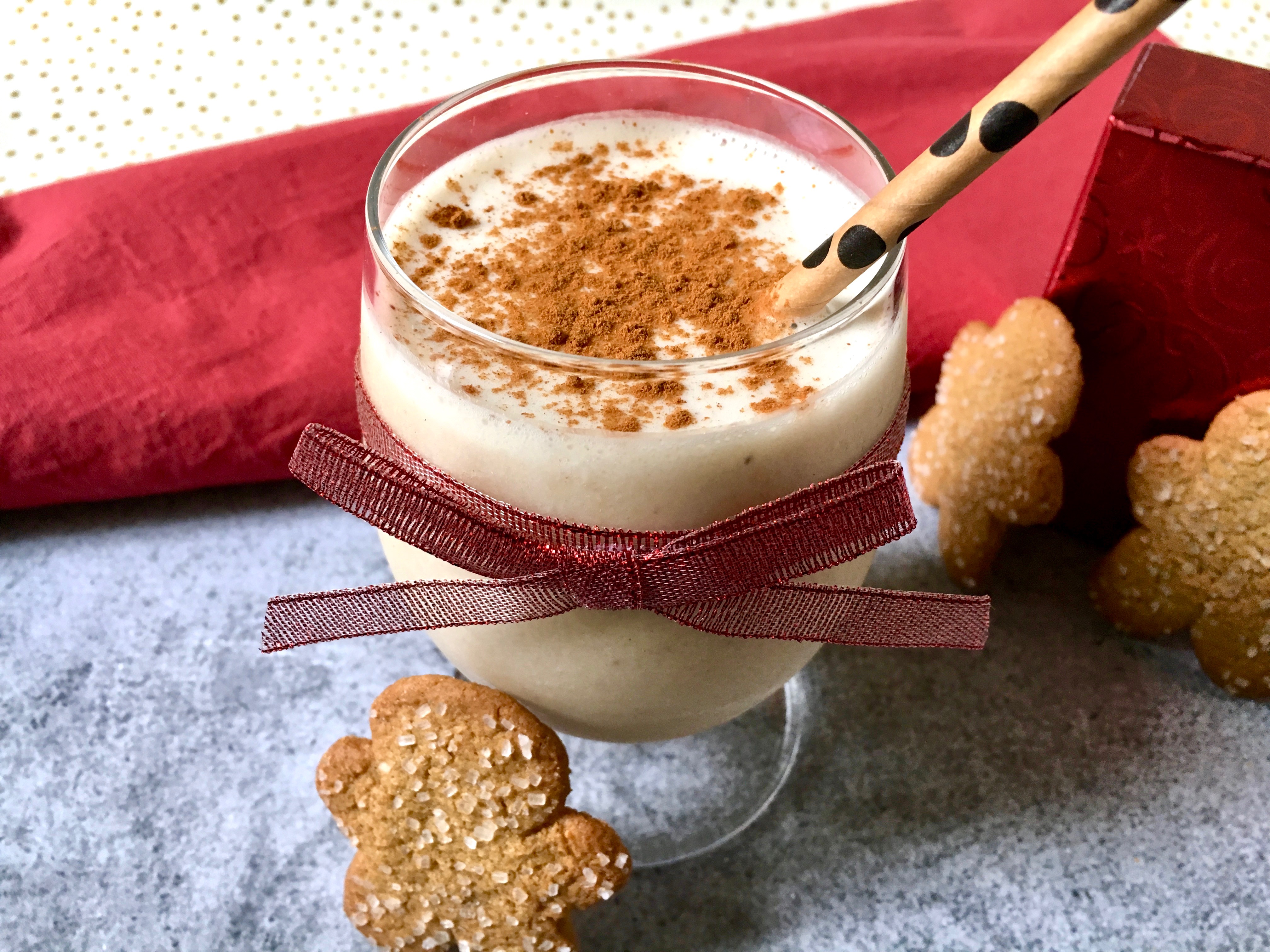 Add this yummy and healthy gingerbread protein smoothie to your morning rotation this holiday season. I actually make it throughout the year so it feels like Christmas even in July!
YOU MIGHT ALSO ENJOY:
Gift Guide for the Smoothie Lover
Cherry Vanilla Protein Smoothie
Peaches and Cream Protein Smoothie
Blueberry Pineapple Protein Smoothie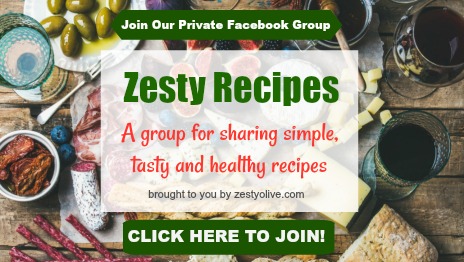 Healthy Gingerbread Protein Smoothie
Healthy Gingerbread Protein Smoothie
Ingredients
1 cup unsweetend almond milk
1 whole frozen organic banana
1 scoop vanilla protein powder
¼ tsp organic ground cinnamon, or to taste*
¼ tsp organic ground cloves, or to taste*
⅓ tsp fresh ginger OR ⅓ tsp organic ground ginger, to taste*
1 Tablespoon blackstrap molasses
1 Tablespoon almond butter
*Ground spices can be adjusted according to your taste preference.
Instructions
Note: This smoothie yields the best consistency if blended in stages.


In a high-powdered blender, add almond milk, protein powder, ground spices and blend until combined.


Add in almond butter and molasses and blend well.


Add in frozen banana chunks and blend well.


Pour into glass, garnish with a sprinkle of cinnamon and enjoy!

DON'T FORGET TO PIN AND SHARE!