Spice up your home this winter with a delicious-smelling scented candle. Here's my list of the best holiday scented candles that will bring a touch of warmth and spice to your home or office.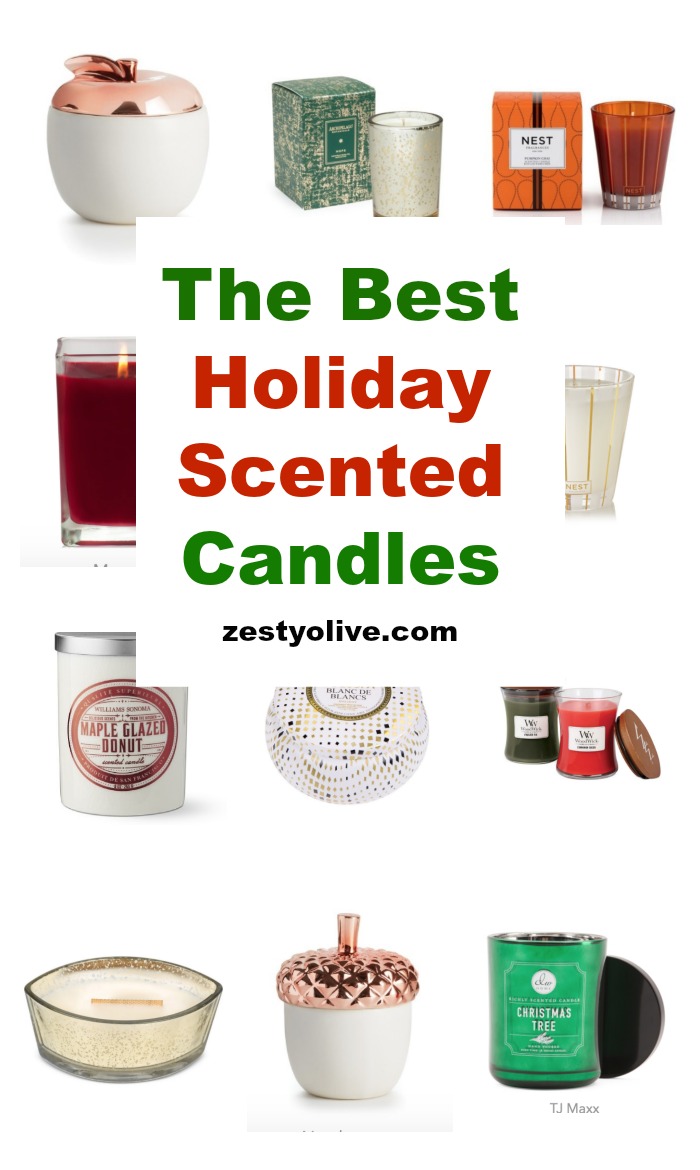 Note: This post contains affiliate links.
The holidays are known for spicy and wintery smells, and what better way to cozy up your home or office than with holiday-scented candles. These make great gifts, too! Images are clickable. Descriptions are down below.
DESCRIPTIONS, FROM TOP LEFT TO RIGHT:
Williams Sonoma Scents of the Kitchen Candle Maple Glazed Doughnut • Williams-Sonoma • $22.95
Archipelago Botanicals Holiday Boxed Votive Candle • Archipelago Botanicals • $29.99
Illume Cider Woods Lidded Ceramic Candle • $26.99
Nest Fragrances Pumpkin Chai Scented Candle • NEST Fragrances • $40
WoodWick Holiday Mercury Glass Candle • $27.99
Williams Sonoma Spiced Chestnut Votive Set • Williams-Sonoma • $29.95
Voluspa – Maison Holiday 2 Wick Candle in Tin – Blanc de Blancs • Voluspa • £22
Nest Fragrances Festive Petite Candle Trio Set/4.5 oz. • NEST Fragrances • $60
16oz Double Wick Holiday Candle • $9.99
Illume Copper Leaves Lidded Ceramic Candle • $26.99
Bond No. 9 New York Perfume Scented Candle • Bond No.9 • $160
Aromatique Home Fragrance Medium Holiday Cube Candle • $20.99
Yankee Candle Christmas Cookie 12-oz. Candle Jar • Yankee Candle • $14.99
WoodWick Candle Holiday Gift Set • $27
Yankee Candle Holiday Pillar • Yankee Candle • $15.99
Yankee Candle Holiday 2 Wick Candle • Yankee Candle • $20.99
NEST Fragrances – Holiday Scented Candle, 230g – Colorless • NEST Fragrances • $40
Aroma Lab – Scented candle with cedar – Gift for DAD • $41
You may also like:
Pumpkin Inspired Fall and Autumn Kitchen Decor Finds
15 Thoughtful Gift Ideas For Wine Lovers
Holiday Gift Guide For The Cook
Baking Tools and Essentials
DON'T FORGET TO PIN AND SHARE!