Whether you aspire to deck out your kitchen like the Great Hall or just have a cozy kitchen like Mrs. Weasley, here's a Harry Potter Gift Guide for the Cook or Foodie. Accio, cooking skills!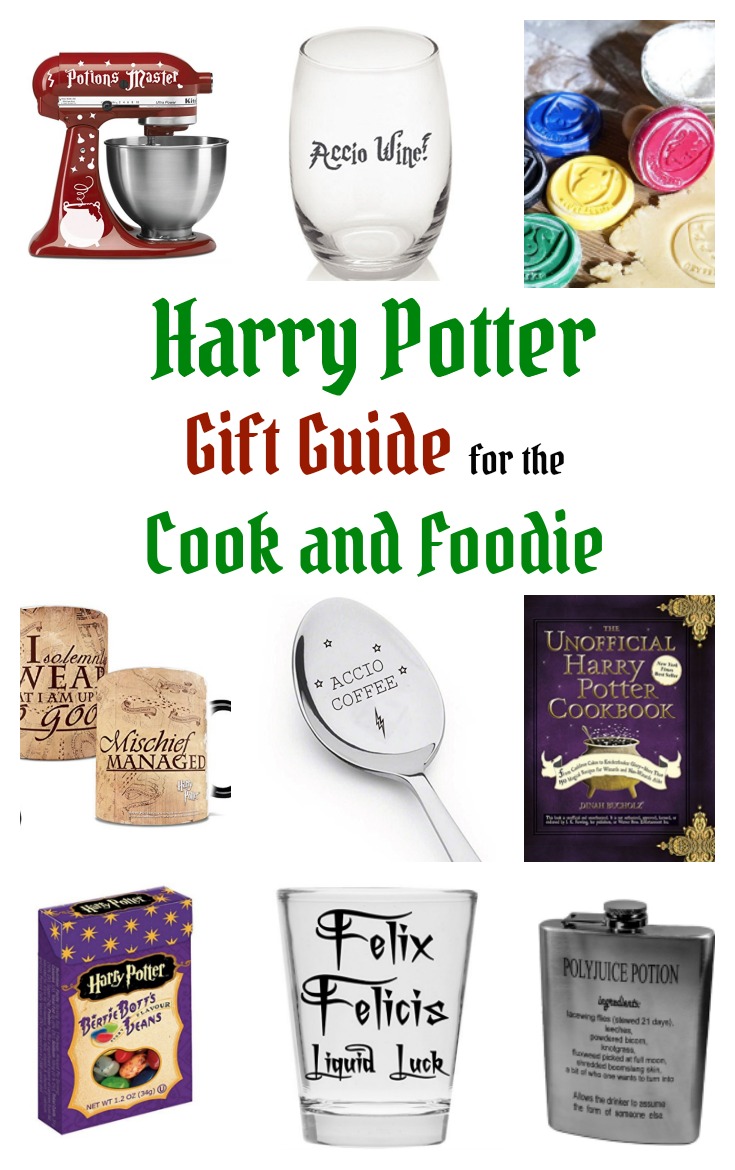 Surely there's a Harry Potter fan in your life that's also a foodie or a cook, right? I'll admit, I came way late to the game, only reading the Harry Potter books just a few years ago. I know, right?! Needless to say, I'm now a huge fan and I love all the fun merchandise associated with HP. Here are just a few of the kitchen and cooking-related items that you can find on Amazon. What Harry Potter foodie fan wouldn't love any one of these?
Note: This post contains Amazon affiliate links.
These Harry Potter Potions Master decals are everything! If your gift recipient has a stand mixer (like this KitchenAid mixer), they will absolutely love these high quality vinyl stick-on decals! HP fans love them – just read the reviews!
Obviously, every great potion master needs his/her secret book, right? Create your own potions, um, recipes with the best-selling The Unofficial Harry Potter Cookbook. You'll find Treacle Tarts, Molly's Meat Pies, Pumpkin Juice, Cauldron Cakes, Butterbeer, and many more – 150 recipes included!
The baker in your life will appreciate these Harry Potter Cookie Stamps. The set of 5 comes with a stamp for each house: Gryffindor, Slytherin, Hufflepuff, and Ravenclaw. Zip pouch included for easy storage.
This heat-sensitive morphing mug will delight your recipient with the Marauder's Magical Map reveal! Just pour your hot coffee (or Butter Beer) in the cup and watch for the reveal.
Drink your good luck potion from this appropriate Felix Felicis shot glass to ensure that you will be successful in your future endeavors. You wouldn't want to leave it to chance, would you?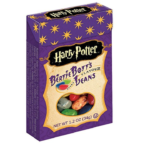 Give the gift of Harry Potter Bertie Botts Every Flavor Beans by Jelly Belly. No wizard should be without a box.
This Harry Potter Letter To Hogwarts Packable Tote Bag makes a great gift. When you fold the tote up for easy storage, it makes a letter!
Coffee lovers will use this Harry Potter Accio Coffee spoon daily. Made out of high quality and durable stainless steel, this spoon will replace an old Muggle-type stirring utensil.
Wear this "I Solemmly Swear That I Am Up To No Good" apron when whipping up your next batch of Treacle Tarts or Polyjuice Potion. Made out of a cotton/poly blend, it has two front pockets and ties at the waist.
Carry your potion in this quality stainless steel Polyjuice Potion Flask. Laser engraved and dishwasher safe.
This "Accio Wine!" stemless glass is 15 oz and dishwasher safe. Makes a great gift for wine lovers who are also Harry Potter fans!
YOU MIGHT ALSO LIKE:
12 Must-Have Baking Tools and Essentials
15 Thoughtful Gift Ideas for Wine Lovers
Gift Guide for the Smoothie Lover
Holiday Gift Guide for the Cook
DON'T FORGET TO PIN AND SHARE!