This easy Sheet Pan Herb-Roasted Chicken with Red Potatoes will become a family favorite. This dinner can be prepped and in the oven in 10 minutes. Serve up this delicious, juicy chicken and savory potatoes and be prepared for the compliments!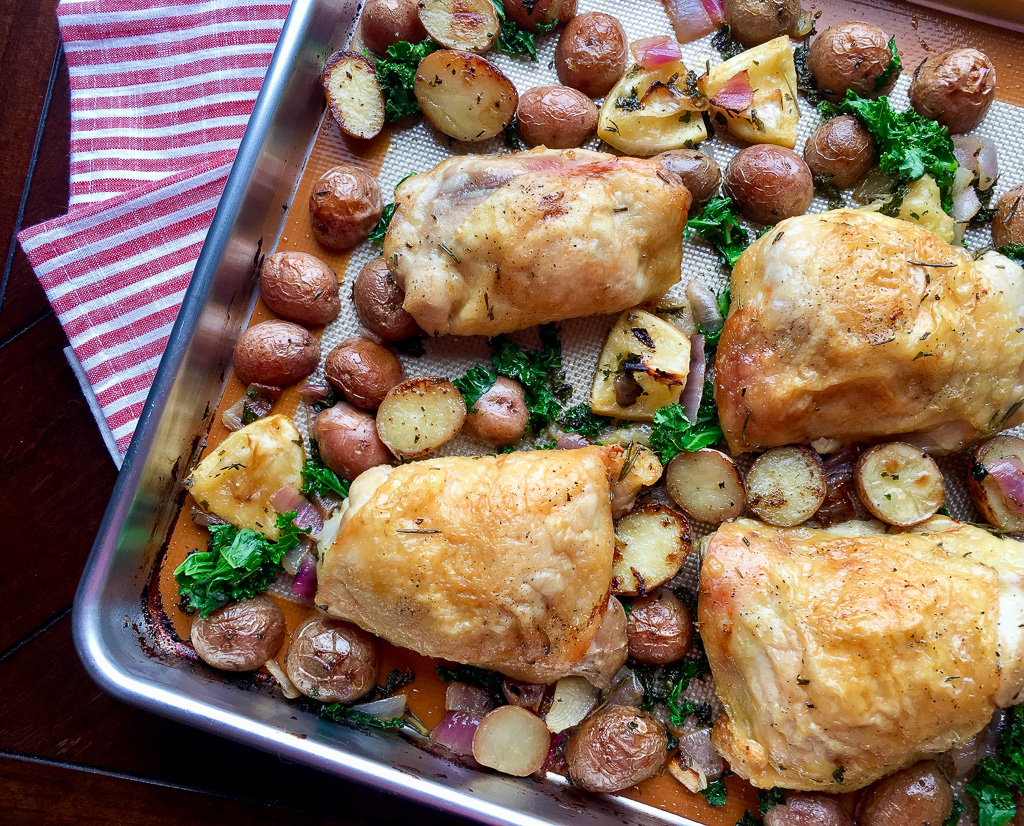 This post contains Amazon affiliate links.
Sheet Pan Herb-Roasted Chicken with Red Potatoes is an amazingly simple and savory dinner. I love sheet pan meals because they are super easy to bake and super easy to clean up! The only work you really have to do is process the ingredients that go on the sheet pan. Here, you're just cutting up some small potatoes and chopping some onion and garlic and getting a few herbs ready to go. Wash the kale and rough chop it. I always rinse and pat dry the chicken, and I know that's a highly controversial topic, but that's what I do. If you don't, then no worries ~ you've managed to skip a step and save time!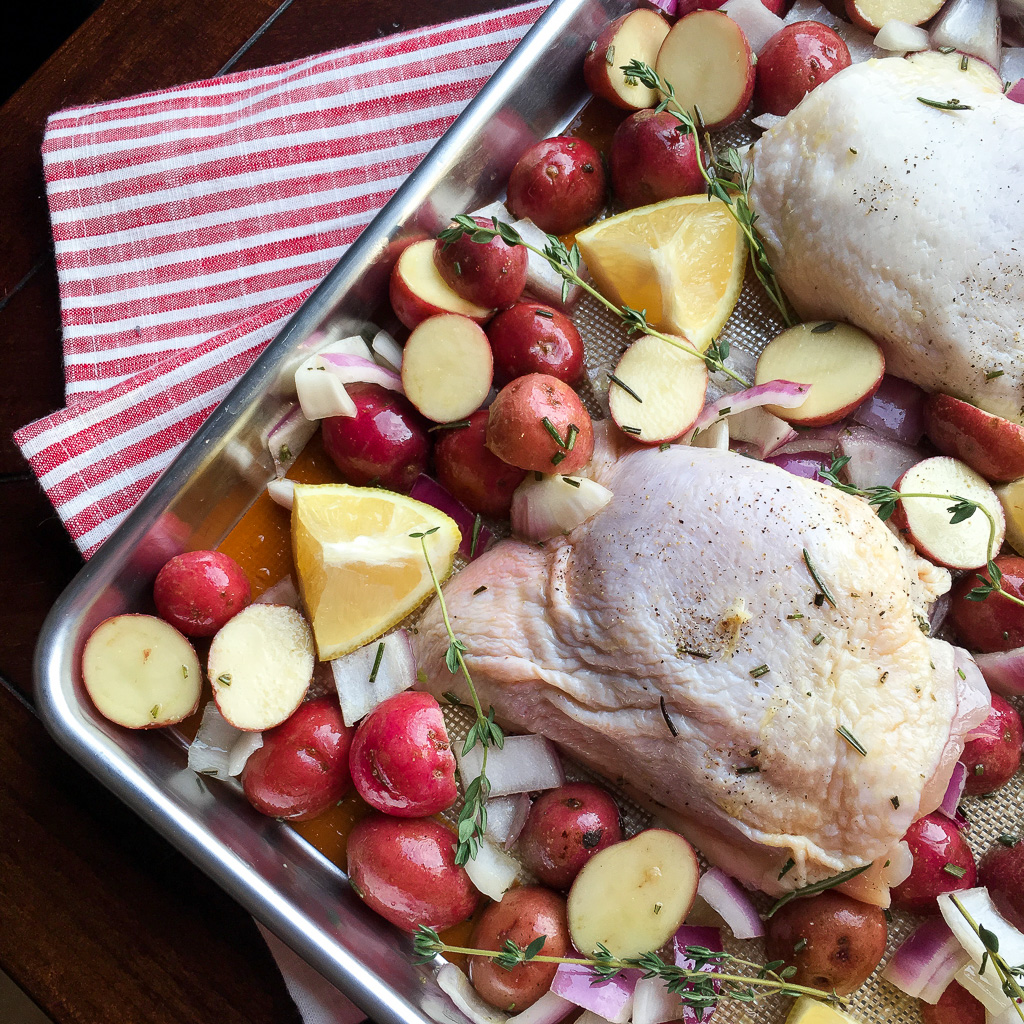 For best results, I suggest using a larger three-quarter size sheet pan like this one instead of a standard 13" x 18" half sheet pan for this recipe. This will allow the vegetables enough room to be spread into a single layer without overcrowding, while keeping all ingredients on one single pan. Make sure you use a non-stick liner like this one for super easy cleanup!
Keeping all ingredients on a single sheet pan is important in this case because the juice from the chicken and lemon wedges will mingle with the fresh herbs to infuse the potatoes, onion, and kale with incredible flavor while cooking, and you totally want that. After all, you spent all of 10 minutes prepping the food to go on the sheet pan, so make sure you enjoy those delicious flavors and aromas!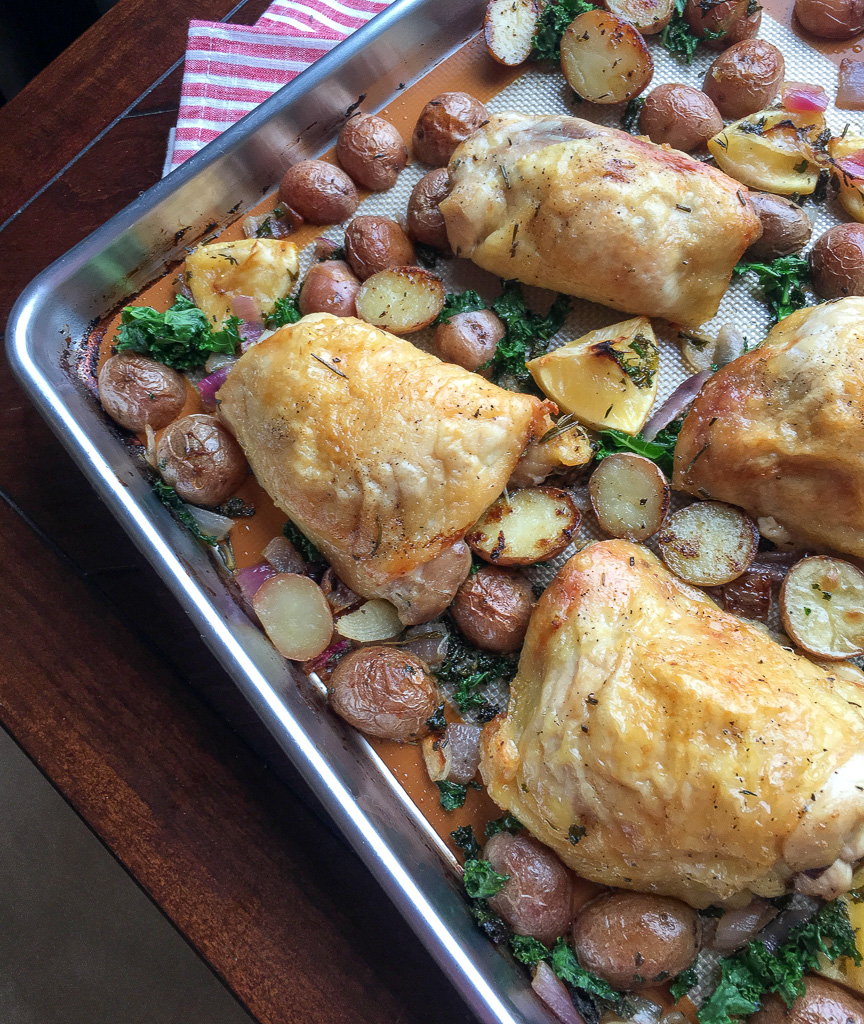 YOU MAY ALSO LIKE:
Sheet Pan Sweet Potato Hash With Eggs
Dutch Oven Balsamic Chicken With Vegetables
Skillet Chicken Fajitas



DON'T FORGET TO PIN AND SHARE!