If you're looking for a crustless pie recipe, this Spiced Pear Custard Pie is it. It's so simple that I made it twice in one week!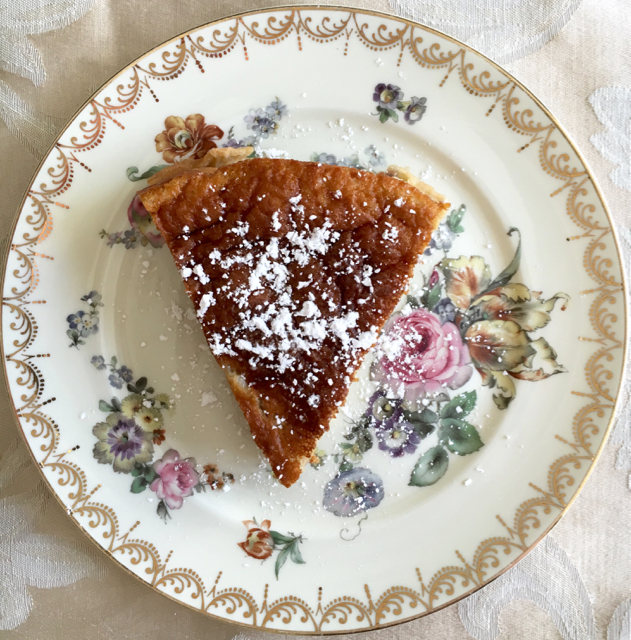 Note: This post contains Amazon affiliate links.
The second time, I got creative and kicked up the taste a notch or two by adding spice and sweetening it a little more. I adapted my recipe from Martha Stewart's pear custard pie version found here.  Here's what I did the second time I made it:
I peeled and sliced four ripe organic anjou pears and soaked them in approximately 1/4 cup of rum for about 3 hours. I did this because the taste of the pears got lost the first time I made the pie. The rum is not overpowering, but adds a delicate flavor to the pears.
In a buttered cake pan, arrange the pear slices like so: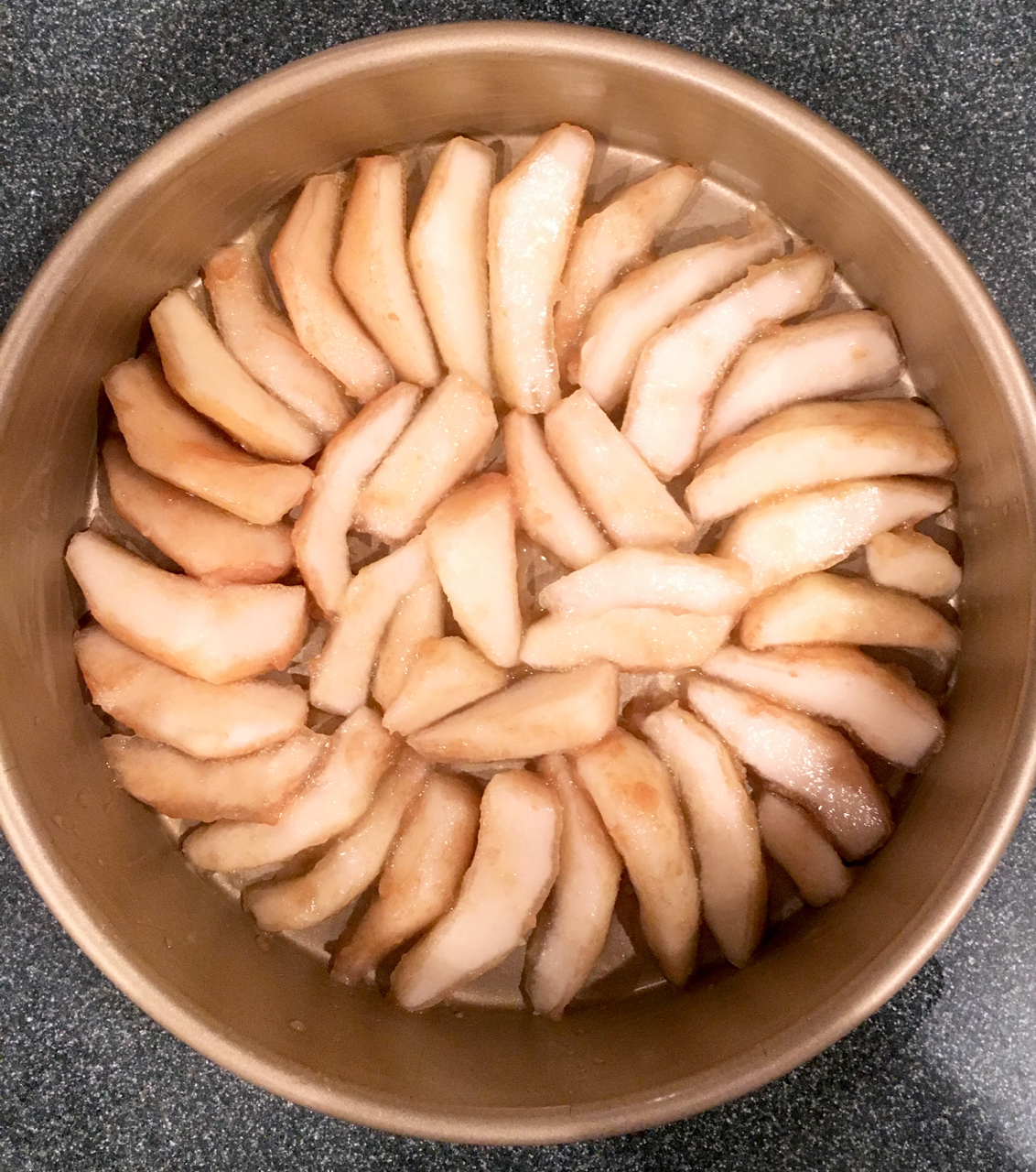 Drizzle about 1 Tablespoon of honey over the pears for a little extra sweetness.
Next, whip up the batter of eggs, flour, butter, sugar, vanilla extract, salt, ground cinnamon and ginger in a blender and carefully pour over the pears. I increased the sugar and added cinnamon and ginger, which elevated the flavor of the custard from the original recipe version. Note: I used Swerve's Granular Sugar Replacement and I used Bob's Red Mill gluten-free 1-to-1 baking flour, but regular all-purpose flour would be just fine if you don't have a gluten intolerance.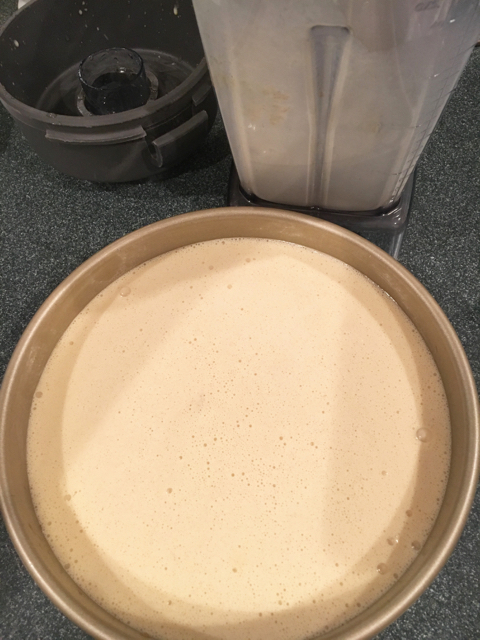 Bake in a 350° oven for 40 minutes. Let cool for a few hours before slicing and serving. This helps the custard set. The pears may rise to the top of the pie a bit.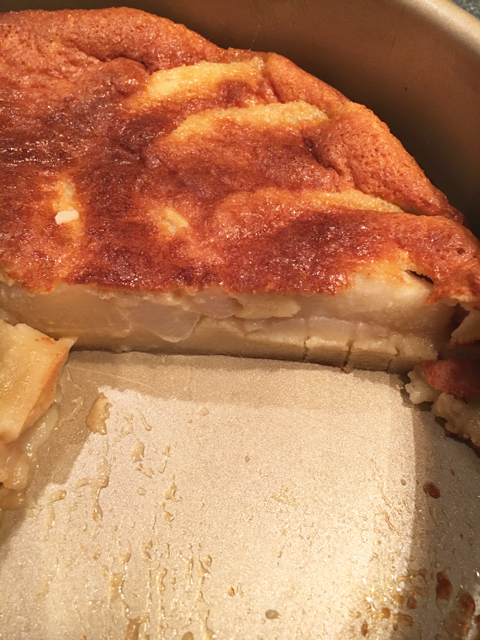 I dusted the top with a little confectioner's sugar before serving. (I used Swerve's Confectioner's Sugar Replacement.)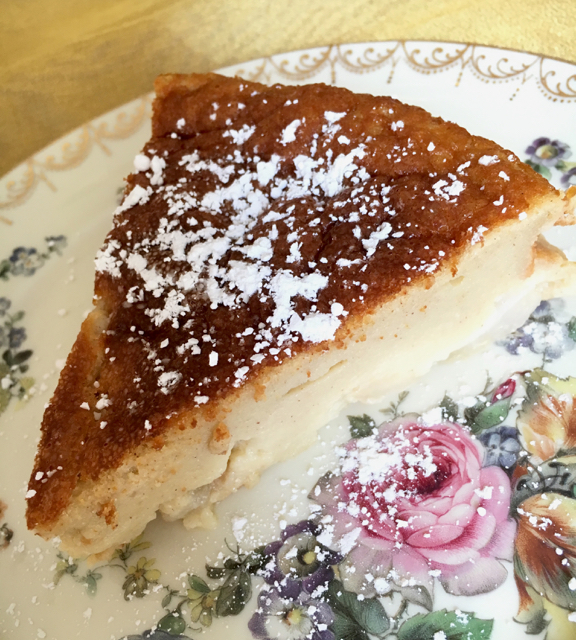 This is a simple and elegant pie that's amazingly easy to make.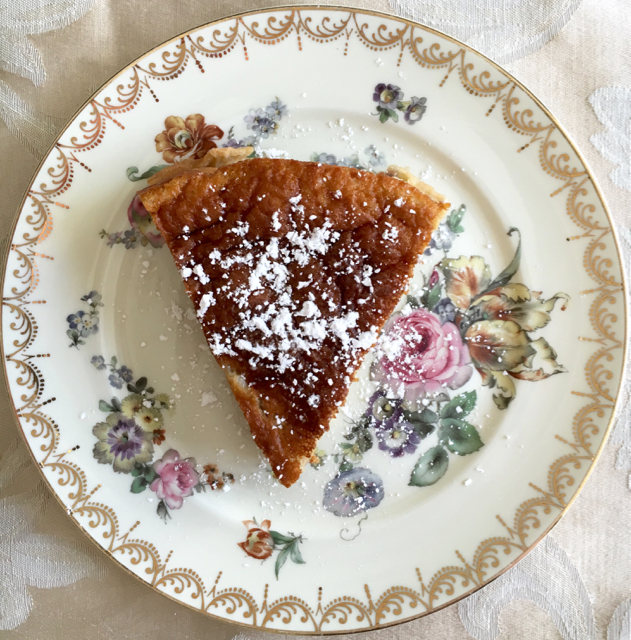 Love pears? Here are a few more simple but elegant pear recipes you may fall in love with:
MAPLE CINNAMON BAKED PEARS
ITALIAN ALMOND PEAR CAKE
Note: This post contains Amazon affiliate links.
Spiced Pear Custard Pie
Simple and elegant spiced pear custard pie.
Instructions
Peel and slice lengthwise 4 pears. Soak pears in ¼ cup rum for 2-3 hours.


Preheat oven to 350 degrees; butter a 9-inch cake pan or pie dish.


Arrange pear slices in bottom of pan, slightly overlapping.


Drizzle pears with honey.


In a blender, process ¼ cup melted unsalted butter, ½ cup of granulated sugar , ⅓ cup gluten-free all-purpose flour, 2 teaspoons vanilla extract, 3 large eggs, ¾ cup milk, ¼ teaspoon each of salt, ground cinnamon and ground ginger until smooth.


Carefully pour batter over pears; bake until golden and firm to touch, approximately 40 minutes.


Let cool for several hours before serving.


Serve with a dusting of confectioners' sugar.
DON'T FORGET TO SAVE AND SHARE THIS RECIPE ON PINTEREST!