Try this healthy Strawberry Cheesecake Protein Smoothie for a delicious variation on a fruit-based smoothie. The cream cheese adds just the right amount of cheesecake-like creaminess to make this smoothie a decadent, yet healthy treat.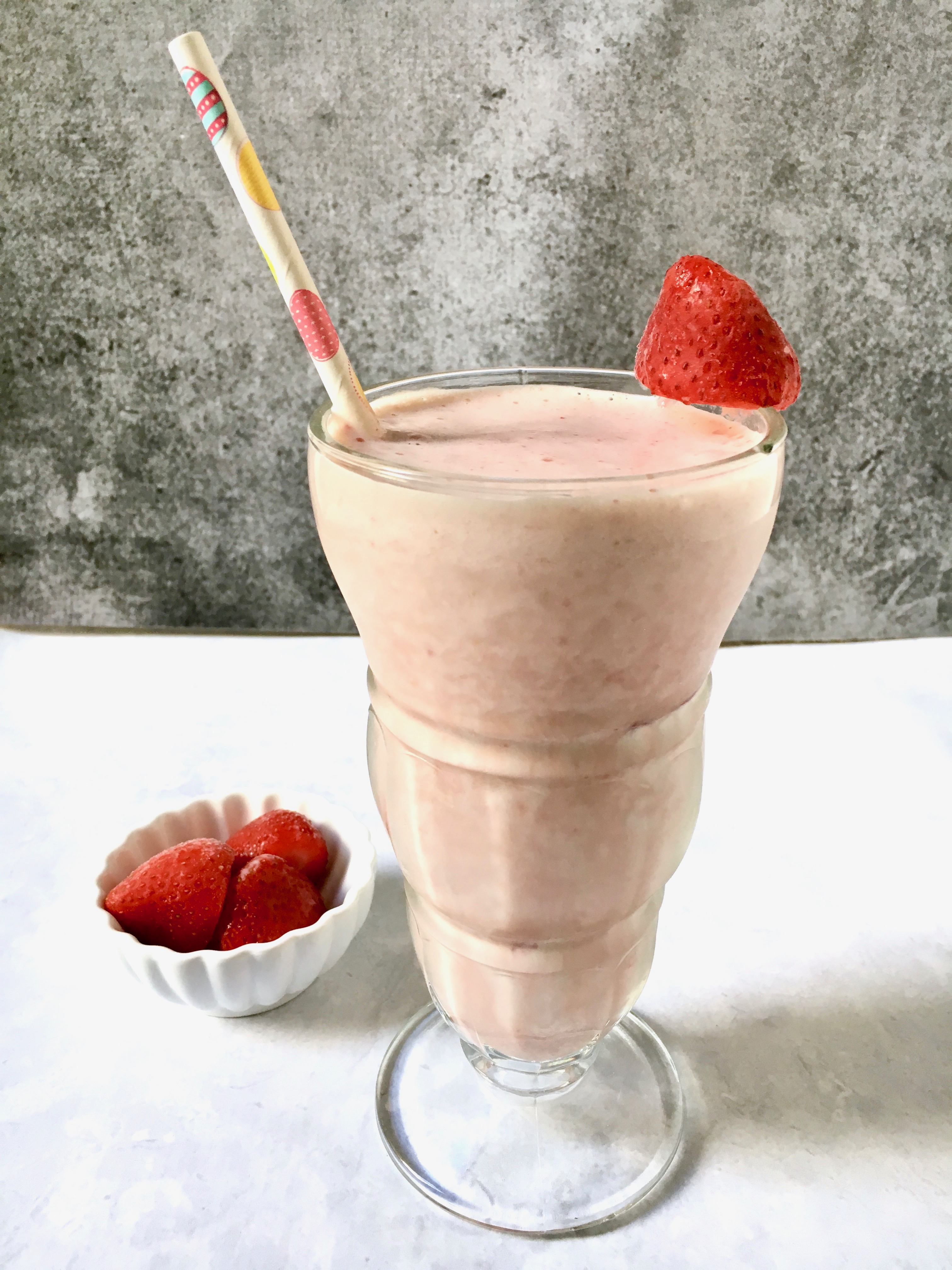 This post contains Amazon affiliate links.
My Vitamix has never been so happy! These are a few of my favorite things: smoothies, cheesecake, and strawberries. So when I decided to throw a dollop of cream cheese into my Vitamix one morning, I also grabbed a few frozen strawberries, because #strawberrycheesecake, ya'll! Of course, I kept it healthy with unsweetened coconut milk and my favorite vanilla protein powder. For sweetness, I added frozen banana chunks, but if you need to keep this Keto, just leave the bananas out; the strawberries may provide enough sweetness for you!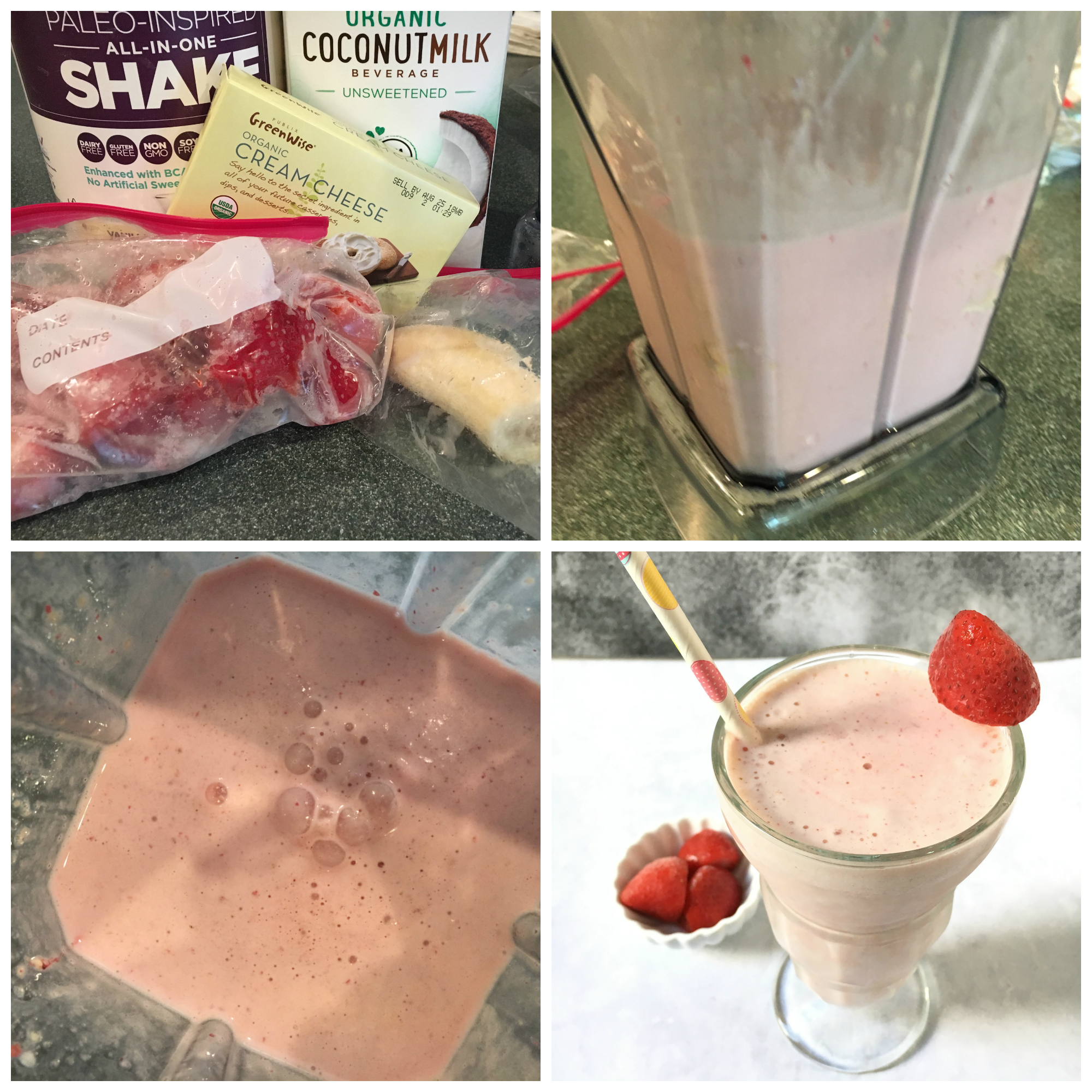 As always, I like to blend my smoothies in stages in a high-powered blender such as a Vitamix or Blendtec (I use this one) to ensure the most, uh… smooth outcome. I mean, it's called a smoothie, right? 😉
First to go in the blender is the liquid. I use coconut milk (from the carton) but almond milk would work fine, too. Then I add my protein powder and blend. Then I add the cream cheese and blend again. Lastly, I add the frozen banana and frozen strawberries. If at this point your smoothie is too thick, just add a dash of water to thin it out.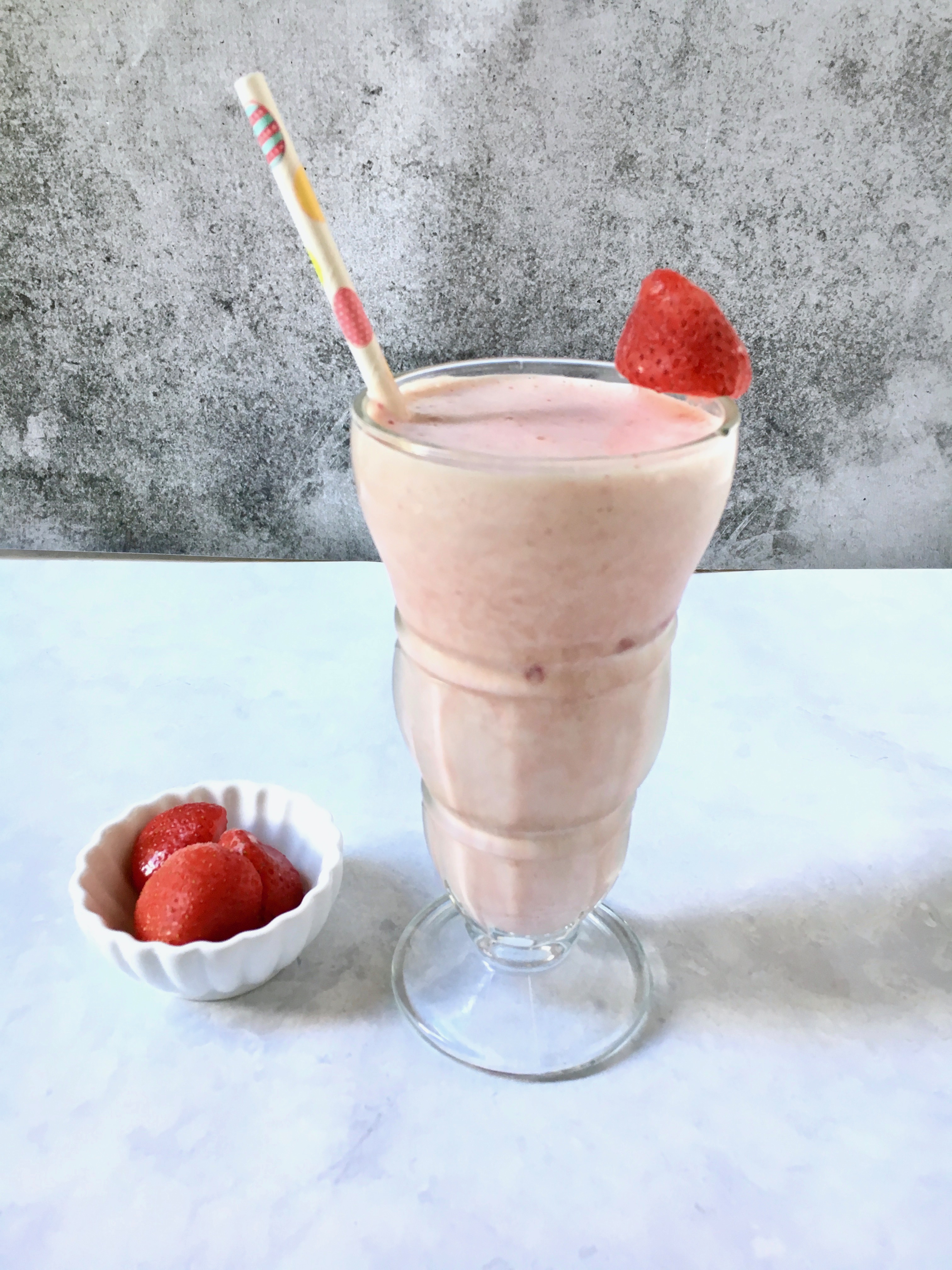 I hope you try this yummy smoothie, especially while fresh strawberries are in season. I love to get a bucket of gorgeous, ripe strawberries at our farmer's market, wash and dry them well, trim the green leaves off the top and bag them up for the freezer for my smoothies. Ah ~ the goodness! Enjoy!
YOU MAY ALSO LIKE:
Gift Guide For The Smoothie Lover
Peaches and Cream Protein Smoothie
Healthy Gingerbread Protein Smoothie
Cherry Vanilla Protein Smoothie
Strawberry Cheesecake Protein Smoothie
Strawberry Cheesecake Protein Smoothie
Ingredients
1 cup unsweetened coconut milk (or almond milk)
¾ cup frozen strawberries
1 small frozen banana
1 scoop vanilla protein powder
⅓ cup cream cheese
water to thin out if too thick
Instructions
Note: This smoothie yields the best consistency if blended in stages.


In a high-powdered blender, add coconut milk, protein powder, and blend until combined.


Add cream cheese and blend again.


Add in frozen banana and frozen strawberries and blend well.


Pour into glass and enjoy!
DON'T FORGET TO PIN AND SHARE!