Easy, cheesy, Chicken, Black Bean and Corn Quesadillas are a tasty and quick meal that your kids and family will love!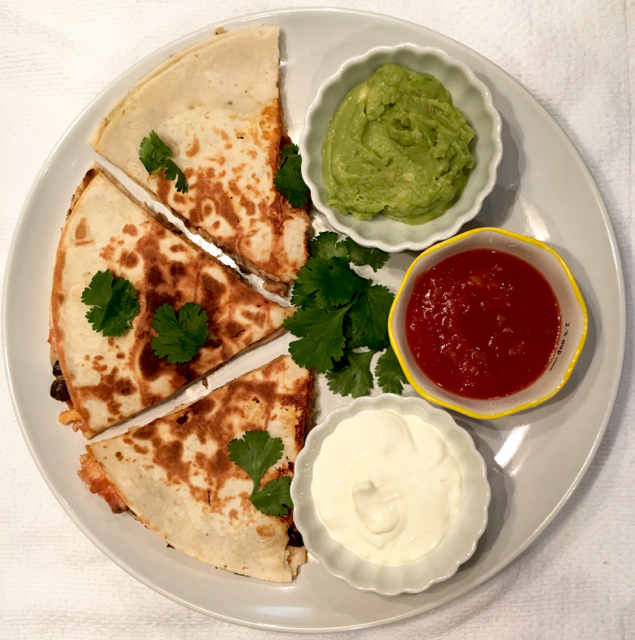 Note: This post contains Amazon affiliate links.
Here's an easy quesadilla recipe that's super filling. It can be adapted as gluten-free; in fact, I used gluten-free flour tortillas in this chicken, black bean and corn quesadillas recipe. Use whatever tortilla works for you!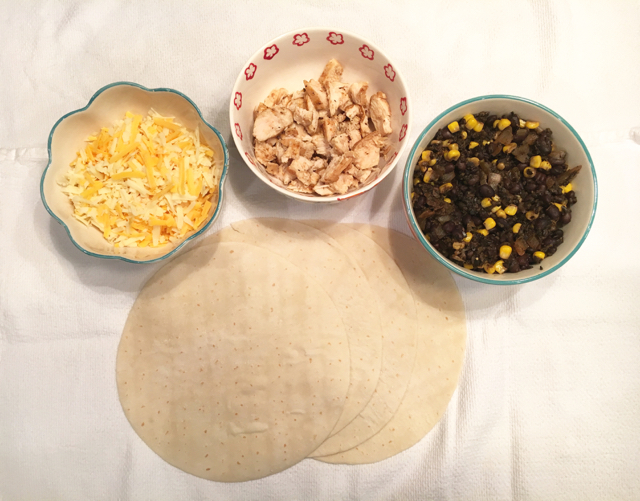 Here's what you'll need:
Grated cheese: I used a mix of yellow and white sharp cheddar because that's what I had on hand.
Cooked chicken breast, shredded or cut into bite-sized pieces.
Black beans and corn. Here I sautéed a little onion and then added a can of drained and rinsed black beans and half a package of frozen corn. I seasoned them a bit and just heated them on low.
Salsa. Make your own or just grab your favorite jarred brand. I like this one.
Flour tortillas. I used gluten-free, but use what ever you like if not following a GF diet.
(Note: full recipe below)
Non-stick skillet. (A well-seasoned cast-iron skillet works, too.)

There are two ways to assemble your quesadillas; I did both, just for fun.
First, the fold-over method: smear a little salsa on one tortilla, then to just half of the tortilla, add a little cheese, a little chicken, a little of the bean and corn mixture, and top with a little cheese again. Fold the tortilla over, creating a half-moon. This method makes the tortilla a little easier to heat in the pan, as you're dealing with just flipping "half" of a tortilla.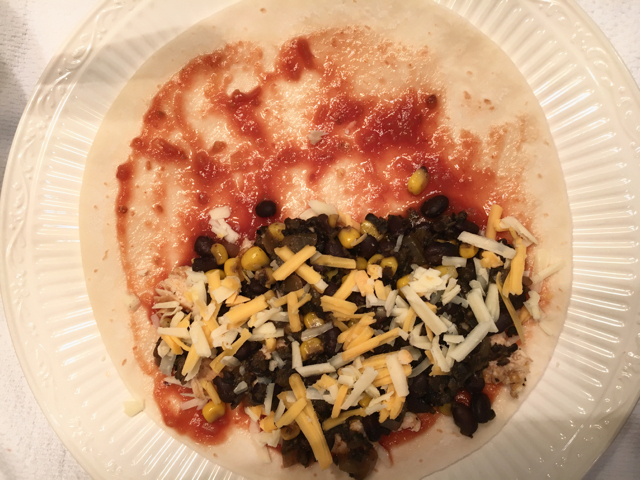 The second method is the full tortilla assembly. Follow the directions as above, except sprinkle the ingredients over the entire tortilla and top with another full tortilla. This method takes a little more finesse to flip in the pan without losing some of the innards. But hey, I like a challenge, so I gave it a go!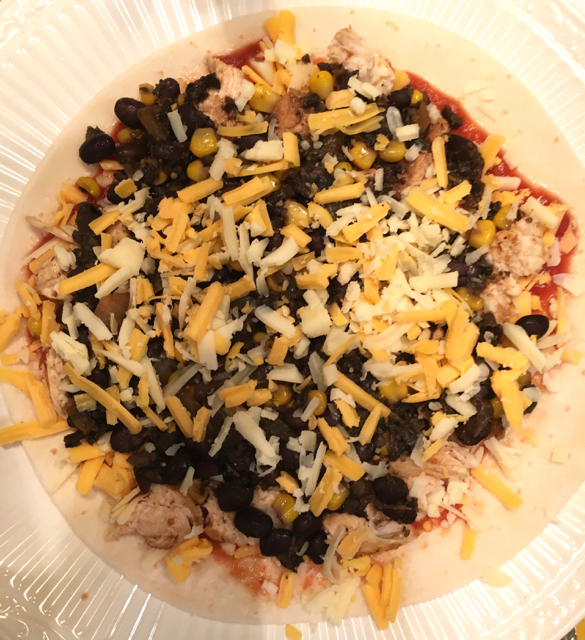 The result? I think I prefer the fold-over method, just because it kept the whole thing intact during the cooking and flipping process. Either way, though, this is a fun, filling, and yummy quesadilla that I'm sure you'll enjoy.
Serve it with some guacamole, salsa, sour cream, and cilantro, if that's your thing! Full recipe below.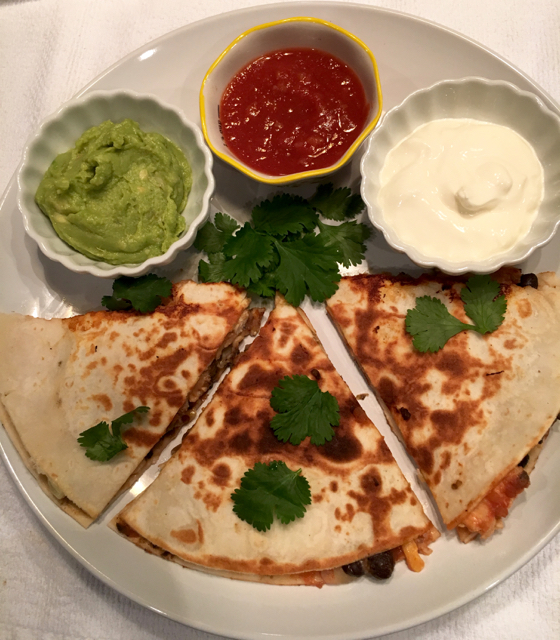 YOU MIGHT ALSO LIKE:
Skillet Chicken Fajitas
Black Beans and Rice Mexican Lasagna
Layered Hot Pizza Dip
Chicken, Black Bean and Corn Quesadillas
Chicken, Black Bean and Corn Quesadillas
Ingredients
2 cooked chicken breasts, cut into bite-sized pieces
I cup shredded cheddar cheese
1 can black beans, drained and rinsed
½ can corn, or ½ pgk. frozen corn
1 small onion, diced (white, yellow, or red)
4 flour tortillas
Salt and chili powder, to taste.
2 Tablespoons olive oil


Garnishes
Salsa
Guacamole
Sour Cream
Cilantro
Instructions
Season and cook your chicken breasts. Cut into bite-sized pieces and set aside.


Grate your cheddar cheese; set aside


Saute onion until translucent; add black beans and corn. Season with salt and chili powder. Once heated through, remove from heat and set aside.


Assembly:
(if using folder-over method, add ingredients to just half of the tortilla and fold over before heating in pan)


Place tortilla flat on plate and add thin layer of salsa over entire tortilla surface.


Next, add a thin layer of cheese.


Add a thin layer of chicken on top of cheese.


Add a layer of beans and corn mixture on top of chicken.


Add another thin layer of cheese on top of beans and corn.


Either fold-over, or add another tortilla on top of ingredients.


Set aside and assemble your next quesadilla.


Add one tablespoon of olive oil to frying pan over medium to medium-high heat. Once pan is heated, carefully add quesadilla to pan. Lightly fry until cheese begins to melt on bottom tortilla and then carefully flip quesadilla to continue frying on other side. When cheese is melted, remove from heat and let cool on plate before cutting into wedges.


Fry your second tortilla.


Cut and serve with quacamole, salsa, sour cream, and cilantro.

DON'T FORGET TO PIN AND SHARE!