Here my easy recipe for how to make a creamed corn casserole using fresh corn off the cob.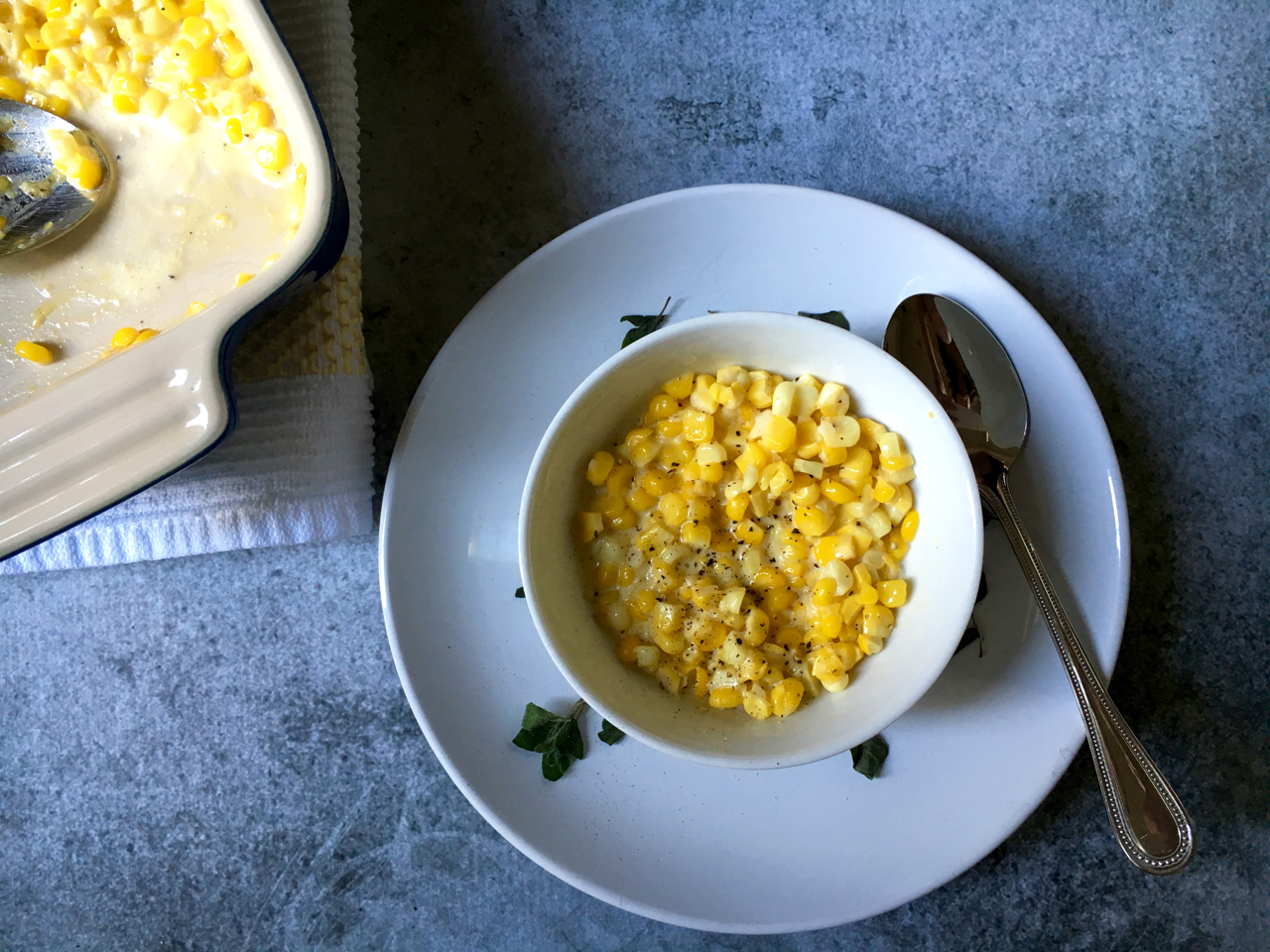 Note: This post contains affiliate links for products on Amazon.
This recipe is so easy and the end result is a sweet, creamy corn casserole that you won't be able to stop eating!
Begin with fresh corn. Remove the corn from their husks, rinse and remove the corn silks. It's okay if you don't remove them all – I'm not sure that's even possible! It won't hurt if there are a few silks hanging out in the end product.
You'll need a large, deep bowl for cutting the kernels, as well as a smaller bowl, turned upside down, to fit inside the larger bowl. Rest and hold an ear of corn, vertically, on top of the smaller bowl while you slice off the kernels of corn. This will allow your knife room to slice all the way to the bottom of the ear of corn while the kernels fall into the larger bowl. Work your way around each ear of corn, slicing the kernels off. Flip your knife over to the dull side and using a little pressure, scrape the ear of corn, vertically, to release any milky residue left on each ear of corn. Repeat this process for each ear of corn.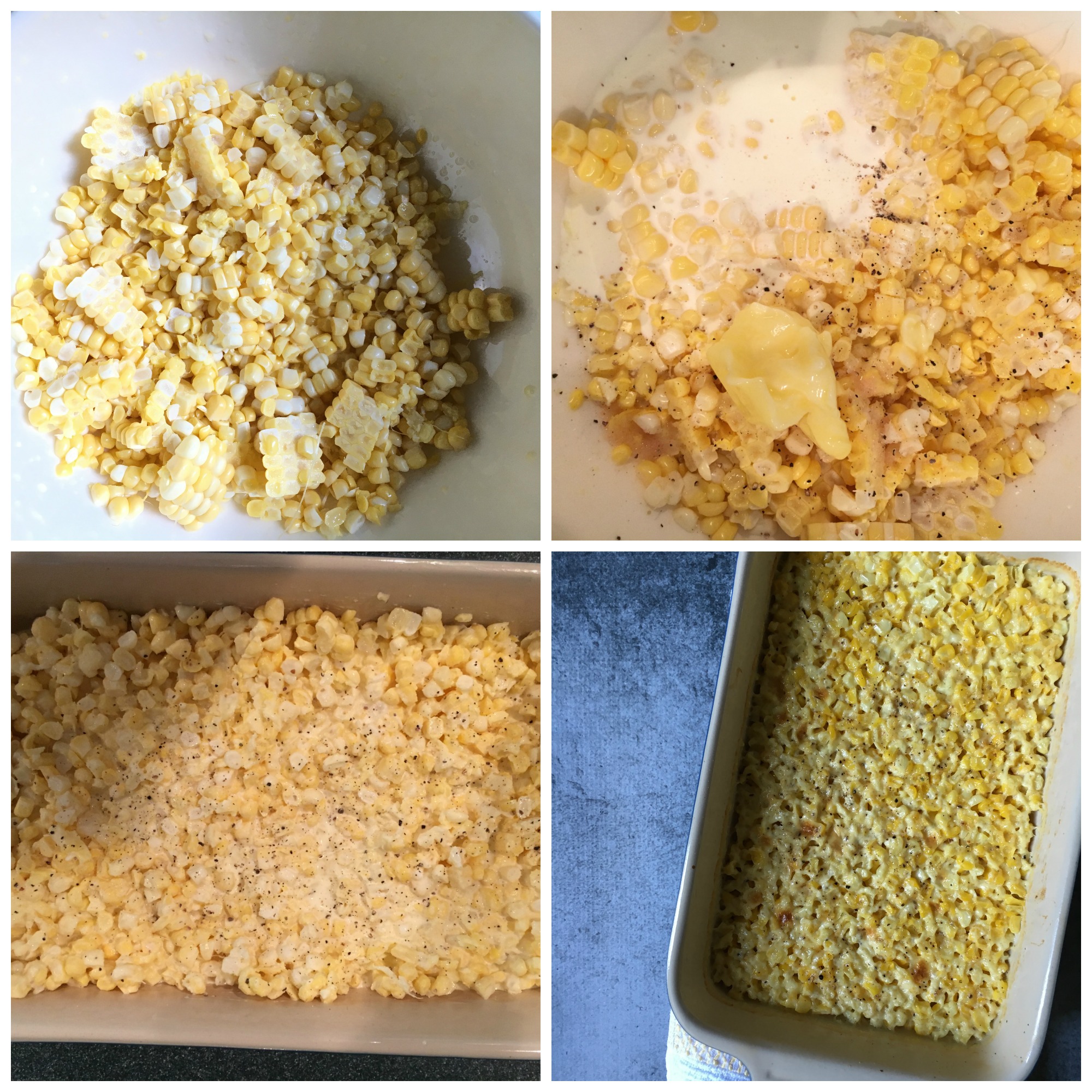 Then, you'll just add some heavy cream, butter, salt and pepper and stir to combine. Pour the mixture into a baking or casserole dish and bake until done. (I love my Le Creuset casserole dish – clean up is a breeze!)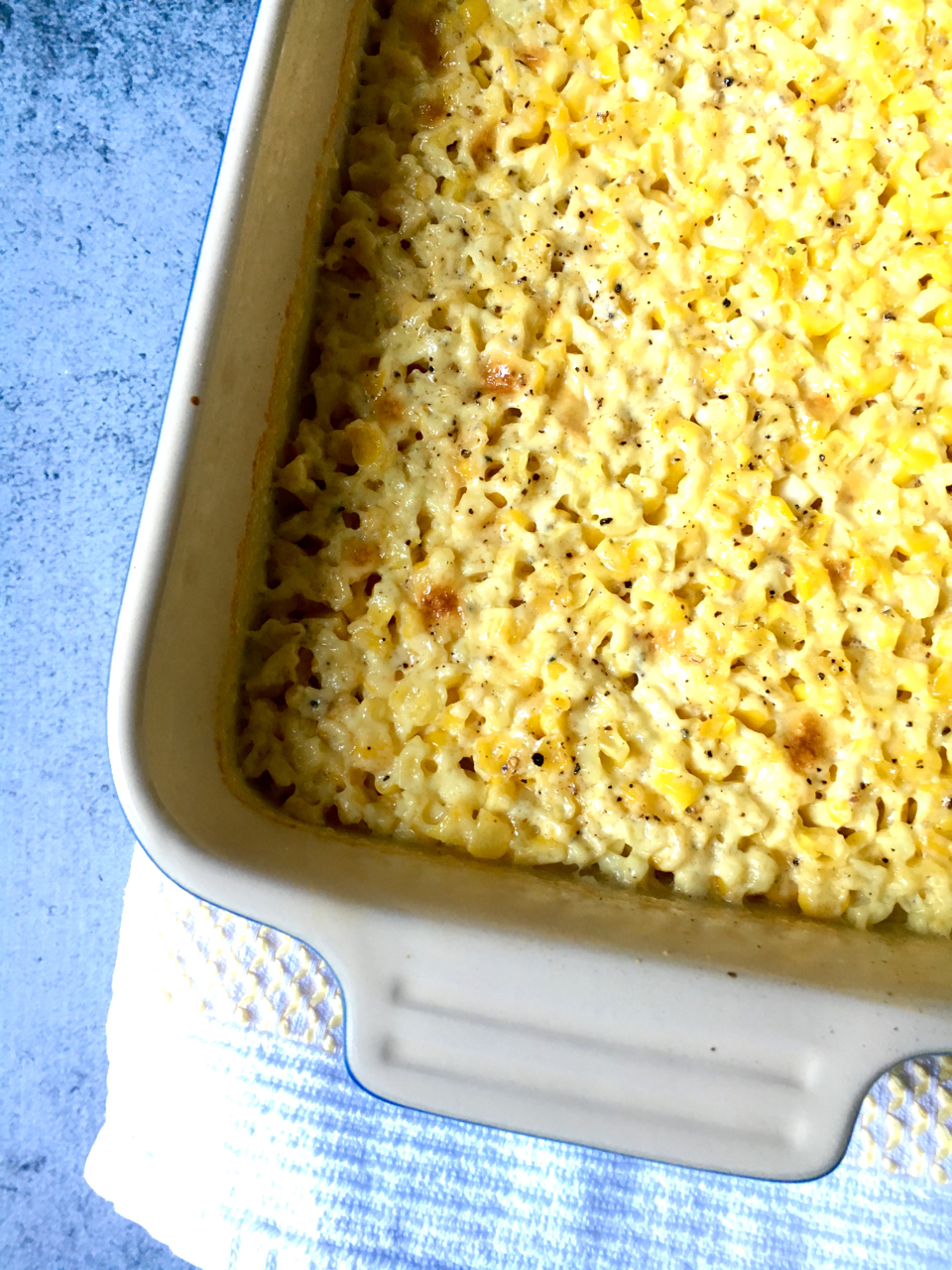 I like to get a little brown color on the top, but make sure you don't over-bake it. You don't want it to be dry.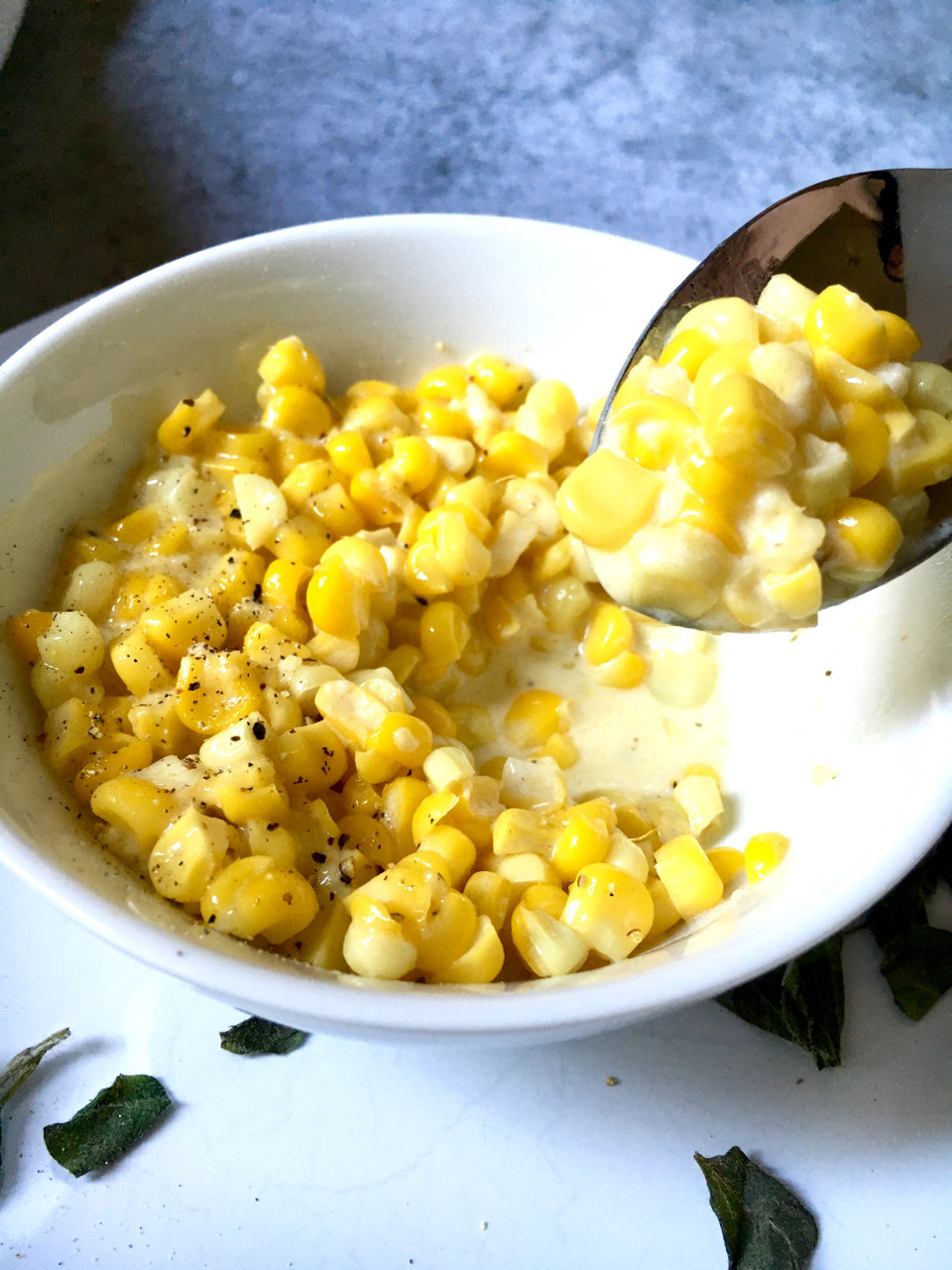 You'll be amazed at how sweet the corn tastes! That's pure fresh corn, no sugar added, that gives it the sweet taste. Oh, the cream helped, too!
Not in the mood for creamed corn? Check out my Grilled Corn On The Cob recipe!
YOU MAY ALSO LIKE:
Baked Scalloped Potatoes With Cheese
Fried Okra Recipe
Bacon Brussels Sprouts Au Gratin
Creamed Corn Casserole
Ingredients
6 - 8 ears of corn, removed from husk
⅔ cup heavy cream
3 Tablespoons of butter, softened
½ teaspoon, salt
Pepper, to taste
Instructions
Remove the corn from the husks, rinse and remove corn silks.


In a large, deep bowl, slice off the kernels of corn. With the dull side of the knife (or a regular dinner knife), press and scrape the cob all the way down to remove all the bits of kernel and creamy milk inside.


Add heavy cream, softened butter, salt and pepper, to taste; mix well. Pour mixture into a baking dish. Bake at 350Fº for 45 - 60 minutes or until thoroughly warmed through.

DON'T FORGET TO PIN AND SHARE!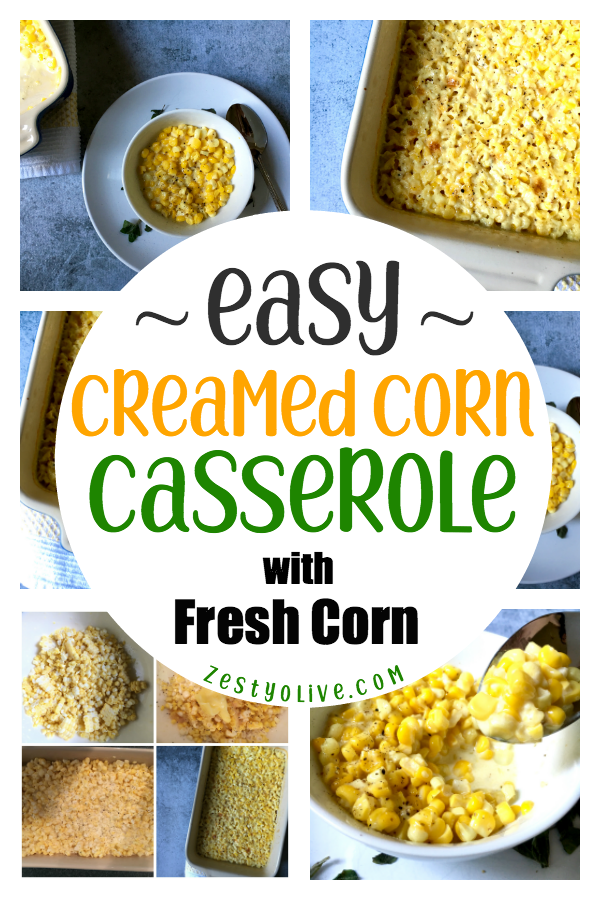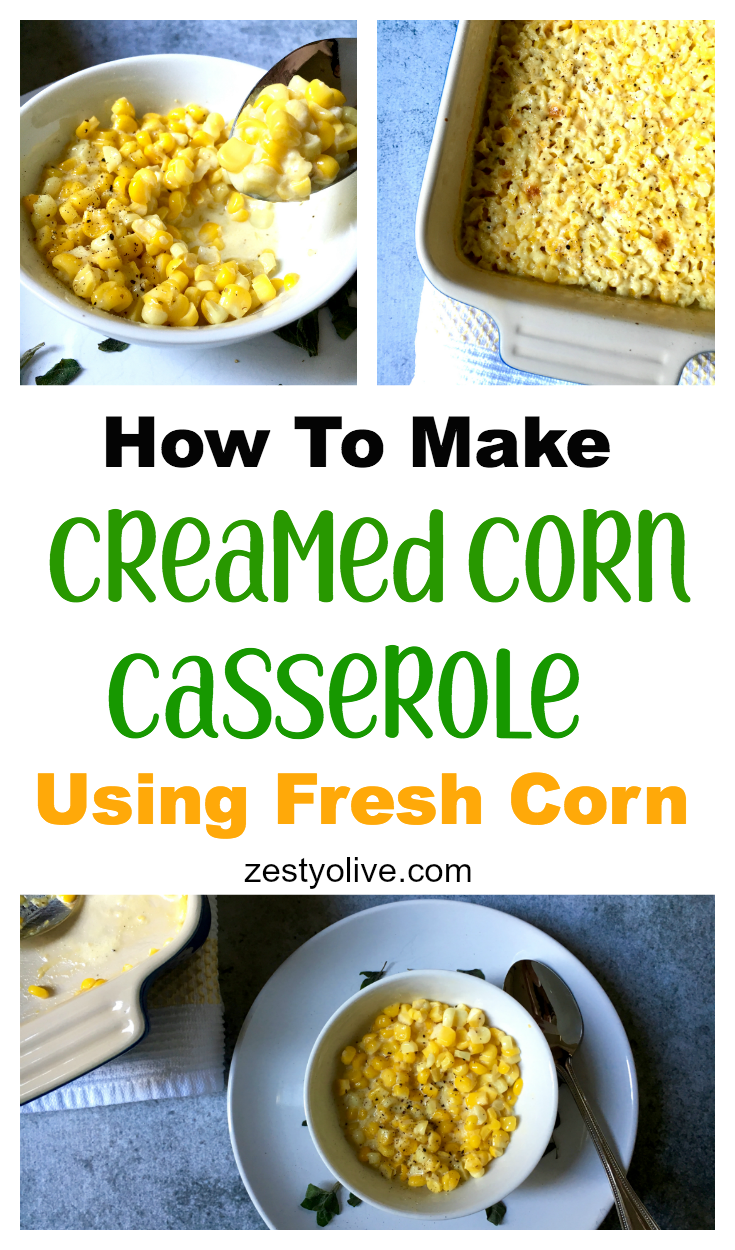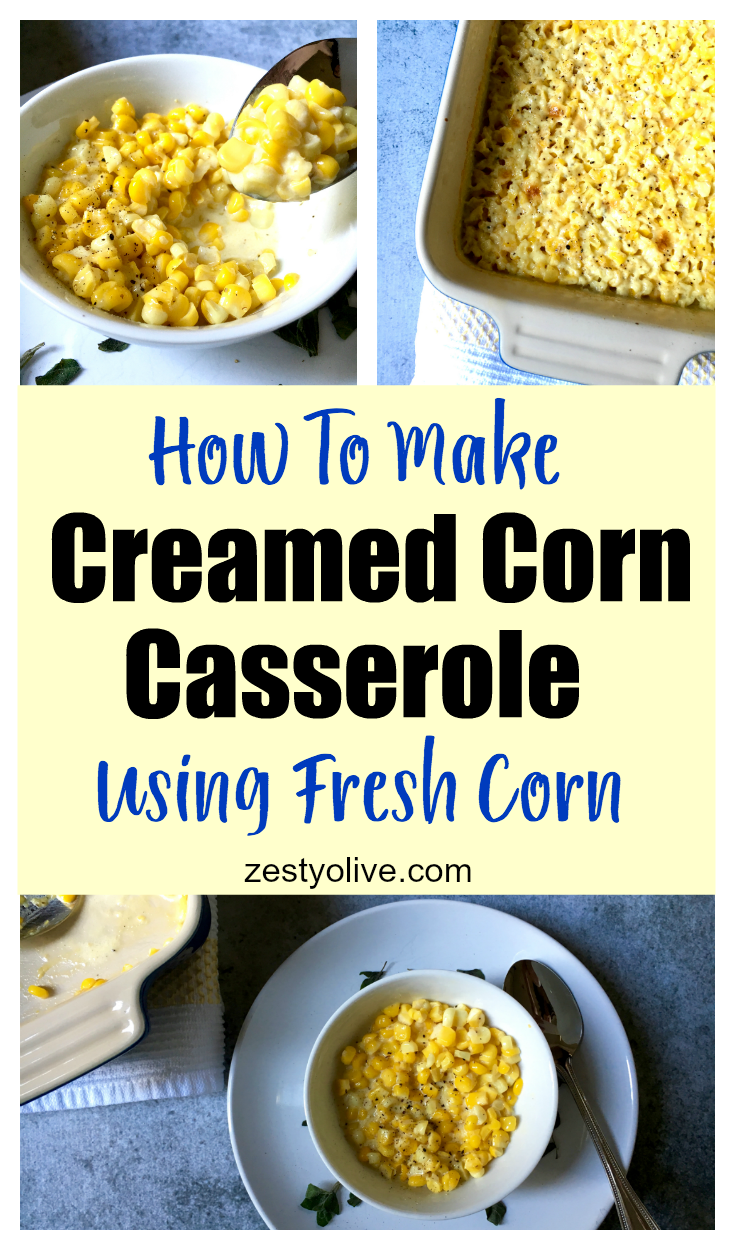 Save
Save
Save
Save
Save
Save
Save