Do you decorate your kitchen and home for the fall season? If so, check out these Pumpkin Inspired Fall And Autumn Kitchen Decor Finds!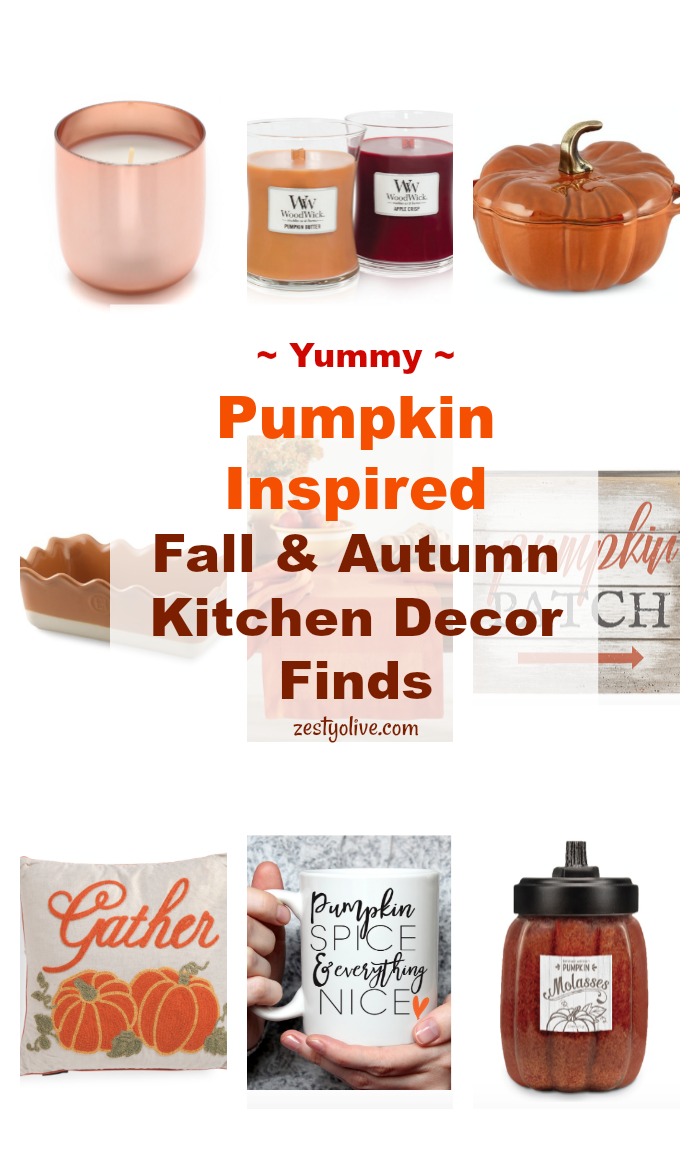 Note: This post contains affiliate links.
I love the fall scented candles and I'm coveting that Staub Cast-Iron Pumpkin Cocotte! These pumpkin inspired fall and autumn kitchen decor finds would also make great gifts! (Images are clickable; descriptions down below.)
From Top, Left to Right:
With scents of pink grapefruit, sparkling champagne, raspberry, violet leaves, rose petals, grape leaf and more, this yummy candle will take you from autumn right into the New Year with it's celebratory champagne fragrance! Plus it's gorgeous, no? 🙂 Jonathan Adler Pop Champagne Candle • Jonathan Adler
Made from Burgundian clay, which absorbs, distributes and retains heat evenly, so breads, casseroles and meat loaf bake and brown to perfection, this ruffled loaf pan is begging to hold your next delicious creation. Comes in other yummy fall colors, too. Emile Henry Ruffled Loaf Pan • Emile Henry
Made in Italy, this natural linen fabric table runner is simple sophistication that will lend itself beautifully to whatever gorgeous tablescape you envision. Comes in other colors, as well. Williams Sonoma Italian Washed Linen Table Runner • Williams-Sonoma
Whether you hang it on a wall, display it on a mantle, or set it outside pointing to your pumpkin decorations, this is a must-have for the fall and autumn season! 'Pumpkin Patch' Arrow Wall Sign
The seasonal fragrance of pumpkin and molasses is captured in this adorable candle jar. Get one for yourself and another to give as a gift! Pumpkin Molasses Candle Jar
For the pumpkin spice lover in your life, this mug is a must-have. Pumpkin Spice Latte, anyone? 'Pumpkin Spice Everything Nice' Mug
Here's an easy way to decorate for the fall: include this gorgeous embroidered pillow on your sofa or chair. Makes a great gift, too. 16×16 Embroidered Gather Pillow
This 2-piece candle set is amazing ~ the scents are Pumpkin Butter and Apple Crisp. I'm drooling now! WoodWick is know for their depth of fragrance, and this set has my name on it. WoodWick Candle Harvest Candle 2-Pc. Gift Set
This gorgeous cast-iron vessel is perfect for all those soups, stews, and slow cooker meals you have planned for the fall and holidays. Made in France by Staub; known for their superior craftsmanship. A true statement piece with durability that you'll enjoy for years to come. Staub Cast-Iron Pumpkin Cocotte • Staub
You may also like:
12 Must Have Baking Tools and Essentials
Eco-Friendly Lunch Box Essentials For Adults
8 Easy Thanksgiving Side Recipes
DON'T FORGET TO PIN AND SHARE!