Consider treating yourself with a few sweet kitchen essentials for Valentine's Day ~ guaranteed 100% fat free! Here are some Sweet Kitchen Treats For Valentine's Day.
I don't know about you, but I can get pretty messy while cooking. Seriously, when was the last time you used flour and didn't get it all over some surface, including yourself? 😉 Enter the handy apron
, a kitchen staple that's now fashionable. Here's an adorable apron perfect for Valentine's Day and beyond.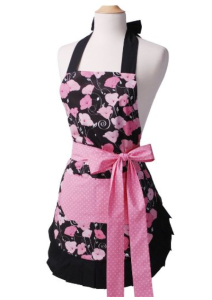 Double Layer 100% Cotton Women's Kitchen Apron with Pockets
I love my spiralizer! This gadget is so handy, especially in the spring when it seems cucumbers, yellow squash and zucchini are in abundance. My favorite use for it is to make veggie pasta. So simple, so healthy. The uses for a spiralizer seem endless. If you have a vegetable, you can probably spiralize it. You get an assortment of blades so you can create different types of spiral slices for your veggies. It's dishwasher-safe and is made from BPA-free plastic.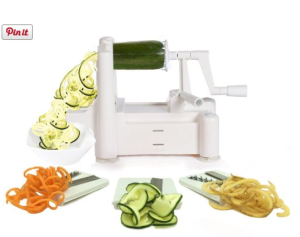 Spiralizer, Tri-Blade Vegetable Spiral Slicer
If you don't yet have a KitchenAid Artisan Stand Mixer
, consider this beauty in gorgeous Empire Red. If that color doesn't work for you, there's a drool-worthy palette to chose from here
. Wondering if the investment in a stand mixer is worth it? I wondered that, too. My experience is that I use it for so many more things than I thought I would, plus, it's an incredible time-saver in the kitchen, and who doesn't need that? I've never heard of anyone who has regretted having one! 😉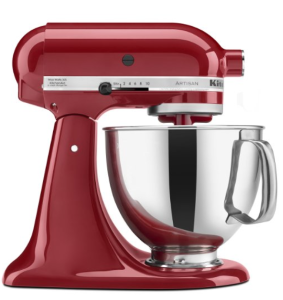 KitchenAid KSM150PSER Artisan Stand Mixer with Pouring Shield, 5 Quarts, Empire Red